You don't want to bore your friends with the same topics and discussions that you previously had, right? In this post, you will find some meaningful topics and interesting things to talk about with your friends. 
Whether you're looking for some good topics to discuss with your friends on text, during facetime, or at a get-together party, here you will find everything you need in one place. 
Things to talk about with friends over text

You and your best friend almost know everything about each other, and when you feel like there's nothing else to talk about, try these interesting things to discuss on text. 
1. Latest movies or trailers released
Which movie flicks are you looking forward to this year? Discuss upcoming movies from Marvel to new action-packed trailers that caught your attention. Maybe they're excited about going to the movie theatre after a long time. 
2. Latest shows on Netflix or Hulu
Have a conversation about what Netflix shows you're currently binge-watching trending shows on Netflix or what you're planning for the weekend and ask your friend to join. Talk about the new shows or web series you are becoming a fan of. Suggest some good shows on Hulu, Hotstar, or Apple TV.
3. Favorite foods and restaurants
If you two are best friends and you know each other's favorite dishes, then try cooking at home. You can also try out some new foods or dine at the new restaurant in town. If not, then discuss the new dishes that are popular in your hometown or current city.
4. Favorite songs and music
Can't seem to find that viral tik tok song you have in your mind? Try asking a friend, he or she might know. Or talk about the latest album of your favorite singer.
5. Sports or recent tournaments
When you both share a passion for the same sport or are diehard fans of the same player, you naturally discuss recent sporting events. Plus, share the latest news or the upcoming tournament you're waiting for.
Things to Talk About With Friends on Facetime
If you and your friends do not meet face to face but regularly Facetime, there are some interesting topics to discuss. Here are also helpful things to converse with your friends.
6. Fashion and Clothing 
Is your friend the one with the most amazing dress collection? Or are you planning to upgrade your wardrobe? Then ask your friend what the latest fashion trends are, or ask her about tips, such as getting fashion insight. 
7. Hobbies and Interests
It is a good idea to discuss these topics when you want to know more about your friends. You can ask them about their favorite pastime activities and hobbies they are following as part of their new year's resolutions. 
8. Grooming and Make-up Tips 
Take some beauty and makeup tips on WhatsApp or Instagram from your friends when you're getting ready for some function or party. Discuss some personal grooming and makeup ideas with them. Such discussion overall leads to a helpful discussion with your best friend. 
9. New games
What new game have you discovered on the internet? Talk to your friend about it, and who knows your friend may also become addicted to it. You could also tell your friend about the new card games you recently learned. 
Funny Things to Talk About with Friends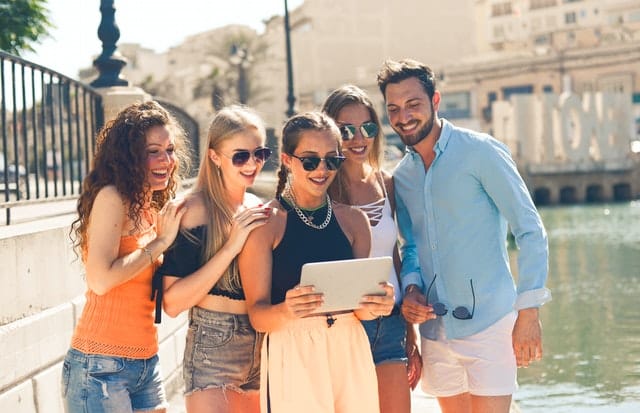 Whenever you discuss a topic or issue with your best friends, it becomes fun eventually and when you want to break the silence and have some hilarious conversation there, these are some good topics to discuss with your friend.
10. Viral memes around the internet
Have you just found some trending memes on the internet? Send them to your friends. You can also come up with your own variations on the memes to have some fun together.
11. Revisit old days and memories
It's time to revive all those school/college times and old memories that you lived together. This will catch their attention and bring back the best time that you all had before.
12. Pranks and jokes
You can play some timeless pranks with your friends and team up with your best friend to target the other friend. Otherwise, you can tell each other some funny jokes for a good laugh.
13. Aliens or your fantasies
Did you witness aliens or ghosts when you were at your uncle's farm? Add a little suspense and share with your friends. Plus, you can also talk about your crazy fantasies and nightmares.
14. Hilarious failures
Was there any event where you tried to do something and it went horribly wrong? It doesn't matter if it happened to you or someone else, share it with your friends. Be sure to mention what lesson you learned from that experience.
Also read: Compliments for Your Best Friend
Deep Things to Talk About with Friends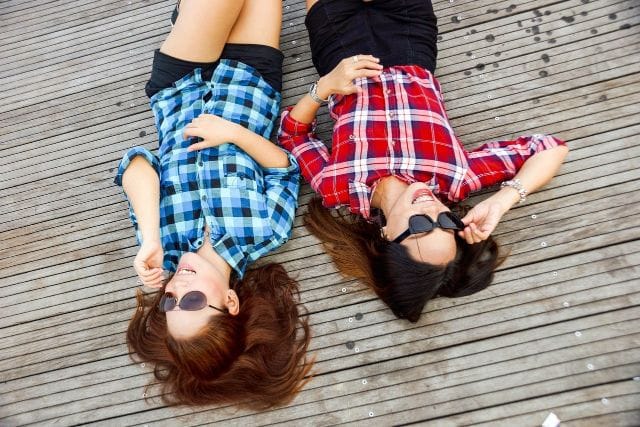 Interested in learning more about your friend? Then there are some deep questions to ask plus topics to discuss with your friends to get to know them better.
15. Friendship 
Ask your friends what they think about friendship, discuss what friendship means to them and what influence a best friend has on life. Talk about how important friends are and what they can do that your family cannot. 
16. Life purposes and goals 
To get to know your new friend at a deeper level, ask some thought-provoking questions about life and purpose. Such topics enable you to build trust and confidence in your connection, while also allowing you to do something for them. 
17. Career and work-life
Which was their first job? What are their career goals and where do they want to be in five or ten years? You can discuss career and work-related topics with your friends. Give them advice if you know the field or learn the key lessons from their professional experience. 
18. Good or bad habits
Talking about personal habits is the better way to strengthen the bond with your friends. Discuss what new habits they are looking forward to in this new year or what negative habits they want to remove from their life.
Random Things to Talk About with Friends
When you and your friends are waiting at the bus stop or restaurant, the awkward silence does not seem good. During these waiting hours, you might want to discuss some of these topics with your friends for good conversation.
19. Investing and savings
Is your friend good at finance and management? Talk about investments and how you can use your money most effectively. Discuss trending NFT projects, stock investments, crypto, etc. Learn what are their views on investment options and make the right decisions. 
20. Travel and vacation plans
Ask your friend where he traveled before the pandemics. Or which travel destination is on his bucket list. You can also set up a friendship tour for your next summer vacation. It is also a good chance to rewind the best travel memories. 
21. New gadgets or accessories
For the techie friend, this is the most common topic of conversation. How excited are you about the latest Apple iPhone or looking for the perfect case and cover? By discussing tech topics with them, you might get some insights or solutions. 
22. Technology 
Are you interested in the latest technology or innovation? Is it from the space, automobile industry, or industry of VR and AI? Talk about new technological trends and research you recently learned about. 
23. Work areas and career options.
Well, this kind of boring topic for some. But if you have friends who are older than you, this is a valuable conversation. Sometimes it's good idea to discuss about the various career options and exchange the thoughts to make good decisions.
24. Interesting facts
What are some interesting random facts you know that might amaze your friends? Tell them about them. Share what you discovered on the internet that truly shocked you. You can discuss anything from movies facts, sports records, life hacks to new plants and animals you get to see for the first time. 
Also read: Random Questions to Ask Him/Her [ULTIMATE LIST]
Final thoughts
It's quite important to choose a topic that both of you are interested in if you want to make great connections with your friends. There is no point in repeating the same dull conversation. Having such interesting topics or things to talk about with your friends always leads to engaging and meaningful conversations.
By doing so, you will also learn more about your friends, as well as keep your connection refreshing at the same time.