Look, who is knocking on our doors? It's summer season guys! It's time for a cool dinner filled with varieties of cuisines, refreshing drinks, and whatnot. The summer season brings allowance to think about varieties when it is about cooking food or trending summer dresses. You can prepare salads, staters cool mocktails and smoothies, desserts, and so on. 
The idea of dinner in summer brings confusion too, if it's a party, a small celebration, or a regular day the question is what to cook? Something soothing, not so heavy creative, and refreshing at the same time. So if its a party or a regular day confusion for your dinner, here are a couple of tips for the dinner to make it easy:
5 Easy Hacks to Make Summer Dinner Simple:
A) Prepare a Combination for Summer Dinner:
In summer guests demand hot serve as well as soothing cool options too so make a combination of both and prepare a list. Add refreshing smoothy or mocktails, salads, light starters, main course, and dessert.
B) Make a List:
Make a list of dishes in above mention combination, finalize what to be served and when this will help in preparation. Don't choose all your time taking dishes together. Keep a mixture of some quick ready-to-serve options and some homemade from scratch to end. 
C) Plan Your Summer Dinner Grocery Shopping:
As you have already prepared your list, plan your grocery shopping accordingly. You can take some easy prep options as well, like pasta sauce instead of preparing from scratch, which can help you to manage things better.
Also read: Gut-Changing Fitness & Nutrition Trends by Influencers
D) Make Half of the Preps Before:
Cooking in summer weather isn't an easy task, it is a tiring one. So, you can keep some prior preps like prepare smoothie, keep decor prior decided and store it in the refrigerator. Make gravies, chop veggies, and select cutlery and table arrangements.
Its time to discuss what to serve, well, to make your task easy I made multiple categories where you can choose what to cook and serve for summer dinner, scroll the list below for the best ideas:
E) Add Salads: Nutrition to Your Trending Summer Dinner
Salads are refreshing, tasty, and light in nature, they are easy to prepare and look great when served. Other than a normal salad with some veggies and lemon take a look at this salad menu that can add a lot to your meal.
1. Asian Slaw Salad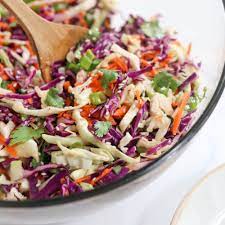 Asian slaw salad is simply a vibe, veggies mixed with tahini, and peaches adding juicy flavor to it. It is a healthy option, where you mix tahini with veggies and some slices of peaches with seasoning. For a crunch twist, you can mix some wafers as well.
2. Sprouts Salad Garnished with Parmesan
Sprouts are my personal favorite, they taste good, have multiple qualities, and are easy to prepare. You can prepare this salad even at the last min if you got sprouts even on regular days. Mix some fresh cucumber, cherry tomatoes seasoning, and some parmesan on top.
3. Soba Noodles with Sesame on Top
How about ditching your regular pasta salad and getting this noodle salad, it's super yum, looks great when served, and is easy to prepare for dinner. Toss the noodle with sesame, add veggies and some avocado, tadaaa!
Also read: Best Comments for Food Posts
4. Vegan Cobb Salad
Turning vegan is a new trend and surely a good step towards the future. So, if you want to keep some vegan options in the meal then this salad is surely a great option. Add vegan cream to the dressing, swipe plant-based riff with chicken, and add some coconut.
5. Greek Salad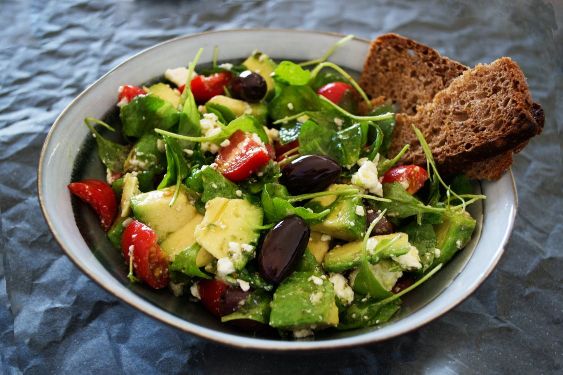 Greek salad is an all-time go-to option, whether it's a girl's night out at your place or you are cooking together on your second date this salad is a healthy and tasty option. It got all the elements like olives, herbs, the tangy flavor of cherry tomatoes, and feta cubes.
Yummy Starter Ideas for Summer Dinner
If it's a get-together and gonna be a till late at night then adding starters is a wise choice. You can serve them while playing games, with drinks and chitchat later post them with a caption describing the night! 
Starters can be light and easy to prepare if planned properly, they gel up well with drinks and mocktails. Scroll below to have some stater ideas for your party or you can also try them out with your weekend Netflix movie plan:
6. Hummus and Pita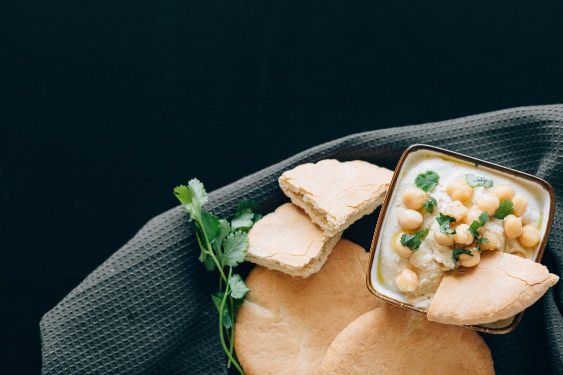 Did anyone say hummus and pita with sangria? What else do you need? This is a perfect combination for the stater and my personal favorite. Hummus is healthy nongreasy and pita is very light, sangria drink fits perfectly with the combination. You can easily make hummus at home and get pita from the market.
7. Tomato Bruschetta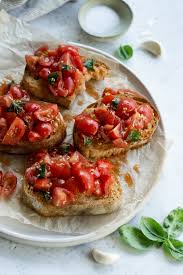 Tangy tomato with herbs seasoned in it is a perfect summer treat on a fine evening. It got fine chopped red onion, crunchy bread fresh basil, and tomatoes. This is an Italian dist, easy to serve looks beautiful. 
Also read: Trending Traditional Mexican Food Dishes to explore
8. Summer Pistou
Well, the dish already got summer in its name, this is a French stater dish, especially for Summers. Pistou is a combination of soup and stew with beans and lots of veggies. It is light to have and you can prepare a day before and store it in the refrigerator.
9. Stuffed Mushrooms- A quick stater
Mushrooms are loved by everyone, you can make a triple cheese and tarragon stuffed mushrooms. It's a quick and time-saving recipe, it just needs some veggies cheese seasoning. You can give it your twist as well.
10. Jamaican Veggie Patties
Who isn't a pattie lover, especially when filled with your favorite stuffing. Jamaican veggie patties are one of those, you can make them prior keep them ready and pop them in the oven when you need them, and serve hot crisp delicious patties to your guest. You can also add them to your things to do on the weekend list.
Must-Try Main Course Dishes for Summer Dinner
The main course is something everyone waits for, after a long chitchat and dance session. Something filling and delicious. Main course dishes take often a long time to prepare and lots of effort. The world is filled with a variety of these cuisines and choosing one to serve is a tough task.
When it's a party or huge gathering I won't suggest trying any experiment until you are confident. Choose a dish that the majority can like and have, and keep two-three options to serve. Talking about options here are some go-to main course dishes for a summer dinner.
11. Creamy Lemon Chicken Piccata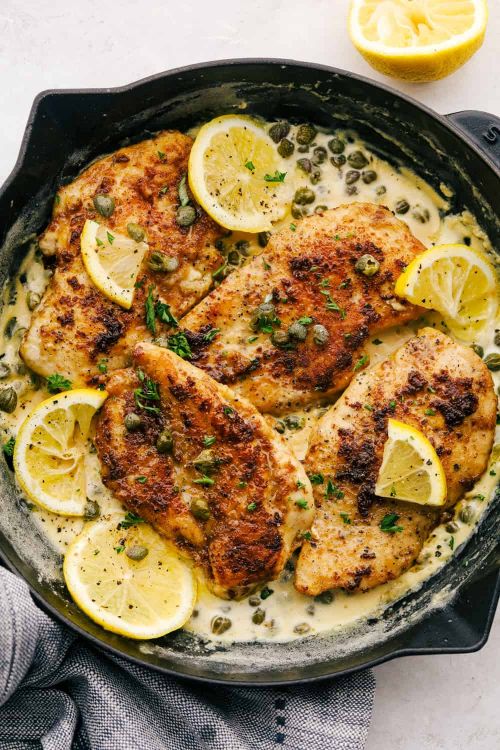 Chicken lovers gonna absolutely fall in love with this dish, creamy lemon chicken piccata is a nice and time-saving option to serve. Cooked chicken breast with light lemon sauce and caper under fine evening. You can also add some parmesan on the top while serving.
12. Grilled Shrimp Boil
Grilled shrimp boil is an easy and different option to go for, it is a mixture of different elements like shrimp, prawns, corns, baby corns, baby potatoes, and sausages. Slightly grilled with the flavor of garlic and butter, served hot with some seasoning as a choice.
13. Mexican Rice for a Summer Perfect Dinner Option
Mexican Rice is full of flavor and an easy dish to serve that looks good as well as filling. It got flavors of tomato and other veggies sauteed while making and You can easily get the recipe for it and keep both veg and non-veg options in it. 
14. Mac & Cheese Stuffed in Zucchini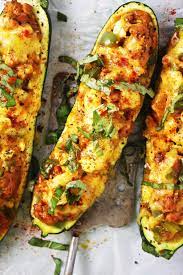 Who is not a Mac and Cheese lover? Although it is already an interesting and tasty dish, adding a zucchini twist to it makes it more interesting. Remove the pulp of zucchini leaving the base, bake it with some butter and seasoning on it, and while serving add mac and cheese on these boats.
Also read: Top Trending Travel Destinations for Food
15. Pommes Gratin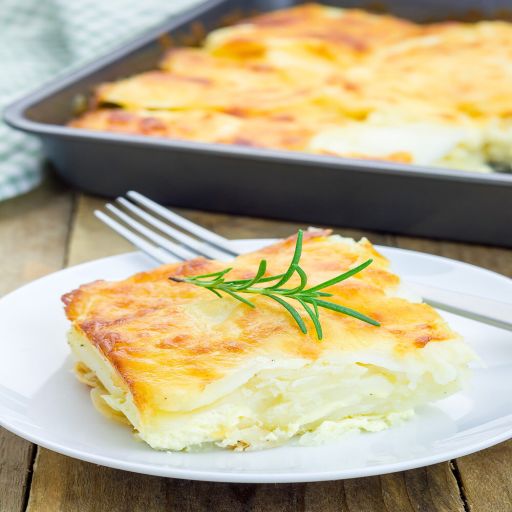 Pommes is a rich filling vegetarian option to serve at dinner. Potato wrapped with cheese and rich cream, with the flavor of thyme and garlic. It looks quite impressive when served on the table and tastes delicious. Since it is easy to make and uses fewer ingredients I would say it is anytime go-to dish.
Dinners are often a memorable time spent with your loved ones, capturing pictures posting them on Instagram, making reels with trending music, playing games, and making memories. All hard work for cooking delicious meals looks complete when with empty plates, filled stomachs, and a satisfactory smile on faces.