For most of us, college memories are special ones. But, every moment from school is itself lifelong memory. After all, we've spent a major part of our life at school more than the college. 
Those school years helped us to become who we are today. 
Whether it's been a decade or more years ago you left school, thinking about school days makes you smile and cry based on the memories. 
Anytime seeing the old school pictures makes you feel nostalgic, you want to share some special comments on that. So, here are some better things to reflect your feelings better. 
Special Comments For School Memories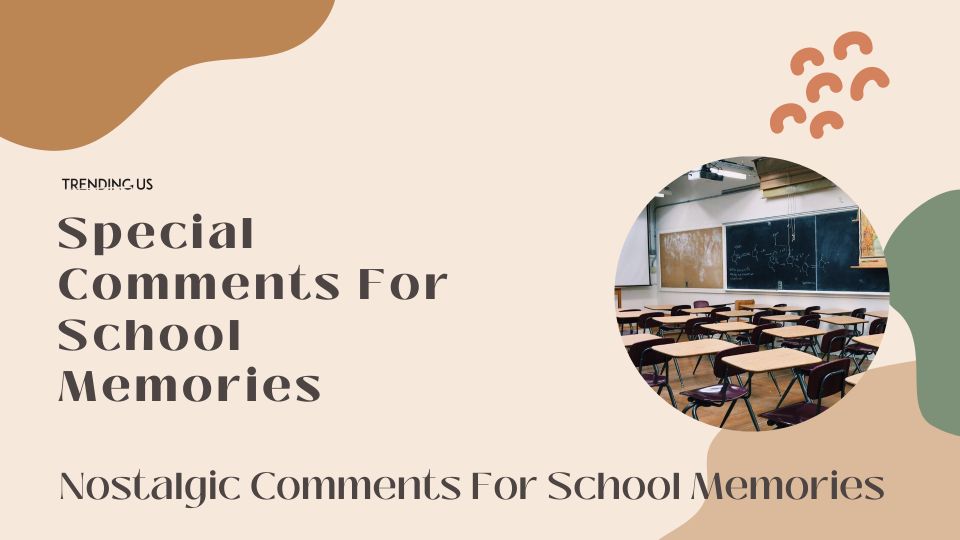 Found one of your school friends shared your old pictures from school days on Facebook or Instagram? If you want to say something about not being sure how then these comments will help. 
Wow, those were the days. I wish we can live that again, the same way. 

Oh, how can I forget this one? This one is our greatest memory. 

Thank, you so much for sharing this picture. Missing those school days. 

Look how older we get and we have no idea that it has been a decade!

You make me sad actually, I start to miss those golden days. 

Can anyone say these pictures are twelve years old? Time goes fast. 

It's like just yesterday. I never know it's been so many years. 

OMG, where did you find this picture? So many memories, wow. 

We may be laughing but inside we all want to cry because these are just memories now.

Old memories like these are gold. Especially when it's about your school.
And, if you're missing your college days, read this: Great comments for college memories 
Awesome Comments For Old School Friends
The best part of the school days is 'friends. You spend the time with school friends than the college. This means you have better and more memories to rewind anytime you get together with your school friends again. 
I still miss my school and friends there, more than the college. 

It's not the college friends, but school friends make the best friends.

Anytime when I say I miss those school days, those are about my friends, not teachers. 

I wanted to go to school just to have fun with friends. But teachers. 

So, you talk about the school and don't mention friends, is that possible? 

I'm so happy that I have such amazing friends like you. 

This one picture is enough to bring me back to those best parts of my life. 

This picture makes me organize a get-together and meet you all again. 
Feel Good Comments About Missing School Days
While talking about the school days with your friend in the group, you have a much to talk about. But everyone has that special connection with school differently. To express that, you can share these feel-good comments about those old days of the school. 
We were crying back then before going to school, now we cry seeing it as memories. 

At that time I wished that school life over soon. Now I wish I could go to school again. 

No matter what nothing can make me forget about my school memories. 

We might hated school at that times, but now we know how much we love it. 

If I get a chance to go back in time, I just go to those school times. 

What I learned, enjoyed, and lived in the school, I was not even in college. 

Those are the days we are never going to forget. 

I'm sure we all have gotten any better friends or life than the school ones. 

Who also missed those school days and the uniform particularly?

Back then we learned from school, and now from life. 
Also read: Beautiful comments for old memories
Funny Comments On School Life 
Want to share something interesting and funny that your school friends can closely relate to? So, these are some hilarious comments you can leave on school life, that you live together and preserve as great memories.
For me, the hardest part of school is parent-teacher meetings.

When we got beaten, we cry, when our friends got beaten, we laugh.

First I started laughing at this picture, then I started crying because I miss you all. 

Admit it, we all secretly wish to live our school days again, even just once. 

The most amazing part of school is friends. The worst is the homework. 

I went to college for my studies, but to school, I only go for just enjoyment. 

School life was one chapter of my life that I want to check again. 

I've awesome memories from school. Because my friends are legends. 

No pressure, no worries, best friends, and just fun. Those days!
You can also leave some Cool comments on your friends' pictures.
No matter how old you are or in what stage of life you're, talking about school always makes you feel special within. Because there are so many things that make your school life and childhood awesome. 
So, anytime when your school buddies posts old pictures from school, make sure you leave comments that talk your the great memories you lived there.