In our hearts, old memories are our treasures, and pictures are the way to find them. They carry so much about our fondest memories and the times we had the most fun. 
Whether your friends share old travel pictures with you or someone from your family posts an old memory post, adding your kind words is a thoughtful contribution. 
Therefore, if you are looking for the best way to leave comments for old memories posts, there is a complete list available for you. No matter if it's for Instagram throwback posts or Facebook pictures from years past, you will find the best comments further. 
Good Comments For Good Memories
It's the old photos that help us to rewind past memories. From time to time you want to look back at old pics and see those awesome days. When you see that someone from our connection shared an old picture, you might want to leave a good comment like this. 
The post you shared was exactly what I was looking for. 

Wow, those days were awesome. 

This is enough for us to know how fast time passes. 

Thanks, mate, you remind me of the best life we lived. 

Such a treasured moment of our life.

This is what makes us who we are today.

I simply can't take my eyes off these golden memories. 

When I look at this for the first time I smile, but now I'm in tears of joy. 

This pic is enough to know how far we have come in life today. 

Time with my childhood friends is the greatest moment in my life.

It's my favorite pass time activity. I just love rewinding old memories. 
Also take a look at these cutest comments for childhood pics to leave.
Sweet Comments For Old Memories on Instagram
The throwback posts on Instagram are all about revising those golden days and your journey in life. So, if it's about your old version or your college/school picture, here are some sweetest comments to leave on Instagram throwback posts. 
Please send me a copy of that, I need to frame it. 

Sweet memories, Golden days. Best friends of life. 

Those school days, wow, I still miss them. 

Well, these pictures remind me of all our past stories. 

How can I forget such precious memories? 

No matter how old we are, those days we'll never forget. 

Even I enjoy checking out old photos to relive the good old days.

Can't thank you enough to post this. It makes my day, actually. 

I hope we again get the same chance to experience such a good time.

Life never stops, it keeps going and leaves the memories behind. 

Seeing old pictures always make my eyes wet. But I'm not crying. 

Good to see such pictures after so many years. Thanks for posting.

Seeing your old pictures always gives me nostalgic feelings in the end.

What was the time back then? And now look where we are here.

Don't be sad, for it's gone. Be happy that we lived that moment. 

Such an unforgettable moment, that I will never forget. 

Thank you for sharing this post after such a long time.
Best Comments On Old Photos On Facebook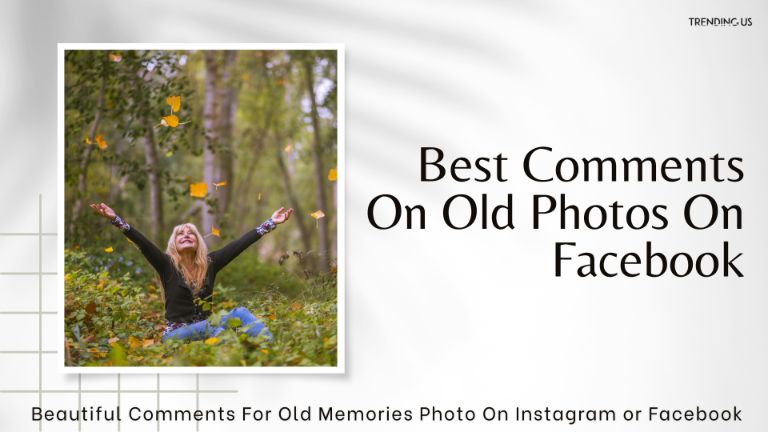 From time to time Facebook gives you reminders about pictures you've posted about special moments or achievements. You can leave some good comments such as this one if your connections have shared such old memories and photos from their previous posts. 
Checking old pictures actually helps you be hopeful in life. Thanks. 

Good thing is that we have the best memories. The bad one, this time is gone. 

I don't think memories are painful, mine is actually inspiring me. 

It reminds me of the great stories that we created today. 

A ton of likes for such precious pictures of our life. 

Never forget your roots, and have your best memories with you.

Those times leave us with the most precious moments in our life.

No matter how many times I see this, It makes me emotional. 

I wish to go back in time and live the same life again and over again. 

It was a hard day for me and this throwback picture gave me a push, thanks!

I wish I have the ability to rewind the time and enjoy that moment over again. 

What a great time that was. Sad, that was just one part that was gone forever.

All I want right now is to get back to my school days. 

I'm ready to give me all money, just give me those old days.
Share some lovely comments for sister's posts on Facebook or Instagram.
Funny Comments For Old Photos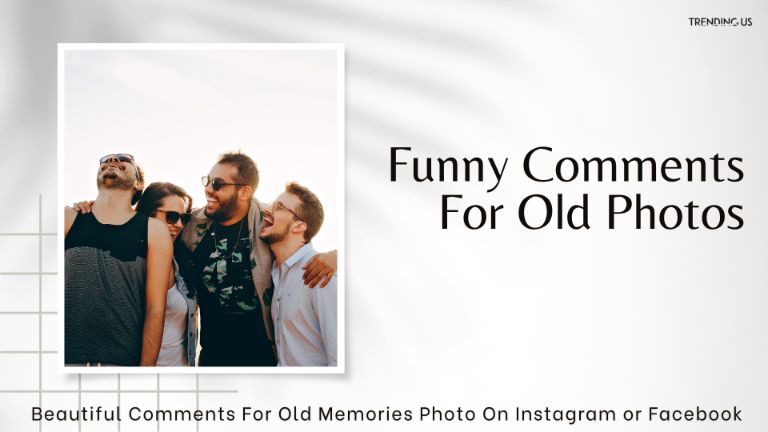 There's no need to be shy from leaving a funny comment when your best friend posts the worst picture of you or any photos from your past. First, thank them for reminding you of such awesome memories, but also leave some fun comments under such posts. 
The way you look has completely changed, you are unrecognizable. 

I can't find you in this picture. Where are you?

Lol, look at you, you look like a member of an 80s band. 

Look how happy, confident, and perfect we all look back then. 

What a throwback picture, far better than any pic we've today. 

Missing you all my crazy college friends. 

What makes this a perfect picture, that's your retro look. 

With this picture, there is a secret story only a few are aware of.

This picture is proof that we lived our life on our terms. 

Please stop posting this picture, you make me cry.

Please don't share these pictures, it makes me so sad. 

What a great time we had together, I wish somehow I could get it all back.
Conclusion
It doesn't matter whether it's your old pictures or someone else's, you have to make sure that your comments are engaging. After all, old posts and memories are ones that give us a chance to relive our best times.
The memories and pictures we cherish are evidence of our life's journey and of who we are today. Make sure your comments are funny and special so that one feels happy about those golden periods in life that you have shared together.