No matter how many best friends you have, no one can take your sister's place in your heart and life. When necessary, you will wish to share a few words of appreciation, to let her know how proud you are to call her your sister. 
Especially, when she has just posted some pictures on Instagram or Facebook, you want to leave some good comments for your sister to show your respect for her. Whether it's just a regular selfie or some achievement or artwork she has shared on social media, your comments on her pic mean a lot to her.
If you're in search of some nice and special comments to appreciate your sister, you can find them here. Here are some special, nice, and funny comments you can leave on your sister's Instagram pic or Facebook posts. 
Best Comments for Sister on Her IG Posts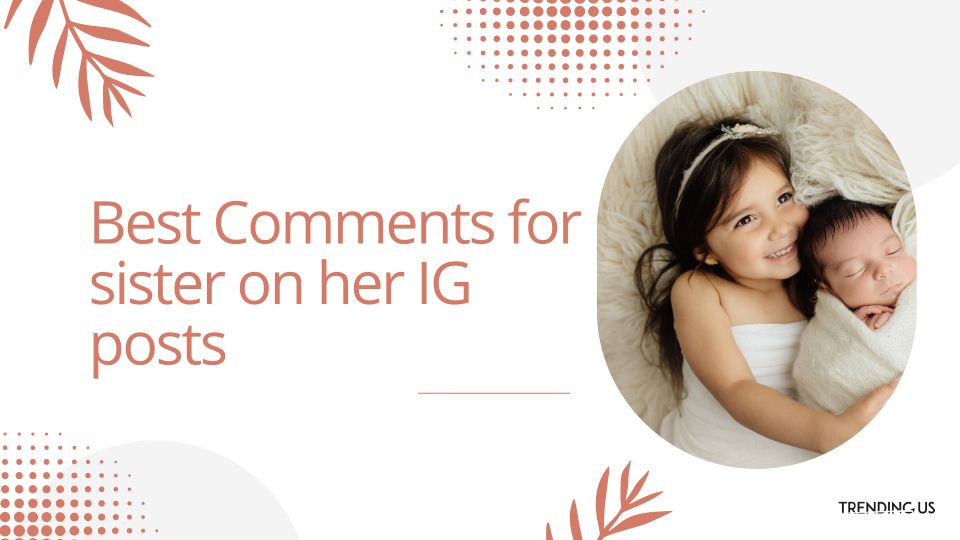 If your sister has posted some childhood photos, or you want to encourage her to keep posting her makeup guide or cooking posts, here are some best comments that you can share on your sister's posts. 
You're such a talented girl, dear sis. 

Your posts are always inspiring, and I look forward to seeing them. 

You're unique and love everything you do. 

Looking so perfect in this dress, keep it up. 

You're working hard, keep going!

Looks like a little princess!

You never failed to shock me with your creativity. 

I'm lucky that you're my sister. 

Don't have words to describe how much I love you. 

I'm so grateful that you're in my life to always support me. 

You mean everything to me. 

Your positive thoughts always inspire me.

You are working hard. 

You're not just an ordinary sister, you're my sister. 
To make your message go viral, use such perfect Instagram hashtags for girl power.
Funny Comments for Sister Pic on Instagram
If your sister is showing off with your traditional dress or as a brother you want to share your comment as honestly as possible, here are some funny comments that certainly make her laugh. Otherwise, with such a humorous comment you make her day.
Keep doing, my sister. You'll be awesome just like me one day. 

Hey, everyone, this is my sister and all such things, she learned from me. 

Okay, that's it. Now send it back to me. 

Stop making me jealous. I don't care about that, you know. 

I wish I could be there with you and eat this entire ice cream like I used to. 

How can you become so perfect in everything, that's not fair?

I can see that you're exactly becoming like our dad. 

You're silly, but I will never stop loving you, sister. 

Can you please explain how my dress reached you? 

Sometimes I found you irritating, but the next I found you cute. 

You better take extra cooking tips from our mom. 

With such a pic, if you think you can make me insecure, then you're right. 

You're such a feminist!

No matter how hard you try, you can't beat my sister.

I'm here to help you anyway, sis. Inform me know if you need something.

She is my sister, everyone. So behave yourself!

Hey didi, you're looking nice. Let me show this pic to our mom.

Don't mess with my sister. She has an elder sister, that's me.
Special Comments for Sister Pic on Facebook
Whether it's your sister's birthday or she has shared old memory posts as siblings, it's your chance to share your respect and love for her. These special and cute comments will make your sister feel loved for having a brother or sister just like them. 
You're such an independent and strong lady. 

That's why our entire family is so much proud of you. 

So happy and grateful that you're my sister. 

No matter what dress it is, you look perfect in all. 

You're learning things very fast. Feeling proud. 

Such an intelligent lady with a calm nature. 

Congratulations on these awesome achievements, keep going!

Feel free to contact me for any support, your brother is always here for you. 

I'm not feeling jealous but you're perfect in everything. 

Never stop dreaming, you're going to get them. 

I like your confidence and the way you handle everything. 

You are always ready to take on new challenges.  

I always look up to you for inspiration. 

You're just like our mom. 

I can see that you're becoming an independent and proud woman. 

You don't know it, but you're the most amazing sister. 

That's what makes you so complete. 

You were born with special talents. Keep working. 

We might fight with each other a lot. But we can fight for one another to anyone. 

Sometimes, it's hard to realize that you're my sister. We act more like besties. 
Sometimes you also want to leave funny comments on your brother's pic.
Happiest Birthday Comments For Sister
If you want to share your nice birthday wishes on her upcoming birthday or her celebration posts, here are the best comments to leave. Such special comments to share on your sister's birthday on her Instagram or Facebook posts. 
Wishing you a very happy birthday, sis! Make this day a great one. 

I wish I could be there with you and celebrate along. Maybe next time. HBD.

Waiting for you at home, there's a surprise for you, Birthday girl.

May you have an awesome new year and follow all years. 

So much proud of you my sisters, Best wishes to you on your birthday. 

You're strong, you're independent, you're just perfect. HBD.

I'm there for you always, sis. Best wishes and blessings for you. 

Many many happy returns of the day, may all your wishes come true in the coming year.

It's a special day to me, even more than it's your special day for you. HBD

I can't thank God enough for such a brave and smart sister. Happy Birthday! 

You're my one and only sister and I'm so happy about it. Happy birthday to you.

I never know how fast we grow up. But, you'll be always my Litle sister. HBD!

How can I forget about the special presents? Of course, I've them already. 

Here, I'm sharing my best wishes, may you get everything you ever wanted.

Thank you for being an amazing sister to me. My best wishes are to you, HBD!

It's not your special day, it's mine too. Many many happy returns of the day. Let's make this even the most wonderful celebration.
Great Comments For Elder Sister
Your elder sister is like your 'Big bro', not just there to help you but also to protect you. If you want to share some complimenting words for your elderly sister, this is the list for you. On Facebook or Instagram, leave these comments on her picture to show your respect for her. 
Thank you for being so supportive of me. I'm lucky that I have a sister like you. 

You're my inspiration, I always look up to you when I'm sad. 

What the smartest and bravest sister I have. 

One thing I learned the most from you is never to give up so easily. 

In my low time, all I want is you beside me, that's it. 

I no longer fear falling, I know you will be there to pick me up. 

You've no idea how amazing sister you're, but I know. 

Dear sister, just tell me how are you so perfect?

You've been taking great care of me, thank you whatever I am now.

Having an elder sister is the best experience, and I'm lucky to feel that. 

My elder sister is like my big bro. We tease each other but are nothing without each other.

Thank you sister for always acting like my brother. I value you in my life. 

I'm happy that you're my sister. In your presence, I feel positive or encouraged.
One Word Comments for Sister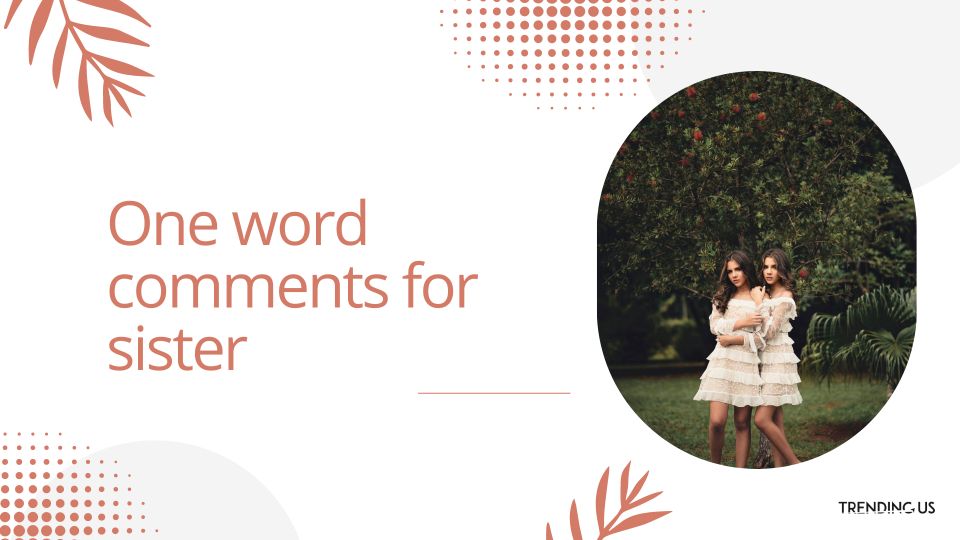 When you've not enough words to describe how awesome your sister is, you can also rely on these one-word comments. They're super short, but a right way to share your views on her Instagram pic. 
Beautiful 

Strong

Powerful

Intelligent 

Positive

Inspirational

Supportive

Brave 

Talented

Amazing 
Also, read this ultimate list of the one-word comments for Instagram.
If your sister has just started a new content series like her makeup tips or cooking recipes, your encouragement as comments on posts or Instagram reels helps her to keep her journey going. You can also make sure that the comments you leave on her posts make her day, whether it's just a selfie, post or any random positive quote.
Encouragement and appreciation cost nothing, and especially for your sister, it is your responsibility to be her first supporter and a source of inspiration. So that she continues to be more creative and unique with herself and with her posts.