Staying engaged with your Instagram followers and fans is not easy, especially when you're part of huge engagement groups on Instagram, it's time-consuming to leave comments on every post.  
Well, in such a case one-word comments for Instagram can help you in many many ways. 
Indeed, it's never enough, though. But, when you know which word to use where, you can engage with their posts well and share your contribution in a much more effective way. Not only that, but you also save a ton of your time writing perfect comments, which is the ultimate benefit. 
Whether you're in search of the short and sweet comments for friends' pictures or someone's story, in this post, we will share with you the list of the best one-word comments to leave. 
Best one word comments for Instagram pictures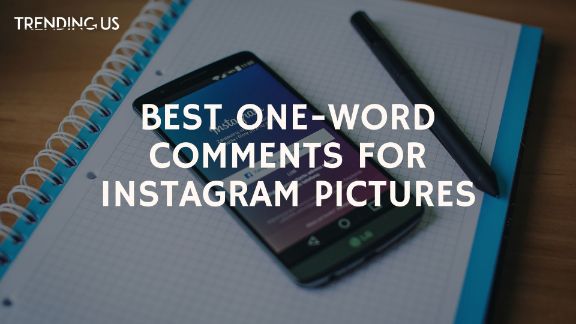 Let's first start with some awesome and one of the best one-word comments that you can leave on someone's Instagram posts and pictures. Don't keep your comments limited to "Nice" or "Great" alone, there are some shortest but most effective IG comments.
Perfect

Inspiring

Classic

Impressive 

Sharp

Terrific

Awesome

Happy

Joy

Blissful 

Magical 

Surprising

Super

Mine

Thanks

Glow

Balanced

Unmatched

Grand

Wow!

Wild

Brilliant

Thoughtful

Surprise

Artists

Creative

Curious

Kind

Focus

Great
Beautiful one-word comments for Instagram for a girl
When you really want to leave some respectful and nice comments for girls to impress on her Insta pic, you can write some longer comments to get noticed. If not, then these are some cute and amazing one-word comments for girls' pictures that are also your next option. 
Sweet

Bold

Sharp

Hot

Princess

Queen

Powerful

Feminist 

Impressed 

Elegant

Perfecto

Unbelievable 

Wonderful

Better

Relaxed

Healer

Natural

Lit

Bright

Fashionable 

Independent

Charming

Unusual 

Stunning

Yoga
Make her feel respected with such special compliment for girls.
Best one-word comments for Instagram for Boys
If that post is about a boy's attitude status or any motivational quotes or even a selfie, there are some perfect one-word comments you can write. If you are confused about how to compliment a boy on Instagram with the shortest comments, these are some ideas.
Legend

Shy

Kindness

Creative

Intelligent

Confident

Hustlers

Entrepreneur

Leader

Weirdo

Beirdo 

Evil

Brothers

Amigos

Rockstar

Swagger

Perfectionist 

Dreams

Savage

YOU

Gangs

Creator

Colorful

Energetic

Adventurous 

Marvellous

Super-duper
Cute one-word comments for crush pic on Instagram
You really don't want to miss any chance to impress your crush and stay connected with him or her well. Why not pick some of these cutesy comments that are only one word long? Further, you can also add some emojis with it to make your crush's day. 
Beauty 

Handsome

Cool

Outstanding

Gorgeous

Passionate

Introverted

Superstar

Model

Heroine

Winner

XOXO

Strong

Badass

Curly

Trendy

Happiness 

Butterflies

Unique

Specialty 

Faithful

Mine

Sunshine

Sunday

Precious

Careful

Improved

Craziness

Mind-blowing

Cutest
Want to make it even more engaging, then try these Nice Comments for Crush's IG Posts.
Funny one-word comment for best friend pic
Well, there are many things to say to funny posts or memes other than just "LOL'. If your best friend has just posted some hilarious pictures of yours or any viral memes at the moment, here are some funniest one-word comments to share on friends' Instagram posts. 
ROFL

Agreed

Bestie

BFF

Sorry!

Boring

Useless

Average 

Copied

Stolen

Filtered 

Joker

Crazy

Lucky!

Friendly

Guru

PRO

Mistake

Jealous

Over-priced

Regretful

Traditional

Doubtful

Sleepy

Wild

Beer

Timid

Horrific

Failed

Karma
Instagram one word comments for couples' pics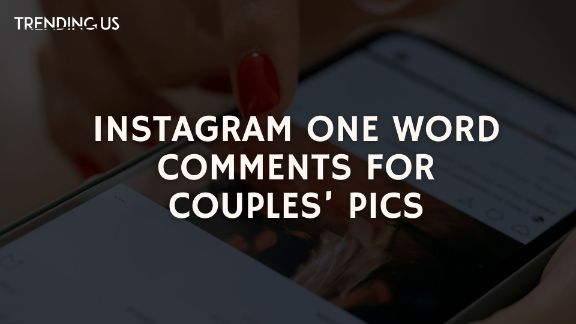 When it comes to comments for lovely couples, simply just one word does not make the perfect reply. But, sometimes it's a good idea to keep it just one word rather than writing anything extra. Want to appreciate couples' posts greatly, then try these one-word comments for couples' posts on Instagram.
Pretty

Soulmates

BAEs

Understandable 

Caring

Cute

Sweet

Respectful

Admiring

Unconditional 

Emotional

Special

Kisses

Cuddles

Peace

Fun

Feelings

Adorable

Forever

Beloved

Joyous

Hopeful

Together

Magical

Honest

Royal

Cutesy

Admired

Matching

Romantic
Read this article if you want to leave genuine comments on engagements posts on Instagram. 
One-word comments for Instagram story
While continuing scrolling through the Instagram stories, you might get that one story that you can't leave without commenting or writing something as your response. Because such stories are so creative or on the point, you want to express your honest opinion about them. So here are some nicest one-word story comments for Instagram. 
Creativity

Loved

Enjoy!

Impressive

Positive

Interesting

Agree!

Undoubtedly 

Excellent

Blessed

Unforgettable

Vibes

Satisfied

Ambitious 

Daydream

Cheers!

YOLO

Thrilling

Chilling

FOODS

What!

OMG

Sshh…

Oops!

Reality

Yummy

Yea!

Exotic

Moonlight

Weekends

Superb!

Mind-twister

Respected

Extraordinary

Artistic

Hilarious

Show-stopper

Unrecognizable

Treasure

Impossible

One-of-a-kind

GOAT

OG
Endnotes
When you're running out of time or commenting on every post or getting tired of it, don't pressure yourself to continue to participate. Feel free to leave such cute and best one-word comments for Instagram pictures and stories. That will work as well. 
These comments are a lifesaver for you and also quite effective enough to share your honest feedback. After all, that presents you as a genuine follower who knows to comment right, way better than any bot-type comments or someone with "Great pic"  on every single post. 
FAQs
Why do you want to leave such one-word comments? 
Because they're the easiest and most effective way to share your honest response or opinion on someone's Instagram post. 
How to make your one-word Instagram comments more creative or engaging? 
Well, other than using any of the relevant one-word comments, you can also add emojis or icons to express your feelings or thoughts you've regarding such a post. 
When you've no time to engage with all your followers and have to leave some comments on others' posts anyways, these will save your time, while contributing to your groups. Else, when you're not sure what to write as comments. Further, you can also share such one-word comments while replying to Instagram comments on your posts and stories.  
In what cases do you better not use one-word comments? 
Especially, when the post has some descriptive caption and explains something well or when someone is your real genuine follower, you shouldn't use a one-word comment on their posts. Instead of that, choose to write genuine comments that show respect for the hard work and creativity behind this post.