If you are about to post a picture or selfie of your traditional look, you might want to check out this awesome collection of captions for traditional dresses or outfits. After all, when you add such suitable captions to your posts, it boosts engagement on your posts and that's for sure. 
Dresses and outfits in Indian traditional culture are full of color and details. Each of their versions and variations represents the culture as a whole. No matter whichever traditional Indian outfit you choose from any culture, each one brings out the best feature of your personality. 
But, to make your Instagram posts even more engaging and unique, you have to write some best outfit captions. So, here sharing the best Instagram captions for a traditional look that won't only make your post look good but also tell something about that outfit.
Traditional Outfit Captions For Instagram
If you feel that your unique nature is best described with the traditional outfit, express it.  Whether you just bought a traditional outfit or are about to post a selfie of your weaning ethnic attire at a festival celebration, share your Indian vibes the best with these captions for a traditional look. 
Modern thinking, traditional look. What a perfect match!

Sometimes it's all great to go back to your culture and just be natural. 

No matter what the traditional fashion and look never go out of fashion. 

Reflect your patriotism by wearing your traditional dress with pride. 

More than

jeans

and tops, I feel more comfortable with the traditional outfit. 

It's not old-fashioned, you just have no idea where your modern fashion came from. 

Sometimes beauty lies in the simplicity with a traditional look. 

Well, these days traditional is the

new fashion trend

. 

I never felt so Indian before. Maybe because of this ethnic dress. 

The moment when you realize you don't need much to do to look good.

Don't judge me by my look. It's the original traditional look. 

Traditional outfit is not just attire, it's a culture. It's a religion itself. 

Proud be desi. Simply can't take this off, or I never. 

Nothing is simply perfect than traditional. Because that's where modern fashion inspired.

Feel proud of your roots. I can feel myself in this traditional attire.

Sometimes following your culture is the new modern. 

Three's always a new fashion trend. But the traditional outfit is a trend in itself.

Classy looks make you look perfect! 

No wonder, but traditional and ethnic attire is my style icon.
Also read: Trendy Women Sunglasses for Every Occasion
Best Captions For Traditional Look For Girl
Not to mention that girls' traditional outfits have way more uniqueness and styles than the boys. So if you talk about wedding dresses or any Indian festival outfits, they all add charms to your beauty and personality. And to make your posts even more special these are some great captions for your traditional look. 
New fashions and styles come and go, but the ethnic look stays there forever. 

Feeling proud and awesome wearing this Indian suit after a long time. 

We may look traditional today, and we are happy about that. 

So colorful, and so bright, just like myself. Right?

The true richness is not in jewelry but the ethnic dress. 

When you want to wear a saree everywhere. Then you realize, you're a proud Indian. 

Indian festivals are not about wearing

traditional dresses

. It's to celebrate our culture. 

Your beauty and personality glow the best in your ethnic look. 

Indian culture and its ethnic outfits are the art itself, to be taught in university. 

No heavy makeup or costly dresses. Just an original look. 

You feel more womanly when you wear a saree for the first time or every time. 

Indian dresses are always in trend. They are classic but have more shades than any fashion.

Never forget where you came from. Proud to be Indian.

Simplicity at its best. Nothing extra or fancy, It's just an ethnic style.

Tried just once. And now, I just can't get over it with such great comfort and style. 

Looks classic, and feels comfy. And this dress is just what I am looking for.

Your real beauty embraces the most in your traditional dresses. 

Because simplicity is the new style trend.
Good Traditional Outfit Instagram Captions For Boy
Although the selection isn't as large as for girls, traditional outfits for men also come in some great variations. And if you feel more Indian with your traditional outfit these are the great Instagram captions for a traditional look to proudly show off your best vibes. 
Never feel so desi, but this actually feels great. 

We don't judge people based on their attire. We represent our culture with it. 

And, here comes another reason why I love my India. 

No matter what you say, the traditional dress has its own swag. 

Not from the stone age. But I feel so original wearing this. 

And you thought that sherwani is the only traditional attire for men. 

Every traditional attire

tells a story of its culture

.

There's not a single way you're going to deny such an amazing traditional outfit. 

If you're looking for comfort and style in one, try traditional. 

They say: "You're so traditional." I replied: 'Of course I am."

Your 'class' shows up when you wear traditional, with that confidence.

Ignore all sigma rules, the desi swag is above everything else. 

What are your thoughts on this

desi

avatar?

Who said only costly dresses are making you perfect?

We are not just following tradition, but we are following our roots.

Your natural look is always more than just perfect.

It's got style, it has swag, and it feels comfortable, too.

Always stay connected to your roots. Be proud of your tradition. 

Old-fashioned? Nah! It's about respecting the culture.

Keep calm and let your traditional dress grab attention for you. 

A real swag is feeling proud in your traditional attire.

Some clothes are just apparels, some are the entire lifestyle. 

It's not denim, I feel more proud in traditional.

I wear my status symbol and that's my traditional attire.
Also read: Short Instagram Captions for Posts and Reels
Short Captions For Traditional Look
It's not a good idea when your picture itself tells a lot about your Indian vibe and you still have to announce it with your captions. If you have a special story to tell, that's fine. If not, then these are some short captions you can use on your traditional look posts on Instagram.
It's not perfect, it's the best. 

Rock the traditional style!

Old is Bold and Gold.

Love traditional, Welcome to the team!

Nothing like this, and never will be. 

So much pride, joy, and comfort. 

Just another royal look. 

Saree?? Why not!

Be original. Go traditional. 

This is the real me!

Bet you like this.

Shuddh Desi Look!

Sometimes simple is sexy.

Say no to

'Pardesi'

. Stay

'Desi'

.

Be original, Go ethnic!

Minimal looks are the best, Natural looks are perfect. 

Wearing what I believe in.

Adding sparkle to your Insta wall.
One Word Captions For Traditional Look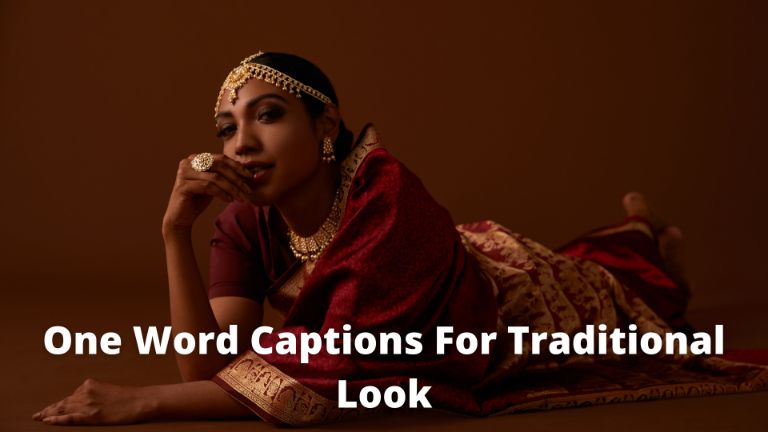 If you're like those people who love to use one-word captions, you are going to love this list. To express your Indian look the best way, such one-word Instagram captions for a traditional outfit are all you need there. 
Cultured.

Proud.

Originality.

Ethnic.

Uniqueness.

First copy.

Royal.

Unconventional. 

Indian vibes.

Classic.

Swag.

Retro.

Pure-Desi.

Old-fashioned!

Pride.

Vibes

Elegance. 
Must Captions for Traditional Dresses
Blooming in wedding season.

Sprinkling glitters on your Instagram wall.

Grooving like a firecracker!

Traditional outfit reflects me.

These colors complete me and bring out the best in me.

Just not an attire but wearing my traditions.

Is it me or is my dress getting all the spotlight?

Feeling so awesome in this dress. The material is good and it's so comfortable. 

Getting ready for the cultural festival, can't wait to be there. 

I just can't get my eyes away from this color-rich dress. What do you say?
Also read: Trending Dresses for Girls and Women
Final thoughts
If you love being traditional sometimes, you want to express your feelings and pride in your culture in the best possible way. You can proudly announce your Indian pride, wearing the ethnic outfit and posting your picture on Instagram. 
Whether you wear traditional dresses on special occasions, festivals, or just to try them out, make sure to take the best pictures of them. Furthermore, you can post such pictures adding the appropriate traditional outfit captions like the above, which can perfectly express the Indian vibe.