When creating an Instagram page as a brand, you need to consider a few elements. And, the 'story highlight covers' is one unique point to make your page distinctive. 
If you're looking for some trending Instagram highlight covers or think of getting inspiration from the top highlights, in this post we will cover them all. 
Mostly, if you regularly post stories, Instagram gives you an option to store all stories under the same category called 'highlight'. And as every highlight belongs to certain topics and types of content, you want to make sure they look engaging enough. 
Let's check out some popular Instagram highlight covers so you can decide which one to have. 
1. Minimal Highlight Covers For Instagram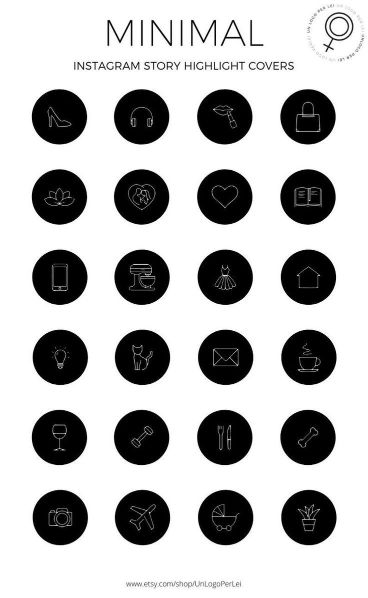 When you are not a fan of heavy decoration and rich color, but simplicity and meaningful designs, go for the minimal highlight cover. They are easy to create and also give off the message directly. If your Instagram page is for personal training or consultation, minimal highlight works best. 
2. Symbolic Instagram Story Covers
Those who don't add any text to their highlight, prefer to use symbols. For the well-known brand and general categories, such symbols make the perfect fit. Because it directly shows which category it belongs and the audience can choose the right one they want to see. 
Also, have these ultimate lists of Instagram hashtags for your posts.
3. Aesthetic Instagram Highlight Cover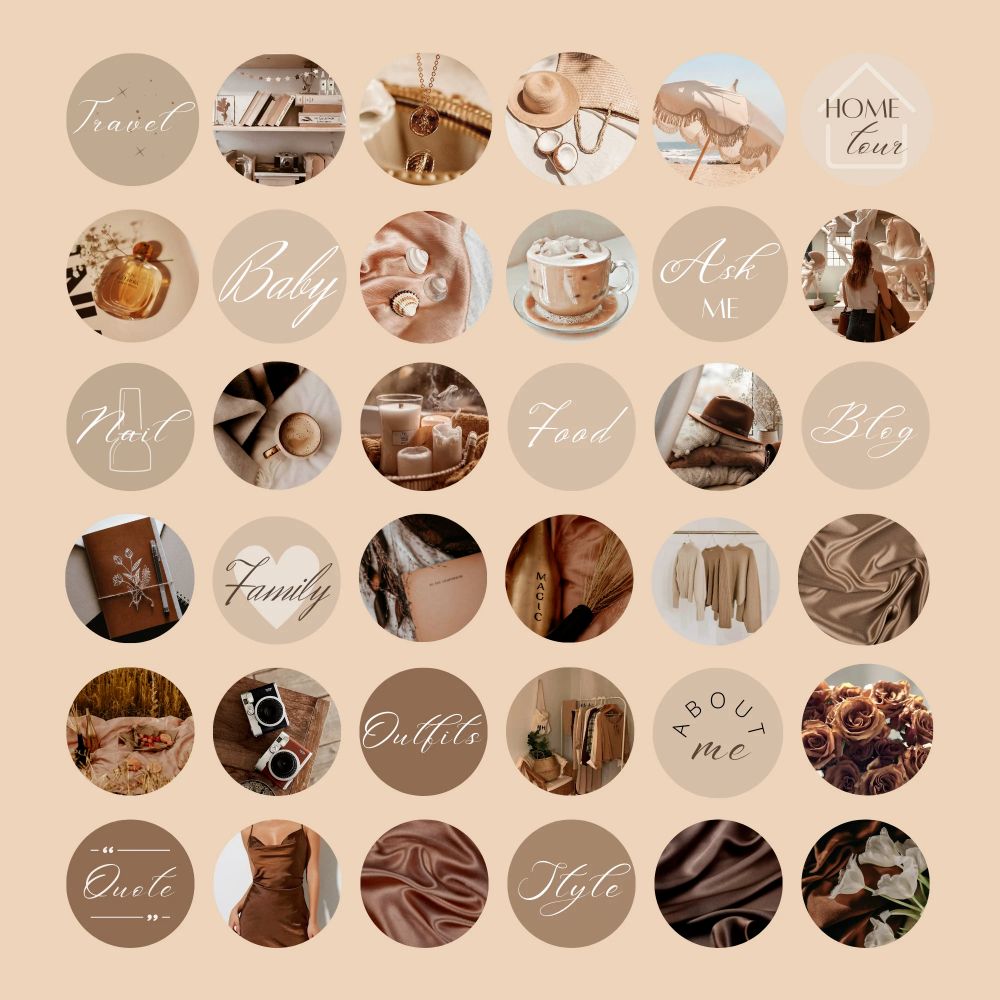 When you're taking your highlight cover seriously and want to make it just personalized, use these. These are the aesthetic highlight covers that give your profile a creative look. You can use it as a brand building because this makes you stand apart. 
4. Boho Instagram Highlight Covers Free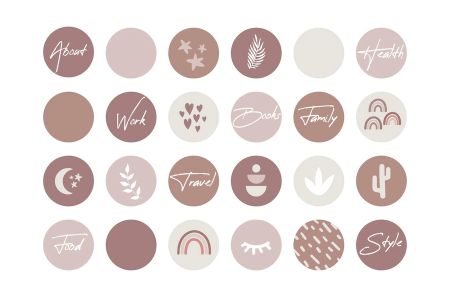 If you love creative and cool highlight covers, a boho highlight cover is what you need. They might look like just symbols but due to being designed elegantly, these highlights give your Instagram page a bohemian look. 
5. Colorful Icons Highlight Covers
Whether your page is about your lifestyle, health, and fitness related, you want to use the icons as your Instagram highlights. Instead of using the images as the cover, better use the icon cover that makes your audience click on it and check more. 
Make sure yo check out trending Instagram hashtags for Yoga reels and pictures.
6. Black And White Highlight Cover
It's not limited to only black and white texts or icon, there are many you can do with these types of highlight covers. You can mix and match it with the icons, texts, and designs with a unique combination of black and white colors. 
7. Cute Instagram Highlight Cover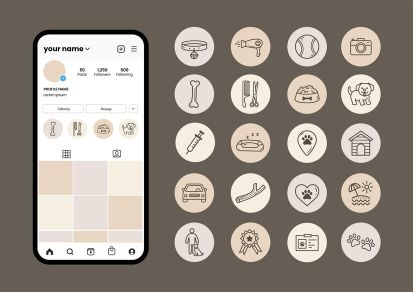 If your page is about family pets or it's your pet shop business profile, you want to have the Instagram story cover be cute. This is one of the popular highlight covers on the list. Depending on your choice, you can mix this highlight design with other, such as symbolic or textual but small icons works the best always.  
8. Business And Profesional Highlight Covers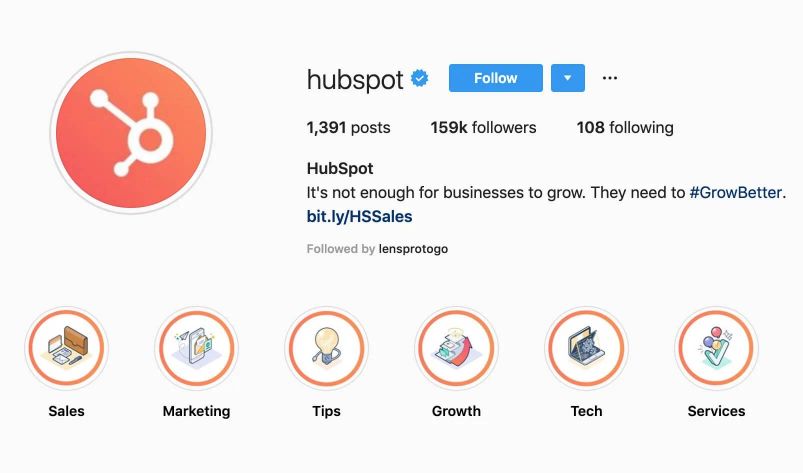 No matter what type of business it is, real estate, marketing, or any, when your Instagram page is your brand that promotes your business, along. To make your followers and audience interact with your stories about products and tips well, enough, make sure you don't leave this chance.  
9. Text-focused Instagram Highlight Cover
For those who don't want anything colorful and design-rich, the textual story cover is enough. These are nothing but the text on your highlight cover, with or without your page profile pictures as background. It's simple, but still one of the trending highlights covers to have. 
10. Fashion and Lifestyle Story Covers
Your fashion page needs your highlight cover to be super engaging and stylish.  You can use the icons to demonstrate the type of stories within that story, that works well. Plus, you can also use it as brand-building and give it a new look to engage your audience better. 
Are you in a clothing business? You need these: Instagram captions for ethnic dresses
11. Colour Gradient Instagram Highlight Cover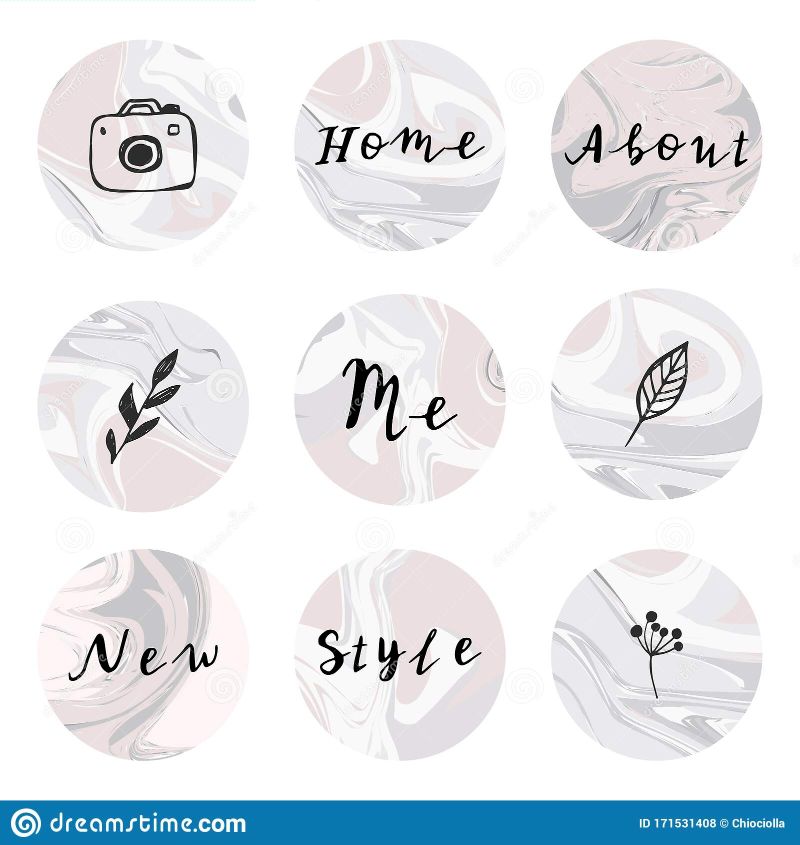 If you want your story covers to be easy to use and still look elegant, these are the perfect option. Whether your entertainment page or influencer, the color gradient works well for your Instagram page highlight. 
12. Hand-Drawn Instagram Story Covers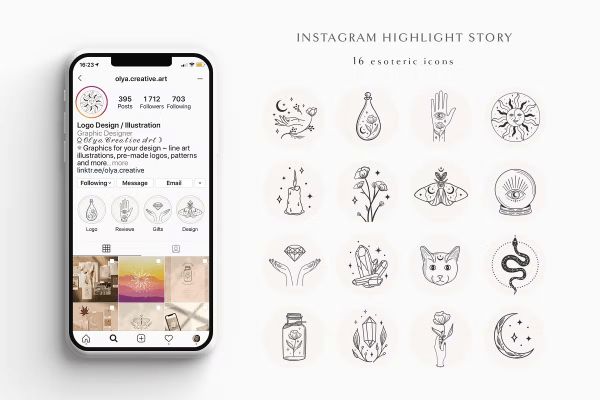 They are classic, and creative plus helps your Instagram page to look apart. It comes with a unique set of handwear icons and you can opt for the one that relates to your page. You can also use the calligraphy texts as your story covers, which looks amazing, too.
13. Line Art Story Covers For Instagram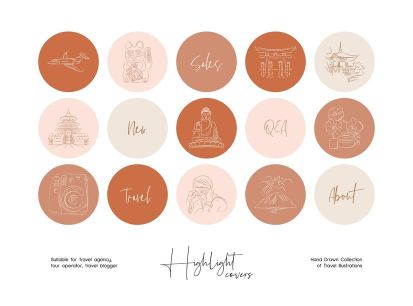 If you're an artist, fashion influencer, or creative profile, the line art is the one for you. it covers the small icons, symbols, and lines to describe your highlight topics. This makes the classic highlight covers and gives the artistic vibes for your audience to watch more stories. 
14. Image Hight Light Cover
Some Instagram users don't want to do anything about their highlight but keep one of the posted stories as its cover. It's a good move because you can keep your most popular story as the highlight cover to re-engage your audience. 
Now you have the best highlight covers, also check the best time to post on Instagram.
Final thoughts
Consider the highlight cover as the banner, which encourages your audience to check more of them. Overall, having the branded highlight cover, make your followers keep coming for more and interact with your page, better. 
So, if you wish to make it a brand, have a personalized and unique set of highlight covers for your Instagram profile or page.