A single ride to nature heals your body and soul. You always feel like a new person after returning from being outdoors in nature for a while. 
Well, as a photographer or explorer, if you have so many pictures to share about nature, you need the right captions on the same. And, it's not possible to come up with the perfect captions idea every time. 
So, here we are sharing with you the whole list of Instagram captions for nature that you can add to your pictures. Share your experience and thoughts on nature with these pure nature captions.  
Instagram Captions For Nature Photography
As a professional wildlife photographer, if you want the best nature captions, you will find them here. Make good use of these captions to share your wildlife photos with your Instagram followers. With the proper captions, you share the natural vibes through your pictures. 
Let me take you on a ride to the great nature.

Believe it or not, it's a picture, not a painting. 

There can't be any perfect captions but this click. 

One of the best natures I have ever taken. 

I just never feel tired of my job. I work in nature. 

You always get the best pictures in the woods. 

Nature is awesome and I don't have to explain why. 

It's a no-filter and 'pure' picture.

We don't work too much, just waited five hours to take this click. 

And the real view was even more beautiful than this pic. 

We don't have to be perfect in our job, nature is perfect. 

Probably the best 'nature' photo of the week.

Nature's beauty in just one click.

Want to know what I found in the jungle?

There's always something more to explore in nature.

Only nature is pure, everything else is just so fake.
Also read: Trending Nature Hashtags For Instagram Reels
Instagram Captions For Nature's Beauty
Nature is pure, it heals and fixes your mood. A ride to the wild isn't a cost, but an investment to make you feel good. If you want to share nature's beauty in an Instagram post, a picture isn't enough, make your captions count. 
Nature is always a trending topic; it's just never outdated. 

There's beauty in every corner of the jungle. You just have to go there. 

So much to explore, so much to experience. 

Take a deep breath, it's the part of earth that's pure. 

Mother nature is beautiful, and caring like always. 

Let me go, the mountain and jungle are calling me. 

Heaven is on the earth, nowhere else, but here with us. 

You feel more recharged when you be in nature. 

The real wonder of the world lies here. 

Nothing can be so pure and perfect as nature. 

Take a ride to a place that makes you feel alive and fresh. 

Just one trip to nature is enough to clean your soul. 

And here share the best picture from our ride to nature. 

We did not just have a happy weekend, we have a refreshing one. 

How adventurous, wild, and pure this nature is!

Nature is pure and we must keep it that way. 
Good Instagram Captions For Nature Photos
Seeing nature's photos can make our mood. It's pure and refreshing. When you share a random nature picture with your followers or it's from your recent trip, these are the right captions you want to need for a feel-good post about nature. 
Nature is the perfect place you want to waste your time in. 

Stop scrolling and start exploring nature, there are many more. 

Bet you have never seen this side of beautiful nature. 

There's nothing more than just greenery and fresh air. That's everything.

Take your time out of the concrete jungle and go to the real jungle. 

If you want to relax your mind and soul, take a ride to nature. 

You won't have WI-FI there but there's a real connection. 

Nature isn't just a place you travel for relaxing. It's our root.

No more worries, leave everything behind. Head up to nature. 

Life in the woods is much more comfortable than what we live around technology. 

Nature's beauty is incomparable, there's no competition. 

Here's where I'm going to spend my next vacation. 

There's so much to feel grateful for and nature is the first thing.

Crowded place, nah! I rather spend lone time in the woods and explore the nature.  

When you're in nature you feel and think just pure nothing else. 

This could be possible only in nature and nowhere else. 
Also read: Unique Comments For Travel Posts And Vlogs
Short Instagram Captions For Nature Pics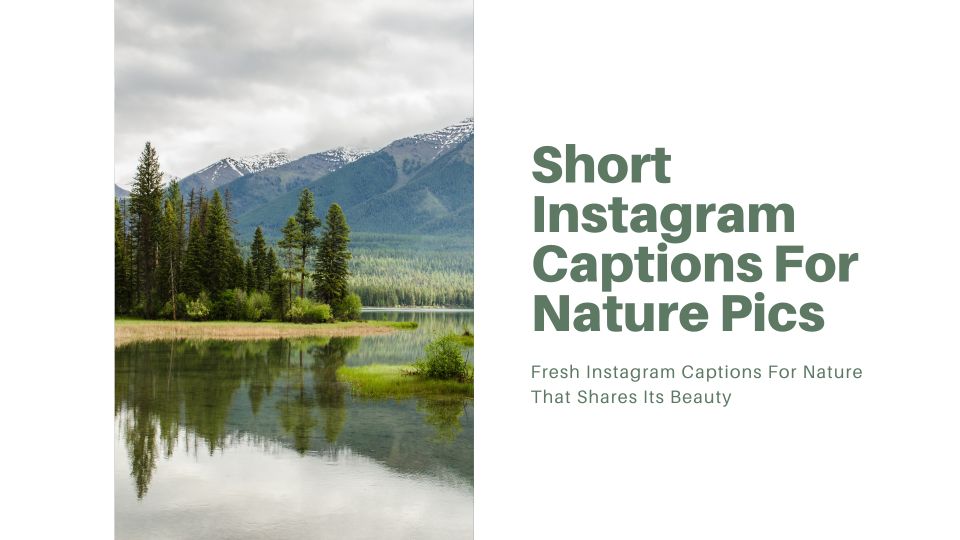 There's always so much to explore in nature. Also, one could even write an entire book on nature. You don't have to do it when you're sharing a post about nature. These short captions are more than enough to make it a refreshing nature post on Instagram. 
A ride to the wildlife. 

Just positive, pure vibes only!

Nature in its purest form. 

What a masterpiece!

There can't be any beauty. 

Nature is just perfect. 

Don't miss the view. 

Not all silence is scary. 

The hidden beauty of the earth. 

We belong to the wild not here. 

Get out, go to nature!

Nature never hurts. 

Simply perfect nature. 

Always explore and experience. 

I just lost in nature. 

The definition of beauty. 
Final Thoughts
Nature is the perfect escape plan. If you want to take a break from your routine life, there can't be any perfect plan than being in nature. But don't just explore by yourself, take a great picture and share your experience with others. 
With these Instagram captions for nature, you pass on fresh vibes to your followers. Your pictures of nature are indeed perfectly beautiful, and when you add such captions, you actually give them a reason to take a trip to nature!