Alongside being their best friend, show that you're their number one fan on Instagram. And how would you do that? It's all by leaving great comments for your best friend's Instagram post. 
Yes, you want to make your friend feel that you care for them and appreciate their posts. 
Whether you want to make her feel encouraged to share more artistic posts, your remarks on their video/reel, or just want to make their day, leaving great comments is worth it, for your best friend. 
If you're unsure about how to make your comment stand out, you don't need to worry about looking for suggestions. All you need is to check out the given list of the best comments for best friend's posts on Instagram that we're going to share with you. 
Good Comments For Best Friends IG Post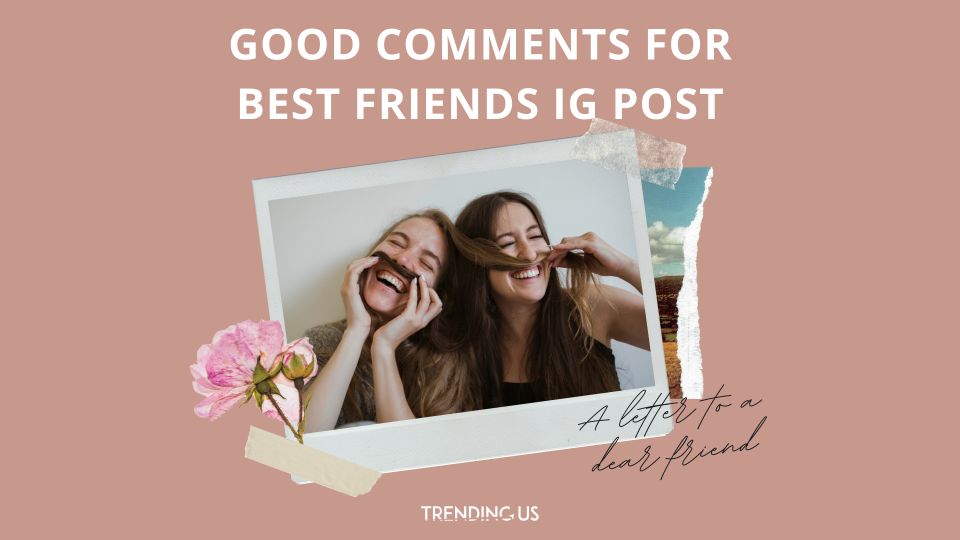 If your bestie has just posted some quote or message on Instagram, you can't limit your comment to 'great pic' or 'nice one' alone. Let your best friend know how much you enjoyed this post and what they've shared with such good comments. 
Looking awesome, like always. 

You look gorgeous in this. I'm stunned!

That's why we're best friends. 

I'm so grateful that you're in my life. 

Only you can do this so perfectly, my friend. 

What's the trick to how you look so perfect in every post?

He/she is my best friend, everyone. 

What a great feed with nothing but perfect posts. 

With this outfit, you catch my attention. 

Totally can relate with this one, mate. 

Your post makes my day, brother. 

I told you you should start modeling. 

You're a good person with a kind heart and a nice face. 

I'm going to remember this post for the rest of the day!

Being such cute on Instagram is not allowed.

You're unstoppable, mate. Love this one, too.

Doing good, man. But, you need to do what you learned from me.

This selfie, when did you take it? I found this place quite familiar.
Also, check out the list of Trending WhatsApp Group Names for Friends.
Funny Comments On Friends' Pic On Instagram
You want to comment on your best friend's picture that is as super-interesting or hilarious as possible. You can use such funny comments for your best friend's posts when you don't know what to write to make them laugh. 
With makeup or without it, you're looking the same. 

No matter how hard you try to look cute, I know how you look. 

Stop trying to make your followers fool, I have an original pic of yours to share.  

You can't convince me with such a pretty face, there's a devil inside. 

Wow, I never knew that my dress was with you, now you'll return it to me. 

Looks good brother, but not like me. So don't be overconfident. 

Let your followers know who the legendary person has taken this pic. 

Damn, you've got a lot of dresses. I need to borrow one, sometime. 

And, how can you copy my style without giving me credit?

I was away from Instagram, but your post notification brings me here. 

So your goal to make everyone feel jealous, has achieved? 

I simply love this post, more than my favorite food and sports. 

That's great friend, you're learning a lot from me. 

Next time when I come to your house, I'll take this dress. 

Shout out to me, or else I will post the actual picture of you I've. 

Slow down, buddy. There're also others in the frame. 

It's hard to decide in which picture you look perfect.

I'm here still waiting for the day when you stop copying me. 

Wow, this picture of you makes me comfortable with myself more. 

You can do still better than this, I have to say.
Cute Comments For Best Friend's Selfie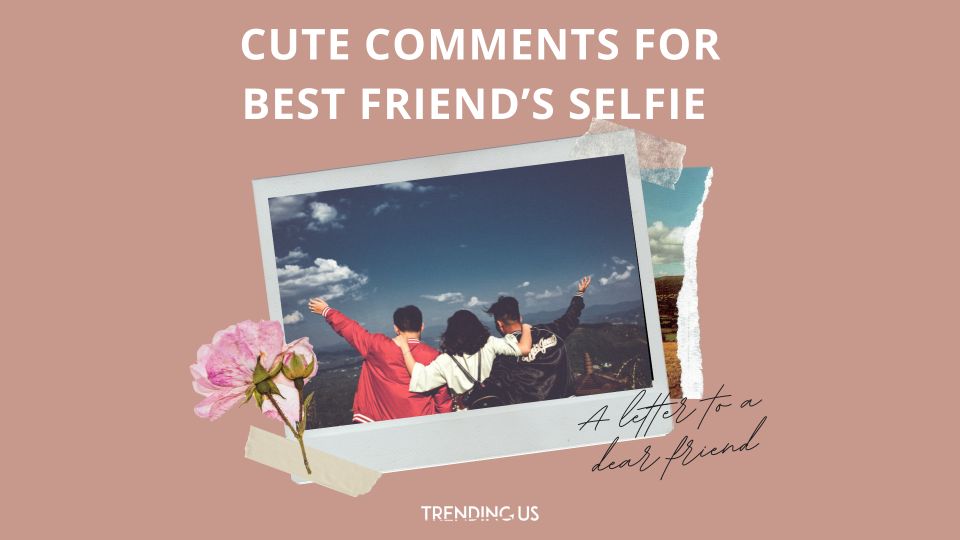 Found your bestie has posted their coolest selfie post? Get ready to leave some special and cutesy comments on the selfie post of your best friend. Here are some special and nicest things to share as post comments that will surely hype them up.
Well, I admit that you're the cutest girl/coolest dude. 

So many memories within, remember every moment my friend. 

Thanks for sharing this picture. It reminds me of the best moments. 

So excited to get together and have a great time like this again. 

Even though we're just two friends, we're a team in itself. 

Wow, I have never seen a selfie that looks so sharp and professional. 

Such an impressive post and just look at the pose!

With this pic, you make me your fan, buddy!

Write a warning in your caption: "Watch at your risk. Cuteness ahead!"

I want to tell everyone that this person looks the same as she does. 

You are creating magic with your every post, impressed. 

This picture deserves a million likes, be patient. 

Wow, I want to frame this picture, this is our greatest memory. 

Please share one pic a day, it's hard to handle such hotness. 

So, here comes one of the best pictures from my best friend.

Can't believe my eyes, when did you take this picture.

So for today, this is the perfect picture of yours.

Hey, you forget to give credit to the man behind the camera, it's me.

Looking so fine, where did you do your makeover?
Make your friend feel special and proud with these Special Compliments for Your Friends.
Comments For Best Friend Video On Instagram
Everyone scrolls through the reels and has no time to leave a comment, while you, being the best friend, cannot do the same. Whether your bestie has posted some latest reel trends, random videos, or something interesting, here are the best comments you can share. 
Love this reel, doing a great job, mate. 

What a great editing skill you got, bro! I need your help. 

Well, this post made me change your perspective.

You used the best color combination in this post. Loved it!

Never knew you were an artist, totally in shock!

Seriously, I can't wait for your next posts. 

This post is going to be the next viral one on Instagram. 

With every post, you share some message. That's great!

Thanks for this clip, It made my day really.
Loved it. You're totally being yourself in this video.

On behalf of everyone, I would like to thank you for such a powerful post. 

You never fail to make others smile. That's why I love you.

Why don't you start the vlog about sharing tips and tricks? They'll love that. 

Looking so refreshing and perfect, sis. Keep it up!

You've shared such important notes, and I hope others feel the same. 

I've to confess that I'm just addicted to your reel style.

You're a direct talker and I love you for that reason, too. 

You can do video, too? Since when?

You look great in videos. I suggest you share more videos on Instagram. 
Great Comment For Best Friend's Reel On Instagram
You've enough comments to share on your best friend's posts on Instagram. But what about their Instagram reels? We know you might have a friend who can't stop posting their dance move on reels or some funny skits. To value their efforts behind these are the perfect comments to share on Instagram reels of your buddy. 
I've seen the same content somewhere. Oh, this is my idea. 

Looking great in these reels. Always be yourself and never stop. 

Stop flexing, especially when I'm in the audience. 

OMG! Just look at you, you're totally a different person. 

Can't wait for your next post, your content quality is improved.

I'm still confused, how did you can create this? And even without me. 

What a content, man! This makes me your fan, too. 

Congrats on reaching 1000 followers, you're far behind me. 

Dude, when you will stop copying me? At least give me credit, though.

Hey friend, you have no idea how badly I miss those old days. 

You guys are the best people I have ever met in my life.

I'm so grateful that you met me, Who else can tolerate me like you do? 

We are not the best friend anymore. But we are great friends, now.

That's what I expect from you, Bro. You did it perfectly like no one else can.

I have one of the best and the worst besties that anyone can ever have. 

Dear bestie, I might joke about you all the time. But I'm just nothing without you. 

Looking fab, bestie. By the way, which software you're using these days? You look shaper in your recent pictures.
One-word Comment For Best Friend Pic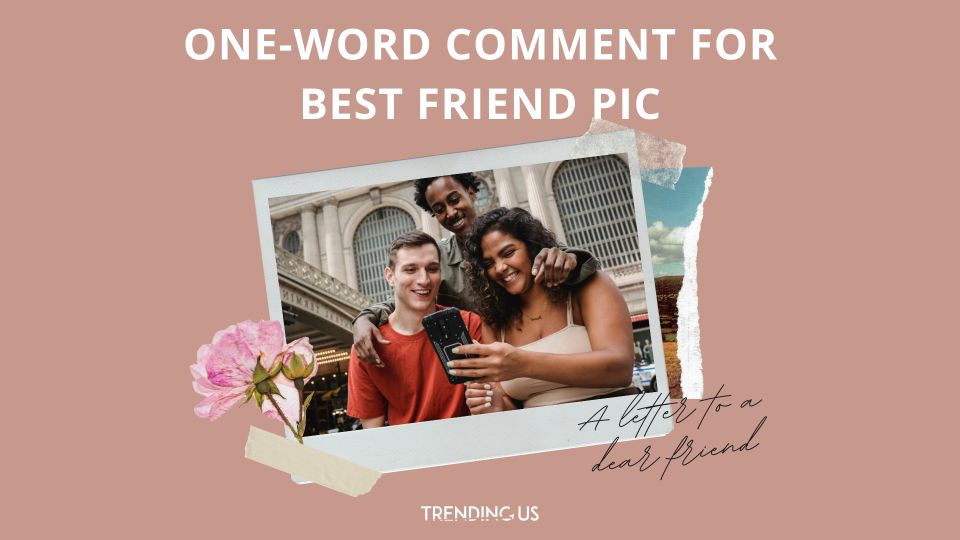 It's not enough to share the one-word comments on your best friends' posts. However, a perfect word comment lets you share your contribution as well. Even if it's just a one-word comment, you can mix it up with some emoji to make it an engaging comment for your best friend. 
Bestie!

GOAT

Stunning!

Handsome 

Gorgeous

Funny

King/Queen

Irresistible 

Impressive

Perfect

Smart

Awesome

Cutest

Lovely

BFF

Crazy
Here's the ultimate list of the one-word comments to share on Instagram Posts and Stories.
Conclusions
As best friends, you certainly want to contribute to building your friends' Instagram pages, by engaging with their posts. Then, why leave such regular and standard comments?
You can certainly try out such comments for best friends that we've just shared with you.
No matter what you write on your best friend's pic, make sure it is engaging and interesting, though. Make them feel special, inspire them, or share something to cheer them up. 
It's all worth it since you're not just their best friend, but also a genuine fan. And, your comments prove that.