Having cousins who are more than your friends and not just relatives, means you're lucky. You might not always be together like friends but when you meet you end up making life-long memories. 
You have cousins with whom you can easily relate and have fun, you already have captured so many pictures. Also, on their birthday or to share old memories posts, you can share pictures with cousins on Instagram or Facebook. 
Well, to make such posts even more memorable, you need your post captions to be nice and funny. No worries, if you can't write perfect post captions. Just take the right Instagram cations for cousins' pictures from this list. 
Instagram Captions for Cousin's Birthday

If it's the birthday of your favorite cousin and you want to share a post on making it memorable, write something special as a caption. Here are some nice birthday captions for your cousin's birthday posts on Instagram.
This special day, itself is a special day to me, as well. Happy birthday!

How can I forget such a great day, After all, it's my one and only cousin's birthday.

I'm so happy to have you as my cousin. Big surprises are coming to you, HBD!

Let me make this a great celebration day. You must be prepared. 

HBD, We might be cousins, but we're more like siblings and friends. 

I will never forget how amazing you're as my brother. Best wishes to you!

Thank you so much for being who you're. HBD to you!

It's your birthday, dear! It's time to celebrate the perfect way, I'm coming there!

Wishing you the happiest birthday ever. May you have a great party there. Enjoy!

Many many happy returns of the day, cousin bro. You're the best of the best.

Please don't tell me to keep calm it's my cousins' birthday.

You're the one who makes me ignore my friends. Happy birthday to you!
Also read: Nicest Group Names For Family
Funny Instagram Captions for Cousins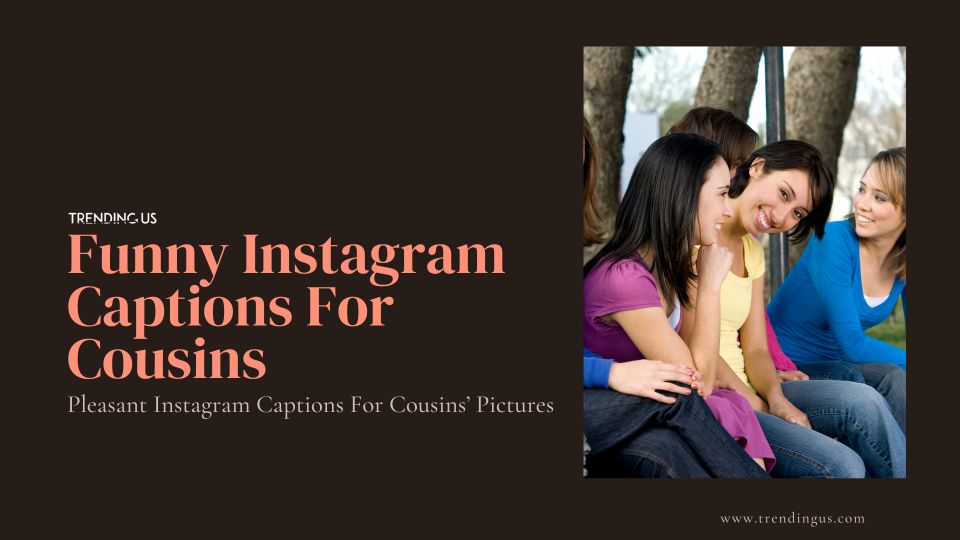 Interested in posing for some fun pictures with your cousins? So, this is the list you need. These are the funniest captions for cousins' pictures to post on Instagram to bring smiles to their faces. 
So, do you think your cousins are better than mine? I doubt. 

Every time I think about my cousins, I smile because they're crazy!

It's always a fun time when we are together. You're more like my bestie. 

Meet my cousins, there are not like my friends but way more than that.

I wish no one have cousins like these, I just want them to have only. 

The only reason I like to attend family functions is because of these guys.

My cousins never ask for anything, they just take whatever they want.

We're not uncomfortable hanging out together, but we just got no time.

While most cousins fight, we also love each other without even telling.

No one got a chance to select cousins. I'm lucky to have them.

If you have cousins like these, that means you're worthy to handle them.

We might be related to each other as family, but we are friends before that.
Short Instagram Captions for Cousins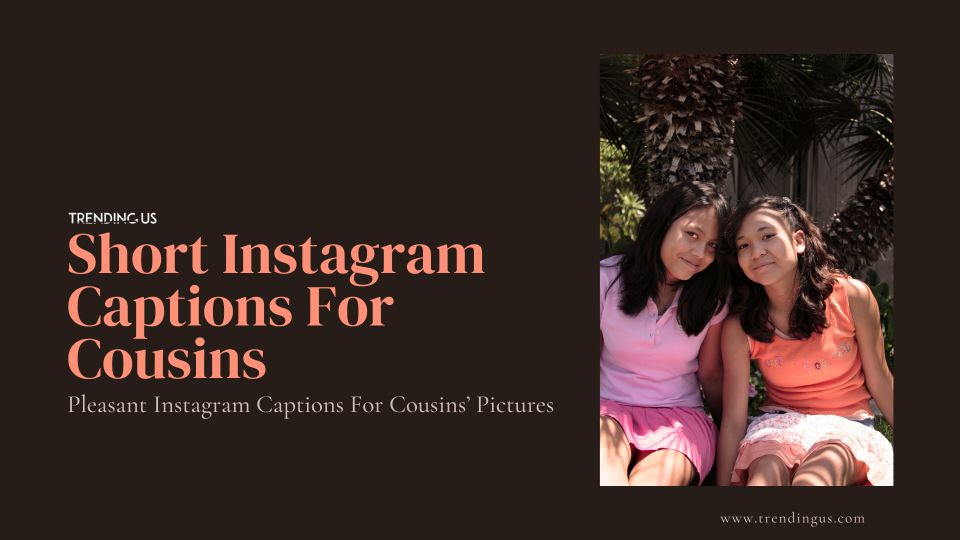 When you have no idea what to write for posts related to cousins' pictures, you can try these. Such short captions are enough to make your cousin feel appreciated. 
Family vacations are nothing without you. 

I wish we could be together forever like these. 

My cousins are smarter than yours. 

Well, I can't thank enough you for being my cousin.

They're special and everything they do is just nice. 

I can't imagine my life without you all. 

Missing you here, dear cousin brother, and sister.

Beware such brotherhood can make you feel jealous!

With every meeting, we add more memories to our lives.

How's your connection with your cousins?

They might be part of a family, but now we're more than family.
Also read: Instagram Captions for Family Photos
Cute Instagram Captions for Pictures Of Cousins
On a random day, you suddenly start to remind that family vacation and celebrations. It must be because of the enjoyment you had with your cousins. To remind those good memories and to express your thankfulness, these are some cute captions for your cousin's pictures on Instagram.
My life is amazing and that's also because of you all, guys. 

You have no idea how much you love your cousins until they leave your home. 

Because my cousins are great, I never feel the need for a best friend. 

I got no option to choose them. But happy that they're perfect for who are they.

Wish we all could relive those old times again, just as kid cousins.

I hate to call them cousins brothers or sisters. I just call them brother or sister.

For the whole world, we are cousins. While we're gangs in ourselves.

I can talk with you about anything and still not

get bored

. 

You're the perfect cousins someone ever has. Glad that someone is me. 

Some have cute cousins, some have crazy ones. I have them both.

Dear cousin brothers and sisters, thanks for being my cousin.

Cousins who know to keep your secrets just like your friends. 
Facebook Captions for Cousins Photos
Just like Instagram, you also want to share photos with your cousins on Facebook, too. To make it a good post, have this list of captions on Facebook posts related to cousins. 
If cousins are like these, imagine what happen if they were your friends. 

These guys are responsible for my all-greatest memories in life.

It's really surprising how time went so fast and we're still the same. 

My friends are my family and my cousins are my friends. 

Remember I'm your cousin and you've no option for it.

We are never together. But when we are, everyone knows that.

I don't care how you see us, but when I'm with cousins, I'm different. 

When cousins are around, I almost forget everything about my life.

Glad that my cousins aren't boring like yours.
Also read: Cool WhatsApp Group Names for Friends
Final thoughts
How are your relations with your cousins? Is it more like cousins or friends? Well, no matter how often you get to see each other, be sure to create more memories. 
And with pictures already taken, don't forget to add the best Instagram captions for cousins like these. It's all worth celebrating your connections when you get a chance of it.