Office outfits shouldn't stay out of the count, they matter a lot, they share a lot about your personality. Although we just started normalizing our work from home, it's time to get back to our office desks.
Talking about trending work outfits to add to the wardrobe one must think about comfy clothing, new trends in styling have made a lot of space for comfy clothing.
While we spent a whole year on our couches in pajamas, it isn't easy to get back to tight and fit styles again. So, all thanks to designers and brands for mixing comfort and styling, so that we can slay in our workspaces with comfortable clothing.
But still, the biggest task after waking up would be choosing our outfits for the day. So, we just simplified your biggest task by shortlisting the trends for you. 
Here are some trending work outfits that you can add to your cart and ramp up your wardrobe!
8 Trending Work Outfits for Women
1. Striped Shirts with Solid Trousers
Striped shirts are back in trend, you can get them out from your trunks. You can style them with solid color trousers. Blue shades are my go-to color palette in formals and white stripes over blue look absolutely classy with a darker shade in trousers.
2. White Shirts and High Waist Jeans
White oxford shirts look super professional and classy, it is comfortable to carry all day long which definitely makes it a trending work outfit. You can style them up with high jeans and a nice pair of pumps. You can also style it with a nice short blazer in winter.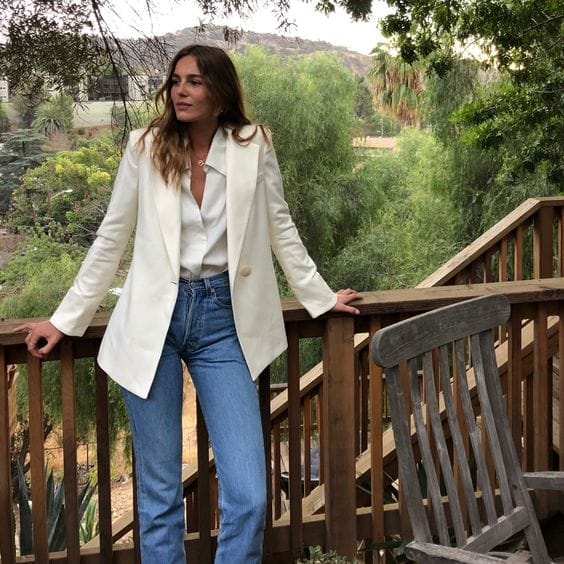 Also read: First Date Outfit Ideas for Women (with Photos!)
3. Wrap Skirts For-The-Win
Wrapped-style skirts are trending everywhere and they look very chic. You can go for a check or solid color and pair them up with a nice top or shirt. Although pumps go really well with this outfit, you can also try mules to stay comfortable.
4. Monochromatic Co-Ords for Work Never Goes Out of Trend
Mono stands for single and chrome means color, this is one of the trends that everyone is loving. It looks super stylish, co-ords with a single color in a formal silhouette empowers your look and style. You can go for a blazer & trousers and try wearing a contrast shirt or top inside.
Also read: Fashion Styles That Can Make You Look Gorgeous
5. Belted Tuxedo Dresses and Blazer for Bossy Look
Tuxedos are a very empowering silhouette and trending in feminine outfits enhances it even more. For meetings and special occasions you can go for tuxedo dresses and a blazer in solid earthy shades or check.
 You can also go for houndstooth blazers; they are simply timeless pieces. Pair them with block heels and pumps with studs.
6. Blazers with Denims Making Statement
Blazers are a very crucial part of formal clothing. You can try them in different silhouettes and styles. If you are confused about how to carry a blazer, pairing them with denim is one of the simple and trending ways.  
You can try mid-length and short blazers with blue denim and don't forget to roll up your sleeves as it is like a cherry on the top.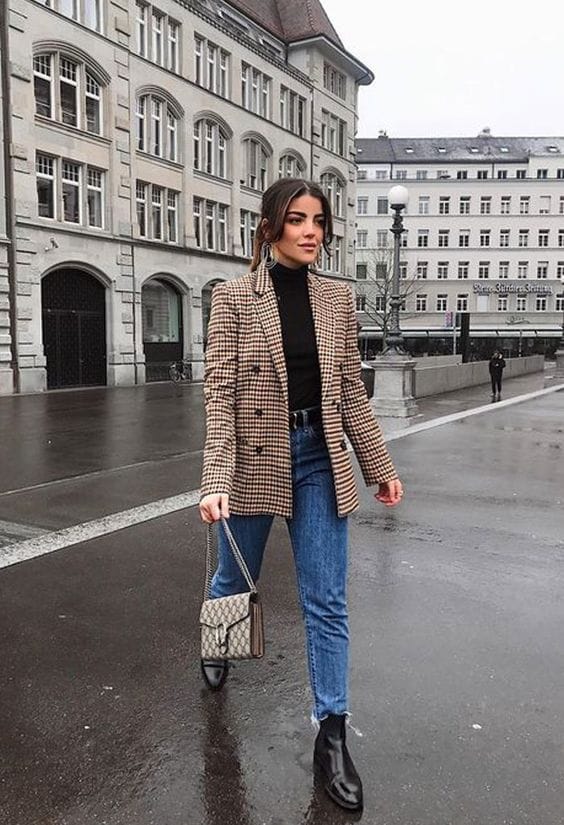 Also read: Trending T-shirt Designs For Men & Women
7. Midi Skirts Buzzing all Around
Midi skirts are not going out of trend soon and they come with a lot of European feels. You can go for a pleated or pastel satin skirt with a nice shirt or round neck top.
You can also style it with a baggy shirt, in winter you can put a solid blazer on the shoulder or a soft knitted round neck sweater.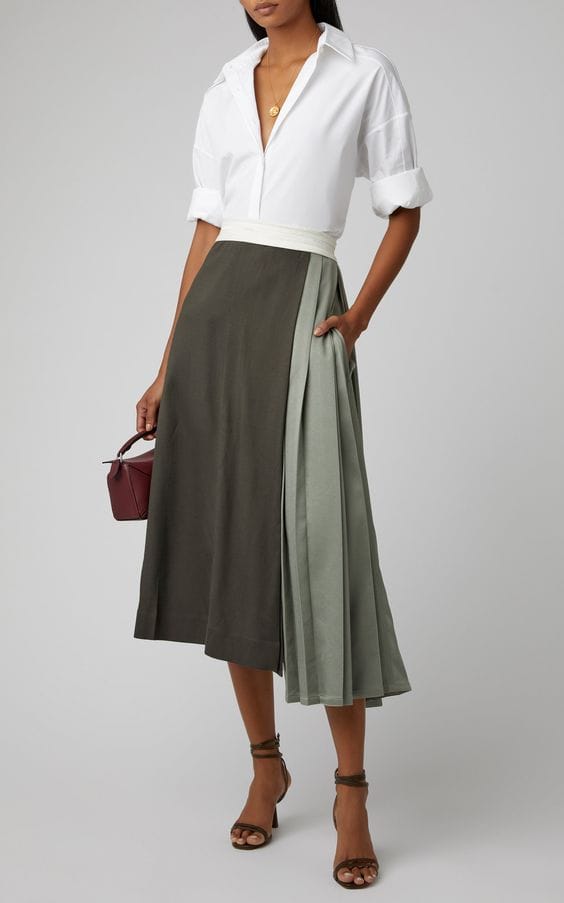 8. High Waist Trousers with T-shirt Setting New Work Outfit Trend
High waist loose trousers are the best synonyms of comfort and class although the combination of high waist trousers with a t-shirt can be considered as semi formal.
You can consider a white solid t-shirt with grey or earth shades in trousers as a safe option.
Also read: Tips for Happy & Healthy Hair for Women
4 Trending Accessories Tips to Style with Your Work Outfit
Accessories can simply add glam to your style, small changes and addons can change your look a lot. Accessories are not just about jewelry but also include handbags and footwear.
Here are some small styling tips to match your trending office outfits:
1. Scarfs:
Scarfs can add so much to your look, you can tie a small satin scarf on your shirt, pony, or with your handbag. This can add an elite touch to your trending work outfit, in winter you can add a long woolen scarf with a blazer, grey, black, and brown goes with almost every outfit.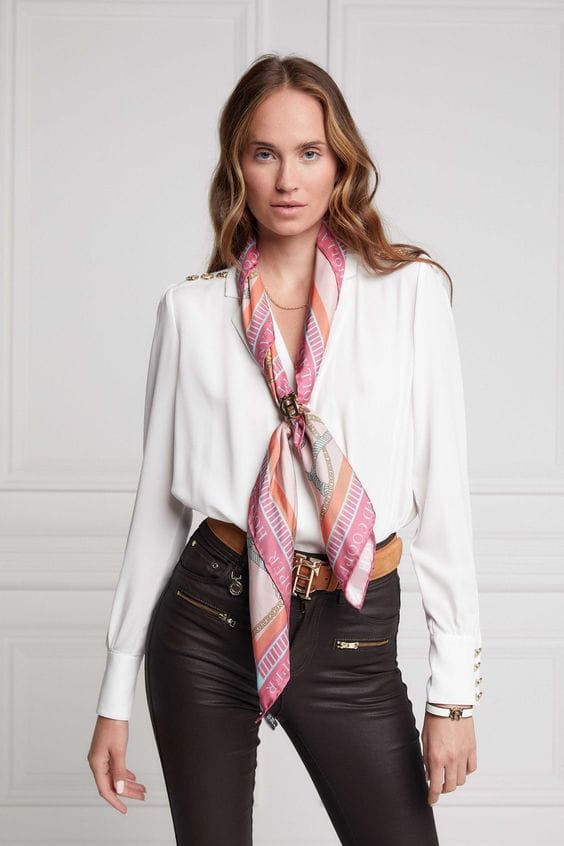 2. Jewelry

:
Minimal jewelry is what everyone is in love with these days, you can also go for multiple size chain layering in v-neck tops or high necks. On special occasions, you can carry pearl statement necklaces to empower your look.
You can keep 8-10 good jewelry pieces in earrings, chains & rings and keep rotating them to style. You can also add a nice branded minimal watch in gold or rose gold shade that can go with almost every outfit.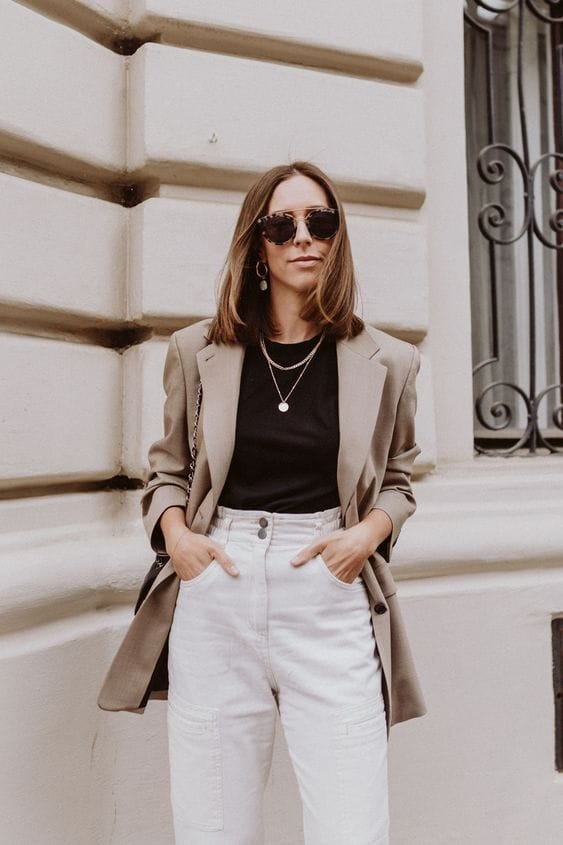 Also read: Trending Hairstyles for Women You'll Love
3. Handbags

:
Handbags are a very essential part of styling especially in trending office outfits. Things that you can consider before buying your office handbags are-
It should be spacious to keep your daily office essential.

It can be subtle in texture or color so that it can match with most of your office outfits.

It should be easy to carry and comfortable in day-to-day hustle.
Talking about trends in handbags for your office outfit you can always go for hardcover handbags or tote bags. These are easy to carry and look elite and you can keep your tablet and laptops with some essentials in them.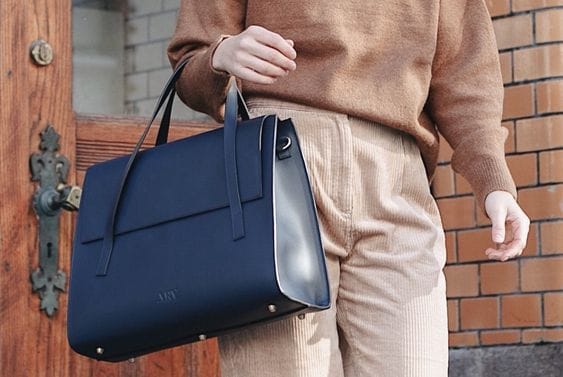 4. Footwear

:
There can be multiple trends in office footwear, but the most important thing is comfort, you have to carry them all day long so prefer comfort.
Instead of high heels, go for small heels or block heels. Loafers go very well with work outfits, you can also go for small kitten heel mules and square boots in winters.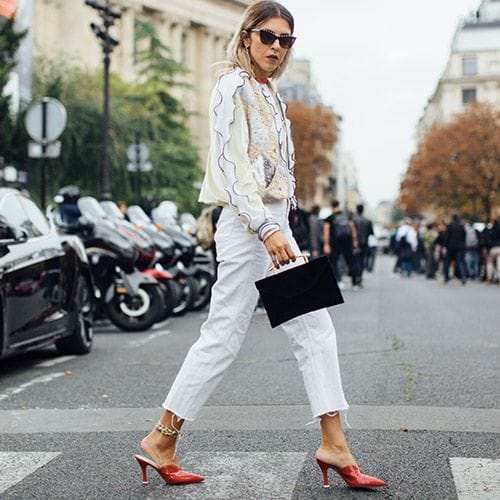 These were some of my trending office work outfits and styling tips that you can pick anytime, which one is your favorite? Let us know in the comments.