Instagram is one of the biggest trend spotters and we can't deny this fact, reels and videos fuel knowledge, laughs, and tutorials in our minds. There are videos and then there are viral videos that the world witnesses. Trending reels are something that gets placed in most of the Instagram scrolls and dm's people send each other and watch them again and again.
Reels are one of the most addictive features across all the platforms, they can keep you engaged for hours and hours once you start scrolling.
In circulating content AI plays a big role and we can't deny this fact, let it be trending music on Instagram reels or Instagram reels hashtags, pages keep such points on top while discussing tips to go viral on Instagram.
While we keep on discussing trending Instagram filters and reels, I thought to serve some trending and most viewed content on this page.
Scroll below to watch some trending videos on Instagram.
Trending Videos on Instagram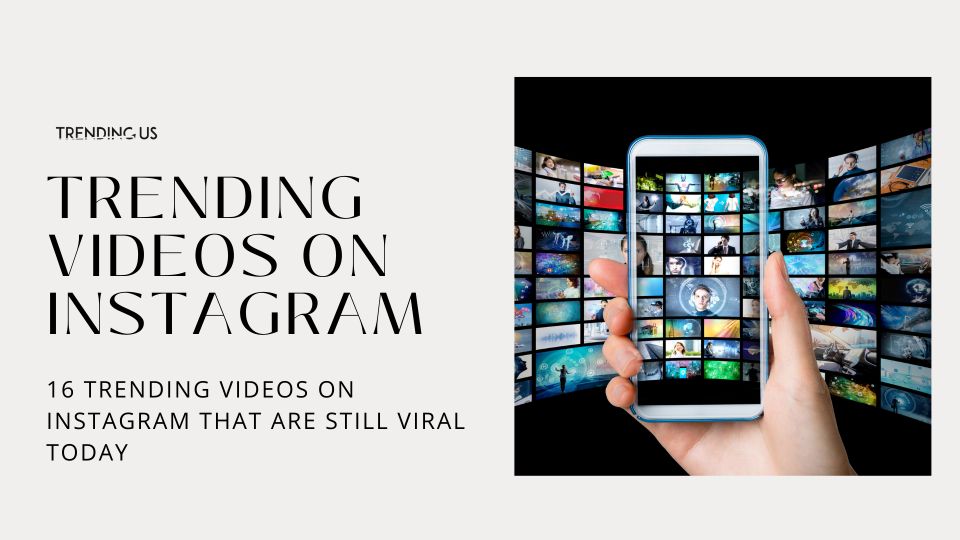 1. Watch this hilarious video that got so many views as everyone loved this dog, how he helped the boy and held him. Pets are surely very innocent and loyal.
View this post on Instagram
2. Who doesn't know Hasbullah, a famous kid on the internet, this video of him went viral. We saw him smashing a journalist in an interview session and got millions of views.
View this post on Instagram
3. Well, Khabi needs no introduction today, within a few months he became a sensation around the globe. His videos are quite simple but never fail to make us laugh, just like this one.
View this post on Instagram
4. This video is one of the cutest videos of a dog enjoying a boat ride and witnessing beautiful nature around. Music and his flowy ears grab our attention.
View this post on Instagram
5. This video is probably of a second marriage, where parents stood with their kid while taking vows. And we can surely see how impulsive the kido is, no doubt his actions grabbed our attention and cuteness stole your heart. The video became trending on Instagram real quick.
View this post on Instagram
6. I can't deny the fact that pranks have evolved a lot in the past few years, this video makes me remember those innocent pranks we witnessed in 2000s.
View this post on Instagram
7. This dog is super innocent, the video has nothing much but still grabs our attention. The dog simply sitting and isn't reacting much while the men if breaking eggs using his head.
View this post on Instagram
8. This video is from a red carpet, interviewing a celebrity about her unique look. As soon as it was released it became meme content with different captions, you can see one caption in this video itself.
View this post on Instagram
9. This video is something that even I would like to try someday. Someone recorded this fun game of balloons and rings on Instagram and we absolutely loved it.
View this post on Instagram
10. While we all grew up with responsibilities to fulfill, somewhere we forgot to take a break and make some good memories with our friends. This video became a reminder, this video is one of the most beautiful Instagram trending videos.
View this post on Instagram
11. This video has a cute gesture by a bartender, a little boy wanted to try a shot so instead of denying it, she made a non-alcoholic shot to make him smile.
View this post on Instagram
12. Cats are super brainy, and this video on Instagram is surely proof. This man trained his cat to take the cap every time he comes back home.
View this post on Instagram
13. Mother and father both hold a different bond with their kids, they reciprocate in different ways. This video is surely from the time when mum wasn't home and dad thought to record some fun moment with the toddler.
View this post on Instagram
14. Nobody sausage is a famous character on Instagram and their videos are loved by Instagram Audience, just like this one that got millions of views.
View this post on Instagram
15. Who won't love this little hamster, it became viral all over Instagram, someone uploaded this video of a hamster holding a knife with his mouth and running.
View this post on Instagram
16. Steve Harvey is always lit with his replies, Instagram is filled with his clips and often becomes trending, just like this one. This video is about a woman who doesn't know what exactly her husband does. A may watch how Steve Harvey figured out and I can't stop laughing on that.
View this post on Instagram
Social media is filled with new trends, interactive content and comments for girls, you just need an eye to spot that. Most of the trending videos are simply a result of the camera in the right place and right time with an observer. At times, a simple moment captured with a camera becomes a viral hit.