Following any TikTok trends and making a video is fun. But doing so with your friends is a wholly unforgettable experience. When you're just sharing the usual posts or it's part of any challenge, you want some perfect TikTok captions about friendship. 
When you face trouble coming up with the right captions, this is the post for you. If you want to show how awesome your friends are or looking for captions that fit your posts with friends, here you will find the best ones. 
Cool TikTok Caption for High School Friends 
You already know how special your friends are, but describing them in words, is tough. But, this list of TikTok captions makes it easier because it's all about friendships. 
My friends are definately smarter than yours. 

You guys are everything to me. 

I will never trade such good friends for anything. 

Friendship is a partnership without a contract. 

My friends are priceless, but I want to know their worth. 

He might not be as smart as me, but still my best friend.

I wasn't ready for this challenge, but my friend drag me here. 

The biggest partnership you've in life is friendship. 

They are very much proud to have me as a friend.

If you want to know something about me, this person can tell you everything. 

Meeting awesome friends like these is a miracle. 

When there are friends, the party starts there.  
You also want some comments for school memories to leave on Instagram posts.
Funny TikTok Captions for College Friends
With your best friends, you usually share pranks and jokes parodies. If your page is all about entertainment, coming up with captions is tough job. In this case, you can have readymade funny TikTok captions for posts with friends. 
When I'm with my friends, I feel like we own the world. 

Having friends who are as crazy as you, is a great thing. 

When you have friends like these, god bless you.

I can't imagine, without my friend, I won't even be on TikTok. 

We do simple things quite extraordinarily. 

With good friends, every day is like an enjoyable ride. 

My friends don't knock on the door, they're already in my house. 

A true friend who saves your back you're not there. 

I can do anything for my friends, except do their homework. 

I call them alien friends because they're out of this world. 

They completely own my house and I can't complain.

Me without my friends is like a morning without sun.
If you're in college, look for some comments for college memories.
Good TikTok Captions for Best Friends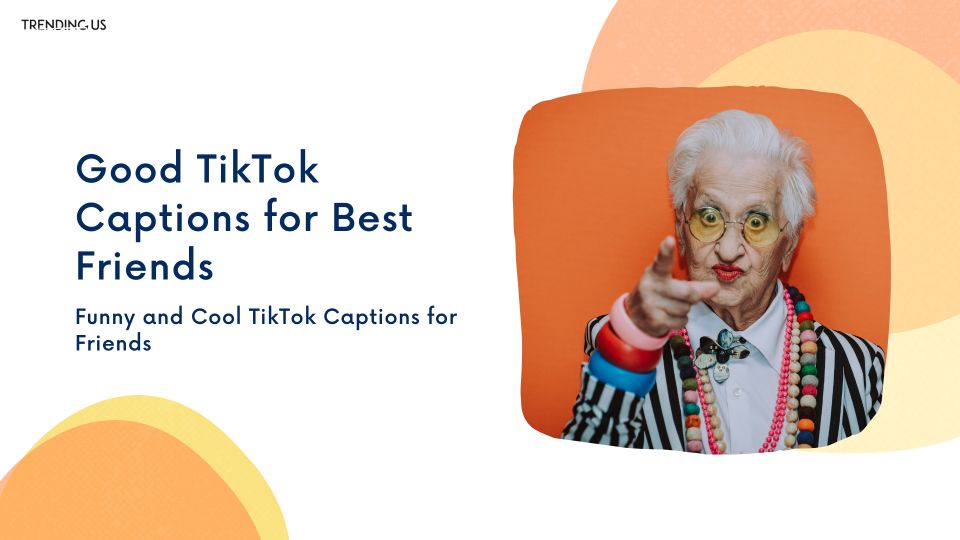 Well, best friends are not like any other friends. They're unique and special. So, the captions for posts with besties have to be awesome. Take a look at these captions that certainly make your buddies feel special when they read them. 
Hey everyone, meet our tribe!

How innocent they were before? And look how they are now. 

My friends are always with me to have fun and to annoy me. 

A crazy bestie is enough to make every moment a great one!

Keep your friends happy, they know your every secret. 

Finding friends is easy, and keeping them is even easier. 

When you have a bestie who is just ready for anything.

For all my bad habits of mine, I give full credit to my friends. 

So lucky to have some good fellows like this one. 

No matter what you do, you make it interesting.

My friends will always have one part of my heart available.

I don't have to offer food to my friends, as they're my best friends. 

Not sure but every time we're together, we make masterpieces. 

In our free time, we rewind old memories and create new ones. 
Need some unique name for your group? Try these Trending WhatsApp group names for friends.
TikTok Captions for Dance with Friends
If you and your friends are great with your dancing moves or posting any dancing trend videos, you need the right captions to add. So, this is the list of TikTok captions for friends doing dance moves. 
I don't dance usually. I dance when these guys are with me. 

Don't challenge me. If you do, you're challenging us all. 

Our favorite time pass activity.

This is us when we use our all-dancing skills. 

I never do stupid things alone; I make my friend join me. 

You challenged us, and we're here.

I was never on TikTok, they made me do it. 

With best friends, you get all the dance move correct. 

This is our group's favorite song. What's yours?

Don't miss out on this awesome dance challenge.

Call it cringe, but we keep dancing like this.
Probably the most innovative dance form of the decade.

They said it'll take just two minutes. 

When we all have one favorite song…
Like what you just read? Let us know which caption is your favorite one. Also, stay tuned with us, as we'll be adding new TikTok captions for friends in the same post. 
Till than, you can also check out the complete list of TikTok hashtags to go viral this year.