There are many reasons why you are going to make New York City your next vacation destination. Whether you are traveling with a group or solo, as a family, or for a couple's retreat, New York City has so much to offer.
One of the main things that you are likely looking forward to is the ability to take in some of those iconic and classic New York City views. The Manhattan skyline is truly something to behold, and views of the Hudson and East Rivers are classic. Furthermore, all of the museums and attractions throughout the city are definitely photograph-worthy.
By day and by night, NYC is arguably one of the most photographable cities in the world. Because of this, you want even the hotel that you stay at during your stay to afford you the sort of views that you are dreaming of.
It is important to note that just because you pick a hotel that is ideally located for sightseeing and the like in New York City, that doesn't mean that you are always going to get those stunning views from your hotel room window. The good news is that there are a variety of NYC hotels that specifically pride themselves on offering guests amazing views of the city.
If you are currently in the process of planning your next visit to New York City, here are some of the best hotels with a view to choose from.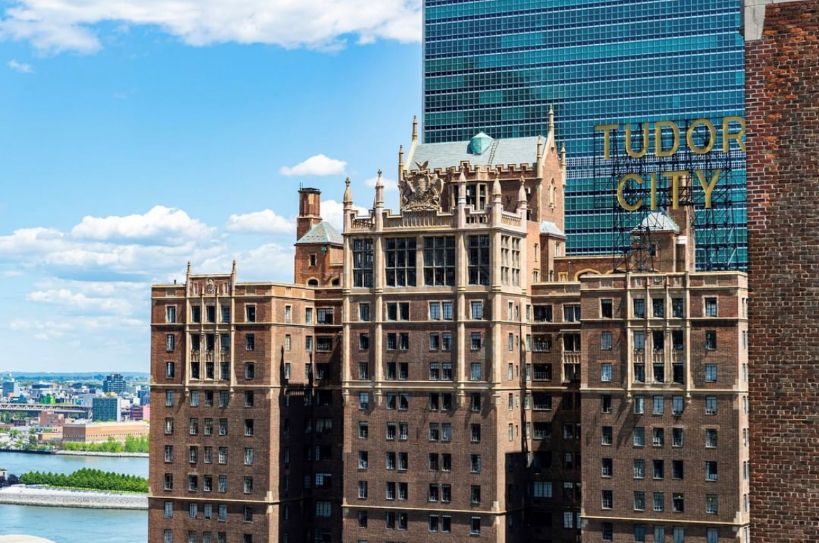 Source: Instagram, posted on June 21st, 2021, Westgate Resort's official profile.
The Westgate Resort New York Grand Central
Everything from stunning city views to convenient access to public transportation awaits you during your stay at Westgate Resort.
The first thing that you will want to consider when booking the hotel that you are going to stay at in NYC is the location of it. You don't want to put yourself too far off the map in the name of attempting to save a few bucks if you don't have to. The best thing that you can do is situate yourself in close proximity to access to public transportation.
Since the Westgate Resort New York Grand Central is located right by New York's Grand Central Station, it is an ideal choice for anyone looking to do some sightseeing in the Big Apple. As far as hotels in Manhattan with balcony views go, you will definitely be impressed by Westgate Resort.
You will be able to take in some amazing views of a few of the more historic buildings in Midtown. The Westgate itself has its own fascinating history for you to learn about and enjoy during your stay.
Make sure to book one of the hotels in Manhattan with balcony views so that you can enjoy the sights of the city each and every day of your stay in New York. Also, enjoy everything else the hotel has to offer. It will allow you to get the most out of your stay in NYC.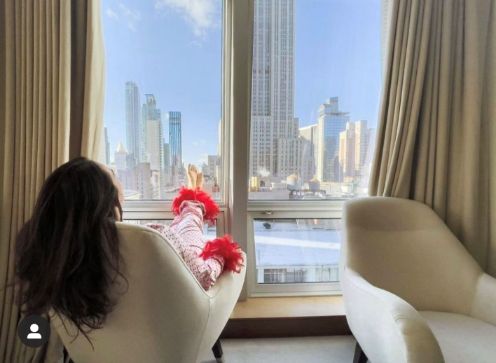 Source: Instagram, posted on February 17th, 2022, The Langham, New York's official profile.
The Langham, New York
Conveniently located on Fifth Avenue, The Langham, New York prides itself on offering guests some truly stunning city views.
Another NYC hotel that offers guests a great location in addition to some stunning views is The Langham, New York. You will be afforded views of the NYC skyline from virtually any room in this luxurious and comfortable hotel.
Located conveniently close to the Empire State Building, you will be greeted by those impressive city views each morning when you wake up and open the curtains. You can even book a room that is specifically designed to give you the best views of the iconic Empire State Building.
Staying on Fifth Avenue means that you will be able to get your fill of amazing New York City dining and shopping options, while the hotel itself has a great spa that you will want to take advantage of during your stay. You will find yourself feeling rested, relaxed, and recharged for your next day of playing the tourist throughout the city of New York.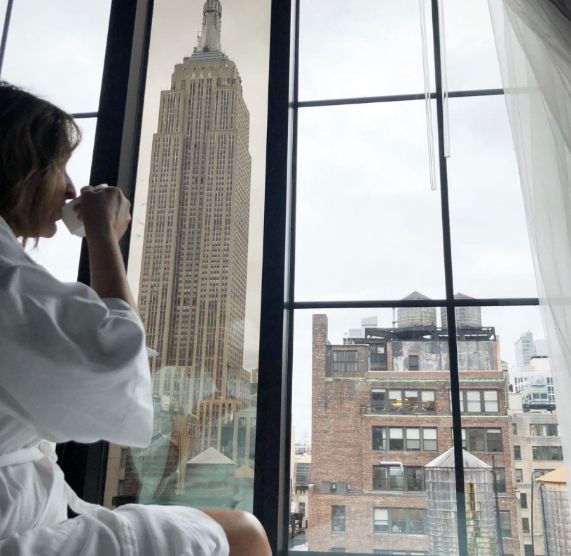 Source: Instagram, posted on February 19th, 2022, Archer Hotel New York's official profile.
Archer Hotel New York
This Midtown luxury boutique hotel is a reviewer's favorite when it comes to the incredible city views that guests can enjoy during their stay.
If you are fixed on staying in Midtown and want a hotel that gives guests views of everything from the Empire State Building to the Chrysler Building, then a stay at Archer Hotel New York is in order. This hotel also has rooms specifically dedicated to its views of the Empire State Building, so make sure to see if one is available for your stay.
The Spyglass rooftop bar gives you another perspective of the city from Archer's 22nd floor. This is the perfect spot to enjoy a cocktail in the open air while you take in the views of your surroundings in the heart of the city.
As far as location is concerned, you will find Archer Hotel situated between Fifth and Sixth Avenues. This means that you will be right near all of the NYC attractions that you have on your list of things to see during your stay in the city.
Your stay at Archer will also be a comfortable one. The hotel offers guests a luxurious and comfortable stay in the city as well as highly accommodating staff who will be happy to help make your stay at Archer one to remember.
Also read: Top Travel Destinations Outside America on the Planet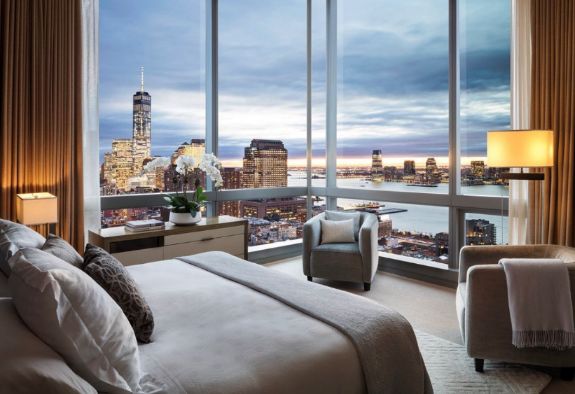 Source: Instagram, posted on January 7th, 2022, The Dominick NYC's official profile.
The Dominick Hotel
Five-star luxury in SoHo is hard to beat, as are the views from the windows at The Dominick Hotel.
SoHo is one of the most desirable locations to stay in New York City, thanks to the many attractions that this part of the city has to offer. However, there is arguable no place better to take in the views of SoHo than The Dominick Hotel.
This hotel boasts 45 floors of rooms that all have memorable and photograph-worthy views of NYC. If you visit during one of the warmer months of the year, you should absolutely consider taking in some of those views while you enjoy a dip in The Dominick's terrace pool.
The design of the hotel itself is as trendy as the SoHo neighborhood in which it lives. The décor is modern and contemporary but full of the sort of comforts that you want from your stay in NYC.
The Dominick is also known for the world-class service offered by the staff on site. So much so that it has received the coveted Five Diamond accolade from the AAA, an award that the staff do not take lightly and are eager to live up to. Whether they are hosting an A-list celebrity or a tourist looking to make the most of their stay, only the very best service is offered at The Dominick Hotel.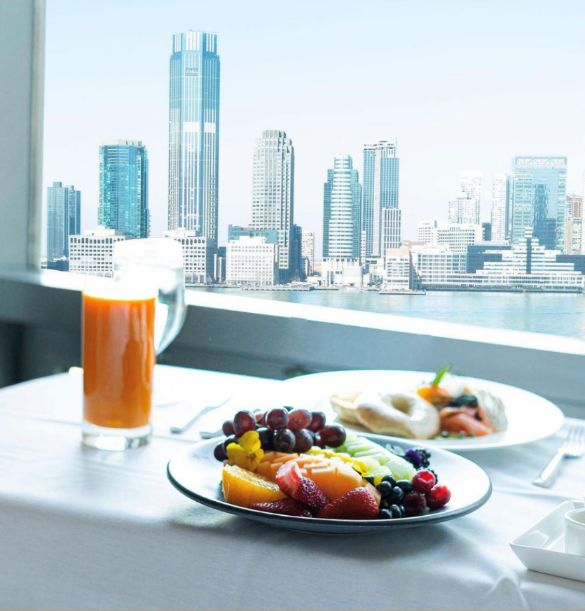 Source: Instagram, posted on January 23rd, 2022, Conrad New York Downtown's official profile.
Conrad New York Downtown
Your Downtown stay at Conrad New York Downtown will afford you the city views you have been dreaming about.
If Downtown New York City is what you have your eye on, then consider staying at Conrad New York Downtown. With almost overwhelmingly stunning views of the Hudson River, including the Statue of Liberty, you will find yourself in a New York state of mind in no time.
In addition to views of the river, guests can take in New Jersey's skyline during their stay at Conrad as well. One of the best places in this hotel to see such views is at their Loopy Doopy rooftop bar. Situated on Conrad's 16th floor, it is an ideal spot to enjoy a cocktail and watch the sunset over the city.
The views that you can enjoy at Conrad new York Downtown are not limited to those looking outward. The hotel also boasts an impressive art collection that is on display throughout the lobby and other common areas.
The location of Conrad is something that tourists and business travelers alike will appreciate. You will be situated within a comfortable stroll of Wall Street, meaning that if business is what brings you to town, then you can't really do much better. Tourists will appreciate the proximity to attractions such as One World Trade Center and Tribeca.
The accommodations that you will enjoy during your stay at Conrad New York Downtown are of an excellent quality. The rooms are spacious and give guests some breathing room in the big city. They are also incredibly comfortable and complete with the sort of luxury you would expect from a five-star hotel. The hotel in which you are going to stay is going to heavily influence the tone for your trip, and so if you are here for business, this is the perfect setting you need.