Football, a game of team spirit, hard work with lots of energy and most importantly cheering up your player. We all have played or watched it at some point in our life. And why not, after all, it's played by 250 million players in 200 countries making it the most popular sport in the world. 
The high adrenaline rush of scoring a goal or saving one for the team is what keeps us on the edge of our seats. Under winning, pressure compliments passed by coaches and supporters can hit differently. A compliment or appreciation coming from a loved one or a coach can reignite the fire to win and give your best. Good compliments are like constant support that boosts the energy of players and leads to a great result at times.
Check out the list of compliments for football players:
Compliments to Shower When your Teammate is Getting Ready for the Game
Being appreciated always feels good and improves confidence. Here are some words of encouragement and support to help cheer your football friends or teammates when they are getting ready for the game. Gotta Hype 'em up.
Work Hard, Play Smart, Win Big!

Go get 'em, Tiger.

Bend it like [ friend's name].

The party's about to get started.

Just one kick away from Victory!!

Buckle Up, them Boys!!!

Time to make history.

Make sure to get high on goals.

Go get that hunger for victory.

Believe in yourself champ.

Go kick some goals.

Make sure you knock it out of the park.

Make every drop of sweat count

.
Also read: Trending Android Games on Play Store to Play ASAP
Compliments to Give When your Friend/teammate Wins the Game
Your friend/teammate just won the game and you want to celebrate it with them. Celebrations become tenfold when you share them with someone. Congratulating them on their feet will keep their spirits high.
Here are some compliments to show them your love and appreciation for what they achieved after hours of training.
You guys truly deserve this, you earned this.

You made us proud.

Nothing could stop you today champ.

It's Party time!!!

Clinical moves today.

Your boot was like a spear today.

You bore the fruits of your hard work.

Get in there [friend's name]. Mega Mega Job

That was a Smoooooth Oppperaaaaation!!!

Vamos amigo! (Let 's Go buddy!!)

Bravissimo Amico! (Bravo my friend)

You had them shaking in their boots today

.
Also read: Unique Sports Gifts for Your Sports Fanatic Partner
Motivating Compliments When your friend didn't Win the Game
Life is all about winning and losing matches but most important is trying and giving your best. No matter what scenarios are supporting your friends and teammates is what you should do.
Here are some compliments that can help you to support your friends.
You gave your 100% and we are proud of that.

You were on top of your game champ.

Wake up and aim for the next big goal.

They are not scratches, they are battle scars.

You gave your best and that's what really matters.

Pick up and dust yourself. It's not over yet.

We will always cheer you on. Never Give up.

You have come this far, don't stop, FIGHT!

It's not about winning, it's about giving your all and you did that.

You might not have scored, but you scored in our hearts

.

You might be lost, but I'm happy that you played well. 

That's fine, you give your best. Better luck next time.
Also read: How soccer benefits to maintain a great body
Some Compliments To Post On Social Media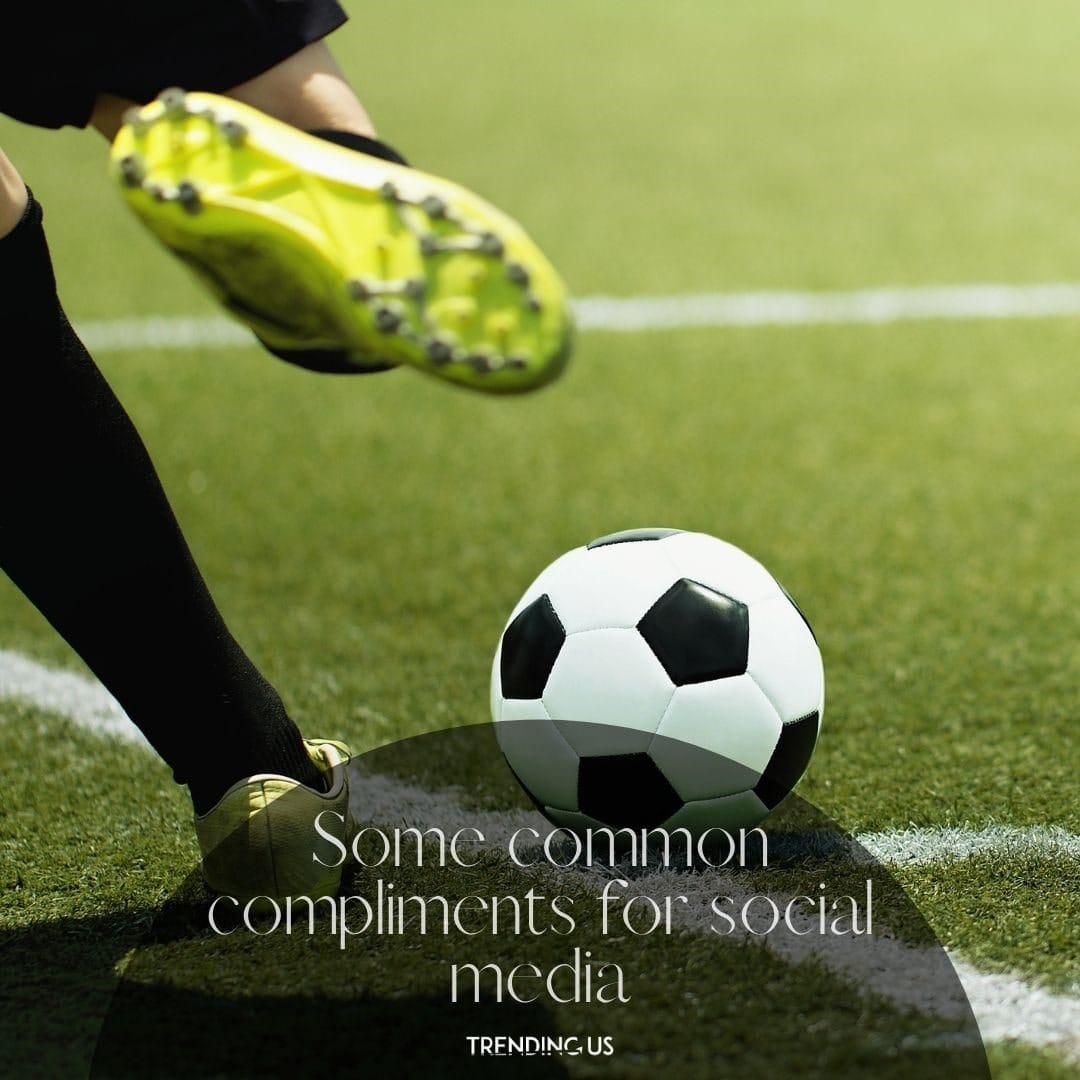 We live in the social media age and who doesn't want to share victory memories. That trophy deserves a social media showoff moment too!
Players often share their pre-match pictures, victory pictures, and sometimes even when they lose they take it as a lesson and share the experience on social media. 
Here are some compliments that football players would love to listen: 
  You gave your best and we are proud of you.

  Our champions are back on the ground!

  Kudos to your team spirit and hard work.

  You didn't give 100% but 200%.

  Our tiger is back to roar again.

Cheers, mate!

Come on lads, just one more goal

Don't be a spoilsport, you are a champ!

Don't give in, break their defenses.

Defense, defense, defense!!!

You define a true leader as my champion.

The audience witnessed history today and you made it.

That goal was heard around the world.

You saved a goal so that we could make some.

Tsamina mina zangalewa this time for (your team name)

That headshot hit our hearts like booo! 
Also read: Table Games to Make your Lockdown more Fun
Compliments from Coaches
Hold the fort together, defend!

Messi and Ronaldo both on our side!

Let's win again.

One goal apart from THE GOAL.

Kudos to my champions. I am proud of you.

Couldn't ask for more, got the best players.

We came so far boys don't give up now, we will win!

That goal was heard around the world.

That goal was a Masterpiece!!!
Making space for the next big trophy!
Just one more goal, boys.
One whistle for the captain of my team.
What a game you played, it was marvelous.
I feel lucky to witness this game.
Also read: Funny Pranks to Play on Friends
Some Famous Quotes for football players 
Quotes often work like magic in a player's life and when said by their favorite player it sure hits the heart. Here are some best quotes said by  World's best players that you can use to compliment a football player.
The best decisions aren't made with your mind but with your Instinct 

– Lionel Messi
Success is no accident. It is hard work, perseverance, learning, studying, sacrifice, and most of all love of what you are doing or learning to do. 

-Pelé
If you do a little mistake, everyone kills you but this is normal, this is life & I'm ready for it. 

– Cristiano Ronaldo
Football is played with the head. Your feet are just the tools 

– Andrea Pirlo
"When there is effort, attitude, and desire nothing is impossible."

– Lionel Messi
If football has taught me anything it is that you can overcome anything if, and only if you love something enough.

 – Lionel Messi
When I score, I don't celebrate. It's my job, does a postman celebrate when he delivers a post?

– Mario Balotelli
I just want to be better every day, to get better every day, not to be better than anyone else.

-Neymar
"Don't try to beat the goalkeeper. Try to destroy the goalkeeper.

-Steven Gerrard
"There's no doubt. It's certain that I'll be 100 percent." 

– Lionel Messi
These were some compliments that can help to boost a football player's morale. Do tell us about your favorite compliments in the comment section.