We often get confused with painting and drawing, but we have to admit that the one who can paint or draw is such an artist. And, every artist deserves appreciation for their work.
When you aren't sure how to make a painter or artist feel encouraged by their work, take the ideas from the given list of comments for painting to genuinely compliment them.
Whether you're sharing the appreciation words as an Instagram follower, friend, family member, or a class teacher, here are the best comments that will certainly make the artist feel encouraged and proud of their inborn talents.  
Respectful Comments for Painting on Instagram
Here are some thoughtful comments to leave on someone's Instagram post when you aren't sure what to say to appreciate their work. Such are unique compliments that feel like you're respecting their talents. 
We can see how passionate you are about the painting. 

I don't know much about the painting, but I loved this. 

There has to be some secret meaning within, what is that?

You know how to convey a message through your art. 

We are so proud of you. Keep doing your best work. 

I am happy to hear that you won the painting contest. Congratulations!

Your paintings always amaze us. I've never seen such great paintings like this before. 

We are so inspired by your work, it's wonderful. 

Your pictures are full of colors and great art styles. 
Also read: Encouraging Comments for Writers
Nice Comments On Sketches to Appreciate Painter
You don't need to understand the artwork precisely to make the artist feel inspired. However, some nice words and genuine compliments are all worth it to make them feel more confident about their art. 
I think you're a natural artist, mate. 

You must have spent a lot of time creating this masterpiece, right?

I've never shown such a dedicated and focused painter like you. 

Your work is a combination of art and management. 

I'm very impressed with your natural talents. 

You're the most creative person in our family. 

I am speechless after viewing your beautiful work. 

I still have doubts about whether it is a picture or a drawing. 

I'm in love with your art. I think you're the best.
Best Comments for Painting and Drawing
As a school teacher, it's always hard to develop unique report card comments for every student. The same applies when your best friend or cousin shows you their best work, and you want to compliment them.  Instead of just saying "Great", you can follow the give genuine comments on their artwork.   
What a blessed artist you are. 

It looks like you are more into artwork, which is great. 

Your ability to paint and create artwork is impressive. 

With each new drawing, you seem to be getting better. 

As usual, a magnificent piece of artwork. 

Would you consider teaching drawing? If so, I'd be interested. 

You know exactly what you want to create and do it with perfection. 

We love your paintings because there's always some message within them. 

I always look forward to seeing your next artwork. 

Your work always inspires me to do great, true artists you are.

The scenery of this painting fits perfectly with the subject. The color combination looks beautiful. 

You're such a born artist. I hope you keep creating great masterpieces like this. 

I used to draw, earlier. It seems like this is your passion, so keep doing it.
Also read: Nicest Comments for Crush Pic on Instagram
Appreciation Words for Good Painting
You certainly do not want to embarrass yourself or discourage the artist by saying something which doesn't feel like genuine compliments. The given comments for painting are the best ones you can share online or at an art exhibition.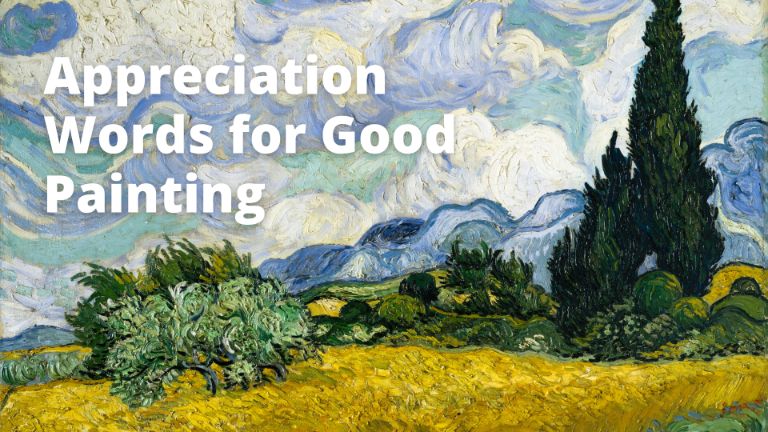 You're hardworking and talented. 

You truly put a lot of effort into this piece of art. 

You are gifted with such artistic talents. Best wishes!

I wish I was as talented as you at drawing and painting. 

Sincerely, I'm taking inspiration from your pictures. 

It doesn't matter what you draw; you're in it, making every detail count. 

Brother, with this picture you make me start drawing again. 

I think you're in the wrong field. Your talents seem more suited to the arts.

You're talented and have the dedication to become a great painter.

You paint like picasso!
Your paintings and artwork empathize, it is a story to share.
Your brush is like a sword for society that fights with evil.

Your artwork doesn't understand boundaries and that is the beauty of it.

Please inform me when you're going to launch your course, I'm waiting for that.
You're going to be the first artist in our family. Go for it.
Truly amazed by your unique talents. Love your page and everything you post here.
I'm not an artist by myself. But as I know, you're definitely becoming a master at it.

Artists like you are quite hard to find, I feel obliged to witness your work.

This painting just hypnotizes you and relaxes your mind. The brush strokes are done flawlessly.
Comment for Painting in One Word
Whenever you don't know what to say or what words to use to encourage someone for their artwork, it is good to keep your comments short or limit them to just o. Especially when your compliments are for one of your Instagram connections, such quick or one-word compliments work the best than anything else. 
The masterpiece!

Outstanding.

Astonishing

That's creative!

It is perfect.

Talented. 

Extraordinary.

Fantastic.

Unbelievable
Also read: Great Comments About Online Classes
Final Thoughts
When you aren't familiar with the technicalities of the artwork, that's fine. But, your compliments and appreciation have to feel unique to them and make it feel like you love their work. 
Don't make your comments the same as the rest, like, 'Great work', 'You're talented', 'Creative piece' and all. Show genuine compliments and comments for paintings and sketches when you want to make the artist feel appreciated and inspired by their talent.