Are you looking for the most thoughtful birthday greetings and wishes for the special girl in your life? Then you are in the right place. In this post, you will find unique, funny, and special birthday wishes for girls to make this day awesome. 
As a girl, a woman she deserves every respect and appreciation for her presence in our life. And especially when it's her birthday, it's a chance to show how much we care for her. 
No matter whether she's your best friend, a baby girl from your family, or your girlfriend, sharing heartfelt and unique wishes are the key to a memorable birthday celebration. 
Find the unique connection of the birthday wishes for girls that you can send her as messages, as cards, or as social media posts to make her feel respected. 
Unique Birthday Wishes for Girl
If you want to make a girl feel special, simply sharing adorable comments on girls' personalities and compliments on her beauty is not enough. You want to share honest and unique wishes with her, especially on her special day. Here are some unique birthday wishes for her. 
We are so lucky to have you with us. On this special day, we are sharing our best wishes with you. Happy birthday, dear girl. 

Wishing you very happy and most beautiful birthday wishes, just like you Lil girl. 

Here I'm wishing you a wonderful birthday celebration. Also wishing that you get all your dreams and desires, by this new year. I wish you the best. 

You're such a strong and independent girl. We love everything you do. Keep being yourself. Have a wonderful birthday and enjoy it fully. 

Very happy to see that you're becoming more mature day by day. A very happy birthday to you! Always learn and never stop growing. 

May God bless you for everything and you achieve everything you want in life. Happy birthday to you, all the best!

Never stop being an awesome person like you are right now. May this new year bring you a lot of time to enjoy every day the way you want. Happy birthday!

Happy birthday, sweetie. May you have a wonderful birthday celebration, and I have a surprise gift for you. I'm sure you'll find it useful.

Seeing you smile means a lot to me. May you have many more chances of smiling in this new year. Happy birthday, dear!

May this birthday come with good luck for you. HBD, make it a great one!
Cute Birthday Wishes for Baby Girl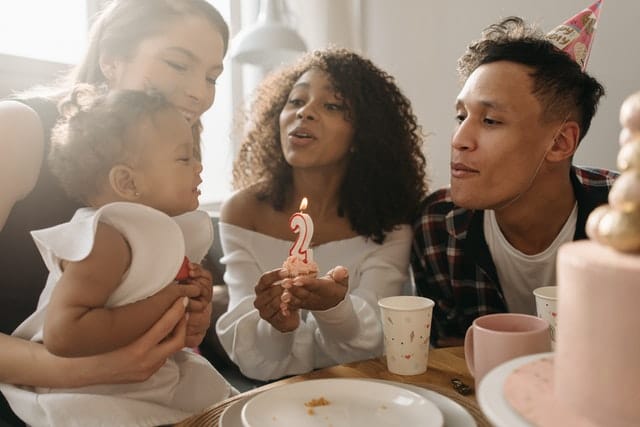 If you receive an invitation to the birthday party of a cute baby girl from your colony or from your family, then this is the right list for you. Here, you find some cutest messages and birthday wishes for baby girls that you can share with that little princess while presenting her a gift. 
Wishing a very happy birthday to the cutest and smartest girl in the colony. May every wish you make come true in the coming year. 

I have never seen such a sharp and intelligent girl like you. We are so proud of you, here are your birthday wishes and the presents. 

A special birthday wishes to that cute girl who never stops making us happy and proud with her presence. Happy birthday, girl. 

Many many happy returns of the day, you little princess. Today you're looking so cute, and here's your birthday present that you're looking for. 

Happy birthday to you, the most lovable and cutest, Lil girl of our family! May you have lots of chances to enjoy your every day the best way. 

Oh, look at you. You're growing so fast. A very special birthday to you and may you get every gift that you want to have. Here's a special present from me. 

Happy birthday baby girl, you have no idea how much you're mean to us. Thanks for giving us every chance to enjoy life and be happy. 

We can never have enough of your cute smile, Lil princess. You complete our life with your presence. Happy birthday to you!

For the special baby girl, we got something for you. Hope we bring you the perfect gifts for you. Happy birthday, Dear! 

Here I'm sending you my all the best heartfelt wishes, may from this new year your every dream come true.
Also, find more cute comments for the Lil baby pictures and posts on Instagram. 
Funny Birthday Wishes for Girl Best Friend
When she's your crazy best friend, you no longer live a boring life. On 4the special day of such a girl's best friend, here are some funny birthday wishes you can text her. And, we are sure these unique wishes are more than anyone else's wishes to her. 
I was about to buy a greeting card for you, but then I realized that no cards have that feeling that I want to share with you. So here are my special birthday wishes for you with a lovely message. 

I don't have enough words to describe how much you mean to me. So I'm only sharing a happy birthday with you, and simply leave it up to you to know my feelings for you. 

Happy birthday, dear best friend. We may be the weirdest bestie ever, but to be honest I love you, the way you are. And yeah, nobody can take our place in each other's life. 

Wishing you all the best for this new age. Well, I'm very excited to be there with you and eat the cake together. Be there, soon. 

A very happy birthday, bestie. I can't imagine my life without a friend like you. Thank you so much for accepting me for whatever I am. Thank you so much for being here. 

Thank god we are besties and are of the somewhat same age. Because I can't see anyone who can stand by me, as a best friend. You're the best, Happy birthday!

I was living a boring life and then you came and there's not a single day without laughing. Thank you and wishing you a very happy birthday, Best friend.  

No matter how shy you feel from revealing your age, there's no point. We all age and you age faster. Anyway, Happy birthday and let's have a great birthday celebration. 

Still waiting for that year when you start to act like your age. It's not a pressure on you, just a wish. For now, here are my birthday wishes for you. 
Special Birthday Wishes for Girlfriend
 
Well, when it's your girlfriend's birthday, you better not forget to wish her first before anyone else. She is your partner as well as the best friend who completes you and loves you. So, share some special and heartfelt wishes for her to make it a memorable day, for you both.
I don't need to say that but I can't stop admitting that you're a very special person to me. I am so much in love with you, Happy birthday, my girl. 

Happy birthday, the most precious person in my life. I pray for you that by this new year you become more beautiful and happier than ever. 

Having you in my life is not less than a gift to me. Love you so much. A very happy birthday to you, hope you're ready for the surprise present. 

Please never change. I love the way you are. On this birthday, I share my heartfelt wishes with you and you always stay this happy and wonderful person. 

Your presence in my life is itself feels gift to me. I'm so happy that you're with me now. And, I'm here to make the best from this day.

There are no words in the world that can describe how much you mean to me. I can't imagine my life without you. Happy birthday, let's make it

a perfect day

. 

I don't know about the others, but still, you're the best girlfriend in the world. No one can ever take your place. Wishing you the most special birthday to you. 

When you are with me, I don't need anything and anyone at all. You complete me like no one else ever. Love you and many many happy returns of the day.  

Seeing you beside me is a blessing to me. Thank you for being in my life. Here are my special and heartfelt birthday wishes for you. 

You're the reason for every good thing in my life. On this special day of your life, I'm praying to god for your success and happiness. Happy birthday, Dear!
Well, we already have an article about special romantic messages and birthday wishes for your girlfriend, that we hope you enjoy reading as well. 
Overall, no matter whether it's the birthday of your girl best friend, a baby girl from your neighborhood, or your lovely girlfriend, make sure you share the heartfelt wishes for girls in your life to appreciate her in the best way. 
Give her a special day celebration and let her know how much you value her presence.