According to Freelancing in America 2017, a study conducted by Upwork and the Freelancers Union, just over 57 million Americans freelance either full time or part-time. This number is anticipated to grow to 86.5 million by 2027.
With this shift in the economy, freelancing websites are fast becoming the hub for future work. To give you a head start on the platforms leading the charge.
Here Are the Best Freelancing Websites in India on the Web Today.
1. Upwork
Upwork is the 800-pound gorilla when it comes to freelancing websites. Born out of the amalgamation of Odesk and Elance, two of the leading freelancing platforms up to the time of their merger, the platform today hosts over 5 million clients and 12 million freelancers.
The platform boasts an impressive 3 million jobs worth $1 billion posted every year. For clients, the platform offers simple project management tools, while for freelancers, there is a slew of features to assist in finding and securing jobs. It is the best freelancing websites in India.
2. QuiGig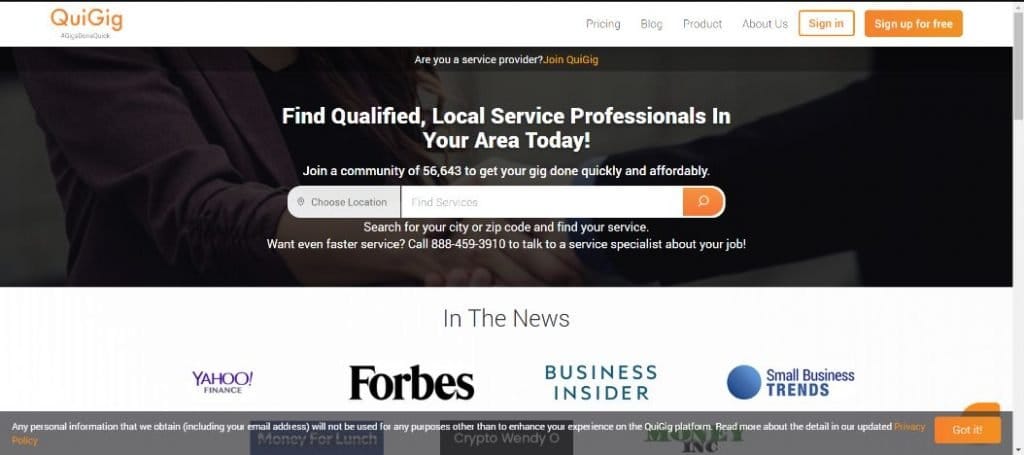 QuiGig is the new kid on the block poised to challenge the larger incumbents in securing freelancers and clients. Still, in its infancy, the platform is designed to combine the features of TaskRabbit with those of Upwork, an interesting hybrid approach that would make it easier for freelancers to score jobs. Additionally, the platform allows for online and offline projects, something that platforms like Upwork do not offer.
3. Freelancer
Freelancer is a marketplace founded in 2009 and based out of Sydney, Australia. The platform has been on an aggressive expansion plan in Southeast Asia and Europe, acquiring smaller marketplaces to broaden its footprint.
Freelancer, like other similar marketplaces, offers a competitive bidding system that allows clients to get the best service at the lowest price. As of March 2016, the platform is available in 44 global regions, in 34 languages, and with 21 currencies. In my opinion, Freelancer is the best freelancing website in India after Upwork.
4. Fiverr
Fiverr launched in 2010 with a then-novel business model of pricing all services on the platform at $5. This proved to be an effective bait for people looking for freelance services resulting in the meteoric rise of the platform.
Over the following years, the platform went on to add additional payment tiers so that freelancers could earn more than the $5 base fee. Today, the platform differs from other major freelance marketplaces due to its focus on prepackaged freelance offerings, rather than the competitive bidding model.
5. PeoplePerHour
PeoplePerHour is a company founded and based in the United Kingdom that serves the greater European region. With offices in the UK and Greece, the platform is relatively smaller than the rest of the platforms but does offer unrivaled access to the European market.
Mostly used by small businesses and startups, the platform utilizes the same competitive bidding system other major platforms use. One exciting feature of the platform is how freelancers can package their services in "Hourlies," or services they offer by the hour.
With global work moving towards the online and freelancing model, these platforms will doubtless play an increasingly significant role in the future of work. What can be predicted is a greater consolidation in the industry as well as a deepening of services offered across the platforms.
6. WorkNhire
WorkNhire is among the leading Indian freelancing websites founded by Kumar Mukul and Manish Prakash. The objective of this site is to provide the best work to the Indian Freelancers.
WorkNhire also aims to provide a platform for the collaboration and growth of companies and freelancers. WorkNhire helps you to sign up, fill out your profile, list skills, and experience, and start bidding on assignments just like Upwork and Freelancer. It pays freelancers in Indian Rupees instead of US Dollars.
Another interesting fact regarding WorknHire is that here the website enables you to associate directly with your clients nearer to your locality. In this way, you can communicate with them offline as well and stand a chance to receive better job opportunities in the future.
7. Truelancer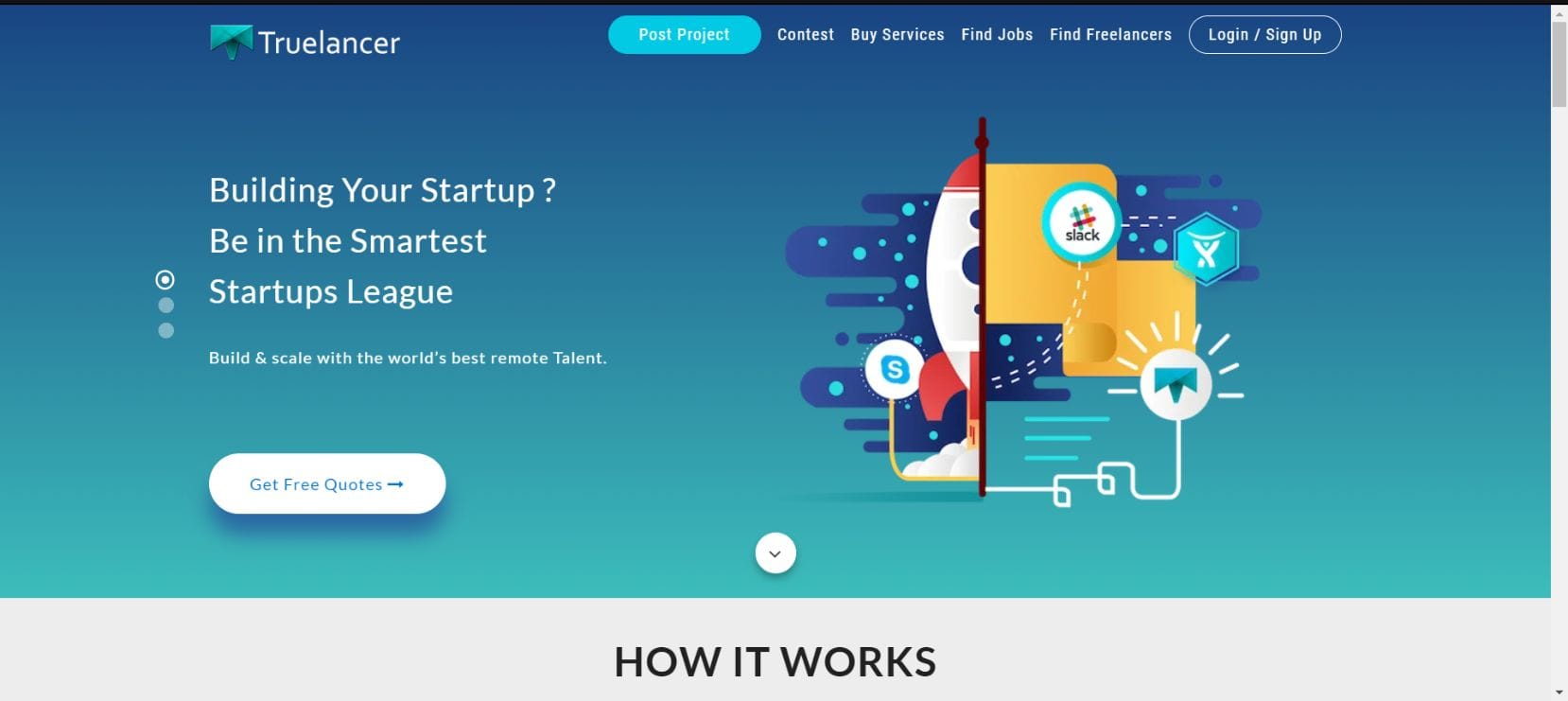 Truelancer is one of the best freelancing websites in India to search for good paid employment. The website features programs in different genres, such as web design, computer programming, advertisement, logo design, copywriting, and many more.
At Truelancer, the systems are expertly designed to ensure that freelancers receive their fair share of payment on time, while also doing their best to ensure customer satisfaction at 100 percent.
You can also use Truelancer through an app to make sure that even when you're on the go, you never miss any job posts. The feature makes 'Truelancer' one of India's best freelancing websites.
Take a look at some web design statistics.
8. Guru
Guru is a freelancing platform founded by Inder Guglani in 1998. Guru is also considered as one of the best freelancing websites in India because the site makes it easy to create a profile that displays your expertise, making it easier for potential employers to approach while also wading through the massive amounts of job posts that are created every day.
This site has a charge of 8.95 percent for each part of the simple freelancing program, which ensures you'll be paying 8.95 percent on your earnings if you sign up with Guru for their free membership scheme.
9. Toptal
Toptal stands for 'Top Talent.' It was founded by Taso Du Val and Breanden Beneschott in 2010. Its headquarters is located in Silicon Valley. It is one of the best freelancing websites and a remote-friendly company that connects organizations with the best software engineers, designers, and business consultants.
Unlike some other freelance websites, TopTal does not offer bids for projects or anything of that sort. The platform will find freelancers, prospective customers based on their needs, and will directly connect the two. If you're a professionally trained software engineer, financial expert, or designer, then Toptal is a great option.
10. Ncuberoot
A freelancing site where freelancers can find a new way to showcase their performance. They have their working style, which is what makes them unique from other websites. From a large pool of quality loaded projects from various fields, you could pick up projects that fit your abilities. After the project is completed and accepted, the incentive will be allocated.
They maintain a sound investment plan. If you're a newbie, go ahead!! NCubeRoot is one of the greatest you can get.
11. 99designs
If you are searching for the best freelancing websites for designing, then you should subscribe to the 99designs, one of the best freelancing websites in India. It is for freelance designers only,  where Clients can find freelancers who can provide the graphics and design-related services.
You can make and design logos, design websites, design t-shirts, etc. Freelancers have their work submitted on 99designs. Clients will post a contest, and designers can submit their work. The client picks the design they like the most, and the designer gets paid for that.