Compliments don't necessarily have to be on a girl's appearance. You can also compliment girls for more things such as being there for you, staying together or standing by your side.
Even the way you express your love is a compliment.
To give world-class compliments, you have to be ready in advance. You can never-ever think while giving a compliment to a girl. Make sure your mind is always ready to give compliments, start preparing today.
This article gives ideas of compliments for girls that will come handy for your special friend as well as for your girlfriend, so select them wisely.
Don't be friend-zoned for no reason.
Check Out the Best Compliments for Girls
Do you always live like this or is it just because of the lockdown?
You're like sunshine when it's raining in my life.
I bet it will feel perfect when my skin touches yours.
Everything a guy wants from a person, you possess it.
You are the first person that I turn to when I need a friend.
I would like to thank you for being the best friend a guy could ask for.
Whenever you are around me I automatically fell 10 times happy.
I do not know the reason why a lot of people do not copy your fashion sense.
There are a lot of situations in which I would love to have intelligence like you.
A strong and confident woman like you should be in my future.
If I sit down and list all the nice and amazing things you have I would need the whole day.
*Color name* looks perfect on you, like it's made for you.
That is such a great choice. It was waiting to be yours, I'm glad you got that dress/top/one-piece.

I don't want to make you feel uncomfortable, but I can't take my eyes off you. 

How could you be so perfect in every sense? I'm totally impressed.
Well you should know what it is, don't ruin the compliment.
I can hold your hand for the rest of my life only to make sure I don't lose you.
You will always be my sunshine(use your sweet names) even as we age and gray.
My only wish is to make you laugh at every chance I get.
Yet nothing is more beautiful than you but when you smile like that looking at me, I swear my world stops.
No not at all, who says you're fat; you can't be any better than what you are already.
You are like a gelato with irregular chips of white and dark chocolate ice cream to me (add her favorite ice cream's name) With sprinkles.
My heart melts when it sees your cute smile. Oh look, it started again.
The only thing I am waiting for is to spend the rest of my life with you.
Your one smile can make my day.
I don't want any other dream, you've already come true.
Don't be sad, you are someone's reason to smile 🙂 .
I could hold your hands forever and still say loud I haven't had enough of you.
You are my candle in darkness.
*Name of a song* reminds me of you.
– Don't use your EDM Hardwell or Eminem raps rookie.
I love you the most when you're not afraid to be yourself.
When I want to be with someone or share something, you're my favorite person.
Think about those people who really care for you. You're a gift to those around you.
Life isn't perfect but if you are with me, "perfect" would be a small word to define my life.
Someone looked pretty today.
The best part of this compliment is you can send it to more than one person.
I never believed in soulmates but after meeting you, I do.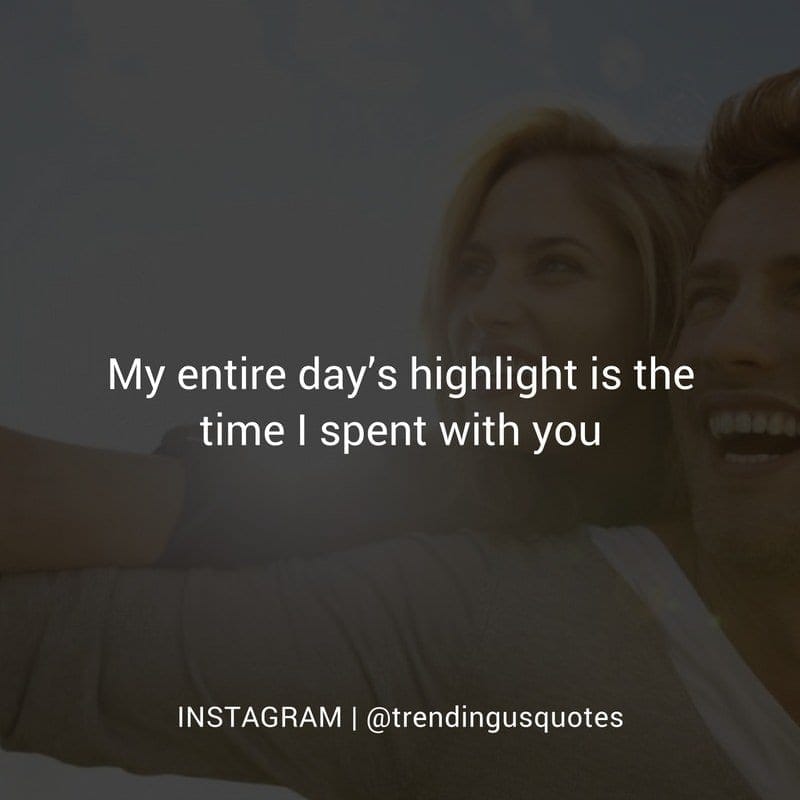 My entire day's highlight is the time I spent with you.
2 Quick Lines You Can Say When You're Proposing a Girl:
My knees feel weak with a rose when I touch you.
– Make it special.
Will you spend the rest of your life with me while I am trying to make you happier by each day?
– Make it more special.
You are truly an amazing dancer.
Don't say this if you can't dance, or someone else will.
Your taste in music/movies/art is tremendous. How can you be better than me in everything!
Almighty didn't write our names together, he made us only for each other.
The way you handled it was great, you're an inspiration to others.
When we are together, I want the time to pause but it doesn't. It's because once, the time will pass and we'll be with each other for the rest of our lives.
I wish I could have met you X years ago; we would be celebrating our X years' anniversary.
For your unmarried anniversary's candle light dinner my focused reader.
Start keeping track of all those dates and years if you haven't already.
The secret behind your beauty is that your heart's beautiful from the inside.
For me, being with you anywhere makes everything better.
Even dark colors seem intense when they're with you.
I never hoped to meet someone as caring and nice as you.
I love it when we fight over goodnight at 3 am but still can't hang up the phone.
My morning begins thinking about you and my day ends with you in my dreams.
Every time I look at your eyes, it brightens up my day.
When I see you sad, it hurts every piece of my heart.
I had a dream last night. Our kids were there, learning to walk on the beach.
My morning makes my entire day when I listen to your voice.
I don't know how but when I am with you, you make my time fly and pause all at once.
I am not thankful for anything but for having you in my life.
When you're not with me, I think of you and talk about you with my pillow before I fall asleep.
– But don't try this if she doesn't like childish talks.
Any person would be lucky to have you, but God chose me to be the luckiest.
When I am with you, my jaws hurt. That's how happy I am.
You know who you are, don't care about what they think.
Whenever I say goodbye after meeting you, it becomes harder to walk away from you again.
It's the best how we sort out our issues together. It brings me even closer to you.
Don't give up. If you want to do it, I won't let anything stand in your way.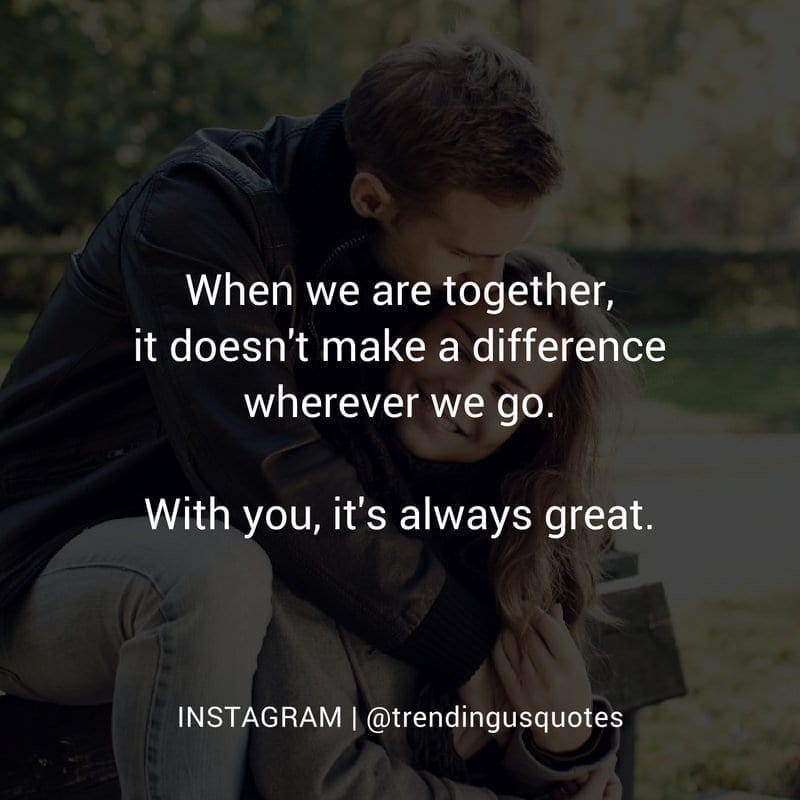 When we are together, it doesn't make a difference where I'm going. With you, it's always great.
You always asked why I kept looking at you. It's because of your eyes; I can look at them until my last breath.
You were the missing piece of my life's puzzle, you complete me.
My life means nothing if there's no "you".
– Find the right time to say this.
I can't imagine my life without you in it.
You look so beautiful all the time; please give other girls a chance some time.
– Say this only if you do cheesy talks regularly.
You look the cutest when you laugh.
I can never stay mad at you, your love is incompetent.
You can read my mind anytime; you're the only one who understands me so well.
I'd never want you to change. I love you the way you are.
I find myself lost in your eyes every time; they're so beautiful it's hard to get out of them.
I love it when you try to make me a better person.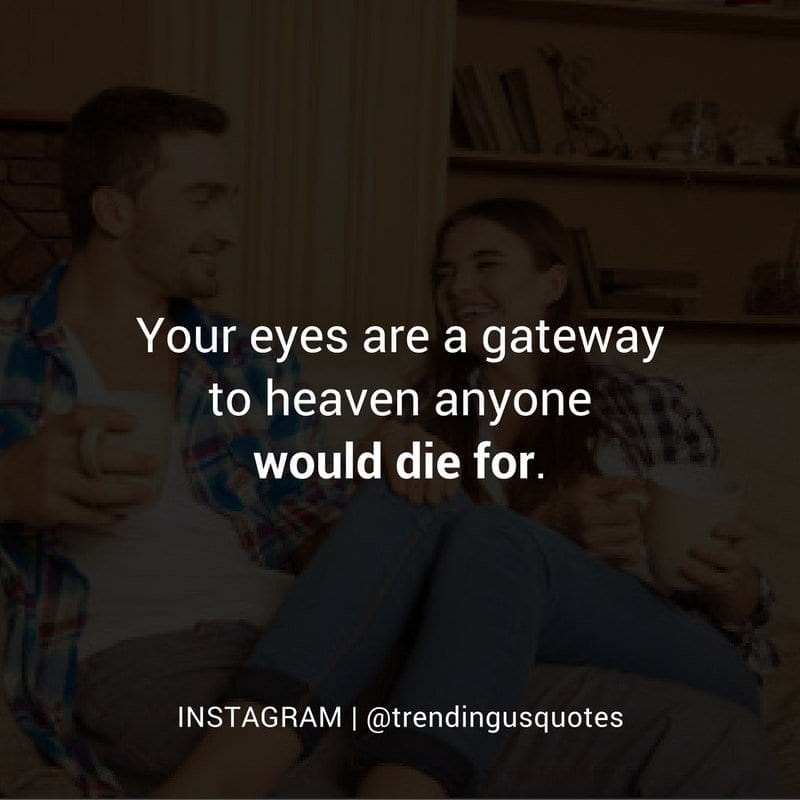 Those eyes are a gateway to heaven anyone would die for.
I trust you to a level that I can talk about anything and everything with you.
Nothing matters as long as you're holding my hand.
You're my everything, you complete me and there's no one who can replace us.
My sadness fades away when I see your spectacular smile.
You don't like *add something she doesn't like* about yourself but it doesn't matter to me, you will still remain that special to me for the rest of my life.
It doesn't matter even if there are no stars in the sky. Your beautiful face is enough to light up the darkness near me.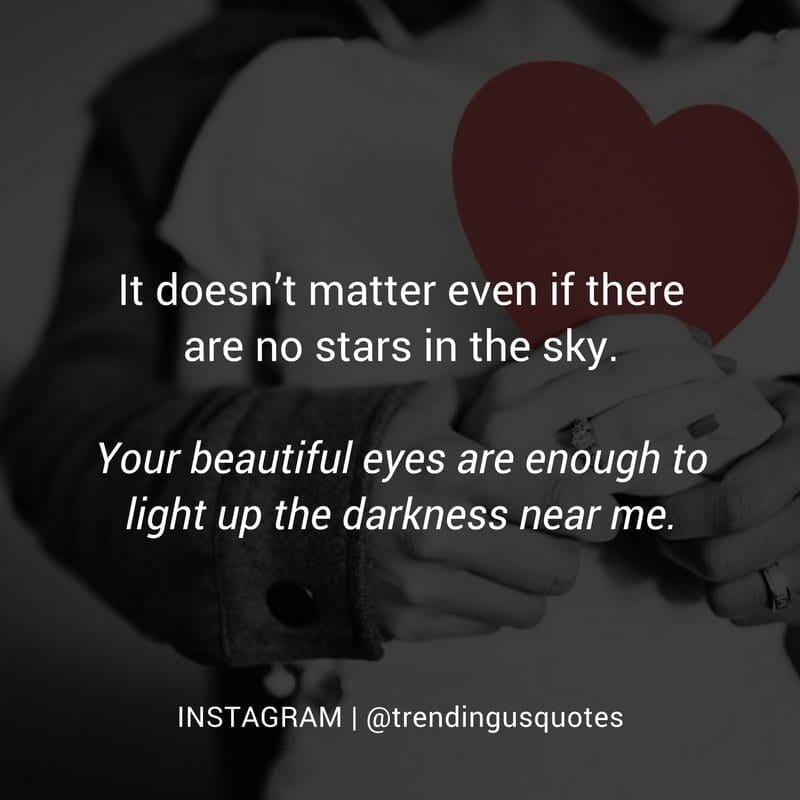 I am the luckiest guy in this world to have you in my life.
I don't have any reason but you're very special to me.
Can't wait to see you.
You might also like: 7 Relationship Mistakes You Don't Know You Are Making
I will never be able to explain how much you mean to me even if I tried.
How were you looking today? Come on, you're the most beautiful girl I've ever met.
I love it how your hand feels when I run my hands over it.
Your hair looks amazing.
A short and sweet compliment that just works.
You are everything a man would die for but too bad for them, God made me for you.
You have always been there for me. You've always motivated me and given the best advice.
It doesn't matter how many times I thank you for being there, it's never going to be enough. So thank you again, again and thanks again.
Great, I don't know what to say.
You can also say this when you actually don't have anything to say.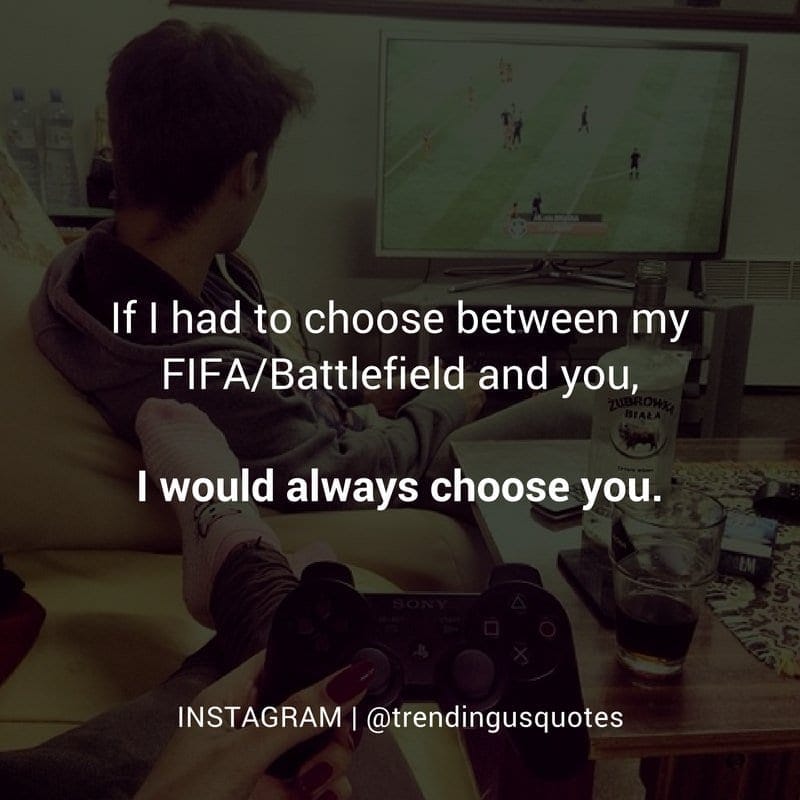 If I had to choose between my FIFA/Battlefield and you, I would always choose you.
Well, this is a tough commitment to make. Say this at your own risk.
People are happy on Instagram, I'll make you happy in reality. Not only a compliment for girls but something that you should follow.
Also check out comment on a girl's photo you can give on social media.
Hey, by the way, that haircut looks really great on you.
You're a limited edition.
I'm a friend material but with the addition to the boy with the word friend.
Are you $1 million because girl I want you so bad.
I admire your honesty. (This can come handy after she rejects you, hopefully, you never use this one.)
I love how dedicated you are to your work.
I admire how much you are ready to give up for your family's happiness.
For the longest, I did not believe in angels until the day I met you.
You made me fall in love with you when i thought i can never fall in love again. (This one is for all the broken hearts out there.)
You're smarter than me, I knew you'd have a good solution! (She will love to hear this after she helped you)
Do you know what attracts me to you? Your personality.
You and I vibe at the same frequency.
I cannot imagine how hard my life would have been if you were not in it.
In reality, you look way prettier than pictures.
I hate how much I love you.
You have impeccable knowledge of X topics.
I want to be as mentally strong as you are.
Your lips feel like drops of heaven. This compliment obviously is for your girlfriend or your wife.
I find you sexy. Short yet impactful.
Your voice is so soothing that when you sing angels sing from above.
I feel comfortable when I am around you.
I respect your calmness/strength/stability when things get difficult.
I must be kissing an angel because nothing else could feel this good.
Wow, have you been working out?
– If she hasn't, she'll feel good.
– If she has she'll feel good.
– If she has been dieting alone, she will feel good
I am most genuine me when I am with you.
It's lovely that you lead a life of simple living and high thinking.
Funny and Flirtatious Compliments for Girls
Donald Trump approves of your new hair.
Your hair is like the silky fur of a groomed kitten.
Is your whole life a good hair day?
I would love to enjoy your company all the time but sometimes I will have to go and do my work.
Girl, people are blaming you for Global warming can you stop being so hot!
As Adam Levine sang "Cause girls like you Run around with guys like me", you gotta be with me, I mean nobody disrespects my man Adam.
You are so stunning I was starstruck!
You are so smart that Albert Einstein wants to know your location.
Hey girl! You look like trash, let me take you out. You should be ready to get kicked.
I will be as committed to you as Ross was to divorces.
Are you Bajaj? Because I am your biggest fan. Works even with celebrities, if you ever get a chance.
You're are the human form of potato, perfect in any form.
Also read: 8 Trending Dresses for Girls and Women
Cute compliments for girls
Compliments are more than just words of appreciation and making someone feel confident or respected. The way you say it also describes what it means plus what you are feeling about that person.
So, don't ignore such important notes while complimenting someone, especially a girl.
Yes, she can easily figure out what you are trying to say and your purpose behind  it. Remember, your compliments have to be the real ones, rather than just cheesy ones. Because complimenting girls is not that easy as it sounds.
And these are the list of cute compliments for girls, you may want to look at, first.
Probably you heard it many times, but you are really beautiful. 

You are so cute, thank you for coming into my life. 

You look gorgeous and cute, more than in the pics. 

I'm sure you don't have to use the filters for your images.

Let me look into your eyes, they are so amazing. 

Never stop being you, You are special to this world. 

Thanks for coming to this world. 

I like your smile, it's so beautiful and healing. 

You have a great style sense, keep it up. 

You're the fashion icon of this area. 

Someone needs to take the lessons from you of what to wear and where. 

I never know you look more beautiful even without makeup. 

Let me tell you a secret, Many girls here are inspired by your style. 

I'm feeling so happy and confident while being with you. So thank you. 

I consider myself the luckiest person to have someone like you. 

You are the reason why most guys are jealous of me. 

Time with you is always fun and entertaining. 

Your voice is so clean and soft, I can listen to you for hours. 

You are just perfect, just in case you don't know. 

How can someone be so cute? Just tell me. 

Thanks for listening, you are my true friend. 

You are so sweet, thanks for being you. 

I feel really lucky to have a best friend like you. 

You are so perfect with everything you do. 

Do you know, you are my inspiration. 

You are so kind. Call me anytime, I'll be there for you. 

You are not just a friend, you are more than that. 

Just because of you, I'm able to do great things in my life. Thank you so much. 

Everyone loves you and there are a hundred reasons why. 

I'm feeling so proud of you. 

You are the one which I can fully trust in my life. 

What do you need? Tell me something, I want to do something for you. 

You have the power to change someone's life. I mean, look at me. 

I love the way you make everything look easy. 

You are so relaxed and calm, I want to be just like you.

You're such an independent and confident girl.
Good compliments for girls
If you want to compliment her, but don't know what to say, then this is a good list for you. A simple, good, meaningful compliment when said from the heart is everything she wants to hear. Whether you are talking with her online or face to face, knowing how to compliment a girl you like is something you want to check first. Of course, you want to make a good impression of yourself, right? Then take a deep breath, feel relaxed, and have a look at this list of compliments for girls. And, we're sure you will get the best idea from here, too.
No matter how tired and stressed I feel, your voice helps me forget everything.

Thanks for changing my life, positively. 

You are inspiring me to become a better person every day. 

Do you know, I've been thinking of you the entire day. 

Take care of yourself, okay. 

You make boring things look amazing and exciting. 

I can write a book about you.  

I'm a huge fan of your patience and focus in life. 

My life looks complete after you come. 

You are inspiring me to stay healthy and fit.

All I want from life is to create more and more happy memories with you. 

Thanks for always being with me, your presence matters a lot. 

Just because of you, I'm a better person now. 

I will never forget your contribution to my life. 

I have so many things to learn from you. You are great.

You understand me very well, more than anyone. 

I wish we had met a lot earlier. 

You are the first person that comes to my mind, every morning. 

I feel relaxed and healed after talking with you. 

You are so confident and positive about yourself.

You are the best example of beauty with the brain. 

Oh, your smile, that's so pure. 

I will never miss a single chance to spend time with you. 

You are the reason why I started to believe in myself. 

You always bring a positive vibe with you, and that's what I like about you. 

Spending time with you is like enjoying my life.

You are the one that everyone wants to sit beside in tough times. 

I don't think anyone is as cool and confident as you are. 

You have a heart of gold. Do you know that?

Stay true to yourself, that's what I learned from you. 

You are brave and never hesitate to challenge yourself. 

I'm a big fan of your communication skills. 

Do you know, I'm kind of starting to like you more. 

You make the thoughtful choices in life and appreciate that. 

Wow, everything looks great on you. But, How?

You have a very easy-going personality that makes me feel comfortable connecting with you.

You're such a hardworking girl I ever meet and I take inspiration from you. 

Who says beauty is on the inside? You're beautiful both in appearance and by heart. 

I want to give you compliments but It might seem like I have a crush on you.
One word compliments for girls
Compliments have to be easy, you don't have to write a poem or song to compliment girls. You don't have to overthink about what to say and how to compliment a girl, every time. Sometimes, even the simplest one-word compliments are enough to make her realize how special she is. Overall, your compliments are supposed to be meaningful and special. Even if it's a short and simple compliment, your feelings have to look real. Remember that. Take a look at some one-word compliments that you can share with a girl.
Adorable

Appealing

Beautiful

Brave

Cute

Charming

Divine

Dedicated

Excellent

Energetic

Gorgeous

Lovely

Marvelous

Nice

Pretty

Remarkable

Sharp

Stunning

Superb

Trendy

Trustworthy

Unique

Unstoppable

Wise

Wonderful

Sincere

Morden

Smart
Read next: Relationship Goals: Great Gifts for the Woman You Adore
Why Are Compliments Important in Any Relationship
Compliments are very essential not just to impress the girl, but also even if the girl is already impressed it keeps on the heat between the couple.
The compliments are not only limited to flirting, but they are also crucial for any relation, it makes the woman or the girl in your life or for that matter even the friends or family members should receive appreciation.
By complimenting you suggest that you know the person's worth and acknowledge things that they do and, even notice things that they didn't know can be complemented.
Many of us have the tendency to feel awkward when we have to give compliments or receive compliments, which should not be the case, it benefits us, improves communication and strengthens the relationship. Compliments pay off to the hard work the other person has put into.
What to Avoid While Complimenting a Girl
Know the difference between what is creepy and what is not. It is essential to draw a line between things you can say and things you definitely should not.
Never give fake compliments just to look nice, people will definitely know when you're faking it and that is not something you would want.
It is better not to use 'I', rather use 'You', for example, do not say "I love your shirt" instead say "This shirt looks great on you".
Do not give ambiguous compliments. You would mean something positive but the girl may consider more like an insult, for example, if you say "It is a rare thing to have such fun chat " what you mean is that it is rare to have this kind of conversations with someone, and what she may interpret is that she is rarely fun which may be insulting to her as rare can be interpreted differently.
Unless and until you are very close to whom you're giving the compliment does not cross the boundary in which you are, complimenting something like a boss to your subordinate which should not be said in a workspace or to your co-worker, must not be said. It is in no way okay to say something inappropriate or explicit for obvious reasons.
Who doesn't like compliments? It's never a bad time to compliment or appreciate someone. Don't forget to leave your suggestions in the comments.
Also check: 32 Things You Should Do for Your Girl Unasked
Featured image credits: F.R.I.E.N.D.S.