The hidden meaning behind songs is one of the finest ways to express and share, they simply summarise your whole mood in a sentence. Can anything else be a better option than using them in your Instagram post's caption?
Whenever you're confused (like you're now) regarding what you should write in the caption part, come back to this article as we'll have regularly updated trending lyrics for your social media post.
Cute Song Lyrics Captions for Girls
"Sugar and spice and everything nice" – Lenka
"I wear my crown, show it off, go on girl." – Kelly
"Take my number I just might hit you" – Lauren
"I wanna be your end game, I wanna be your first string" – End game
"Breakfast at tiffany, bottles and bubbles" – Ariana
"I could build a castle out of all the bricks they threw on me" – Taylor Swift
"But the heart wants what it wants" – Saleena Gomez
"Turn my birthday into a lifestyle" – Pop Style
"Find me where the wild things are" – Alessia
"you could be the king but watch the queen conquer." – Nicki
"My heart's a mess" – Prateek Kuhad
"Baby, I don't need dollar bills to have fun tonight" – Sia
"Party girls don't get hurt" – Sia
"You shout it out, but I can't hear a word you say" – DavidGuetta
"If I told you this was only gonna hurt" – Martin Garrix
"Talking to the moon" – Bruno Mars
"As hot as fire as cold as ice" – Lenka
"The heart wants what it wants" – Salena Gomez
"What or wine, don't make me choose" – Salena Gomez
Also read: Trending Music & Songs for Instagram Reels
Romantic Song Lyrics Captions for Couple's Pictures
"You'll be the prince and I'll be the princess" – Taylor Swift
"So I sneak out of the garden to see you" – Taylor Swift
"Do you have a hundred words for me coz I have only three" – Prateek Kuhad
"Cause I know that I am yours and you are mine" – Danielle
"Start by kicking off your shoes, And you find something smooth " – Danielle
"Can I have your daughter for rest of my life" – Magic
"We are one of a kind, irreplaceable" – Avicii
"Even when the night change, It will never change me and you" – One direction
"So who can stop me if I decide that you're my destiny? – Zac Efron
"Maybe it's the way she walked (wow), straight into my heart and stole it" – One Direction
"Love you like a love song" – Saleena Gomez
"Haven't I made it obvious" – Marshmello
"What makes you beautiful" – One Direction
"I love it when you call me senorita" – Camila
"I see us written in the stars" – Dua Lipa
"Best song ever" – One Direction
"Cause we were just kids when we fell in love" – Ed Sheeran
"If I could fly, I'd be comin' right back home to you" – One Direction
"So you can keep me, Inside the pocket of your ripped jeans" – Ed Sheeran
"Well, I found a girl, beautiful and sweet" – Ed Sheeran‌
"I love you, baby, don't let nobody tell you that I don't love you baby" – Stevie Wonder‌
"I am happiest when you are by my side. ‌When we are in love, we try to be better than we are." ‌
Life is never easy when you need it to be" – Jennifer Lopez
Trending 2021 Song Lyrics Captions for Travel Pictures
"One day you'll leave this world behind, So live a life you will remember" – Avicii
"Glitter in the sky, glitter in my eyes, Shining just the way I like" – Dua Lipa
"These are the night that never die" – Avicii
"We can climbed so high, I never wanna die" – Steppenwolf
"If you wanna run away with me, I know a galaxy, And I can take you for a ride" – Dua Lipa
"Looking for adventure, In whatever comes our way" – Steppenwolf
"The club isn't the best place to find a lover, so the bar is where I go" – Ed Sheeran.
"The road's calling again tonight, Dreaming under street lights" – Kongos
"And time's forever frozen, still" – Ed Sheeran
"24k magic in the air" – Bruno Mars
Take your memories, I don't need them. – Keith Urban‌
Even though you're fed up, you have to keep your head up. – Tupac‌
And I wonder if I ever cross your mind. For me, it happens all the time. – Lady Antebellum‌
I know the sun's still shining when I close my eyes. – Travis Tritt‌
Somewhere down the road might meet at the right time. – G-Eazy‌
The truth hurts but secrets kill. ‌Because you're mine, I walk the line. – Johnny Cash
Also read: Trending Wedding Songs to Get the Best Wedding Groove
Beautiful Captions to Rap Sad Posts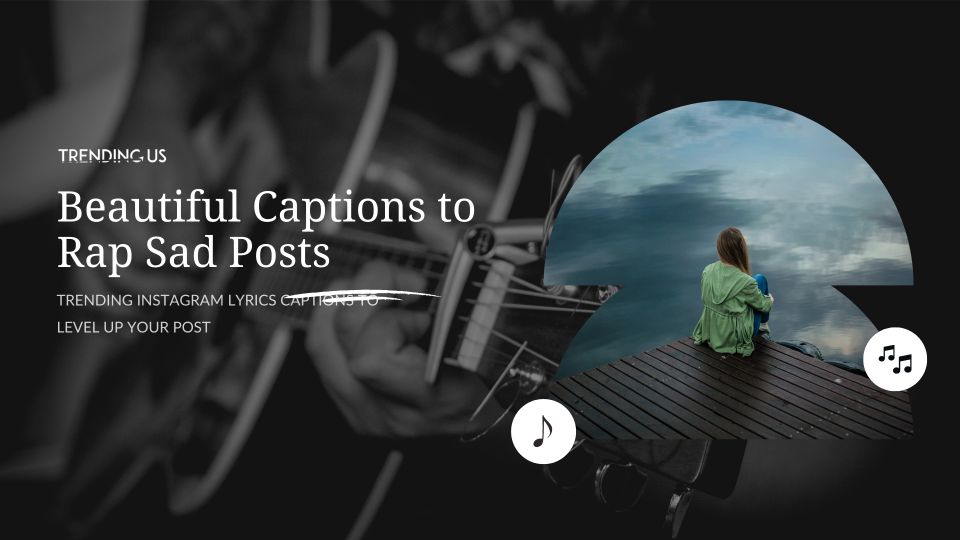 "But there are mountains, and there are doors that we can't walk through" – Zan Efron
"Sweet divine, a heavy truth" – Salena Gomez
"I wish I could pretend I didn't need ya" – Camila
"I was walking down the street the other day tryna Distract myself" – Salena Gomez
"Is it too late to say sorry?" – Justin Bieber
"Now you're just somebody that I used to know." – Gotye
"I wish is could keep you my love but my heart is a mess" – Prateek Kuhad
"I wanna wrap my arms around you, baby, never let you go" – Justin Bieber
"If I leave here tomorrow, Would you still remember me?" – Lynyrd
"Where the streets have no names" – U2
Don't leave her if you can't let her go. – Chris Young
"Memorie bring back you" – Maroon5
"She don't feel the same about us in her bones" – One Direction
"Loving can hurt, loving can hurt sometimes" – Ed Sheeran
"I tried so hard and got so far, but in the end it doesn't even matter." – Linkin Park
"Takes one to know one, you're a cowboy like me" – 'Cowboy Like Me'‌
"Forever is the sweetest con" – 'Cowboy Like Me'
"And my waves meet your shore, ever and evermore" – 'Long Story Short'‌
Popular Song Lyrics Captions for Pictures with Friends
"You say you love me, I say you crazy we're nothing more than friends" – Marshmello
"Want me to spell it out for you? F-R-I-E-N-D-S" – Marshmello
"It's the way you lift me up, yeah, And I'll be right here with you 'til the end." – Justin Bieber
"You want me, I want you, baby my sugarboo" – Dua Lipa
"Let's go crazy, crazy, crazy 'til we see the sun" – One Direction
"We keep this love in a photograph" – Ed Sheeran
"Me and my friends at the table doing shots, Drinking fast and then we talk slow" – Ed Sheeran
"It's been a long day without you, my friend" – Wiz Khalifa
"Seems like yesterday we use to rock the show" – Faith Evans
"Cheers to the one we have got" – Maroon5
"I'm only one call away, I'll be there to save the day" – Charlie Puth
"You can count on me like one, two, three and I'll be there" – Bruno Mars
"So no one told you was gonna be this way" – Friends Show
"We never painted by the numbers, baby. But we were making it count" – 'The 1'
Also read: Trending TikTok Songs in India Today
Well, I hope this ultimate list of captions helped you find the right lyrics for your next post. What are you waiting for? You've already been searching for the latest songs' lyrics in Hindi or English for an hour now, go post it.
Sources & References: