We hope the 'New Year-New Me' resolution will be settled by now. Or did you break it before the end of the first week? We hear you but are guilty of bias too. As we are here to suggest some 'New You Solutions for Men'. However, our pretty ladies can check out something interesting for themselves here.
There isn't really a right time to start loving yourself. Do not wait for another new year, month or a Monday for that matter to start showing some self-love. Our solutions for you here are small everyday changes that can bring about a huge difference in how others and you perceive yourself. A little attention to yourself will do the trick.
You will also reap some long-term benefits that don't come with the quick fix solutions that plague the start of the year. These changes are mostly gradual, but bring drastic results over time. Not all of them are cheap, but the benefits should prove to be worth the expense.
Simplicity, Good Taste, and Grooming are the Three Fundamentals of good dressing and these do not cost money.
#1 Skin Care
Unlike what you must be thinking right now, skincare must not always cost you the planet. There are plenty of products available in the market that is both affordable and effective. Get a face wash, body wash, and a moisturizer (to start with the basics) that suits your skin type and is as close to natural as possible. Affordability must not come at the cost of a chemical concoction for your skin.
However, do not restrict your skincare to your face only. 
A major part of being the new you is putting your best foot forward with every step. And we mean that literally. When it comes to taking care, the most ignored part of our body is our feet. But did you know the feet are often noticed even before the face of a person? If you didn't, you know it now. You may be thinking, 'But my feet are hardly seen'. Maybe not so much in winters, but how about spending the summers in sandals and flip-flops. Scrub and moisturize your feet regularly and enjoy your next vacation without having to worry about them looking disgusting again.
It is basic to trim your nails at least once a week. Do so after a bath, to make the job a little easier with softened nails. But if you really want to nail the game of hand care, moisturize your nail beds every other day. This will take care of flaky skin around the nails and make your hand look well-groomed. Easy but important.
You must have heard, eyes are the window to one's soul. But what about the saggy dark circles that get more attention than those windows. Never mind the innumerable creams and rollers to treat them, if that's a hassle. Just go to bed in time and sleep well. Early to bed and early to rise has a lot more benefits than just beautiful eyes, go for it.
#2 Hair Care
Thick or thin eyebrows are fine. But if you have a monobrow situation going on, then there is trouble right above your nose. On your next visit to the barber, have the bridge cleared. And do so regularly. You will be impressed looking at yourself in the mirror.
Talking of the visit to the barber, a monthly visit for a haircut is a must. However, if your hair growth is on a spree, you may have to schedule the visit fortnightly too.
While you are at the barber's don't forget your facial fuzz. While beards are a thing and we agree the fashion trend is here to stay, they are tricky to manage. Get help if you need it. Or you can also DIY. If you choose to have it all clear, that's a forever style. Again experts do it best, get them on the job. Unless you are one yourself. 
Hair loss and male pattern baldness (which you have no control over) can cause loss of self-confidence in men and lead to mental health issues. In recent times, much of the stigma attached to a hair transplant has disappeared due to several high-profile sportsmen and celebrities showing the results of their procedures on social media.
Also, the myth that the procedure is painful has been dispelled, along with the belief that the results do not look natural. The only remaining question is how much does a hair transplant cost? This will vary according to how many follicles need to be implanted.
Also read: Trending Music Instruments You Can Learn in 2021
Applying a well-chosen scrub once a week will leave your face gleaming for the good. If it is the process of making the right choice that bothers you, go natural. Oats, rice flour, and coffee grounds are some of the best ingredients around the house that can work wonders for your skin. And yes they are very much affordable.
Not to forget the sunscreen. That's a must to prevent skin damage whether you spend time outdoors or indoor.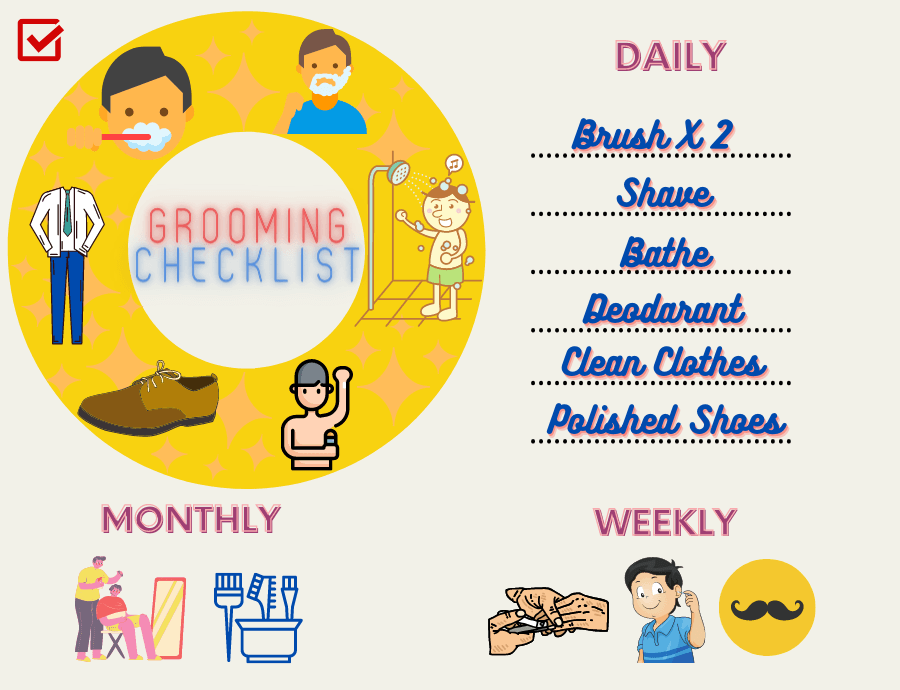 #2 Wardrobe Makeover
Now that the skin and hair are taken care of, your dressing style matters.
This final one can be more gradual than you might think, and could be considered the icing on the cake to complete the 'new you'.  Wardrobe makeover doesn't involve throwing everything in your wardrobe out and replacing it in one go, which would be very expensive.
Instead, you could try replacing one or two key items each month, as your budget allows. For instance, a new shirt will stop people from noticing you are wearing the same old jeans. 
Keep the pointers in mind while you work on your wardrobe and keep the 'new you' sober, versatile and classy.
Invest in a functional and aesthetic watch. Make the time right.

Don't get intimidated by colors. Pick, choose and experiment.

Denim is your best friend. Get tapered ones, those will age well with you.

Keep your underwear simple. And yes, clean of course.

Spend on timeless round-toed shoes. They will never run out of fashion.

With accessories, less is more.

Go classic with shirts. And remember to iron them neatly.

Get a pair of glasses to suit your face. Don't go too cheap.

Have a couple of suits ready. You may need them soon for a dinner date.
Update your overall look in pace with any weight loss or gain you are experiencing from changing your habits.
#3 Fit Body and a Fit Mind
This one certainly isn't about a quick fix, but changing one or two things you do every day to improve your wellbeing. First among these is to get the right amount of sleep. Studies have shown you need between 7 and 9 hours of sleep for a normal day, and if you don't get those you'll tend to make up for it with caffeine or calories.
Excessive caffeine will affect your sleeping habits even further and those extra calories will lead to putting on weight, which is normally the opposite of what you are trying to achieve. 
Some habit changes that can show instant results to grooming the 'new you'
Let's begin with your teeth. Oral health is a must for a healthy life. Moreover, you cannot expect to walk up to someone with a smelly mouth and expect to have a good impression. If you are too lazy to run a toothbrush around your mouth, get an electric one. Electric toothbrushes are known to be more efficient at cleaning teeth. Using a mouthwash after your brush will keep your mouth and breath fresh for a longer time.
Also read: 21 Trending Hobbies List To Follow in 2021
Next on the list is making sure you drink around half a gallon of water each day, to keep yourself hydrated. We hope you know, 70% of you is only water. Have enough to keep a balance.
Again, eating fewer meals that are take-outs or ready meals. Just cooking one or two meals a week yourself instead of having a take out, as well as getting enough sleep and drinking more will have a gradual positive effect on your body. All this can result in you losing weight and being more healthy over the course of a few weeks or months.
Further, be physically active. Workout regularly, but also remain active throughout the day. Take short breaks after every hour to just walk around the house. 
Reduce your screen time.
Stay sober for as long as possible. Alcohol adds to your calorie intake and is also harmful if not consumed in moderation.
Work on your mental health. Declutter your mind to bring in positive thoughts and energy.
Must-haves in your Grooming Kit
Gone are the days when men grooming themselves were looked down upon. Instead, it is a shame if one does not have a morning self-care routine. The trick of the right grooming session is to look effortless yet well kept. Not visibly glow but be your understated self who is all put together in minutes.
Just develop a quick and simple daily routine that will just take a few minutes and not cost you a bomb. It is in fact just about consistency and maintenance. Here's a little list of items to put together your ideal everyday grooming kit.
To bring your skin alive after a tiring day and to begin one with freshness. A good face wash that suits your skin type will enhance your skin texture keeping it smooth and blemish-free.
Freshness is essential for the whole body and not just the face. Body washes with natural ingredients will protect your skin from harmful chemicals. It is essential to be mindful of what we are treating our skin with rather than just pick up something off the shelf in a supermarket. 
Body Perfume or Deodorant
Create a lasting impression even before your words. If a nice fragrance doesn't make heads turn, a foul sweat smell will. It will also put off everyone around you and they will keep you at a distance of not one but two arms away.
Healthy hair is an instant highlight to one's personality. The least you can do is keep it clean by using shampoo regularly. You also don't want dandruff running off from a dirty scalp onto your business suits.
Use a good quality moisturizer to treat your dry and dull skin. Treat your skin well for that effortless everyday look.
You surely do not want to walk out of your house or to a meeting with messy hair. Let us accept it, hair is the only quick fix that men can ever have to look put together. Get a comb to carry along.
Last but not the least, shaving is the most important. Most of you will have this little kit ready but how often do you use it. Beard or no beard, shave daily for a seamless, clean, and impressive bearing.
Well, that was a whole lot of advice on the do's and don'ts for the 'new you'. While you are on it, remember, it is not about the resolution. Transformation comes with consistency.