Break out the mimosas, ladies, because winter is just about outta here and we're ready to get our spring celebration started. Seriously, though, is there anything better than the emergence of warmer temps after a little-too-long cold season keeping us all cooped up? While there are plenty of reasons to love this bright and bloomy season, our number one has to be the reemergence of our warm weather wardrobe. Of course you can't go full-on floral sundress and flip flops just yet – at least not without catching the sniffles. Check out our suggestions on how you can transition your wardrobe from winter to spring and enjoy your much-deserved time in the sunlight this season.
1. Dress in Layers
Longer, sunnier days may be on the horizon, but there's still a serious spring chill in the air early in the morning and at night. Keep your comfort level at an all-time high this season by planning stylish, layered wardrobes to get you through the day. Fashion a cute cardigan over a simple t-shirt and jeans look or style a favorite floral dress with sheer leggings and a trendy jacket. Since you're expecting the temperature to fluctuate throughout the day, avoid styling your outfit around your outer layer and instead let your personality shine through with a statement top or cute accessories. It may sound like advice you've heard before (and will hear again), but if you want to look chic from morning to night this spring, dressing in layers is the way to go.
2. Embrace a Lighter Wash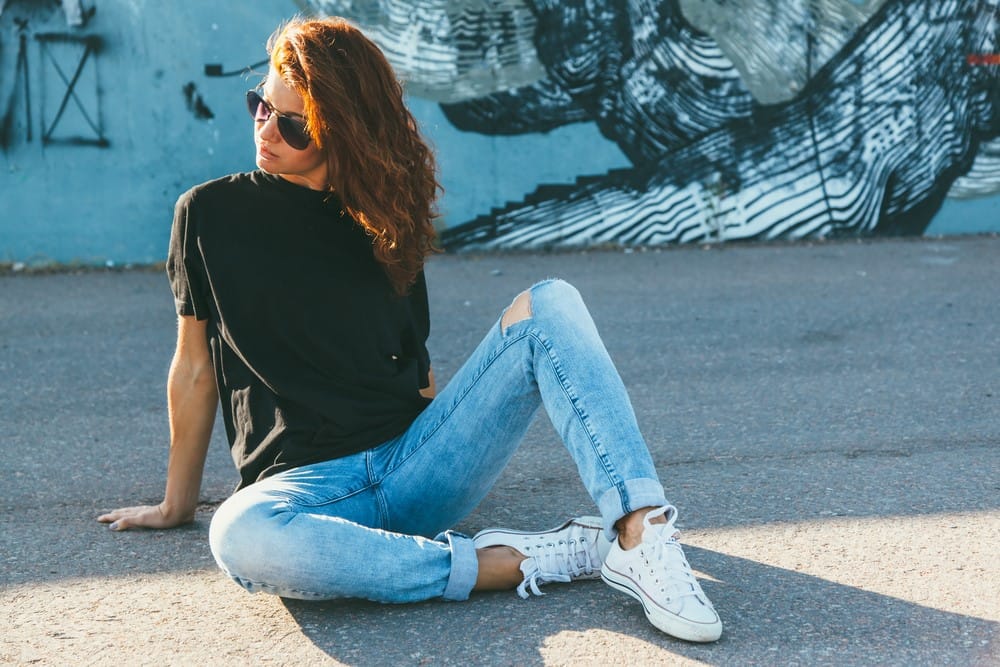 Source: Alena Ozerova/Shutterstock.com
Whether denim is a staple in your wardrobe rotation or something you save for comfortable weekends, one thing is for certain: it's time to push those dark wash jeans to the back of the closet. Now is the time to foster your love for light wash jeans and (dare we say) white denim. While dark indigo jeans may look great against a dark burgundy or sheer black top, it doesn't work as well with the lighter, brighter hues of spring. This spring, pair a cropped, light wash jean with a classic white button down and platform heels for a simple look that can throw a seriously stylish punch.
Read next: Fashion Styles That Can Make You Look Gorgeous
3. Put Some Kick in Your Step
Spring is here and what better way to make your mark on the scene than in fun, flowy dresses in bright colors? And, while you might have spent all winter daydreaming about leggings-free outfits, you'll probably still want to provide those sun-deprived legs with a little coverage. Keep that fun and flirty style on point this spring by pairing sexy, knee-high boots with your favorite midi dress. Or, if long, sweeping maxis are more your style, try pairing some stylish ankle booties with a long, chiffon maxi skirt and chunky knit sweater for a winter-to-spring inspired outfit anyone could love.
4. Grab a Jacket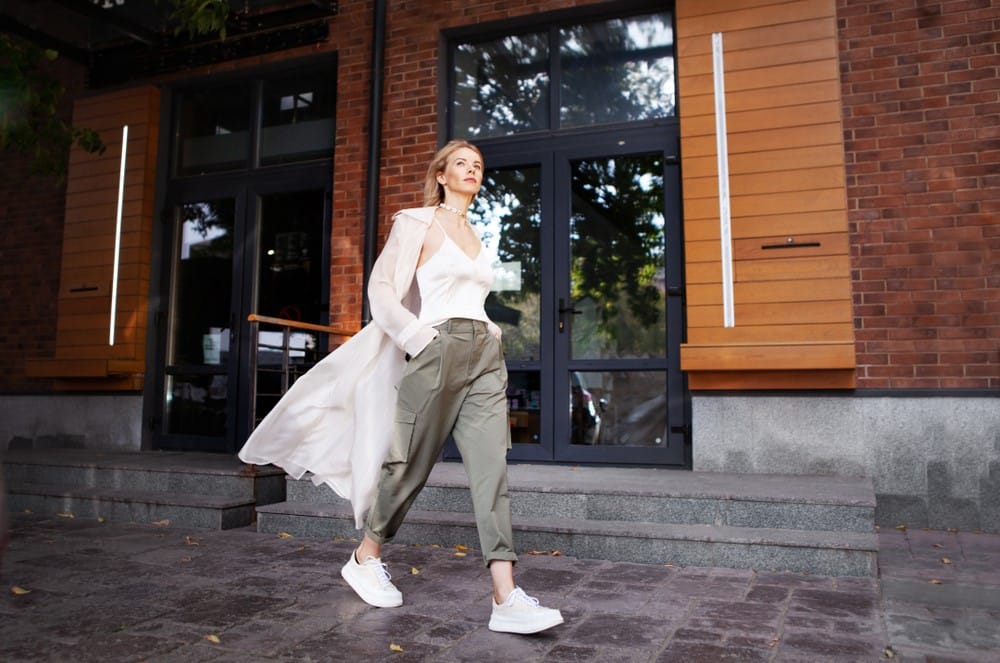 Source: Anna Zhuk/Shutterstock.com
You might be hearing your mother's voice echoing in your head, but it's true: you're probably gonna want to bring a jacket. And, since you need one anyway, why not make it a part of your ensemble? Much like your winter wardrobe, spring is a great time to show off your fashionable outerwear. On cloudy days, dress up your casual jeans and sneaks look with a classic, belted trench coat. Rock your next staff meeting with a chic moto jacket over a sweet floral dress. Pair a long cardigan with a silk blouse, jeans and high heels for that night out with the girls. Mixing and matching favorite seasonal pieces is a great way to breathe new life into a well-loved wardrobe. Just remember to keep it balanced and comfortable or run the risk of looking like someone who doesn't know how to check a weather app.
Read next: Trending Kurti Designs for Every Women's Wardrobe
5. Keep Things Light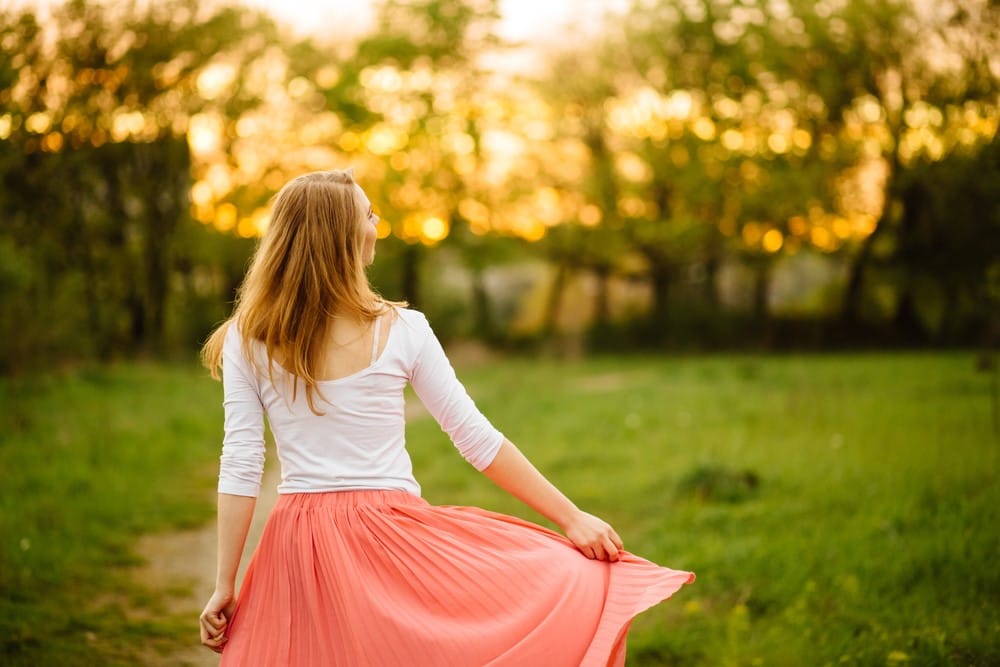 Source:  Iryna Inshyna/Shutterstock.com
Spring is all about brighter colors, light fabrics and flowery, fun prints. So, when you're throwing together a look this spring, opt for those lighter hues versus the darker, muted colors that got you through winter. Something as simple as choosing a soft pink or lilac over a deep burgundy or navy blue is all it'll take to make the leap from winter to spring. If going full color is too-far outside of your fashion comfort zone, ease into the idea by highlighting a lighter base and complementing it with a darker shade. For example, a floral print blouse beneath a black boyfriend blazer with dark wash jeans would be a great intro outfit to a lighter, brighter you. Utilizing brighter clothing as statement pieces around an otherwise subdued outfit is a great option, too. However you do it, introducing brighter colors into your wardrobe rotation will make a huge difference as you transition your look from winter to spring.
6. Accessorize
No need to make your clothing do all of the work this spring. Swapping out your go-to fasihon accessories is a great way to ease into the change of season without a complete wardrobe overhaul. Trade in that oversized tote for a sleek, crossbody sling purse. Swap your vibrant, knit scarf for a silk one tied around your neck or in your hair. Add a pop of color to your workweek by adding a pair of frilly earrings or patterned mules that will put a little spring in your step. Accessories are a great way to add a pop of color to your everyday look as well. This spring, look for purses, shoes and jewelry in lighter hues guaranteed to mix well with a neutral palette. That way, you'll always add a little color to your environment – no matter what you're wearing.