Kurtis has become a regular part of Indian women's and girl's life from professionals to streets and festivals. Kurtis are so much associated with our day-to-day lifestyle that we always have to keep updating our wardrobes according to trending Kurti designs. The Kurtis' market has reached new heights in terms of new trends, exceptional designs and brands.
There are so many brands and designers who work day & night to bring new trends, styles, and works. In the past few years, there were so many changes, adaptations, and styles – not only for fashion purposes but also in terms of comfort, sustainability, and utility. Where some styles are good for day-to-day use, some go better for festive seasons or special occasions. With time; more experiments, designs, and silhouettes in Kurtis, people kept on trying to bring innovations and trending styles.
A Kurti is one of the most underrated pieces in our wardrobe that is easy to carry, low maintenance and always works as a lifesaver. So, it's time to fill your wardrobe with some trending & stylish Kurtis- we have curated the perfect list of trending Kurtis – save this article as it's updated very frequently.
Trending Kurti Designs of 2021
1. A-Line Kurti with Extra Flare
This season is all about A-line Kurtis with extra flares, these are ranging from simple to heavy looks. These Kurtis are easy to carry and you can style them with simple accessories. You can wear them in the workspace as well as on some special occasions.
2. Long Kurti with Pants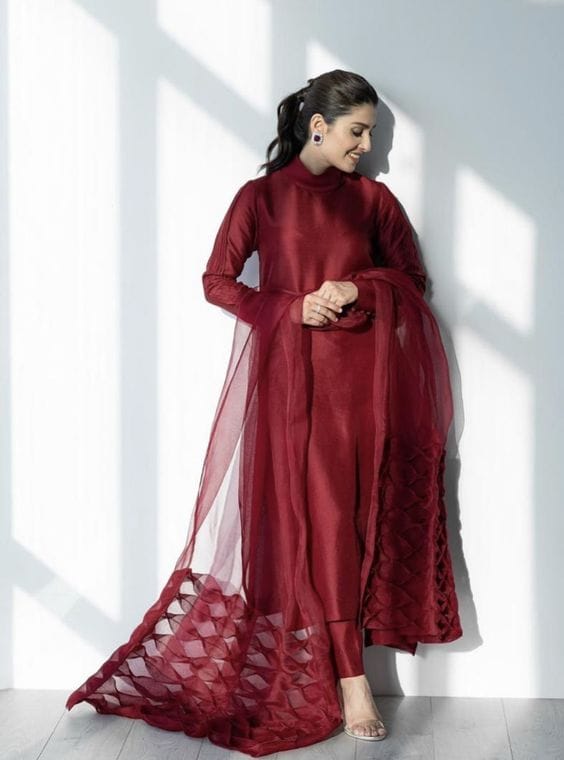 Inspired by Pakistani suits and styling, long Kurti with pants became a huge trend. They are something refreshing and easy to adapt without changing much about your look. You can create a party look by carrying a heavy dupatta or a heavily embroidered kurta with pants. They are easy, comfortable for everyone, and look elegant at the same time.
3. Long Flared Kurtis
Long flared Kurtis are one of the oldest styles you would've noticed.. There can be changes in material, pattern, or styling but they always remain in trend. The main reason behind this is they look so elegant and classy. These days you can also carry them like a long dress or gown without pairing up with churidar or leggings. All you need is a pretty pair of earrings and you are ready to rock!
Also read: Top Trending Jeans For Women In 2021
4. Floral Prints All-Around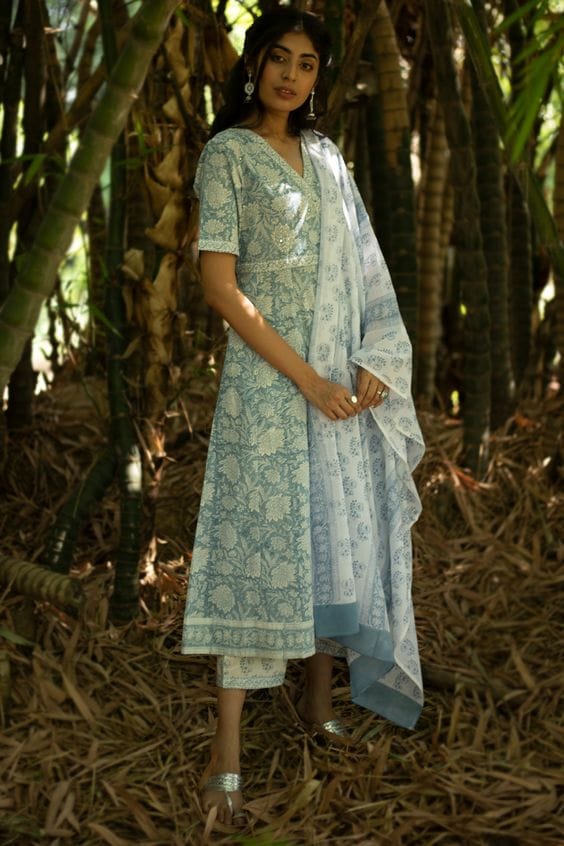 We can all agree that floral prints never go out of fashion, yet only certain patterns remain in trend. These days, big floral printed motifs are trending in Kurtis as compared to small ones. These prints are usually in traditional colour and give refreshing vibes.
5. Organic Fabrics for A Change!
The use of sustainable and environmentally friendly fabric has witnessed huge acceptance in the apparel industry. Talking about some Kurtis, the trend speaks of some, in organic fabrics. Women find them more comforting than any synthetic material. Not just in terms of textile but also the look and texture are trending and they are surely staying in for a long time. You can add some linen, khadi, muslin, and pure cotton kurtas to your wardrobe.
6. Layering in Dresses
Another trend that everyone is adapting to Kurtis is layering. Whether it's a short jacket, dupatta with a belt, or long flared jacket we see lots of layering. The best thing about this trend is you can style the same piece of outfit in so many ways and easily reuse them on different occasions. You can carry a heavy flared jacket with a plain Kurti or to keep it simple, you can carry a simple Nehru jacket with the same Kurti.
Also read: Influencers Reveal Fashion Trends for Women
7. Angrakha is Reviving.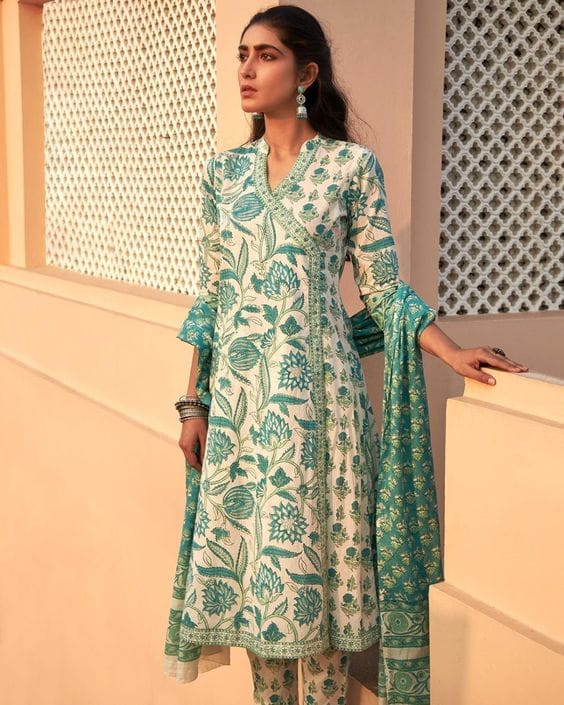 Angrakha is a traditional silhouette that belongs to ancient times and used to be worn by men. Now, these silhouettes are quite famous among women for the last few decades. So, if you already have some in your closet it's time to takeout and style yourself in it and if not then buy one for yourself it's a must-have piece in your closet
8. Traditional Print for Culture Lovers.
These days traditional prints are again trending in Kurtis, from designers to local manufacturers everyone is experimenting with traditional prints with different styles of Kurtis. Traditional prints which are trending are ikkat, bandhej, and kalamkari – you shouldn't miss even one of them, try them all.
9. One-shoulder Kurtis are Trending Again!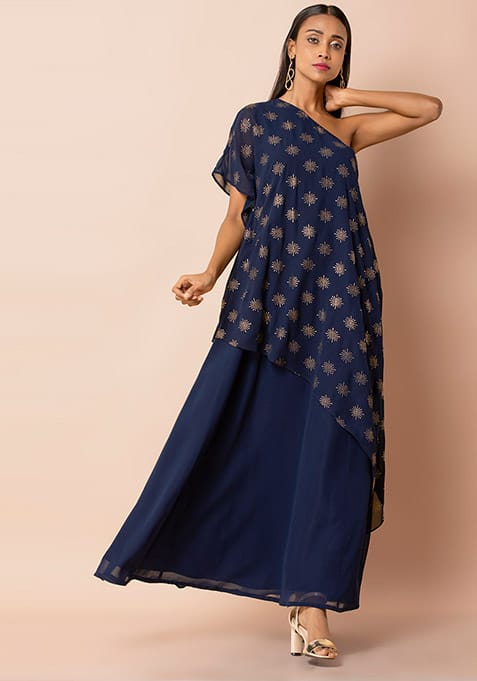 Asymmetrical Kurtis or one-shoulder Kurtis are trending again and we cannot get enough of them. If you are thinking of getting one for yourself choose brocade or silk fabric. They are perfect for the festive season and ethnic days. For wedding days, you can get one with embellishments on the neckline.
Read next: Fashion Styles That Can Make You Look Gorgeous
Final thoughts
These were some trending Kurti styles and designs which you can include in your wardrobe You can also mix and match them or style them with accessories according to the occasion.