Whether they are professional singers or not, when someone has a fantastic voice, they deserve to be appreciated well in the first place. Still, we usually are short of words to appreciate a good singer.
It's true that not every singer makes it big eventually, so appreciation and words to boost their confidence are necessary! Especially when they are just starting and haven't got their breakthrough yet, such compliments for singing voice inspire them overall. 
If you come across someone with a great voice but lacks self-confidence, then make sure to give them a reason to never give up on their talents. Take some ideas from the given lists of awesome compliments for singers to boost confidence in their singing journey.
How to compliment a singer, perfectly?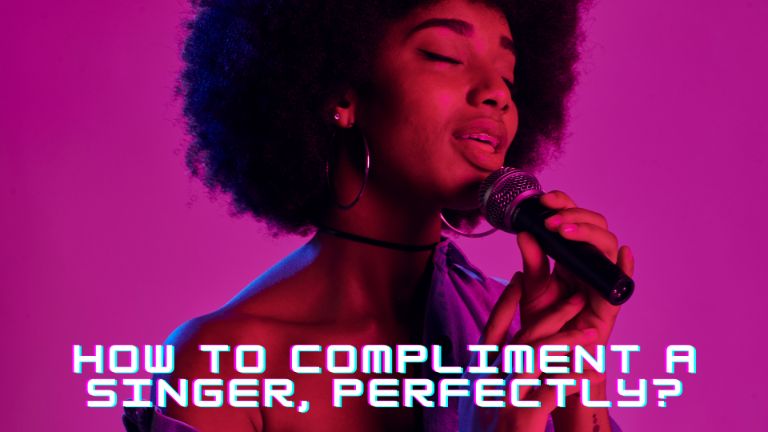 'That's great, 'Amazing voice,' or 'Like your singing,' well signer may have heard the same comment many times. But if you genuinely make them appreciated and confident, then make sure to make your compliments look specific overall. 
You don't have to be aware of all music tones; inform them what part of their singing performance you like the most. It is their stage presence, song selection, or certain song parts. Having such unique notice from their performance makes them feel genuinely respected and appreciated, indeed. 
Compliments for Music Covers
Compliments and comments for a music cover video never have to be over positive and negative only. Sometimes, a singer himself accepts that they get the right feedback from the audience and for the same people should know how to appreciate a singer's voice.
Along with their incredible performance, you can also give them hints about where to focus and areas to practice well. Here are some excellent examples of the best compliments for singing well.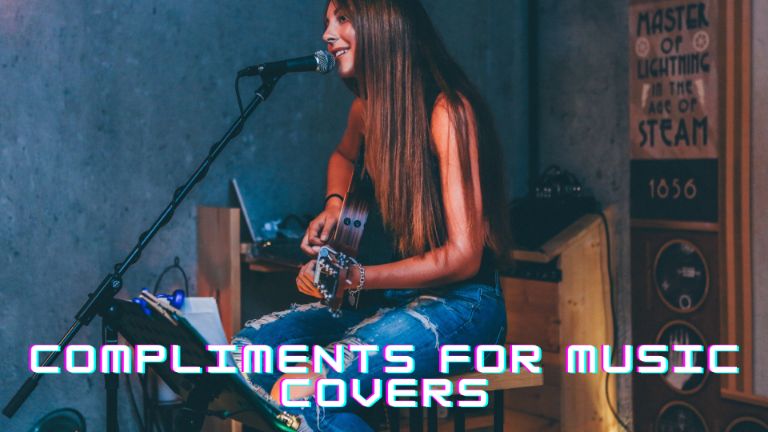 Such a great performance overall. I honestly can see that you're getting better and better. 

You're the one contestant that never fails to amaze me. Keep it up. 

When you sing, you sing it with confidence, and you're in a different world. That's what I like about you the most. 

You have good control over high notes; that's a great thing. 

Overall, the performance is too good. We just enjoyed it. 

Wow, I feel like I'm listening to the original singer. 

The hard work you put into this performance shows. All the best.

I can listen to your voice over and over again. It's so good. 

You're a fantastic singer, and there's no exception to that.

On a scale from 1 to 10, you're an 11.

The song selection was too good, that matches your personality so well. 

Keep practicing and keep working hard. The road to success is ahead of you.

Great feeling and expertise. You convey emotion well.

Feels like you wrapped a storm in melody.

Your voice made me feel every single word, I felt numb.

This voice surely deserves an award.

Generally, the original version is best. But this cover is way better, I think. 

The more I listen to this song, the more I fall in love with it.
Also read: Compliments for Football Players
Comments for Singers or Musicians
It may look hard to appreciate the singer and musician, especially when you've no excellent knowledge of music theory or its background. But, professional musicians and judges know very well how to compliment a singer right away, and these are some comments that they use after great performances of the singer. 
What a terrific performance! 

That's what we expect from you, awesome. 

This performance is one of the best so far. 

You have a great passion for music. 

Enjoy every second of your performance. 

The transition between the songs is just great. 

I think you need to have a bit more confidence while singing and looking at the audience. 

The singing was too good; you need to work upon your expressions. 

You stand out as an original performer.

Your commitment to music is such an inspiration. 

Your voice is magnificent.

I'm so much in love with the tone of your voice. It's so beautiful. 

You bring a unique energy to the stage that sets you apart. 

You're blessed with a beautiful voice. To make it even better, you need some training and the right direction. 

Your voice is like a perfume and it refreshes the soul.

You convert poetry into an experience that we can feel.

It clearly seems that when you sing, you are completely into the song. Like you just forget that you're performing, that makes it so natural. 

Whenever I feel lost, your songs give me confidence. 

You have set a new standard for this show, with this performance. 

Indeed an incredible singing skills. Can't appreciate it enough!
Best Compliments for Singers
Keeping the bathroom singers aside, not every singer is as bad as we think they are. Some need some more practice, while some need some back support to present with confidence.
If you see any of them around like in your family, in your school, or anywhere, you better share your honest feedback and reviews of their singing that will undoubtedly inspire them to practice harder next time.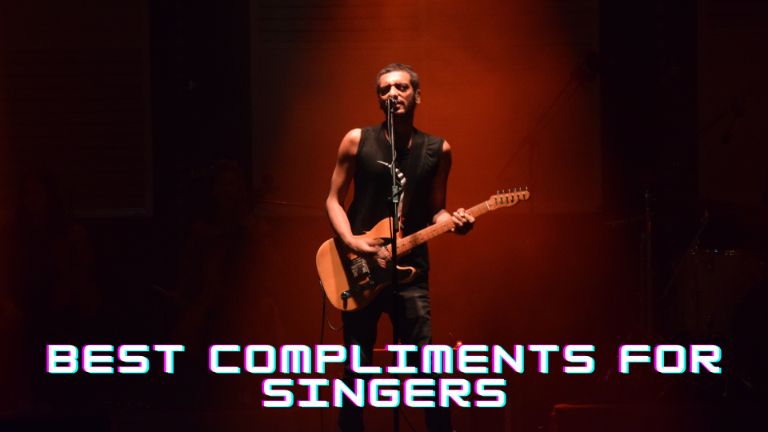 You have a lot of potential in the singing career, and I truly admire you. 

It was a challenging song that most beginner singers prefer to stay away from. 

The song you choose to present is quite different from your genre. 

Your power and control over singing are just unbelievable. 

You are a complete singer.

Wow, with this performance, you set yourself apart from other signers.

I like your voice, but I think you need to work on your stage presence. 

I can hear you sing all day.

The performance is too good. At some point, I feel you lose the momentum. Am I right?

You give everything of yourself while performing, and that's what others need to learn from you. 

So impressed with your voice tone and your personality. All the best. 

Superb musicianship, you play with confidence, and vocally you have a perfect tone.

We all thank you for this unbelievably great performance.

Well, your performance completely made me speechless. So impressed. 

There are very people who are blessed with such natural talents. And you're one of them.

Very few people are blessed with such a great voice. You're one of them. 

This song really shines at the drop, where every instrument can be recognized individually along with your soothing voice. 

You're my favorite co-singer. Performing with you is always a learning chance. 

The way you sing compares to no one. You're making it your own masterpiece.

Kids listen to songs for the singer, the legends are fans of the musician.
Also read: List of Great Compliments for Tattoo
Compliments for Music Composers
Artists may have earned many fame and achievements, but nothing compares to receiving genuine recognition for their efforts. Singers are among the artists who put in countless hours to entertain their audience using their unique talents.
From changing the lives of someone to leaving an impression on the group of people, they leave a legacy behind that continues to benefit.
Here are some compliments that all artists, including singers, like to hear. Those kinds of words boost their self-confidence, making them feel appreciated for the work they do.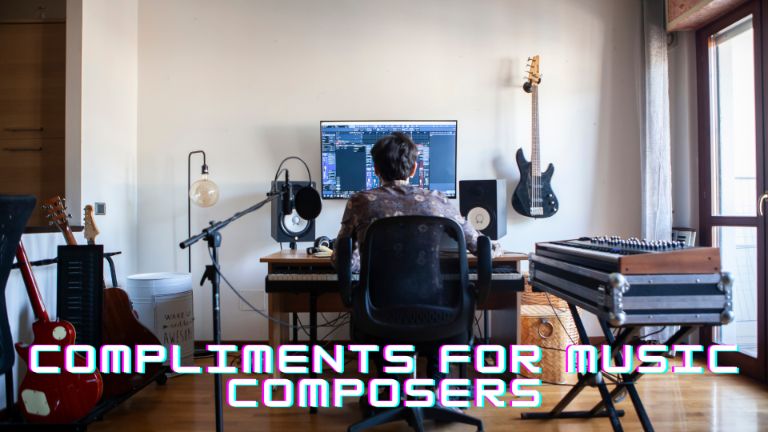 Music is in your blood, and I find it quite inspiring. 

I have never seen a gifted singer like you before. Your songs hit differently. 

Our entire family is a big fan of your songs. We all listen to your songs every day. 

You are an excellent person, along with a great performer. 

We hope you won't forget us if you become a successful singer one day. 

You are practicing very hard; may you get everything you desire. 

We are very proud that someone from our town has achieved such great success. 

Looking forward to listening to your next song/album. 

You're an incredible singer.

You so inspire me. Everything I am right now is because of you. 

One day you will be on that stage where you always wanted to be. 

You have touched the hearts of millions with your songs.

You got that X factor, man!

You made this song more beautiful and added a soul to the music.

Lyrics are just words until they get the voice of a singer like you who can turn them into a beautiful song.

I really love how you add your twist in the song, only a well-learned can do this.

You craft every song into a beautiful masterpiece.

Love the way your every song tells a unique story along. 

Your work is my inspiration. Keep producing great music.

Performance by performance and I can feel that you're making progress. Keep it up.

A well-balanced song that gives you goosebumps but melts your heart at the same time. Truly a piece of art.

Wow, a performance like this I've never witnessed for a long time. Impressed. 

I can see your dedication and passion. You did an amazing job. Keep singing.

Oh, this teaser of your new release already gave me goosebumps, can't wait for the full version.

Your voice is like a morning coffee, making everything better around me.

I'm just falling in love with the beautiful lyrics of this song. 

Another masterpiece, thank you so much for your songs!

Your last album has raised my expectations from you. I'm a fan now. 

Whenever I need some inspiration in life, I listen to your songs.
Best Compliments to Appreciate Singer
One of the best gigs I have been to.

Your sync with your band brings the best for the audience.

It was just not a performance but a soulful musical journey.

I was captivated by your voice it kept me connected throughout the show.

You made this evening memorable and beyond my expectations.

Couldn't understand what to appreciate, the lyrics, your voice, or music, everything was just perfect. 

You were just beyond a singer, you connected with every heart.

You just know the nerve of your audience.
Compliments for Singers in One word
Not necessarily do your compliments have to be long enough; you can make a person feel fully appreciated and respected by using fewer but meaningful words. Not sure which words can do a great job? Well, take a look at the given list that covers one-word compliments for singers to praise their outstanding performance.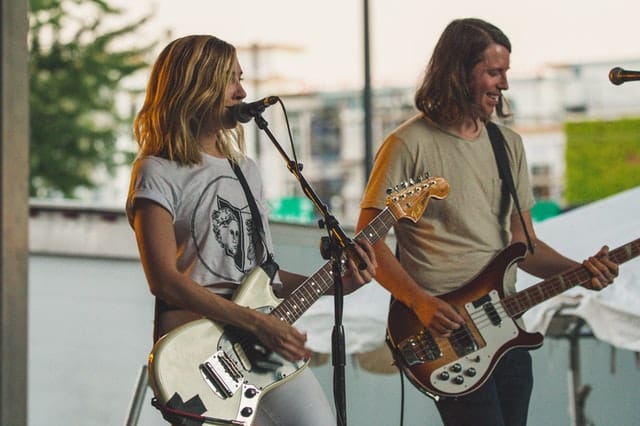 Amazing

Deep

Healing

Quiet

Peaceful

Soulful

Sexy

Hypnotic

Mesmerizing

Breaking

Flat

Delicate

Mellow

Cheery

Nostalgic

Passionate

Playful

Captivating

Upbeat

Superior

Outstanding

Ringing

Soft

Whisper

Musical

Sweet

Lyrical

Melodic

Lovely

Magnificent

Beautiful
Also read: Compliments for Dance Performance to Rock Someone's Day
Final thoughts: 
Unless you're a guest on the show, your comment on the excellent singer has to be like the feedback of their performance, rather than just 'great singing,' 'amazing performance' and all.
Indeed, they practice well and have a passion for improving in the right direction.
Your constructive feedback or compliments for singing well not only boosts their confidence but also supports them to focus on specific areas they need to improve.
Have you received any unforgettable compliments on your singing performance? Or what is your unique approach to appreciating a singer? We like to hear your views on that; let us know in the comment section below.