Trends and changes are an important part of life and accepting and trying that can be fun. This line goes perfectly if we talk about fashion. It is all about new trends and the idea of styling fashion isn't always about something new but surely about something different and experimental at times. It isn't important to bring something new fresh in designs, but you can surely do that with designs.
Indo westerns dresses are the best example that people excepted from runway to streets. Indo western dresses are the fusion of two different silhouettes and culture that makes a statement. Combining Indian wear with the western silhouette becomes a revolutionary idea that is adopted by mass.
Any new trend or style doesn't limit the initial stage with demands it keeps on improving and changing to bring something new and different. The same goes for Indo western there are many styles that are out of fashion and so many that became the part of trending club!
Seeking for some indo-western dress idea?
Here is the perfect list of trending Indo western dresses that you can try on different occasions and become part of the limelight!
Top 8 Trending Indo Western Dresses Try-On
1. Banarasi skirt with a white shirt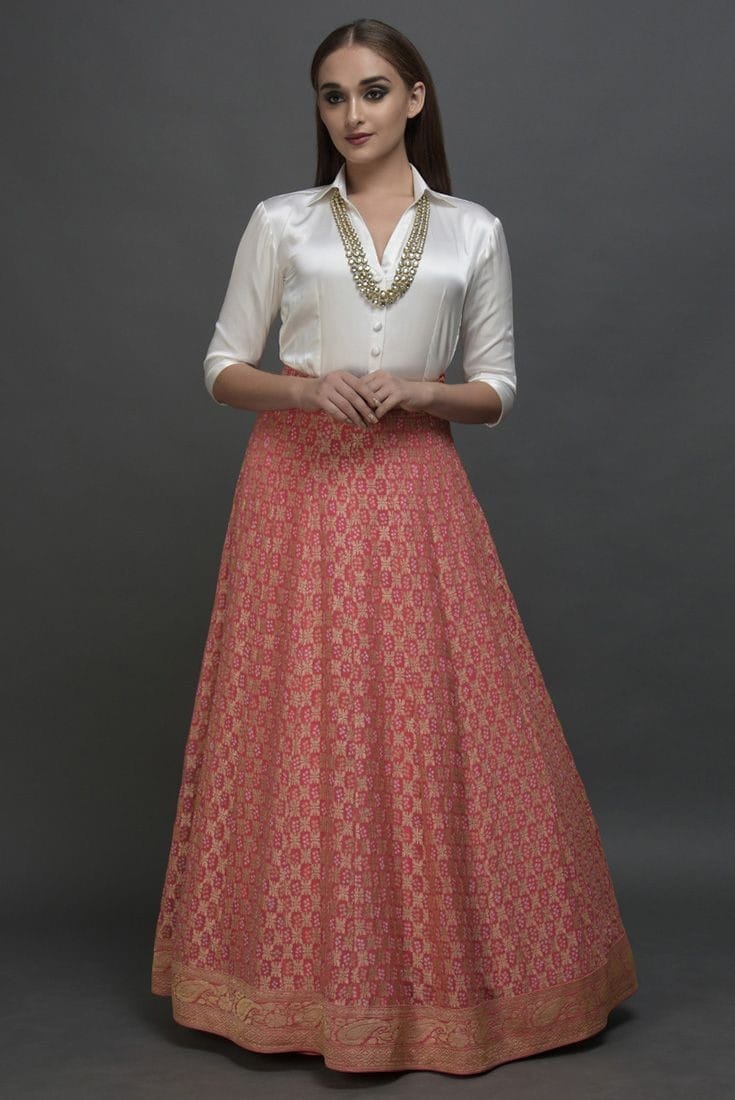 A white shirt paired with a bold yet elegant banarasi skirt with kali is a trend that many of us loved and still in trend. This duo isn't going out of fashion in the near future. You can a multi-layered necklace or big chandbali for occasions like wedding functions and pooja.
2. Saree with pants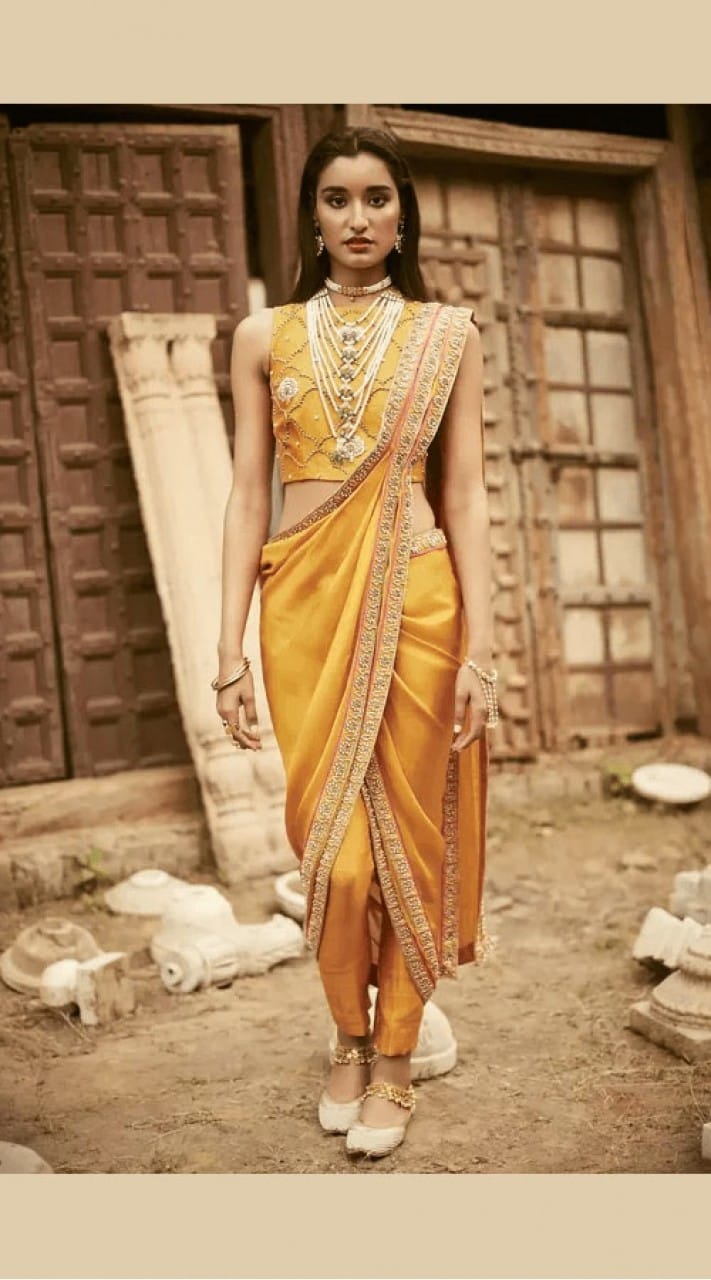 Saree and pants are two completely different silhouettes that make a great combination. If you don't want to buy a new outfit you can try this combination, choose a saree from your wardrobe that goes with available cigarette pants. Choose a nice pair of earrings or choker and you are good to go!
3. Co-odds with jacket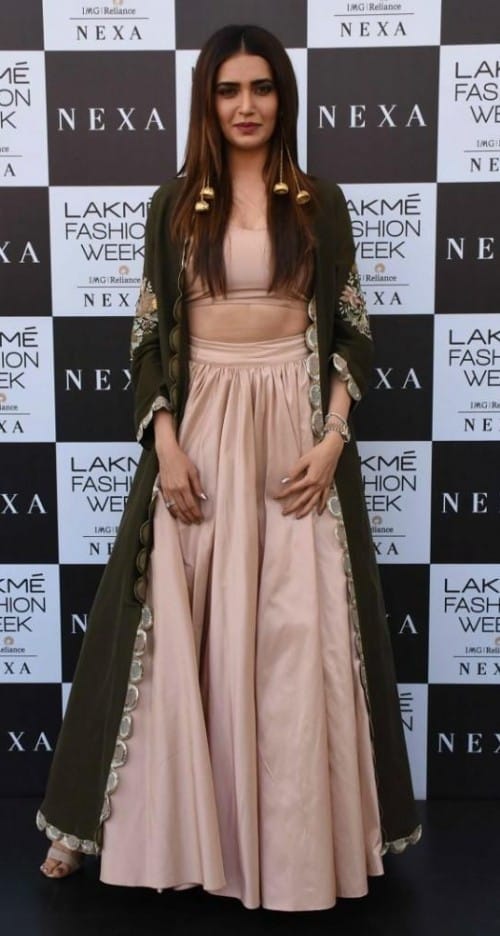 Co- odds are already trending outfit options when we talk about western wear. But you can combine this with a jacket for some Indian occasion. Choose a solid colour for crop top and pants to wear with a colourful embroidered long jacket. This will surely look different and perfect for the occasion.
Also Read: Ideas on What Dress to Wear on a First Date (For Guys)
4. Lehenga with Jacket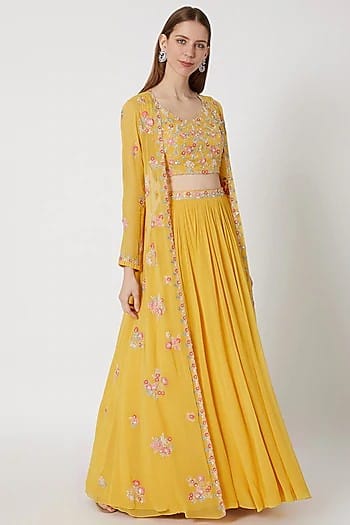 Most of us are done with carrying long dupatta, after all we need to enjoy and dance with our loved once. Lehenga with jackets is one of most trending indo western dresses. A heavy lehenga with long chiffon or georgette jacket with light embroidery is loved and picked by many.
5. Kurtis with Denim
Kurtis with denims is the most adapted combination when it comes to choosing something for daily wear. From straight Kurtis to cotton Anarkali, this combination still trends. You can wear this in the office to shopping or for a function you don't want to carry heavy outfits.
6. Jumpsuits (Top suggestion: Trending Indo Western Dresses)
Indo western jumpsuit is the latest that women are loving and trying, they are available in varieties from light printed cotton to heavily embroidered with zardozi. You can carry a layered necklace, choker or just bangles depending upon the occasion.
7. Crop top with pants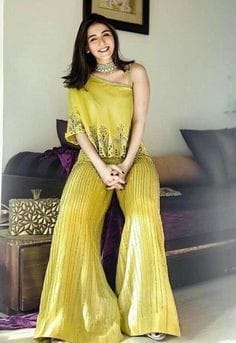 Crop top with flared pants or cigarette pants is still in trend with Indian prints or embroidery. This is one of the most comfortable outfits that you can carry the whole day and enjoy. You can pair this with a bunch of bangles and huge earrings.
8. Corset saree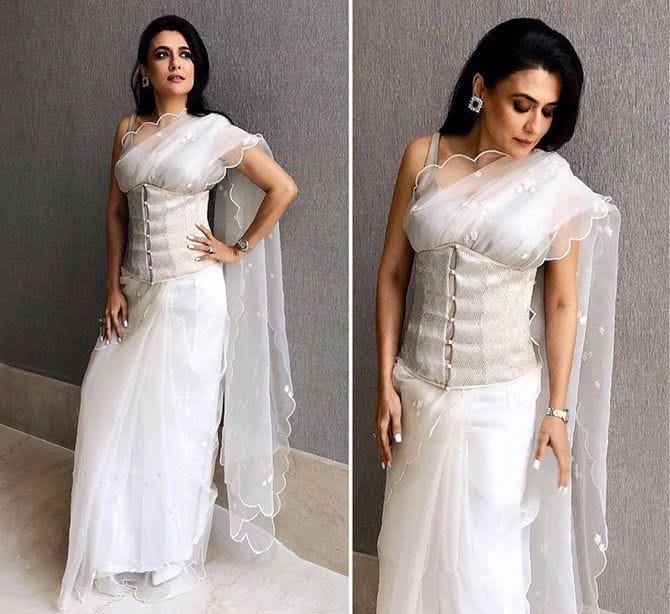 Corset sarees are the most stylish and sassy indo western style. From weddings to red carpet many of us tried this, corset saree seems to stay in trend for long time. People also tried corset blouse with lehenga, designers are trying many experiments and you can do that too!
Also Read: Dresses: A One-Stop Place for Beauty, Function, & Expression
We are sure you will love these trending Indo western dresses and would suggest you to try them once. Another element that becomes part of the trend and took over the social media and the red carpet is a BELT. The use of a belt with almost every indo western has become part of a trend on a huge level, whether it is lehenga or saree or suit you can try with anything.
No matter what you wear or what you try the most important thing is to be yourself and you can carry it with confidence and this tip never goes out of trend I assure you!