Looking for some amazingly trending gadgets? Then, this article is for you.
Here we are listing the top 11 inventive gadgets of 2020. And we are sure, that you don't know that's they exist.
The modern world must be an incredibly confusing one for any inhabitants who haven't quite grasped the technologically advanced revolution we're currently living in. Sending an email is complicated enough, and that's before they've even contemplated taking part in social media challenges on Instagram. Thankfully, though, the rest of us are getting it.
New technology is continually lapped up these days. Advancements we take for granted such as satellite navigation systems have proven to be hugely successful, alongside the sophistication around our mobile phones too, where games like arctic slots found at www.slotsheaven.com or console quality titles like PUBG Mobile, have taken gaming on a phone to an unbelievable level. Throw in the emergence of devices like a Nintendo Switch or a Fitbit and it's clear to see just how far we've come. There's a lot more tech out there, too.
With the advancement in technology set to continue into this year and beyond, we thought we'd go through some of the trending gadgets of 2020 so far.
List of Trending Gadgets of 2020, that You Probably Don't Know About
1. Mercedes-Benz VISION AVTR
This isn't quite on the market just yet and it may never make it there, but we still had to cover the Mercedes-Benz VISION AVTR as it's a remarkable piece of innovation. One day it might be the norm, too. Teaming up with Avatar director James Cameron, Mercedes have created the ultimate car when it comes to being environmentally friendly.
It has a whole host of amazing features too, such as autonomous driving (the car doesn't have a steering wheel), a battery which can sense a passengers' energy, alongside its frankly ridiculous ability of being able to roll sideways like a crab on rotating wheels. The back of the vehicle covering with mini solar panels. This car is the future.
2. Alienware Concept UFO
Gaming's growth has been clear to see, with developers bringing the community creations like they've never seen before. The same applies to gaming devices, which have improved beyond recognition. When it comes to PC gaming, the Alienware Concept UFO is expected to be the best handheld device ever.
Sadly, though, there's no plans in place to produce the device let alone roll it out, but it could materialise in the near future. If you're a PC gamer, then the Alienware Concept UFO could be coming, and it could be right up your street.
3. Razer Tomahawk
DIY desktop PCs are all the rage these days, but it's a genre that is about to be shaken up massively thanks to the Razer Tomahawk. It isn't out yet, but expected release in the very near future. The desktop PC is smaller than your average, which builds extremely well, and it looks incredibly slick.
Arguably its main selling point, though, is the fact you can add and replace parts without needing tools, meaning you can put your own stamp on it with relative ease. Throw in plus points like its compact Intel computer and its impressive graphics, and it's easy to see why the gaming community are already excited about this one.
Also Read: Top 10 Human Resource Technology Trends
4. Hydraloop
Conserving water is at the forefront of many peoples' thinking, which is why the Hydraloop appeals to so many. Shaped like a refrigerator, the device cleans and recycles around 85% of the water running through your home and enables you to keep on top of your usage.
The trending gadget has an app too, which keeps you posted on the recycling process and exactly how much water you are using. At the time of writing, a Hydraloop can be pre-ordered for $4000. It isn't cheap but, then again, you'd probably save on bills.
5. 'DINKY' Digital Notebook
Focusing on the need of artists, to convert their prepared daft and framework into the digital form, DINKY digital notebook is the best solution for them. That transforms notes, lines, and sketches to the digital paper, on the screen as it is, at the time when writing or drawing on its designed pad. This advanced digital notebook allows us to write and draw on paper, with storage ability to save it in digital format as well.
All you need is to have a paper, a normal pen, DINKY pad, and that's it. Next, Simply just, connect your DINKY pad with your PC, set your paper on it, and then start to write, draw, comment, color, or anything you want to do. At the same time, you will find whatever you are creating, ultimately reflecting on your digital screen. Moreover, you can save your digital artwork in given cloud storage and can share it on social media as well. That's even without sacrificing the quality.
Also Read: Impact of Digital Technology & Advertising on Cultural Identity
6. Simba OrbitTM Weighted Blanket
Can't enter into a "Recharging mode"? Probably, it's your mattress that keeps you awake till late night and resists you from having a comfortable sleep. Simba Orbit's Weighted Blanket, that's something you need there. The purpose of a weighted blanket is to give a gentle pressure (like a hug), to stimulate "Deep pressure therapy" which ultimately calms down unnecessary thoughts, and release your minds.
Its multi-layered blanket applies light pressure on the body which cures anxiety, stress, and give relaxation to body and mind, which is essential for having better sleep. So if you can't sleep at midnight, then gadget is for your help.
7. Yoto Player Interactive Audio Player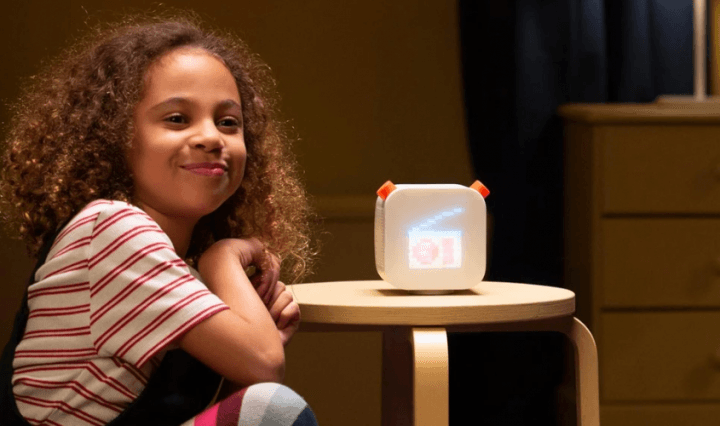 Want to remind your memories of the old cassette & radio players? That's right…Yoto Player is something that will drive you there. But instead of tapes or cassettes, here you will use the special audio cards to listen to stories and tracks recorded in it. Especially invented for kids, Yoto Player is a modern-day radio player.
That allows you to play numerous stories and podcasts in an enjoyable audio-format, which is far better than giving mobile and tablets to your kids. This tiny radio player is designed in a way to engage the kids' ages in recorded tales. Also presents a better way to educate them in a fun way, to support their creative skills.
Also Read: 4 Ways Technology Improve Teaching for the Next Generation
8. Master Lock Biometric Padlock
Are you anxious about your home safety with having fear of misplaced and lost keys? Biometric Padlock is for you, designed for those who have a habit of losing valuable keys elsewhere. This protection gadget permits to use your fingerprint as a key, and release you from remembering the code or to stay uptight over physical keys.
This latest Safety gadget allows you to lock/unlock your home or garage with your fingerprints, wherever you want to use. Moreover, you can give access to the guest, via mobile when you are not home. Further, its safety application allows you to have a watch and monitor activities around your home. And that without any worries while you're on a vacation.
9. Senstroke Bluetooth Electric Drumkit
As a virtual drumkit, Senstroke bluetooth electric drumkit will release you from worrying for not having enough space for physical drum setup.  Compatible with a mobile application and desktop software, you can enjoy playing drums on any surface using the virtual drumkits. This creative gadget of 2020 is intended to give a quality drumming feels, by advanced sensors with surface selections, that ultimately produce right snare and drum sounds.
So now learn, practice or record your drumming anywhere, without even setting a drumset. One more thing, don't forget to put on your headphones, or else all you hear would be the sound of waving sticks only.
10. Mover- Organising Tool
Recognized as the world's first movable thinking and organizing tool, Mover is the handful gadget that you need to improve your productivity actually, which is more than any digital tool that just helps you to organize your tasks. Indeed, there are many other digital task management tools. But to manage every of it on such tools is either difficult or distracting as well.
Mover gives you an ability to stay on your schedule with its physical style task-management board and movable work-tiles. Through which you can track and accomplish your tasks with ease. In the time when digital applications just let you organize your task, Mover gives you extra concern over productivity, with an extra sense of working without losing focus in between accessing multiple applications.
Also Read: Ways of effective time-management for students
11. Segway S-Pod
Reviving the memories of Professor Charles Xavier (from X-men) in 2020, Segway S-Pod is truly more advanced than regular segway. Compared to stand-up segway, operators here need not to spend more time in learning how to balance on it. As Segway S-pod adjusts balancing automatically with a seated person itself. The person can control the segway with a given joystick on-right hand side, while sitting and relaxing in a giant egg-shaped wheelchair.
This self-balanced, two-wheeled can move at top speed of 24 miles per hour. Segway S-pod, is already in the talk-of-the-down due to its automatic controlling and balancing features. Especially for those who don't want to or can't maintain the balance in standup usual segways.
Feeling amazed by knowing something new today? Indeed, we also feel the same while knowing about these trending gadgets for the first time.
If you also have any suggestions regarding more trending gadgets of 2020. Then, feel free to inform us in the comment section below.
Featured image by Twitter