Instagram is a type of social media platform which is used worldwide.
Nowadays Instagram challenges have taken over most of the feeds with its unique concepts. And who doesn't love to tackle challenges? And when the challenges are easiest to perform and are beneficial for all, then it is a must to accept such challenges.
These trending Instagram Challenges will help an individual to become more assertive and outspoken about certain things.
Whether you are an introvert or an extrovert you all should accept these challenges at least once to augment the fun in your life.
'Make everything count' as said, so here I've prepared a list of 18 trending Instagram challenges you should try right now so that you don't need to do the hard work.
Top Viral Instagram Challenges of The Year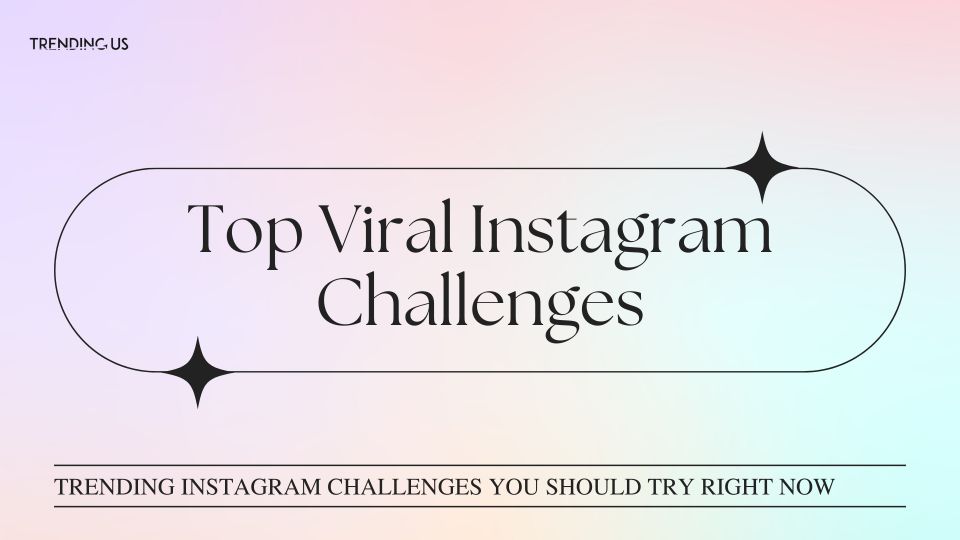 "Kacha Badam" Song Challenge
Kacha Badam challenge became famous when an influencer danced to music made with almond sellers' voices. An almond seller from Bengal got famous for his unique selling style. Not this music in a particular dance style is followed by so many celebrities and influencers.
Don't rush Challenge
View this post on Instagram
Don't rush challenge is trending everywhere on Instagram, this challenge is mainly dancing with some footsteps. From celebrities like Vicky Kaushal to cricketer like Hardik Pandya everyone is trying their hands on this.
For doing this challenge all you need is to practice some footstep. Instagram challenges are all about creativity you can add your own creative twists in #dontrushchallenge.
Transition
View this post on Instagram
Transition challenge is a very popular challenge on Instagram especially among makeup artists and fashion influencers.
To do this challenge, move your hand covering your camera and show your face in an up-down moment for every transition. Post your video with #transition on your Instagram feed.
Come Here Girl Challenge- One For Your Cool Group
View this post on Instagram
Come here girl challenge is one of the coolest dance challenges. In this, a bunch of people moves in a circular way doing their hook step in front of the camera.
To do this challenge you will need a minimum of three people and practice your move before a final video. All you need is a little coordination and your friends! Post this with the #comeheregirl challenge.
Trending Instagram Challenges to try this year
1. Let's Dance Challenge on Instagram
View this post on Instagram
The first four English alphabets ABCD itself says 'Anybody can dance'. Many well-known dancers on social media are posting different dance dares. This comprises various sets of different dance styles such as hip hop, locking, Bollywood, dance hall, belly, and many more.
All you have to do is to copy their respective set of steps and post it on your profile.  Whether you are a pro dancer or a raw dancer you should agree to receive and try this challenge right away.
So on a count of 5,6,7,8 move your body and don't get late.
2. Gesture Instagram Challenge
 

 

 

View this post on Instagram

 

 

 
Gesture challenge is a small enjoyment game in which a challenger makes a set of actions by using various hand signs. The challenger challenges to replicate their gestures in the given limited time. This is a very interesting and exciting hashtag challenge.
As there is very limited time to execute this challenge, it helps in increasing an individual's speed of performance. One can also make their own gesture challenge and can challenge others with their hashtag. Everyone should try this full of curiosity Instagram challenges for sure.
3. Reliving Childhood Memories
View this post on Instagram
This is an interesting and fun challenge. At the end of performing this challenge everyone will have a collection of their friend's, cousin's childhood pictures and can easily go to that throwback to relish those memories once again.
4. Workout Challenge on Instagram
View this post on Instagram
This challenge demands minimal workout sets such as push up, squats, sprints, skipping, and many more. You can execute this challenge easily and everyone should adopt these Instagram challenges in their life too to live a healthy and fit life. Many fitness trainers and many people who are not involved much in workout and gym things are throwing such challenges, give it a try right away.
5. Fashion Instagram Challenges
View this post on Instagram
This is 2020 and these days who doesn't like being fashionable? Be it guys or girls, everyone is passionate and loves to get involved in fashion. Fashion challenges include crazy things like combining some mentioned garments and accessories to generate a particular look. And many fashion challenges such as getting ready in 30 seconds or in provided limited time.
Many fashion bloggers are challenging the audience with their crazy fashion competitions. Everyone should surely accept these challenges. These types of challenges on Instagram, help in improving an individual's fashion perceptions, also to learn new things about fashion and fashion language as well.
6. Bingo Challenge on Instagram
 

 

 

View this post on Instagram

 

 

 
For the Bingo game,  you will need at least x people to play. But things are easier now, many Instagram pages are making their own Bingo boxes in which they list some situations or choices of people. Situations mainly include terms like never have I ever or related to our day-to-day lifestyle.
In this one of the best trending Instagram challenges, all you have to do is to tick mark the things that you have done and after that, you have to post it again with the respective hashtags. This will let you know the secrets of your friends and family members. Those who have done everything and had ticked everything that has been mentioned in the box are considered the winner of this Bingo challenge.
7. Recreation of Celeb Look Insta Challenge
 

 

 

View this post on Instagram
Everyone has their own dearest celebrity, whom they follow and keep an eye on what they wear and their latest posts. Recreating celebrity look challenge is a task in which all the challengers compete with each other to recreate a particular look of their favorite celebrity. The look has to be created from the scrap only and it should be equivalent to the picture of the celebrity that you are recreating.
Then after creating the look, all you have to do is take a picture and post it by mentioning the challenger's and celebrity's profile name. These interesting and tough challenges on Instagram help us to manage things and to make things work in the given material.
And it also helps to create an expensive look at a minimal cost.
So go and create a look from your favorite celebrity profile right now.
8. Dalgona Coffee Challenge
View this post on Instagram
Dalton coffee challenge is the most trending Instagram challenge of 2020. In Dalgona coffee is a two-layer creamy coffee that is very interesting and effortless to prepare. Everyone is following this trend and posting their dalgona coffee picture on their story with a hashtag called dalgona coffee challenge. One and all should try this coffee task right away. And don't forget to post your dalgona coffee's picture and remember to put your hashtag.
9. Mugshot Challenge
View this post on Instagram
Mugshot challenge is one of the most trending and creative Instagram challenges of this year. In this challenge, you have to do a different kind of makeup on your face. This makeup includes smudge eyeliners and bloody noses. While uploading your mugshot pictures give a thought to what crime you'll commit to getting into jail? So be ready with your makeup and post your picture on Instagram.
So these were a few trending challenges that everyone should surely try once. Such Instagram challenges in 2020 will add fun and craze to your life and make your daily life more interesting.
10. Quarantine Pillow Challenge
 

 

 

View this post on Instagram

 

 

 
The quarantine pillow challenge got started during the Quarantine days of 2020. In this challenge, you have to cover your body, using a pillow, and tie a belt around it. Then click a perfect picture in your pillow dress and post it with a hashtag called Quarantine pillow challenge.
11. Saree Challenge on Instagram
 

 

 

View this post on Instagram

 

 

 
12. Follow Me To Challenge
View this post on Instagram
Inspired by the signature pose #FollowMe, this challenge is all about posting the pic with a partner, with the same pose but with personalized 'Follow Me To' ideas. And during the quarantine period, we have some awesome captures from the crazy innovators as part of the #FollowMeToHOME challenge on Instagram.
13. Safe hands Challenge
View this post on Instagram
Followed by WHO's #SafeHands challenge, to spread awareness about handwashing practices, here comes another interesting Instagram challenge during the quarantine. From celebrities to influencers, most of them pass on this important message to their followers, in their style.  
14. Linkedin-Facebook-Instagram-Tinder Challenge
View this post on Instagram
It just requires a small hint to make a viral challenge on any social media. Inspired by Dolly Parton's post regarding her profile pic on four different social media, this challenge is widely accepted and followed by even famous personalities, too. The challenge is simple, just post one photo describing your profile pic on every four social media and share it with the tag #linkedinfacebookinstagramtinder.   
15. Throwback Thursday
View this post on Instagram
If you like to take new exciting challenges on Instagram, then this one you don't want to miss by any chance. #TBT or #Throwbackthursday, pick any tag, and this is an interesting Instagram challenge to experience nostalgia feelings, by rewinding your old memories. As part of this challenge, you need to post the image of your past self. That means your pics have to be from childhood or school day and not from the last week. Indeed, a very interesting challenge to recollect those memories from the old days.   
16. The 100 Day Project
View this post on Instagram
If your Instagram page is all about arts and creation or if you're an artist, then this challenge is something that you're looking for. As part of this Free art project, you create something artistic for the straight 100 days and share the completed art with the tag #the100dayproject. Especially if you're serious about art plus have original art to share with others, then this challenge is for you. 
17. Monday Funday
View this post on Instagram
Want some interesting challenges to make your Monday mood? Then this one you better follow. While everyone is feeling frustrated on Monday,  kick start your new week with great fun. The goal of this challenge is to change the Monday mood entirely. Post a pic showcasing your inspiring Monday vibes and give others a reason to celebrate for the new week. Depending on your mood and perspective, you can share your innovative and hilarious Monday morning pic. 
18. 365 Grateful Project
View this post on Instagram
There are so many things in life to feel grateful for. Whether you feel that or not, but everyone has something or someone to feel thankful for in life.
Do you know what's something that makes you happy and satisfied in life? Do you know why you're blessed?
Then, take a picture with that and post it with a tag #365gratefulproject. And, that's it, you just have taken part in one of the most popular challenges on Instagram. A pic from the same project: 
Similar Posts: