Watching a random video, scrolling through the comments to find the best and funniest comments… that's the way we normally use YouTube, isn't it? And, when you want to write nothing but the best comments for YouTube videos, you should use some really good ones (like the ones we have listed). 
You may want to leave such comments on educational videos or funny ones that get more likes, replies, and attention on your YouTube channel in return.  And, leaving comments on YouTube videos is not only limited to expressing your opinion about that but also allows you to get yourself out there and connect with the other YouTube users, the same as you get to connect with someone's page on Instagram. 
Positive Comments for YouTube Videos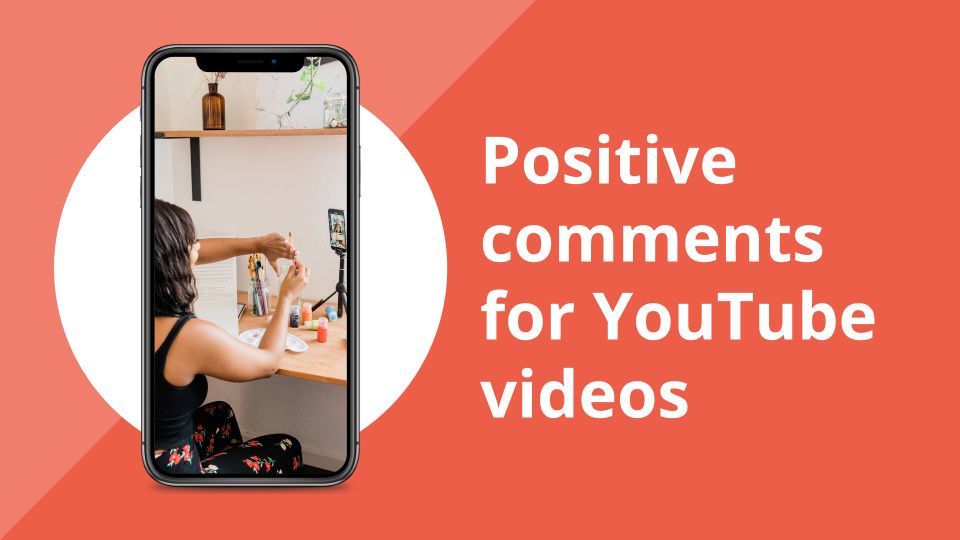 There is definitely something more you can do when you like a particular video other than just "Like and subscribe". The comment is a direct way of expressing your positive feelings toward the video. If you want to leave some positive reviews on a video you liked, then here are the best YouTube comments to share. 
I truly love your channel. Keep doing the best work. 

Such creative videos you've on this channel. Just subscribed!

Officially the first viewer of any video on this channel. 

I've never witnessed such awesome editing as this one. 

Following your channel from the last two years, interesting content!

You're working so hard, may all your wishes come true. 

Congratulations on your first 10K followers, may you reach 100K soon. 

Whoever is reading this, never give up. God is with you. 

When watching your videos, I accidentally hit 'like' and never knew when. 

The moment you came here is at 05:17. 

Love this video, I think I've watched it four times. 
If you want to make musician or singer encouraged, read this: Best Compliments for Singers and Musicians
Nice Comments for YouTube Videos
It costs nothing to be nice to others, it just takes your simplest and purest gesture. Even when you're on YouTube and found something helpful when watching DIY videos or else, you can write some kind words to thank them for creating such good content. 
Very well-researched and fine-made video this is. 

Don't ask me what, but I like this song a lot. 

Just here to visit the video views. You, too?

Thank you so much for this educational video, I learned so much. 

You definitely did not search for this video. 

I'm the first like no matter what others say. 

Glad that finally, I got to watch the original video.

I simply love your video style, truly refreshing and creative.  

Who is watching this in 2045?

Now I have something entertaining to watch besides cat videos.

No matter how many times I see it, It inspires me more and more.

There are very few YouTubers I follow seriously. And, you're one of them. 

Wow, this is the kind of content, keep me visiting youtube.

I've completed the entire playlist in one sitting.
Good Comments for a YouTube Video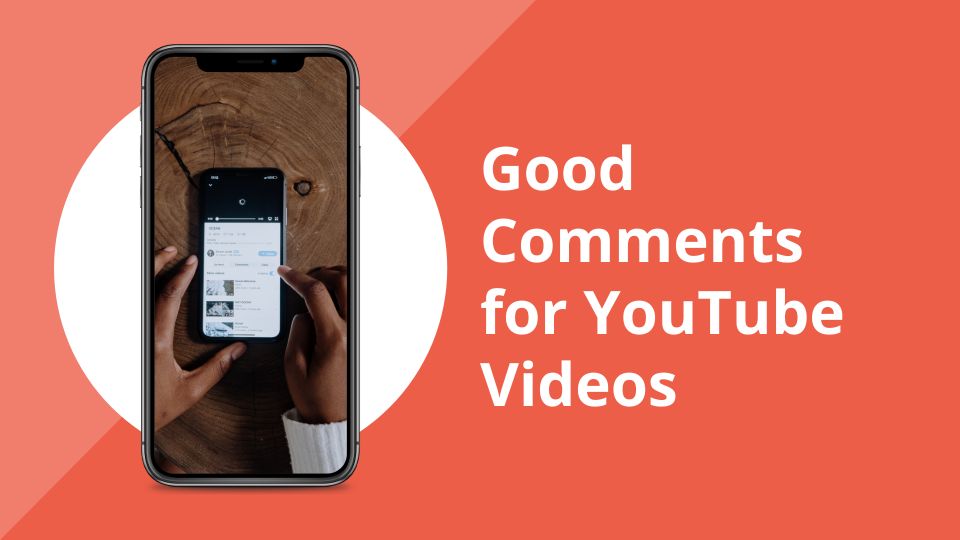 It is impossible to stop yourself from leaving a comment on YouTube videos that either helped or entertained you well. You wish you could give something back. If so, then leave the good comments as your valuable feedback for the creator to feel encouraged to continue doing the best work. 
I'm a regular visitor on this channel. 

Wow, YouTube is getting better at recommending videos. 

Can't stop me from commenting on this video. 

Those who edit this video need a raise. 

This song hits differently, and the lyrics are so amazing. 

Wow, this video quality is awesome, how did you record this? 

I just discovered this channel and am amazed at the content quality. 

The worst part of this video is it ends so soon. 

I can see that your content quality is improving. Keep it going. 

I've just realized that I've been watching your videos for about two years. 

Your videos are catchy, I never miss a single second of them.

So happy that your videos are now coming regularly, I was missing them. 
Don't get run out of video ideas, keep your channel updated with such Trending YouTube Video Topic Ideas that make your channel grow faster.
Motivational Comments for YouTube Videos
Whether you just watched an inspirational video by a world leader or got some lifelong lessons from the short video, here are some great comments you can write for a motivational video on YouTube. You are just honoring their efforts to make the lives of others better and to bring positive change. 
What a great quote 3:19. Totally agreed!

I hope this channel never ends and keeps spreading happiness. 

Whoever is reading this, I hope this day will be a great day. 

I pray whoever reads this right now, may you get everything you wish. 

Such an inspirational video this is. 

Feeling so inspired and positive after this video, thanks!

Listening to this song for the last four months and still haven't stopped. 

With such a positive video like this, you make my day. 

Keep doing the great work, this world needs more of it. 

The message you just shared in this video is truly touching. Agree with that. 

I was feeling lost in life, glad that this video came at the right time. 

I can't thank you enough for posting this video, it changed my perspective. 

Just shared this video with my friends and family. 

Thanks for your video, it encourages me to take the first step toward my dreams.

Everything about this video is simply perfect. Thank you.
Looking for some YT channel ideas? We have listed the Trending Youtube Channel Ideas to try this year.
Funny Comments for Videos on YouTube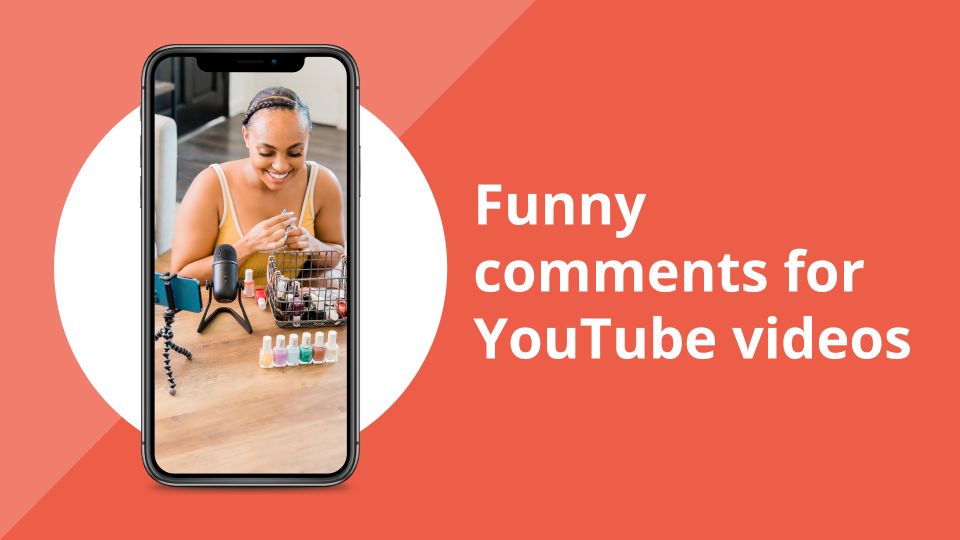 Well, when no comments work, this one certainly catches attention. That's also why most of us scroll through the comments section while watching the video. It is always the craziest and most funny comment that gets the most likes and engages the fun discussion. If not then, it at least gets you some smiley reaction as a favor to make someone laugh with your comment.
Like this comment or your dog will bite you. 

The video starts at 9:37. Thank me later!

What am I doing here?

I prefer watching this on TikTok only. 

Why YouTube, why this video still exist. 

Now, this is what you can call a funny video, after all. 

I simply, can't get over this song. Even my neighbor started to like it. 

Who cares whether you're the first to comment or like, I'm awesome!

I disliked this video from the bottom of my heart. 

Wow, with this stupid video, you make me unsubscribe!

Moral of the video: Stop watching a video and start doing something. 

Give me eight minutes of my life back. 

I've never unsubscribed any channel this fast!

The awkward moment when you have to watch 45 minutes of unskippable ads before watching a 4-min video. 

Why is this channel so underrated? You deserve more subscribers and views. 

I'm already watching your videos and got a notification for a new one. 

Keep posting. Learning so much from your channel. Thanks.

I'm just curious about how long it takes you to do such awesome editing.

The video quality is the main attraction of this video.

You really are very creative with your thumbnail. It catches attention.
Best Youtube Comments For Educational Videos
Whether you want to find 'how to' do something to learn anything, youtube is a great platform. This is not a typical entertainment platform like social media, but also a source of information. If you want to appreciate YouTubers for providing the information you need, here are the encouraging comments to share on their videos. 
Found your video at the perfect time when I needed the most. 

I really can't thank you enough for such interactive content. 

Keep sharing your valuable tips, learning a lot from you. Thanks. 

Enjoy your teaching style, all things to the point. Great content. 

I'm appreciating your work, and my all doubts are clear. 

You saved my hours of effort with just a four-minute video. Thanks. 

To be honest, I learn more from your videos than I do in my school. 

The way you explain everything is so fine, there's no need to watch another video. 

I wish classroom teaching is also this entertaining and easy to understand.

With every video, you're getting perfect. I'm here for all your support. 

I can't thank you enough for such a well-researched video. Perfect video on the subject. 

Why does this youtube channel have not many subscribers? You deserve more.

Hats off to you and your team for putting your best efforts into this video. 

The content quality is the main thing that makes us watch your videos again. 
Not every time you want to leave a comment like "First like" or "First comment", even if you're the first one. But, no one cares about knowing so. 
Youtube hashtags are what you need to get more reach on your videos. Need some help? Be sure to check out the ultimate list of Trending Youtube Hashtags.
Instead of that when you get creative, nice, and funny with your comments on YouTube videos you get more replies. Which further led to some engaging conversations with other YouTube users. Furthermore, your positive comments also encourage the creator to keep working on their channel so that you can see more helpful or creative content from their end.