Photography is an art that is not made for artists. Being a hobbyist photographer personally, I have realized five situations which literally can cause hurdles. If you are a photographer, you must be facing these kinds of things every day or in every single session. Yes, you have absolutely felt these things already. But it's over; you have to act like a professional photographer in order to be one.
Before proving others that you're professional, you must believe you already are one.
1. Never Tell About Your Hobby to Wrong People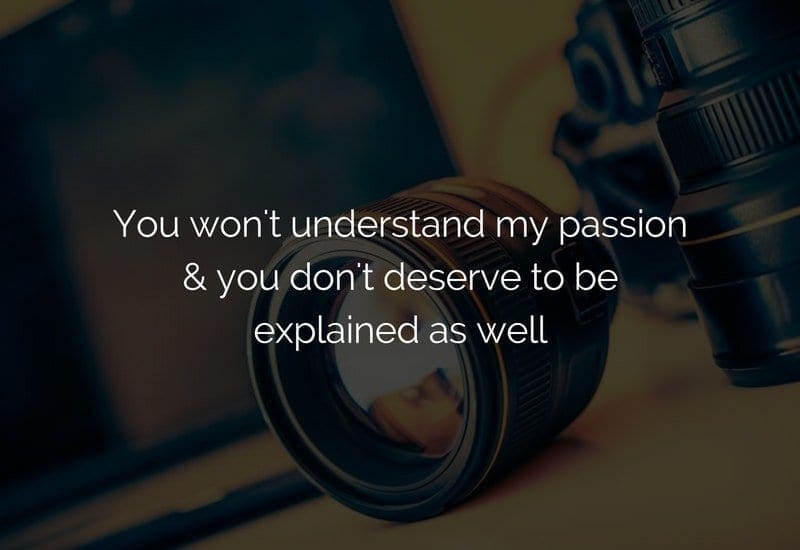 Why I am saying this is because if you are from an over-educated family background and if you are on path of your everlasting studies where you are supposed to think about career, it is a major possibility that capturing pictures is considered as a waste of time, and then bang! You are gone. Avoid those family members or relatives who know nothing about you still lectures on your skills. Avoid those people who can't appreciate anything new or creative.
You will end up laminating your ideas in one corner of your mind and will wait for that day to come which is going to kill your talent. So better work with silence, enhance your talent and live happily ever after.
2. Never Go Alone with a Couple
Oh you know what I want to say. People who are in love seem really cute but if you are a middleman and a photographer, gone again. So imagine a situation where only three people are out for beautiful trip to some place filled with natural elegance. You really want to enjoy the view and want to capture those beautiful memories but what happens is you can't leave the place alone but are requested to take best, memorable and unforgettable moments of TWO people in love. They are in a relationship man, you have to make them happy. So 20% of your memory card is of your photographs and 80% of those unforgettable memories.
How can you be so mean, you just can't say no to our feelings? Oh really! If you can say no please do the honour, or run away or better you do your own trip, either alone or with good friends who know why you are doing photography and show positivity.
3. Do Not Give Away Your Camera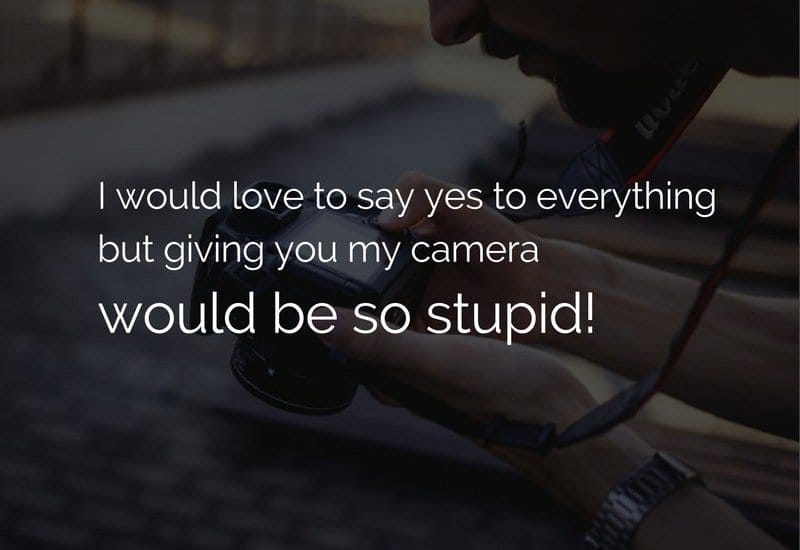 This is really important. If you are using a professional camera, take care of your partner. Do not give it away to your family members or people who really do not know how to handle it. I know how much we love our cameras. I don't know why but you just love them. You feel really bad if someone treats them without care. People have a habit to use things of others. They think that it is theirs and they have some kind of right on them (no, not all things). Be possessive about your things especially when you know that if you give, it will be experimented.
Say no straight away and save your partner. Obviously you can't see it used roughly or being tore apart.
Also read: 6 Tips to Make People Believe the TRUTH, Without EVIDENCE
4. Say No to FREE Shoots
Sometimes people start talking like:
Hey buddy, I need your favour man.
You know I love your photography.
I just need your ten minutes for just one photo.
Ignore these sentences, it's a trap. Yeah exactly, it is like people love you when they need you. You know what I mean. Our great friends know how much available you can be. Show your busy schedule or say direct NO to their faces. Don't mind but nowadays, it's in trend to have a 'photoshoot' anywhere you go. And some great people literally take your favour, time, talent, sometimes extra expenses and NEVER EVER PAY YOU.
The point is just to take money and then give your best. Make your friendship work and know that true friends will never use you.
5. Do Not Try to Capture Everything
Last but very important, this is kind of subjective. Sometimes, initially we feel to capture everything but in doing so we forget to enjoy nature or the moment which is never going to come again. Save something for your real eyes, for your dreams, for your own happiness. Leave your passion for a while and enjoy what is there for you, delight your own mind.
Feel and fill yourself & you will never forget those moments. CAPTURE them within you. They will never be outdated and most importantly you don't need any memory card to save them.
Featured image by Fabstage.