Do you have a big event coming up in your family this year, like a wedding, memorable birthday, retirement, or anniversary? If so, you're probably already thinking about ways to celebrate. Having a party where all your family and friends get together is an excellent way to do this.
However, with the global pandemic making it tricky to plan events, particularly those at hired venues, it's never been a better time to host a big shindig at your own home. You'll have more control over dates, setup, and the guest list.
In particular, though, why not plan to throw your soiree outdoors, whether it's a small, intimate wedding, a light-hearted garden party, or even a memorable celebration with fireworks. If this sounds ideal, consider the following steps to create an event people talk about for years to come.
Decide on a Budget
If you're like most people, you don't have bottomless funds available to outlay on your party. It's wise, therefore, to decide on a budget for the event before you start planning. Doing this will help you avoid getting carried away by ideas and products and ensure you don't spend more money than you can afford to. It also makes it easier to choose different factors for the soiree, as you'll know whether or not to consider things based on their price.
Related: How To Save Money on Big Purchases
Create a Plan
Next, save yourself stress, time, energy, and money by developing a plan of attack for how you'll pull everything together. The more organized you are, the easier it will be to coordinate each element, and the less likely you'll be to forget anything important.
Write down a list of all the party components you must arrange, such as:
Food and drinks
Seating
Extra crockery and cutlery
Decorations
Entertainment, sound, and lighting
The guest list
Parking
Additional bathroom hire
Council permits if hosting your party in a public spot
A backup plan in case you have to relocate the party elsewhere due to unforeseen weather
Put deadlines on each component of your to-do list, so you don't have to rush so much or pay extra to have things made or delivered at the last minute.
Related: How to Host an Epic Backyard Graduation Party
Work Out Your Theme
A party of any type shines brighter with a theme in place for it, and an outdoor shindig is no different. Setting a theme provides you with more focus and direction when choosing all the elements for your event, particularly decorations, food, and music.
Plus, coming up with a theme you share with guests gives the attendees something exciting to anticipate in the weeks before the event and adds more fun to the proceedings. Many people love an excuse to dress up in a costume or a themed outfit; be sure to let guests know if you'd like them to wear clothing related to the topic you've chosen.
Distribute Invites
When you're throwing a big event, it's nice to send your guests a proper, visual invitation, rather than a more casual verbal or text invite. You don't have to spend a fortune on these, though. There are plenty of excellent graphic design templates and tools you can use to create an impressive invitation that will wow people. Send these by email or print them out and pop them in the post. Alternatively, if you have the budget for it, pay a stationery designer to create special invites for you.
Ensure your invites cover all the salient points, such as the date, time, theme, and location. Enable people to let you know if they have any food allergies or intolerances, and give people instructions if you're requesting they bring some of their own supplies, such as meat or alcohol. Plus, communicate your preferences regarding children attending, so parents know whether to arrange a babysitter.
Read next: 5 Reasons Why You Need a Heater in Camping
Get Your Yard Looking Its Best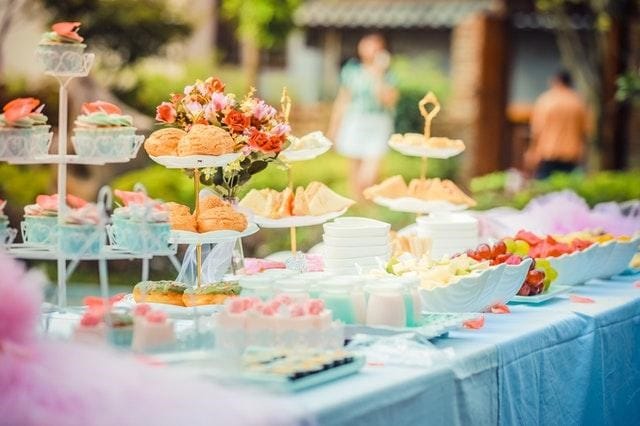 When you're throwing an outdoor party, you must get the setting looking as lovely as possible. Work to help your lawn become healthier and lusher in the lead up to the event. Mow and water it regularly, and don't forget to fertilize it. If you lack the time for proper care, hire a local lawn service to take care of this for you.
You'll also want to cut back greenery. Remove dead branches and trees, get vines and other plants away from the roof and other parts of the house, and generally tidy up the gardens. Plus, pick up any broken or unsightly items in the yard, and wash off dirty furniture and pathways.
Make your next party held in the great outdoors go off without a hitch by following the steps and tips listed above. If you do, it's sure to go down as the event of the year!