2021 is coming to a close, which means it's almost time for you to start thinking about how you're going to ring in the new year with your customers. As a restaurant owner, you have a golden opportunity to cash in on the hype of New Year's by using seasonal marketing tactics to attract people to your restaurant.
This New Year's Eve will be particularly exciting because lots of people will be eager to leave the house and celebrate after almost two whole years of the pandemic. This is why you need to go all out with your celebrations. Show people that your restaurant is the place to be this New Year's Eve.
In this blog post, we've compiled a number of marketing strategies for you to promote your restaurant just in time for New Year's. So get started and remember – it's never too early to begin the festivities.
1. Host a New Year's party
There's nothing that gets customers through the door like a good party. So give people a reason to visit you on New Year's Eve by promising them a fun time and great food. Here are some things you'll need to throw a great party:
Silver and gold balloons
Streamers
Chocolate fountain
A giant banner welcoming the new year
TV screen to see the Times Square Ball Drop
Live band
And of course, you'll need a special New Year's menu. Put some of your all-time favorites on the menu, as well as some new drinks and food items that people will love. Remember to plan and promote your party in advance because people like to finalize their New Year's plans as early as possible.
2. Hand out flyers around your neighborhood
There's nothing quite as effective as going up to people, handing them a flyer, and telling them all about your New Year's festivities.
Make a flyer distribution schedule. Start your distribution about three weeks before New Year's Eve and work your way forward from there. Make sure to always hand out flyers during rush hours so that you can reach more people. Here are some places to hand out flyers:
Local malls
Outside grocery stores
Parks
Outside movie theatres
In people's mailboxes
For better results, you should also try door-to-door flyer distribution. If you don't have a huge marketing budget, don't worry. Sites like PosterMyWall have tons of restaurant flyers that you can customize and print in minutes. All you have to do is list your mouth-watering menu items, the date and time of your party, and anything else you want your customers to know.
3. Offer free cab rides
This is a great way to incentivize people to come to your restaurant for New Year's. People want to unwind and have a good time without having to worry about driving back home drunk. You can solve their problem by offering them free cab rides after the party is over.
Partner with a local cab company and have some cabs on standby so that they can take people who have had too much to drink back home. This service will not only establish your restaurant as a business that cares about its customers, but it will also ensure that people spend more on drinks at your party.
Also read: Top Technology Trends In The Restaurant Industry
4. Promote on social media
Create hype for your New Year's party and special deals by promoting on your Instagram account. Start a virtual countdown to New Year's, and with every countdown post, add some information about what your restaurant has to offer – for example, if you have a famous local band playing on New Year's Eve, let people know.
Also, host a massive Instagram giveaway a month before New Year's Eve. Encourage your followers to like and share your post to get the chance to win a free meal on New Year's Eve. the more traction your social media content gets online, the more foot traffic you'll get not just on New Year's Eve, but the month leading up to it as well.
5. Plan a New Year's Day brunch
A lot of restaurants close down after New Year's Eve or stop active promotion for a couple of weeks. This is your chance to fill the gap and do something special right after the new year celebrations.
So host a New Year's Day brunch and create a special menu – offer mimosas, french toast, omelettes, and more. This will be a chance for people who stay in on New Year's Eve to have their own celebration the day after, and it will be an opportunity for hungover party-goers to get some delicious food.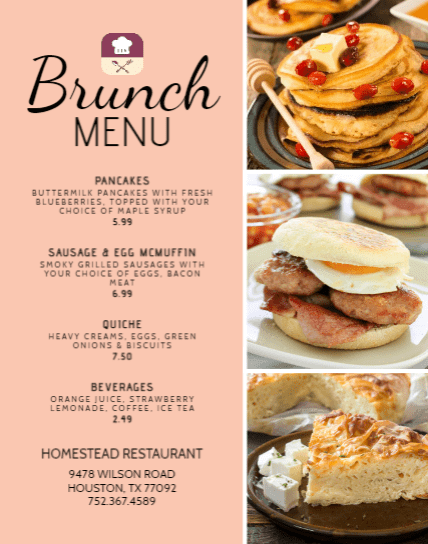 Advertise your brunch along with the other promotions you'll be doing for New Year's so that people can choose between the party and the brunch, or make plans to go to both.
Also read: Tips for Successful Restaurant Waitlist Management
Final thoughts
People love the idea of celebrating the new year with friends and family, and if they get special discounts and promotions on food and drinks in the process, that's an added bonus. So leverage this opportunity to promote your restaurant both online and offline, and give people a chance to ring in the new year with you.