Do you really want to leave engaging comments on someone's Instagram post? Well, whether it's for your friends, or engagement group, you want your comments to sound meaningful, that's all. 
Well, generic comments like 'great post' or 'good one', won't count as your valuable contribution to the post. If you genuinely want to share comments, make them unique and relatable. 
But, we all know that's time-consuming especially when you've so many posts to engage, right? Well, that's why we are here, sharing with you the ultimate list of Instagram comments to leave on any posts. 
Cute Comments For Instagram Post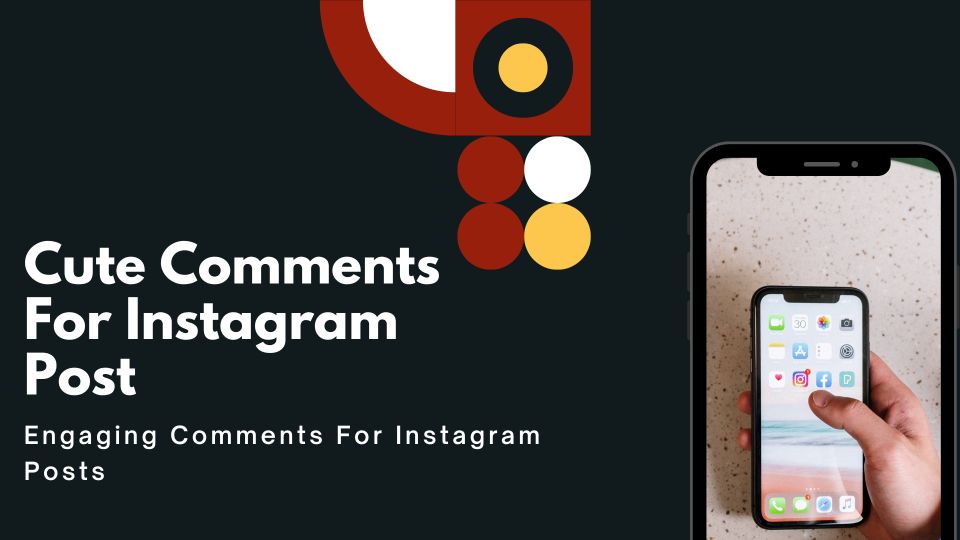 When you're looking for comments about someone's selfie or photo on Instagram, write something cute. Your comments must sound unique and like you're complimenting the person's appearance or confidence and here's what you can say. 
Wow, look at that eyes. Enough to make anyone smile. 

How can your post be so perfect every time? 

You know it's illegal to be so beautiful in a selfie. 

Promise me to always have such a bright smile. 

You're really beautiful in this ethnic wear, loved it. 

A total beauty queen, that's who you are. 

That is such a cute expression. 

Your posts always make me smile no matter what. 

Man, you know how to make someone's day with a new post. 

I wish most posts on Instagram are this cool.

Very impressed with your cute captions, keep it coming. 

What a magical post this is. 

ALERT, this post is too cute to handle. 

What a beatiful post this is, you made my day.

I've doubt-tapped this picture as I see it in my feed. 
Also read: Perfect TikTok Captions For Business
Good Comments For Instagram Post
If you've just had to leave comments as part of your contributions to the engagement group on Instagram, you need something right to say. Instead of again using the most regular comments that you have always been using, here are some good comments for you. 
So happy that I'm following this profile. 

I think this is what is lacking in most influencers, they should follow your style. 

Always learning something new from you.

The content quality always amazes me, I'm following the right IG page.

I seriously want to learn how to take such an awesome selfie. 

Finally, summer is here, and here's your shiny post. 

I've seen your post after a long time, and many things have changed. 

Keep it up with all the best and unique content. 

I can't believe but it's relatable. 

So new outfit, a new post, and it is all new vibing. 

This picture needs to go viral on Instagram and Facebook. 

Am the only one who is always amazed by every new post from this profile. 

I must say this one is the perfect post on Instagram right now. 

You're doing such a great job, and I wish you the best with your creativity. 
Funny Comments For Instagram Posts
Are you interested in leaving comments that make everyone laugh? Or something that truly stands out as interesting and memorable comments? So, be playful and you can share such funny comments on Instagram pictures and posts of friends or someone. 
I don't understand why are you not giving my name as the main source.

You're everywhere on Instagram, what are you doing?

If you share more pictures like these, I must say I'll be obsessed with you. 

No matter how hard I try to ignore your post, I have to like it anyway. 

Enough seeing your picture with the filter, not share without one. 

You seriously put an effort into every post, Hats off to you. 

What are you doing people, this post deserves at least a thousand likes. 

If after this post, Instagram not verifying you still, I'll delete this app. 

And who is responsible for taking this picture perfect? Me. 

If you're done with your show-off, care to return my clothes back. 

So finally it's a post from you, on which island you've been to so far. 

Not sure what to comment, here, but I must write something. 

If one more time I see this post, I'll quit instagram forever.

Please use the regular English captions, It's hard to understand. 

Just wondering do you think this is funny because most of us don't. 
Also read: Funny Rapid Fire Questions For Friends
Nice Comments For Instagram Post 
You like some picture and their post for some reason. Also, you want to say something that sounds truly complimenting but nothing too much. So, to your new Instagram friend or follower, you can engage with them with such nice Instagram comments. 
This is one of the best posts I've seen so far today on Instagram.

You're getting perfect with every new post, and I'm here to cheer you up. 

Just wondering if are you editing your reels. Because they look so professional. 

Every new post you share brings new messages for us, thank you. 

How you post so relatable posts, it shows we're all the same. 

I might not comment on Instagram posts, but if it's from you, I must.

You're such a talented person on Instagram and I mean it. 

I do have not enough words to describe how much I'm impressed.

Such a nice post, It's always exciting to see what new you've for us. 

I thought it was just me, but after this post, I realize that I'm not alone. 

Totally agree with what you shared in this post. Nothing but facts. 

Who says there's no perfect post? Just look at this one. 

I'm always here for your support, can't thank you enough for your content. 

On behalf of everyone, I'm telling you that we're grateful for your educating posts. 
Short Comments To Leave On Instagram Posts
When it comes to leaving comments on Instagram posts, short ones catch attention the more. indeed, you can leave a longer comment, if you wish. But when you've run out of time or idea of what to write, you have these short comments to share. 
Looking so pretty. 

Hands down!

Oh, that outfit. 

Truly a breathtaking post. 

It a definitely of beauty. 

So perfect!

Anything else?

What an amazing world. 

Keep it going!

Not an average post. 

This is called the perfect pic. 

Loved it, you nailed it. 

May god bless you. 

Stunning like always. 

No words just claps!

Salute to you. 

Hustle is real!

Just good vibes. 

I'm so speechless right now. 

Best wishes to you. 

Do we need to say anything?

Coolest post ever. 

Great as always. 

A new trend in the market. 

Truly remarkable. 

Rocking post!
Also read: Short Captions For Instagram Posts And Reels
Final Thoughts
So, now as you have this perfect list of engaging Instagram comments, you're ready to go. Now no more leaving comments just sake of it. With these unique and best comments, you can engage with someone's post right.
When you care to leave such comments, you make it noticeable and also hopefully get more attention to your profile as well. Over time, you not only make new followers but also get more invitations to engagement groups, as you care to leave comments that count.