If you're looking for amazing comments to leave on party pictures on Instagram or Facebook, you're landed at the right place. Whether it's a celebration party for someone's achievements or birthday, you want to make sure that your comments are what they like to hear. 
When someone shares the party pictures as a follower and friend, you want to share nice and good comments. 
You want to share your words that itself show you're happy for them and also celebrating along. If you need such special comments then we've listed them here. 
Special Comments For Birthday Party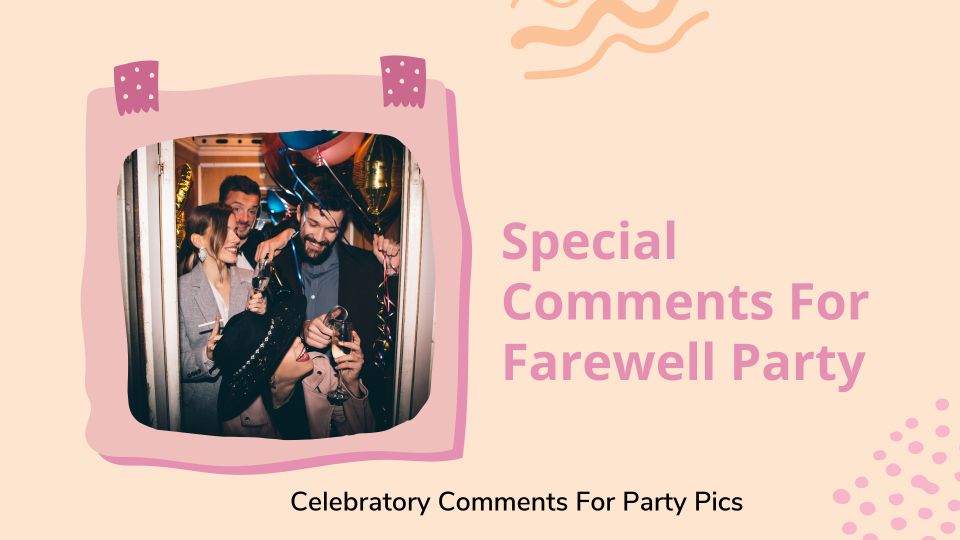 If it's their birthday party picture, simply saying 'Happy birthday isn't enough. Better, if you share some special words showing you also appreciate the celebration and party arrangements. 
This seems like a big party, happy birthday, brother.

Glad to know that you had a great celebration this year. 

The party was awesome beyond words. 

Such a perfect birthday party, you're lucky brother!

You've picked the perfect club to celebrate your special day.

The decoration is beyond imagination. Loved it.

If birthday parties are like these, I like to wish to celebrate them every week.

Happy to know that you're making your special day a great one.

Wishing you a happy birthday, but don't drink only if you dance, too.

In my opinion, this is one of your best party pictures ever. 

I hope you have a great party day, dear birthday boy.

You look like such a queen, and the decoration is fantastic. 

Are you sure that this is your birthday party and not a marriage reception?

I've no words to express how happy I'm for you. HBD, bestie.
Also read: Happiest Birthday Wishes for Brother 
Best Party Comments For Facebook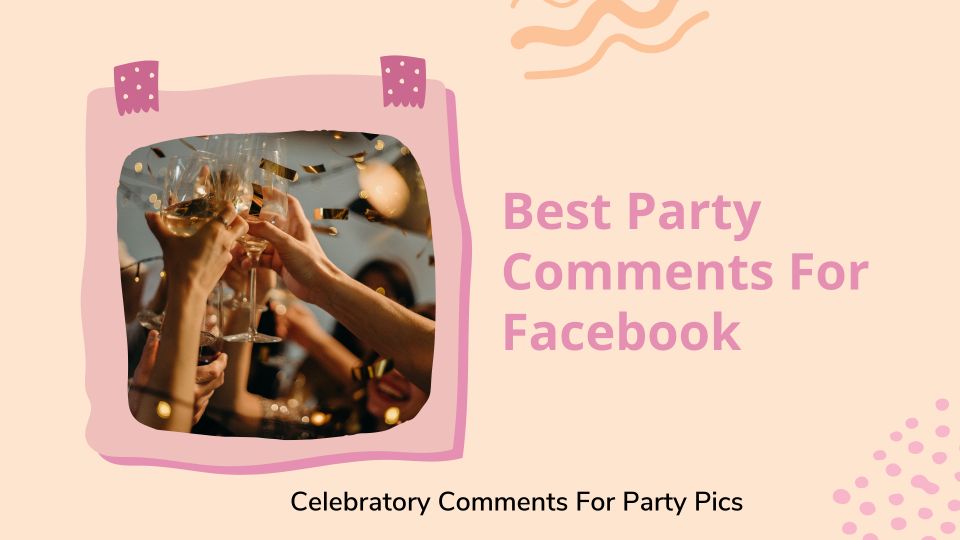 On Facebook, we mostly share our best life moments and every celebration. And this time if someone has shared some party pics, you can leave some great comments like these. 
My friend, you're where the party is already there. 

Keep calm and just never stop dancing.

Loud music, Best friends. Favorite club. Nonstop party.

You're the best, without you there's no fun in partying. 

Don't be afraid to party hard, my friend.

Here comes the party boy. 

This is the night that you'll never forget in your life. Keep on partying! 

Wow, the party was great. But, what's the reason for celebrating?

Can't stop myself from dancing there. Enjoyed a lot. 

Brother, you're the party animal of our group. 

If your party, then party like this person. Else don't do it. 

Make it a big celebration day, my friend. Enjoy life. 

For people like you, a party is a life. Happy for you. 

Party? We all know that, but this one is totally different. 
Funny Comments For Party Pics
When your friends share pictures of a party you avoided or canceled at the last minute, you should comment with humor. This shows you're regretting but not jealous of them partying without you.
What! You've not informed me the party is there.

Next time, don't forget to invite me. I'm now regretting not coming there. 

You're totally unrecognizable in this pic. What type of party is this?

I'm sure that that night you reached home in the morning.

Lucky that I'm not there, I have an urgent meeting the next day.

When you finish the party, don't call me, I'm not coming to pick you up.

Your parents have called me and I've already sent them there. 

Party all night. But, don't forget we've exams at noon.

It reminds me of the last time we partied hard. Couldn't forget that.

I noticed what you did there. I'm going to tell everyone. 

That night you reached home by yourself or someone dropped you.

I admit that I denied this party at that time, but right now I want to join it. 

Can we have a party like this next weekend? I'm requesting you.
Also read: Respectful Comments for Parents' Pictures
Congratulatory Comments for Housewarming Party
When someone in your connection just arranges a housewarming party or your online friend has shared the pictures of it, leave some great comments to congratulate them. Here are some special and best comments to leave on housewarming party pictures on social media. 
I'm very happy that you finally have your own house, Congrats!

A big congratulations to both, may this house bring the best memories to you.

Wow, such a beautiful house you have bought. Congratulations, friend.

Seems like such a great celebration there. My wish is that you've the best life!

So happy for you that you now have your address. Best wishes!

I hope you have a lot of good memories in life with this new place.

It makes me so happy to see your achievements, you're the best!

You have such an amazing house. You're looking so excited, congrats. 

I'm sure you must have worked hard to have this beautiful house. 

Wishing you nothing but all the best wishes for your new nest!
Special Comments For Farewell Party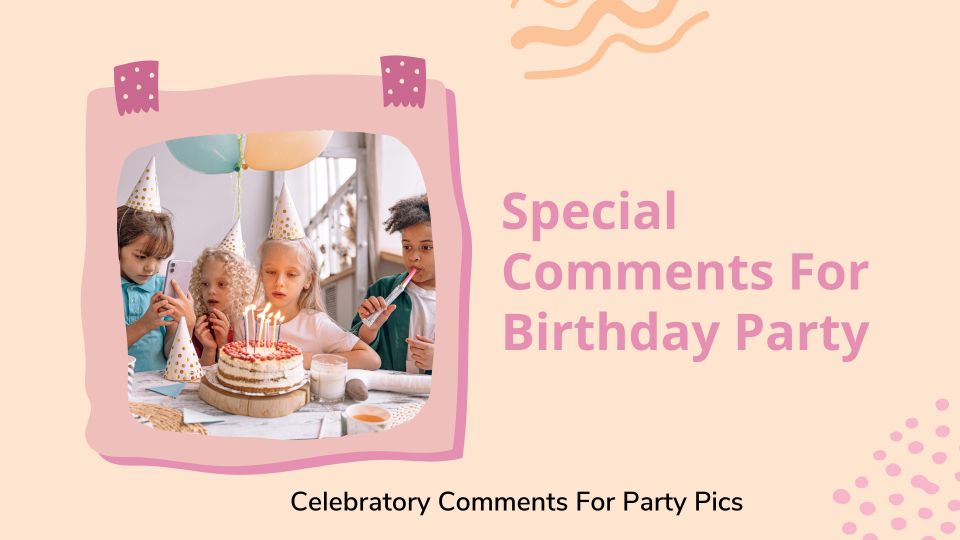 When someone in your connection has shared the pictures from their farewell party at the job, you better know how to share your relevant comments. If your social media friend is leaving a job or someone from your office, these are the best comments you can share.
It's been great working with you, wishing you the best for the new company.

I'm sure everyone will enjoy working with you. It's time to go for a new job. 

What a grand farewell you've got, my friend you're lucky. 

You seem very excited to get a new job, Best wishes. 

It seems that you've done a great job there. 

All the best, my friend, for your next journey to the new place. 

You're the best employees that this company ever has had. 

Working with you is always a great experience. Best of luck in the future. 

It reminds me of the job that I left two years ago. But, such decisions are a must.

Congratulations, but I can't believe you're leaving such awesome friends.
Also read: Positive Comments for Teamwork
Respectful Comments For Retirement Party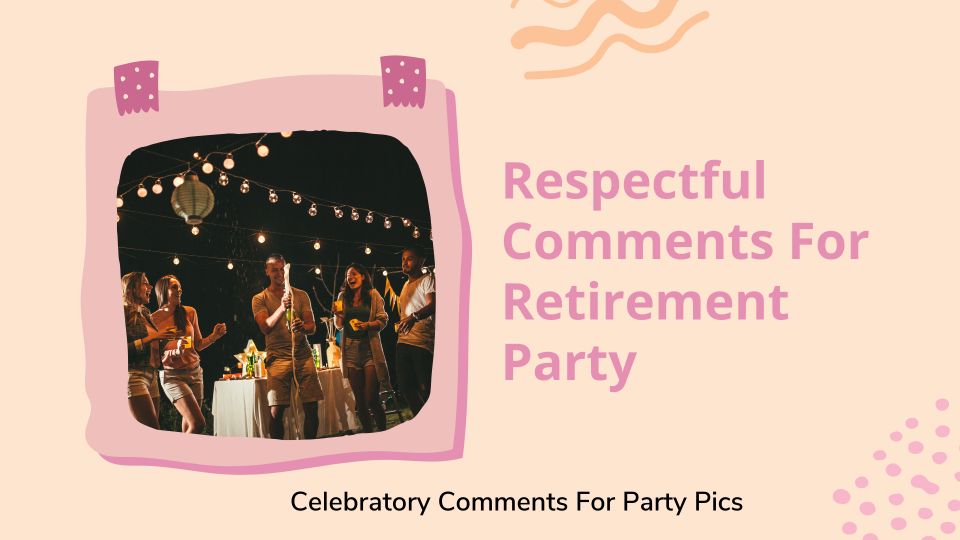 When someone gets retired after long service at the same job, giving them a retirement party is a way to show respect for their work. These are some respectful comments to leave when you, as the employer or team manager, are arranging this party or when someone in your network has posted their retirement party pictures. 
Happy retirement, I'm sure you're going to rock it. 

Make your retirement work the best for you, and enjoy it to the fullest. 

May your retirement life give you the relaxation and best memories you deserve. 

So you finally have retired. Enjoy your free time doing your best for yourself. 

Time to make every day and minute count, you've got your time now. 

I just can't believe that you retired. It's like just yesterday. Enjoy!

So happy to see that now you have a great time doing what you want in life.

It's not a time to break, you're heading to the next stage of life. Enjoy!

You've shown great work and dedication for this job, now it's time to enjoy your life.
Simply 'enjoy' or 'great party' isn't always sufficient to share your contribution. By leaving some good comments on party pictures like these you can make someone's day, too.