We realise how important it is to have the ideal wardrobe in your room or changing area. It makes life so much simpler and helps you to save so much time while getting ready in the morning. Furthermore, sophisticated wardrobe interior designs offer the final touch to your room and increase its visual appeal.
So, if you're seeking built-in wardrobe designs that will not only give simple yet practical storage solutions but will also add to the visual appeal of your room, we've got a few ideas for you.
Effortlessly Stylish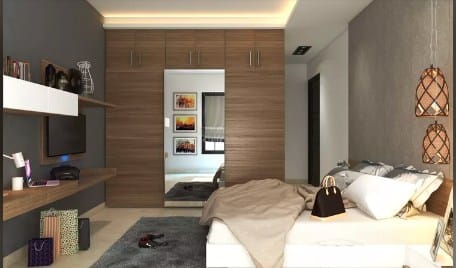 Who says you need to have eccentric wardrobe designs in order to make a statement? This cool-toned oak wardrobe with metal details will become the focal point of your room while taking up little space. This monochrome piece, with its modest yet roomy design, will transform your area into a modern Eden.
A True Space-Saver
Are you on the lookout for wardrobe designs for a small space? Consider a double-door wardrobe with clever space-saving shelving. This wardrobe, which includes hanging rods to keep your clothes clean and wrinkle-free, is your solution to elegant dressing each day. Wave farewell to morning wrinkles and folds that take hours to iron away.
Eye-Catchy Designs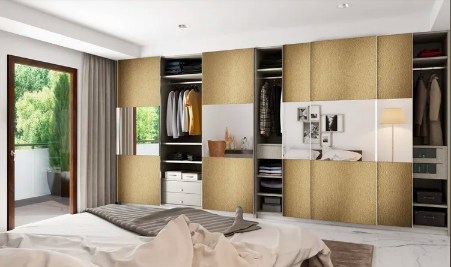 This closet, rising up in all its magnificence, is all you need to transform your room from plain to beautiful. Its brilliant hue and glossy polish make it an ideal accent to handcrafted spaces. Such sliding wardrobe designs ensure that you never run out of room to put your belongings — the perfect organizing solution.
Also read: Home Projects That Add Value To Your Property
Compact, Clever, and Clutter-Busting
Introduce yourself to Annalisa. She's a seasoned storage professional. Whatever you want to keep, whether it's garments, footwear, wallets, or purses, Annalisa has the space for it. Clean lines and extended handles give it a simple appearance, and the cool relaxing tones add to the minimalist design. This wardrobe, which has a hanging rail and two sturdy shelves, is also suitable for children's rooms.
Reflect Your Style
Reflective surfaces are ideal for creating a sense of space and brightness in any area. Whether you have a tiny or a large room, such wardrobe designs might be an excellent storage solution. The warm colours in your space make it seem inviting, and the mirror elements give depth. Take note of the straight corners and linear wood texture. Isn't it cosy?
Say Hello to Caitlyn, the Organisational Wizard
Caitlin, the clutter-buster, has arrived. A truly amazing wardrobe. Your space has never felt so spacious and open. There's so much storage capacity that you'll run out of stuff to put in it. A royal burgundy colour that is ideal for adding a splash of colour to any monotone space. Get it and get organised!
Also read: Smart Home Devices for Saving Money and Energy
A Bossdrobe Indeed
With this 'bossdrobe,' you can make the most of your available space. This wardrobe houses everything from your jewelry to your jackets. No more fumbling around for the best place to put your trinkets. This wardrobe's smooth, dark, and warm finish makes it an ideal addition to modern décor themes. Bring this, and you can forget about untidy rooms.
There are numerous well-known names in the industry, such as Livspace, that can assist you in getting stunning wardrobe designs for your house and transforming it into your ideal home. Whatever your style is, Livspace can help you make it a reality and turn your house into a refuge.
So don't hesitate any longer. Visit the Livspace website today to start building your ideal house!