Nowadays, the jewelry market is going through its own kind of renaissance, and you can see that clearly at any jewelry shop you visit – whether online or offline. Diamond ornamented jewelry is taking a huge step back, making room for newer trends no less dazzling in their beauty. For example, there is more and more demand (and supply) for moissanite ornamented jewelry, especially in stunning wedding and engagement rings. Why is this happening? Let's see, but first let's understand what moissanite really is actually, and how it took the jewelry industry by storm.
Moissanite – a gift from above
A very rare mineral, almost as hard as a diamond: 9.25-9.5/10 on the Mohs scale, meaning only a diamond (a 10/10 on the scale) is harder. It's named after Henri Moissan – who discovered it on a shell of a meteorite. Yes, oddly enough, moissanite came to Earth hitchhiking on the backs of asteroids.
At first, Moissan actually mistook this shiny mineral for a diamond. But truth be told, moissanite is made out of a material called silicon carbide and not of pure carbon (like a diamond). This does not make it any less dazzling – and some may say it is even more extraordinary, with its amazing brilliance and luster, that a diamond just doesn't have. Take a look at the large selection of moissanite rings on the website of Best Brilliance, the world-renowned American online jewelry retailer, and you'll understand exactly what we are talking about here.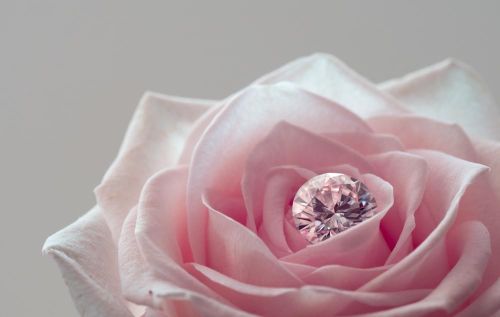 Moissanite stone inside a flower (Source: Shutterstock)
Even today, this beautiful rock is rare, and when it's found, it's almost always found in small quantities and in the shape of small (but stunning) shreds. For this reason, the use of natural moissanite as decorative gemstones has turned out to be impractical.
However, after decades of experimenting, scientists eventually managed to create a moissanite stone in a controlled environment – or, in other words, lab-grown – with the exact same composure and characteristics of its natural counterpart. In the 1980s, moissanite ornamented jewels were first created.
Think twice before you choose an engagement ring
Here is something that you probably did not know: Moissanites reflect light better than diamonds, and it refracts it in an eye-popping beautiful way – truly the best brilliance you can get on an engagement ring (if you're planning on proposing soon). While both are colorless in their essence, the fact that it is less hard on the outside makes it prone to react to natural and artificial light much better.
Not to mention the fact that diamonds are more likely to attract dirt or grease over time. This is due to their different structure, and no solution was found to this problem so far. In other words, when you buy a moissanite ring, you know that it is likely to keep its sparkle for a longer period of time and requires less cleaning and polishing.
Last but not least, they differ in price. Most of the time, moissanite ornamented jewelry is much easier on the pocket. Today, you can find amazing moissanite jewelry, including engagement rings, wedding rings, bracelets and more, at attractive prices at online stores like Best Brilliance, with a large variety of rocks in all shapes and sizes.
This does not have anything to do with quality, but rather with matters of supply and demand: Diamonds still benefit from great "public relations", and have been a default choice for engagement rings for a very long time. In other words, their popularity is what makes them expensive.
Oh, and there's one more very important factor here. The November sales (Black Friday, Cyber Monday and the rest) bring plenty of opportunities to buy almost anything at ridiculously low prices, and that is also true for jewelry. Don't believe us? Read on to find out about some great rocks at prices that will make you smile…
Also read: Trending Work Outfits for Women
A clear choice
All moissanite stones you see in jewelry stores are cultured, or, in other words, created in labs. This might deter people from buying them, but it is important to know that the fact that they were created in a lab does not diminish their beauty and quality. Today, a large share of the diamond industry is created in labs as well. Lab-grown diamonds are no different in quality from their natural counterparts, and the exact same thing can be said about moissanite.
As veterans and pioneers in the field, the expert jewelers at Best Brilliance decided to be one step ahead of the trend by offering plenty of beautiful moissanite ornamented jewelry. They believe that this rock has a bright future, and that it is going to be the next big thing in jewelry
Let's take a look at a few stunning examples from the website. First off is Jocelyn, a 2.15-carat oval hidden halo moissanite ring. Its 14K white gold band is covered with 0.4-carat of natural diamonds. This is a delicate and graceful piece of art that will surely make your loved one's heart melt.
Jocelyn moissanite and diamond ring
Source: Best Brilliance
Lana, on the other hand, stands out from the crowd with its 2D halo design: In the middle lies a 1.8-carat radiant shaped moissanite that catches every eye, and the band is coated with 0.7-carat of natural diamonds. With this ring, your chosen one will never go unnoticed!
Harlow is quite unique in its own way, and you can see that when you first lay eyes on this piece of beauty. It has a split shank design with a 2-carat round moissanite stone and 0.5-carat natural diamonds in the band. It gives its wearer a rather royal look, but in a classy way.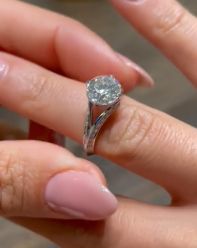 Harlow moissanite and diamond ring
Source: Best Brilliance
Jewelry clean of monkey business
We can't finish this article without talking about the most important part of the moissanite revolution. The fact that all moissanite stones offered on the market are lab-grown has another massive benefit: It is eco-friendly. Diamond mining is quite a wasteful and polluting process. Therefore, when you opt for it over mined diamond ornamented jewelry, you are contributing to the environment in so many ways.
Best Brilliance also ensures that all natural gems it offers are conflict-free. This way, you can be sure that your loved one's ring is not only stunning but also ethical and environmentally friendly – and we all know how important this is in 2022.