Are you addicted to television series?
These series are surely going to get you to binge watch them. Here are some of the trending television series of which kept us up at night!!
GAME OF THRONES
It belongs to the gerne of fantasy and drama. It is based on the book – ' A song of ice and fire' by George R.R. Martin and created by D.B. Weiss and David Benioff it was first aired on April 17 2011 and till date it had released 50 episodes.
The main plot revolves around the fictional seven kingdoms of Westros and Essos and the struggle and between different noble families to rule the Iron throne. Although it has received criticism for the violence show, it is loved by its fans. Now the crazy thing about this series is that you just can't predict what's gonna happen!! I mean here I am a moment thinking that this particular character seems pretty important and the next moment BOOM! He's dead!! This series is super addictive so make sure that you have a lot of time before you start watching it ,cause believe me, once you start you just won't be able to stop.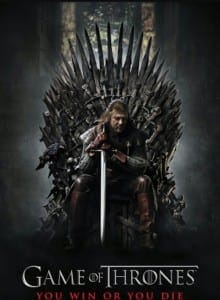 ORANGE IS THE NEW

BLACK

Orange is the new black ( OITNB ) is an American comedy-drama series with Jenji Kohan and Liz Friedman as it's executive produces. In total it has three seasons , that is, thirty nine episodes and was first released on Netflix on July 11, 2013. The story revolves around a lady called Piper Chapman who is sent for 15 months in a woman's federal prison in Upstate NewYork for transporting a bag full of drug money of her now former girlfriend Alex who is an international drug smuggler and we later get to know that she had given Piper's name in her trial. Now this was 10 years back , so, the sudden arrest disturbs Piper's relation with her family and fiance. There she meets Alex again. The show has a lot of flashbacks of her's and of other prisoners which basically shows their reason of being arrested or builds their background. The show also shows abuse of power by the officers their on the female inmates. The series won The 4th Critics Choice Television Award for best Comedy series moreover it generated more viewers and hours viewed in its first week in Netflix than any other Netflix original series ( and by that , we are talking about house of cards ) so buckle up for a blend of potent Comedy , dark humor and rich character work.
ARROW
Arrow is yet another American television series developed by Greg Berlanti , Marc Guggenheim and Andrew Kreisberg. This series is based on the character Green Arrow of DC Comics. It was first aired on October 10th 2012 on CW and recently the 3rd season has released. In total it has 69 episodes. The story starts with billionaire playboy called Oliver Queen being shipwrecked on an hostile island for five years and then return home as a secret vigilante to fight corruption and crime with an arrow and bow as his weapon he also rekindles his relationship with his family and ex-girlfriend who is still pissed with his role in her sister's fake death. The series show a modern and realistic version of Green Arrow. The main focus is on humanity of Oliver and how the prodigal son changed by the time spent on the island. This series also has flashbacks showing the time spent by Oliver on the island when he went missing. The first season focuses on his conspiracy to destroy ' The Glades ' i.e. that poor section of the society that are basically drowning in crime and corruption. The series has an average of 3.68 millions viewers and drew 4.14 million views on its premiere night making it CW's most watched telecast in three years and it's most watched series premiere since 'The Vampire Diaries'.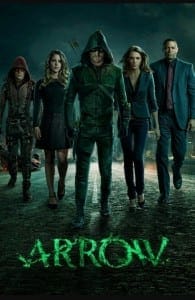 So all the television addicts go ahead and check these series out

and prepare to be fascinated!