Storing many files on the computer is a common strategy many of us use to safeguard our digital documents. However, what if you mistakenly lose some because of using a factory reset or other system damage issues? Alternatively, maybe you intentionally deleted some files thinking you would not need them, but later realize that you do.
What to do then?
Luckily, a professional file recovery software like Wondershare RecoverIt will provide the right level of support in such situations. You can use it to restore all or specific deleted or lost files securely. If you are wondering how, we present different solutions in this article- read on to find out.
Solution 1: Restore Permanently Deleted Files from PC via Professional Data Recovery Tool
For users wondering how to recover permanently deleted files, RecoverIt from Wondershare is one of the best solutions available. It is easy to use, especially for people with limited to zero technical skills.
Instead of doing complex steps, you can use this high-tech data recovery software to regain almost all types of files, like audio, videos, images, and even emails, etc., after scanning the system. It works on 2000+ storage devices efficiently and ensures no data loss when you are using it to recover old files.
While trying out Recoverit to frame this review, we were highly impressed with its speed in recovering old files deleted months ago. The scanning process can take some time, due to the file size, but the data recovery software has straightforward usability.
Steps to Recover Permanently Deleted Files with RecoverIt
Step 1: Download Recoverit on Mac/Windows computer and install it.
Step 2: Launch it on PC > Click on Hard Drives and Location> Recycle Bin > Scan.
[Alt Text: Scan the Recycle Bin on Windows via RecoverIt.]
Step 3: The software will scan for all permanently removed files. This can take some minutes, depending on the file size.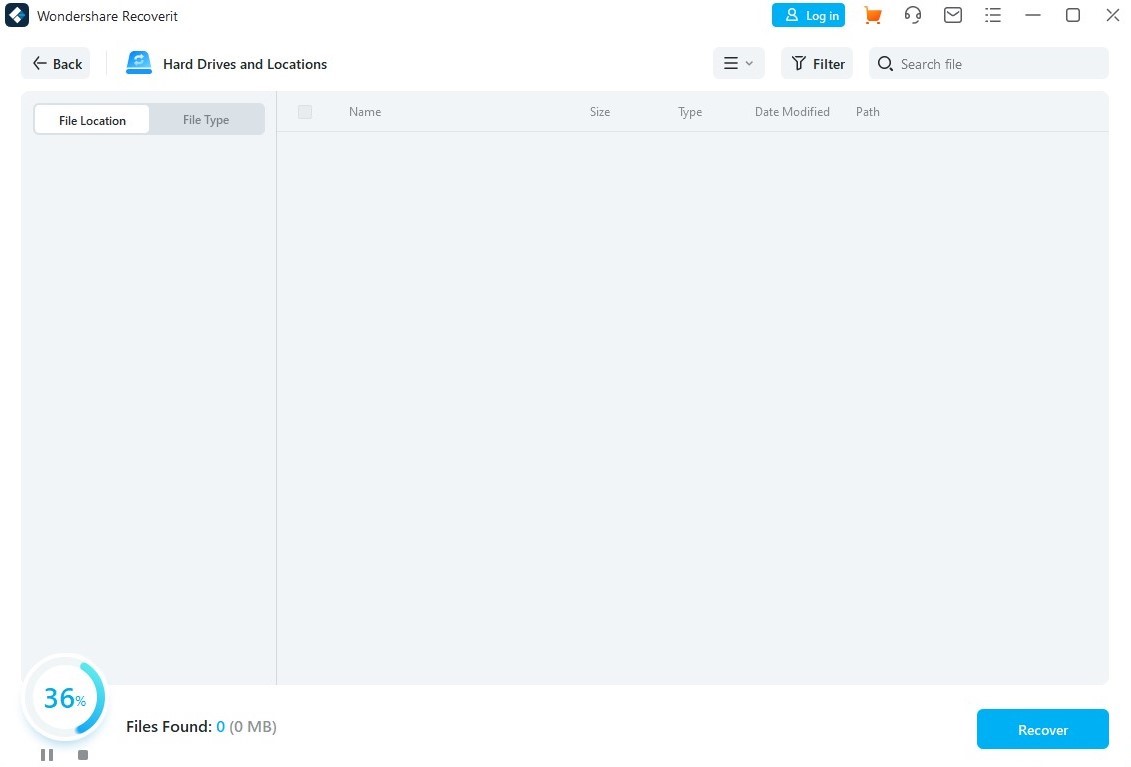 [Alt Text: Processing of scanning deleted files.]
Step 4: Press OK after all files are scanned.
[Alt Text: Press the OK button.]
Step 5: Choose files/folders to recover > Press the Recover button.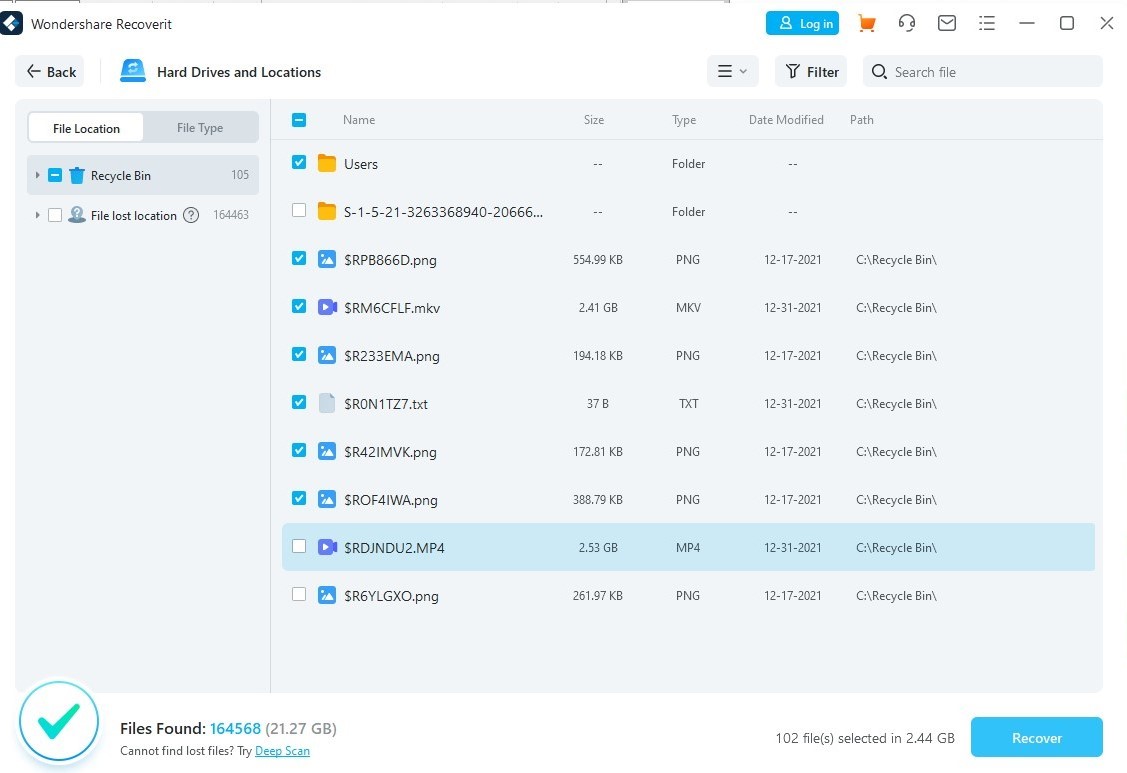 [Alt Text: Press the Recover button on RecoverIt.]
Key Features of Recoverit:
Multiple file formats supported- Recoverit allows users to easily retrieve lost files of different types. These include things like documents, images, videos, contacts, emails, and other such files. Plus, it is compatible with various file systems like FAT, APFS, NTFS, and HFS+, and it can restore these systems with no extra charges.
Supports 2000+ storage devices– If you want to recover permanently deleted files in Windows 10 from your SSD or hard drive, you can rely on Recoverit. Besides it, you can sync other devices like USB Flash Drive, External hard drive, floppy disk, CD, drone camera, action camera, camcorder video, etc. It is possible to connect and retrieve lost files on these devices.
Advanced Video Recovery- Get your high-quality videos in 4K/8K/Ultra HD quality with this in-built feature. Recover an unlimited number of video files from Digital cameras, DSLRs, or drones with Recoverit.
Advanced Video Repair– If your video files are corrupted, RecoverIt can use Advanced or Quick Repair modes to fix them. Freely scan them first and even see a preview before activating the repair and recovery process.
System Crashed Computer– This feature is available on this file recovery software that prepares a bootable USB drive. You can quickly and securely save all your data from your computer after suffering a crash.
Works in 500+ different scenarios– The files may get lost because of issues like formatting, accidental removal, virus attack, corrupted device condition, etc. Recoverit can help recover lost files regardless of the reason.
Pros:
Swift processing time for recovery.
Pulls even extremely hidden files or those that were deleted long ago.
Easy to operate for beginner-level users.
Cons:
You have to download and install PC/Mac-based software.
Advanced functions are available under paid plans starting at USD 59.99.
Solution 2: Recover Your Removed Files through Recycle Bin
Yes, using data recovery software like RecoverIt will help you get your old deleted files back, even those that are permanently discarded. However, it involves having to download a third-party app.
If you want to avoid that, you can still directly recover the files from your PC's Recycle Bin with specific steps. It keeps many of the deleted files in the device's memory for a particular time limit.
To note, only particular conditions are eligible to recover accurately via Recycle Bin. These conditions include the following:
The removed files went through the recycling process.
One did not empty the Recycle Bin.
The files present inside the Recycle Bin are going through their recycling process.
How to restore the discarded files/folders via Recycle Bin?
Step 1: On your PC, double-click on the Recycle Bin icon.
Step 2: Find all/selected files/folders to recover.
Step 3: Right-click on one and select tick marks besides multiple ones > Press Restore.
[Alt Text: Press the restore button or restore selected items option.]
Or, select the ones you want to recover > Click on the Manage tab > Restore the selected items.
Step 4: Wait for all to restore safely.
How to restore the discarded files/folders after emptying them via Recycle Bin?
All files are permanently gone if you press Empty Recycle Bin in this section. This happens in three ways:
The Recycle Bin cannot hold all deleted items if it is full of many files already. It automatically empties too old deleted files to save place.
Users press the Shift and Delete keys > All are selected. Then, one can delete all files inside the Recycle Bin.
The folders and files are extremely heavy, so it is not easy to recycle them.
You can now use software for data backup next or turn to professional data recovery software for getting deleted files back. Recoverit works well in this context, as explained.
Also read: Travel Gadgets To Make Your Trip Enjoyable
Final Verdict
Indeed, users can directly recover all of their deleted files from the Recycle Bin on the PC without needing to install any third-party app. However, downloading RecoverIt is definitely a more efficient alternative for the complete restoration of files that are permanently removed.
The app works on PCs and allows users smooth data recovery, better content management, and a secure user experience. So, give it a try and then decide if you want to continue using it.