Did you know that one of the first things men notice when they meet a woman is their hands? Yes, It's true. It is difficult to not notice a well-manicured hand with the right nail polish. Nail paint is a necessary accessory for women. Even those, who are just remotely into fashion. However, spotting the best nail polish trends in 2021 can be difficult since most of us are once again locked down indoors.
But that does not mean fashion has to take a break. We are here to help you with the latest trends, popular shades, well-known brands, and some quirky simple DIY nail art styles. Keep yourself well-groomed for the sake of your Instagram selfies.
Well-manicured hands are the best expressions of self-love and spark an instant joy when you look at them. But, what's tricky here is choosing the right shade, brand, and nail art designs according to your personality and mood.
They can be subtle and chic to compliment your style or you can make them bold and flashy with nail arts to suit your personality. Nail polishes are literally versatile. You can also choose to match your shades and designs with your dresses or even accessories such as handbags and shoes.
This is going to be your go-to guide for all things nail polish in 2021. Let's begin with some expert-recommended evergreen colors that suit most skin shades.
All-Time Favorite Nail Paint Colors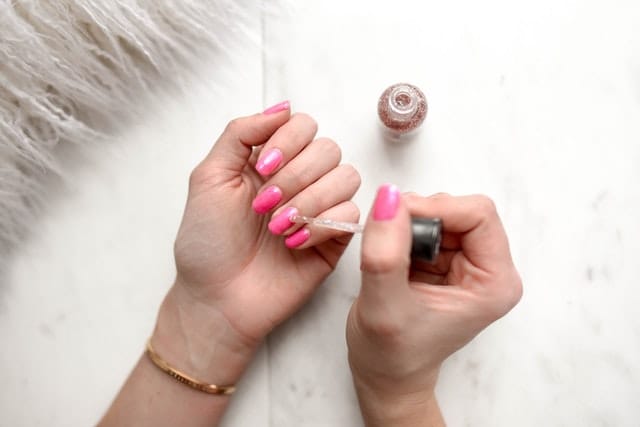 1.The Ruby Red
You can never go wrong with a ruby red. If there was only one color that you wanted to carry, we would suggest this one. Whether you are dusky or light skin tone this shade will do the magic anyway. You will always be party-ready with this shade on and at the same time not look over the top as you lounge around in your PJs.
2. The Cozy Corals
With summer in its full swing, all shades in corals are soothing to the eye. They go well with easy breezy outfits. It even suits pale skin tones. These shades are both fun and subtle at the same time. They are natural and can also be built upon with a variety of nail art designs too.
3.The Exclusive Emerald
This particular shade specifically is a dark shade of green with a tinge of gold in it. If you have tried this shade, you know how it becomes the style statement even with the simplest outfits. Use this to add a pop of color to your monochrome formal suits by day and glam up your special date by the evening. One shade that does it all. It can be used both as a match with outfits or as a contrast. It can also add a fun pop in nail arts with nude shades.
Also read: Trending Workout Accessories To Try Out
4.The Naughty Nudes
You belong to the classy subtle types and like to keep simple and chic when it comes to your nails. Nudes are your must-haves. Even if this is not your style, it's good for days when you have to go low-key but still look all prim and proper. While you get instant dainty-looking nails, put on your playful attitude and you can still hold the attention of all the handsome hunks around.
5.The Magnificent Magenta
Even if red nail polish is not your thing, you will still like this one. Absolutely feminine and tender, this color is just the right blend of bright and subtle. The shade goes well with both ethnic and western wear. It can be carried well to both office parties and festive get-togethers. This one is an easy pick for all seasons as everyday wear too. 
Also read: Trending Jewellery Brands Every Women Loves
Nail Polish Shade Trends in 2021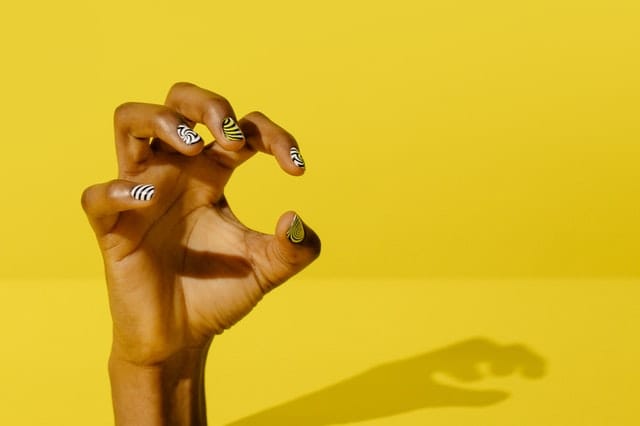 1.The Lovely Lavender
This pretty earthy tone is very popular these days. It has a beautiful floral vibe which is not only fit for summer but also goes well with winter wear as well. Lavender nail paints also come with a scented formula, which actually makes your hands smell like lavender. This shade is also popular among men as a favorite for their lady loves.
2.The Witty White
Freshly manicured hands with nice off-white nail paint are a sight to behold. Women live for their hands to look that pretty. This color will spell sophistication on your beautiful nails. It goes well with all outfits in all seasons. To add a festive look, jazz it up with some nail art.
3.The Gorgeous Grey
Who said greys were boring. In fact, they are one of the new classiest in the block. Carry it around as office wear for the perfect corporate well-kept look. Your dress is too bright, mute your nails with a shade of grey and create your own fashion statement. This color is very popular and is expected to remain so through 2021.
Also read: 5 Fashion Styles That Can Make You Look Gorgeous
4.The Blushing Blue
If you are bored at home, this one could add some spice to your day. There is a range of shades from teal to sky to royal and goodnight moon blues. Your name and you have it. There are also matte, glitter, mirror, and metallic variants. Try this trending color all summer and you will still have more to experiment with.
5.The Bold Black
Black is trending this year or shall we say it does every year. We do admit that it's a bold choice but it works like a charm on long nails. It is neat, classic, and a statement all at the same time. And yes, it is also a favorite among nail art enthusiasts. Have you tried black nail paint yet?
Do you need help How to Paint your Nails like a Pro?
Popular Nail Paint Brands for All Budgets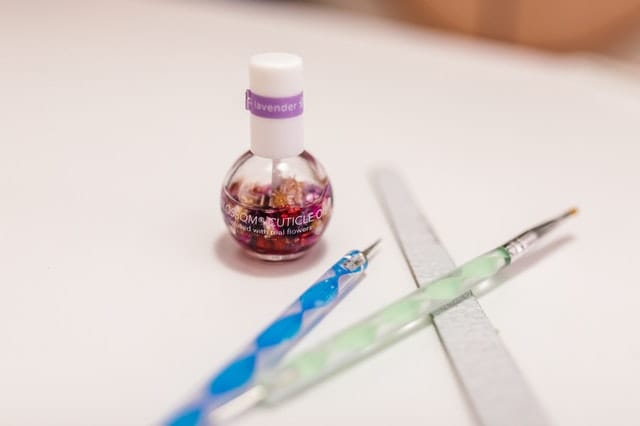 1. Colorbar
Colorbar U.S.A. is a popular brand in India. It is affordable and offers a wide variety of shades to choose from. They also have a range of finishes starting from mattes, shimmers to metallic ones. Of late, the brand has also introduced some revolutionary neon colors which is a favorite of Gen Z. The quality is good for everyday wear.
2. Lakme
This is a household name for cosmetics, especially in India. Most of us would have started our experiments with nail paints with this] brand itself. The nail polishes from Lakme are of good quality. They also offer a reasonable quantity of the product for its price. They are easily available across the country and are probably the best seller too.
3. O.P.I
O.P.I. is a premium nail color brand from America. The nail paints are priced slightly higher than other brands easily available in India but they are worth the money. The quality is great and it lasts longer on the nails too. Their current edition of Hidden Prism Collection has some beautiful shades that you may not find in other brands. You must also check out their latest Malibu Collection which has really cool summer colors with a creamy finish that lasts still longer.
Also read: Tips for Building Your Own Fashion Brand
4. Inglot
Inglot is another superior premium brand. They have limited but unique shades. If you are in the mood to pamper your nails, give this brand a try. We assure you will have heads turning to just check out your nails. Finding the brand in regular stores may be a little difficult but it is easily available on most E-commerce stores.
5. Elle 18
Elle 18 is hands down the cheapest good-quality nail paints you can find. They have a good range of colors and are available at most stores across the country. The brand is most popular among students because of its affordability.
Also read: Five Eyewear Trends to Keep an Eye Out for
Popular Nail Art Trends in 2021
1.Marble Nail Art
Marble Nail Art is probably one of the most popular forms of nail art. While women are obsessed with it, it is easy to create. Experts do a great job while they create beautiful masterpieces with the blend of colors at the best of salons. However, nail art fans also pull off a decent show with their DIY skills.
2.Mirror Nails with Crystals.
Mirror nails are the easiest to nail art forms. There are ready-made mirror nail paints easily available in physical as well as e-commerce stores. They are simple to apply but have to be sealed with a top coat for the best mirror effect. Nail art crystals are also readily available in the market. Professionals create extensive designs using these crystals. However, they can be used as single pieces over nails to create a simple and stylish look too.
3.Florals
Florals are an all-time favorite. They can be created as simply as those using toothpicks and multicolored nail paints. There are also elaborate 3D designs with different elements such as crystals, petals, leaves, feathers, etc.
4.Shimmers
Shimmers are again an evergreen trend. Use them as nail paint or create patterns. Black glossy and golden or silver shimmer nail polishes are a popular combination. Striped or floral patterns can be easily crafted with them.
5.Animal Prints
Have you seen women match their nail paints with their animal print handbags or coats? They look super fancy and are on the list of every fashion enthusiast. They are quick to create and can be experimented with different color combinations too.
Also read: Spring Summer Fashion Essentials To Have In Your Wardrobe
Easy DIY Nail Art Ideas: Try them Today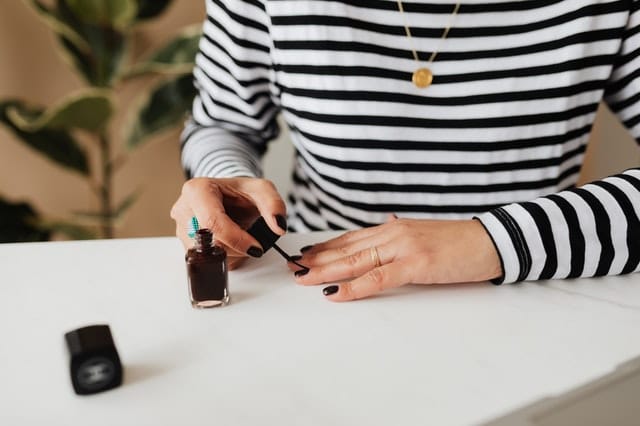 1.Multi-colored Nails
With the Pride Month celebrations on, multi-colored rainbow nails are in the rage. It can be as simple as painting different nails in different colors. 
If you are really confident in your art skills you could try creating a rainbow for each nail. Another quick fix could be painting nails in different colors and creating multicolor flowers using a toothpick. Do not forget the topcoat.
2.Denim Nails
Have you got nail paints drying up in your vanity? This DIY could use it all. If you have a couple of shades of blue and white, it would be best. 
Begin with a layer of blue and layer it up with the other colors in a random pattern. Drying nail polishes do a great job for this one. Create multiple mixed layers. Seal it all up with a top coat to get a perfect denim pattern.
3.Bling Nails
Who doesn't want some bling in life? If you want to go all bling try this one out on all nails else it could work well as a highlight on a single or two fingers too.
Find some thin foil paper or the shiny gift wrap paper lying around your house. Cut it into random tiny pieces. Apply a single shade of matte nail paint in 2 coats. While the nail paint is still wet, carefully pick a few pieces of the shiny paper and fix them on the nail paint. Apply a nice topcoat. There you have a really fancy nail art ready in a jiffy.
Also read: Must-Know Trending Eyelash Extension Tips
4.Caviar Nails
Caviar Art is created using micro nail caviar beads. They are available at art stores and e-commerce stores as well. If you are an art and craft enthusiast, you may have them at home too. Apply a base coat nail polish in a nude or white shade. If you have colored caviar beads use a shade that is similar to the beads. Keep a tray below your hand and stick a generous amount of beads on the nail in a single layer to cover it completely. Also, use a generous amount of the top coat as a sealant and your super stylish nails are done. Match it up with a beady outfit or a similar handbag.
5.Mandala Nails
Mandala Art has become popular like Dalgona Coffee during the lockdown. How about trying it on your nails. Apply a base coat of black or white nail paint. Using contrasting colors that could pop out, make concentric dotted circles with the help of a toothpick. Use different colors for each circle to make it fun and quirky.
That was a lot of nail art inspiration. Wasn't it?
We now have you covered with classic and trending shades and which brands to buy from and how you can get creative with nail art. Get your hands dirty to create a stylish look. Let us know how it worked out.