We all live in the fast fashion era and, whether intentionally or unintentionally we have become a trend race. Every year brings some new lehenga trends and some old trending lehenga one continues to be a part of the trending wedding lehengas list. 
This formula fits with every type from trending lehenga for weddings to trending lehenga for parties and other occasions. It isn't just about the western but goes with Indian ethnic outfits, too.
Wedding seasons couldn't be completed without girls grooving around in trendy lehenga. But, the latest trending lehengas aren't just about weddings, that're for festive seasons too. And,  how we can forget your social media wall, selfies, and frequent parties or family functions. It couldn't be missed after all it's the trendiest place.
If you're seeking some inspiration or idea for popular  lehenga designs, then we just solved your problem!
We bought a list of trends that you must think of for this wedding season, we have something for all whether bride or bridesmaid you can try all these:
12 Latest Trending Lehengas for a bride
1. Banarasi Lehenga still in trend
Banarasi lehenga has managed to be part of trending lehenga for wedding list 2020 trends too, and we don't think so they are out of this list soon. They are preferred especially in kali style, gher of lehenga designs can be chosen according to your preference. 
Such trending lehengas for parties and other occassions, can be made heavy with embroidered borders, and zardozi embroidered blouses. Banarasi lehenga looks elegant and can be worn on different occasions from weddings to normal functions.
2.   Red Lehenga isn't the only trending option
The biggest bridal trend that took over 2020 was brides choosing different color trousseau for their wedding day. This new trend started with celebrities like Anushka Sharma choosing blush pink lehenga for her wedding. Brides have started choosing color combinations like white, champagne gold colors for their the-day.
3. Trending Floral Lehenga prints
Designer Sabyasachi bought his floral print collection and since then we cant get over those lehengas. As they remain trending lehengas for wedding and trending lehenga for other occasions as well .
Digital floral print on organza looks so pretty and elegant especially in day wedding or outdoor functions. These latest trending lehengas of 2020, give refreshing vibes all around and will stay in trend 2021 too.
4. Ivory Lehenga
Ivory lehenga cannot be replaced by any latest trend, we guess they will always remain part of trending lehenga for wedding. As they look so royal and they are evergreen. With a variety of embroideries, specially zardozi ivory lehenga is trending one in 2020 and will remain in trend especially when it comes to choosing for a bride these are the first preference.
5. Structured bought modern touch Lehengas
Structured lehenga becomes a huge trend, and especially popular in the big fat weddings. For engagement, brides choose structured lehenga designs, they are a combination of modern fabric manipulation with traditional silhouettes. These latest designs were first bought by designer Gaurav Gupta and then with time it became a trend in 2020. Structured lehenga gonna be in the list of trending lehengas for parties.
Also read: Trending Hairstyles for Women in 2020 You'll Love
6. Funk in the trunk
Started with a designer like papa don't preach by Shobhika, putting funky colors and adding too much drama has become a huge trend especially for modern-day brides. These lehengas designs are becoming huge part of trending lehengas for wedding.  Modern brides want to carry something different and out of the box. At least for other wedding function, they choose poppy colors.
Also read: Style Rules for Petite Women
7. White is the new black
Yes, white is the new black these days, white lehenga remains trending lehengas for brides and trending lehengas for other occasions in  2020, too. From wedding to festive season, we found them everywhere. White lehenga with golden and copper embroidery took so much limelight. The designer worked especially with chicken embroidery and brought the touch of Awadh back in fashion.
8. Silver and grey tones
Silver and grey tones in ivory work with katdana took a huge place in the latest trend. Designers like Falguni Shane peacock and Manish Malhotra worked more with silver, grey tones with pearls. These latest lehenga designs are also popular for their different approach in detailed work that maid them trending lehenga for parties and other occasions.
9. Stylized dupatta
Lehengas with attached dupatta became a huge part of the new trending lehengas for weddings and trending lehengas for parties as well. Attached dupatta made it easier to carry and gives a designer touch too. These dupatta's are coming in multiple styles single side, trail style and attached in sleeves all of them looked great.
10. Pastel hues in weddings 
Pastel hues are still trending lehengas in 2020, and we don't think so they are going soon. Pantone palette of pastel is something every bride and bridesmaid is choosing making pastel hues as best option for trending lehenga for weddings, parties and other occasions. Designers like Anushree Reddy bought beautiful collection on pastel palette.
Also read: First Date Outfit Ideas for Women (with Photos!)
11. Traditional in frames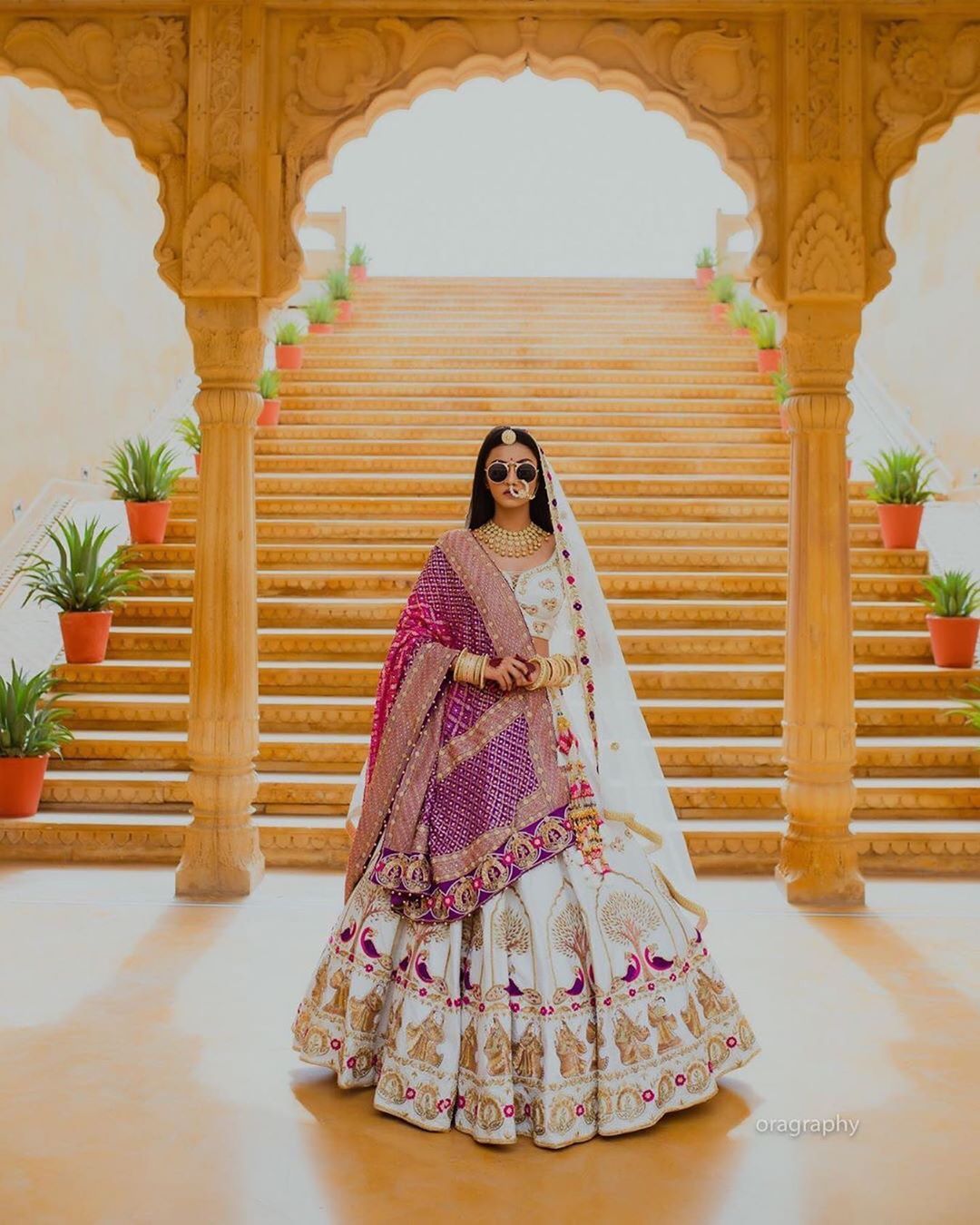 Traditional works and old karigari are in trend and everyone is loved. From Gujrati traditional work to Rajasthani gota work all these works are recreated and traditional frames became favourite trending lehengas for weddings. Designers like Rimple and Harpreet, Anju Modi are working on old traditional techniques and successfully bought in the latest lehenga trends.
12. Lehengas with Trending Applique work
Contemporary and applique work managed to grab huge attention. Metallic foil and applique on lehenga are all over social media, silver stripes in Amit Aggarwal designs and the use of metallic tones is, the latest trending lehengas. The floral applique in Sandeep Khosla Abujani was loved by celebrities and then accepted by mass and became trending lehengas for weddings and special occasions.
Endnotes:
So these were some of the new trending lehengas 2020, that you can follow if planning to renew your wardrobe or preparing for some weddings. 
Another thing that you can follow this year is blouse designs. From structured to color and dupatta attached there are so many designs and drama that are added in the blouse with simple lehenga skirts. Try these latest ideas, put a smile and you are good to go!
Cover image: frugal2fab.com