Weddings are like a grand festival, it is all about celebrating traditions, functions, relishing delicious food,  meeting our favorite people, and clicking pictures. Weddings create so many memories not just for the bride and groom but for their loved ones too so of course with trending wedding ideas and trending decor. Because we cannot afford our special day without being trendy. 
Weddings always remain special but with the ever-changing trends, everybody wants to go for trending decor, from trending wedding cards to trending wedding outfits everything has to be perfect. Now we seek latest wedding ideas for every function to make it the best. You can make it more perfect by adding small elements and changes.
Here are some ideas that you can discuss with your planner for 2021 wedding themes that are trending.
Trending Ideas For Unique Wedding
1. Wedding cards
Wedding cards are like the start of big fat celebrations and they have to be trendy. We cannot add just one trending card to the list but there are some options you can prefer depending on your budget or likings.
a. Floral cards:
Floral wedding cards cannot go out of trend for sure. Minimalistic floral print cards to huge hampers they look pretty and refreshing.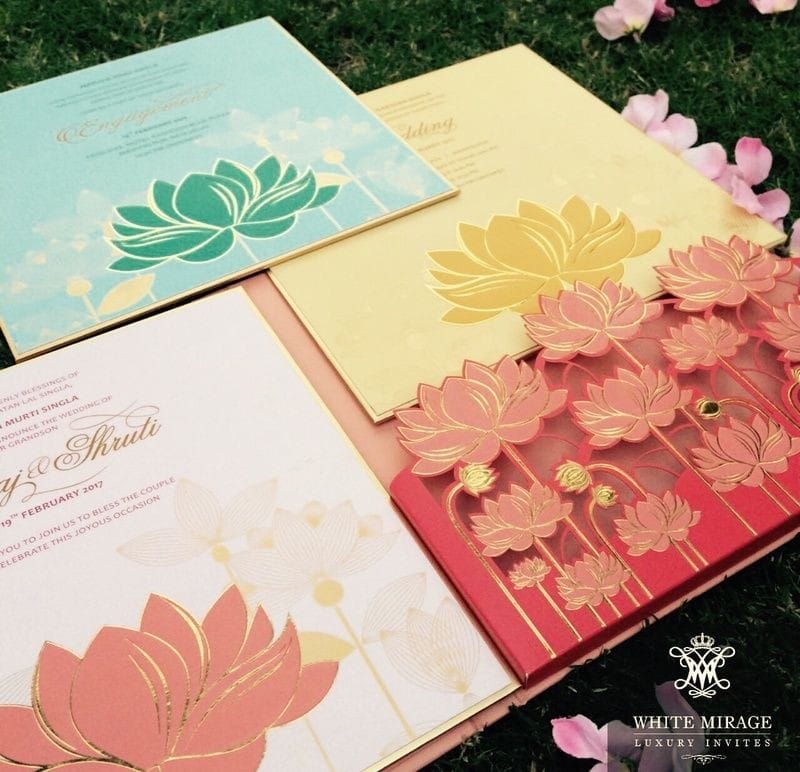 b. Miniature paintings:
Miniature paintings in cards are also a huge part of trending wedding cards, Mughal paintings to Rajasthani add so much of wedding touch in cards.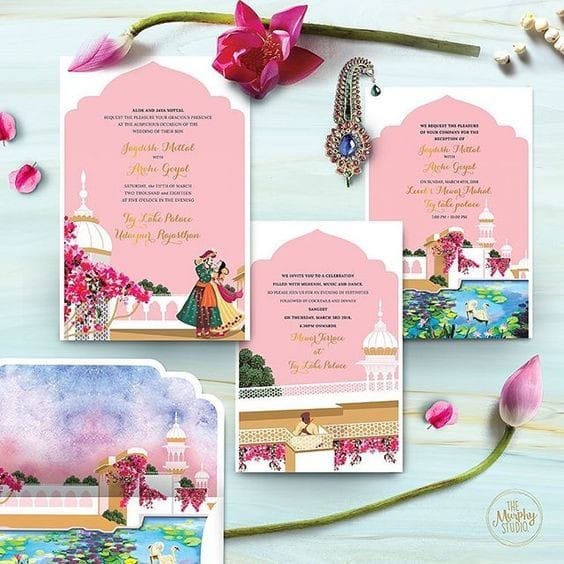 c. Eco-friendly:
With the adoption of a sustainable and eco-friendly lifestyle, cards are in trend. They are simple, minimal, and look elegant. These can surely be a big part of the trending idea for 2021.
d. Boxes and hampers:
For big fat Indian weddings, hampers and packages are definitely in trend and look fancy and look so beautiful. You can add some dry fruits, Ganesha idol, or any relevant thing.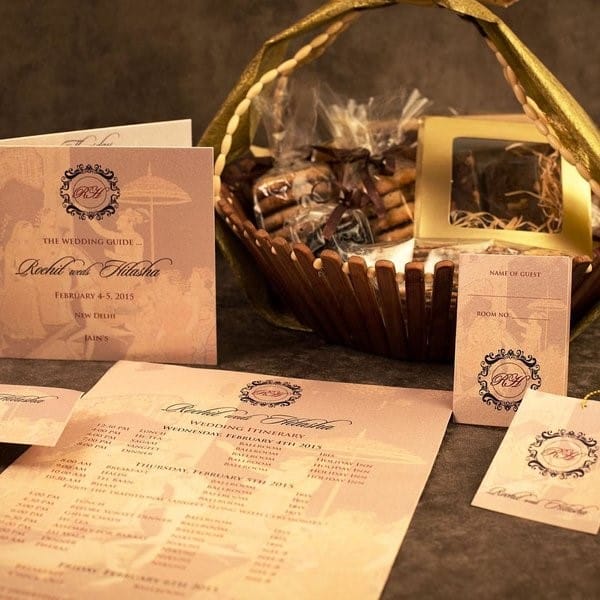 2. Theme based clothing
Deciding a trending wedding wardrobe isn't an easy task, it takes huge time and energy. To make wedding functions and after pictures more pretty these days theme-based clothing is a part of trending wedding ideas. 
You can try some of these ideas for wedding functions-
a. Yellow and greens: 
For Mehendi and haldi functions yellow and green combinations cannot go out of trend. You can always keep these colours as themes and often everyone has something in from this palette.
b. Pastel palette: 
Pastel theme clothing is a greeting option, you can keep this for reception or engagement functions. This theme comes with colour options and variety.
c. Bandhej:
Bandhani or chunri print-inspired dresses are another good option, usually everyone has bandhej outfits in their closet. You can choose a chunri theme for mayra, bhat or in pheras.
With your close guest list, you can share themes before so that they can get enough time. Theme-based clothing was already an important part of 2020 and will surely continue to be part of wedding ideas in 2021.
3. Hanging décor
These days my Instagram feed is filled with trending wedding decors for different functions and one common thing that I noticed is hanging decors. They look very pretty and elegant, not every décor is expensive, they are available in every range from simple paper laces to lamps you can try any. You can get some wedding ideas from the pictures below. If some functions are at night like a cocktail party or simple sitting you can use led décor.
a. Dream catcher
Dreamcatchers or colourful fans hanging under the tea looks cute and pretty at the same time.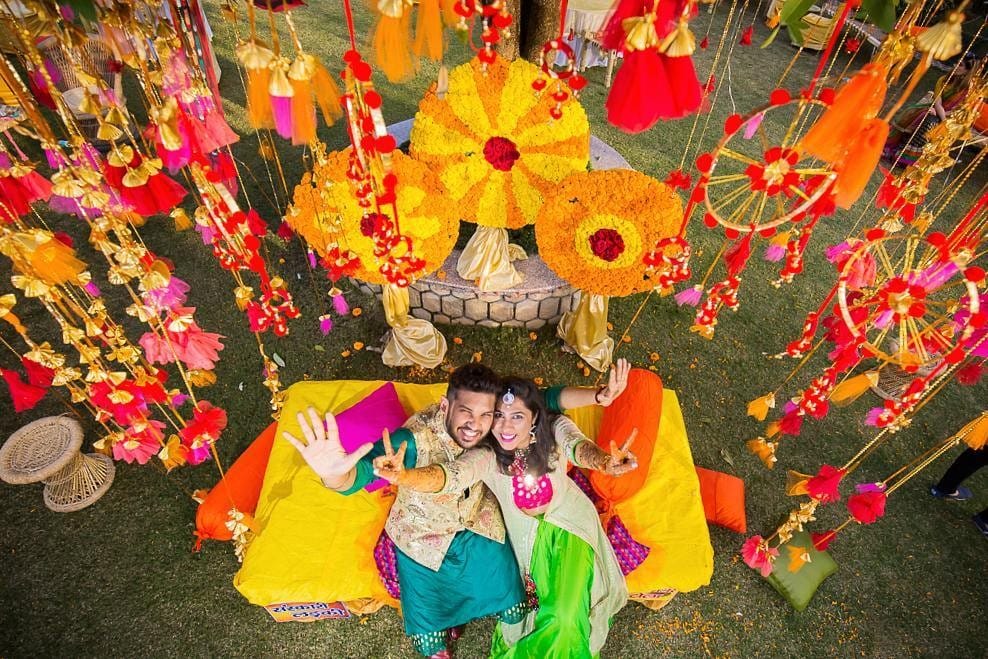 b. Rajasthani inspired hangings
Rajasthani hangings are colourful and pretty options, especially for Haldi and mehndi functions. There are various options like puppets, bangles, umbrellas and so on with these decors, you can use colourful leheriya or tie and dye curtains too. These hangings will be a huge part of trending wedding ideas in  2021.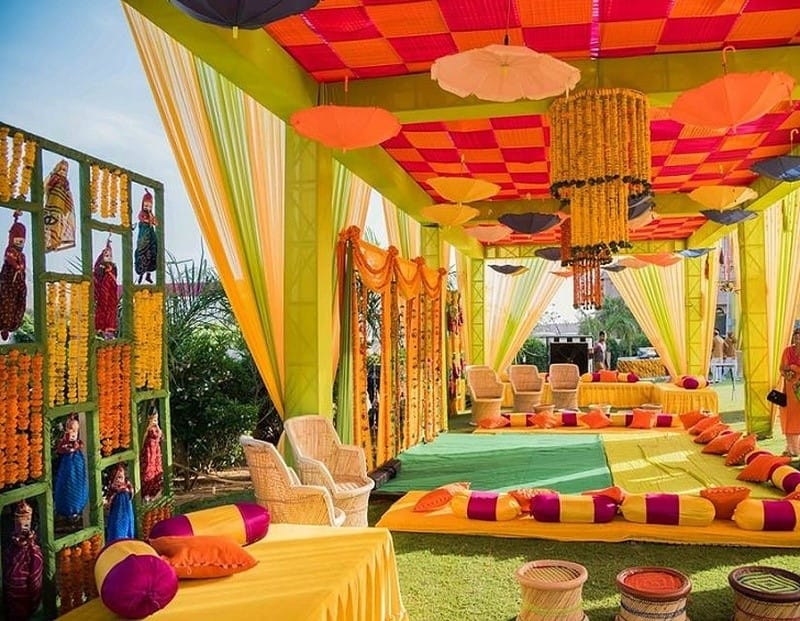 c. Flowers
Flowers with paper laces look so pretty and elegant. Marigold garlands or mixed flower garlands give a full-on wedding vibe.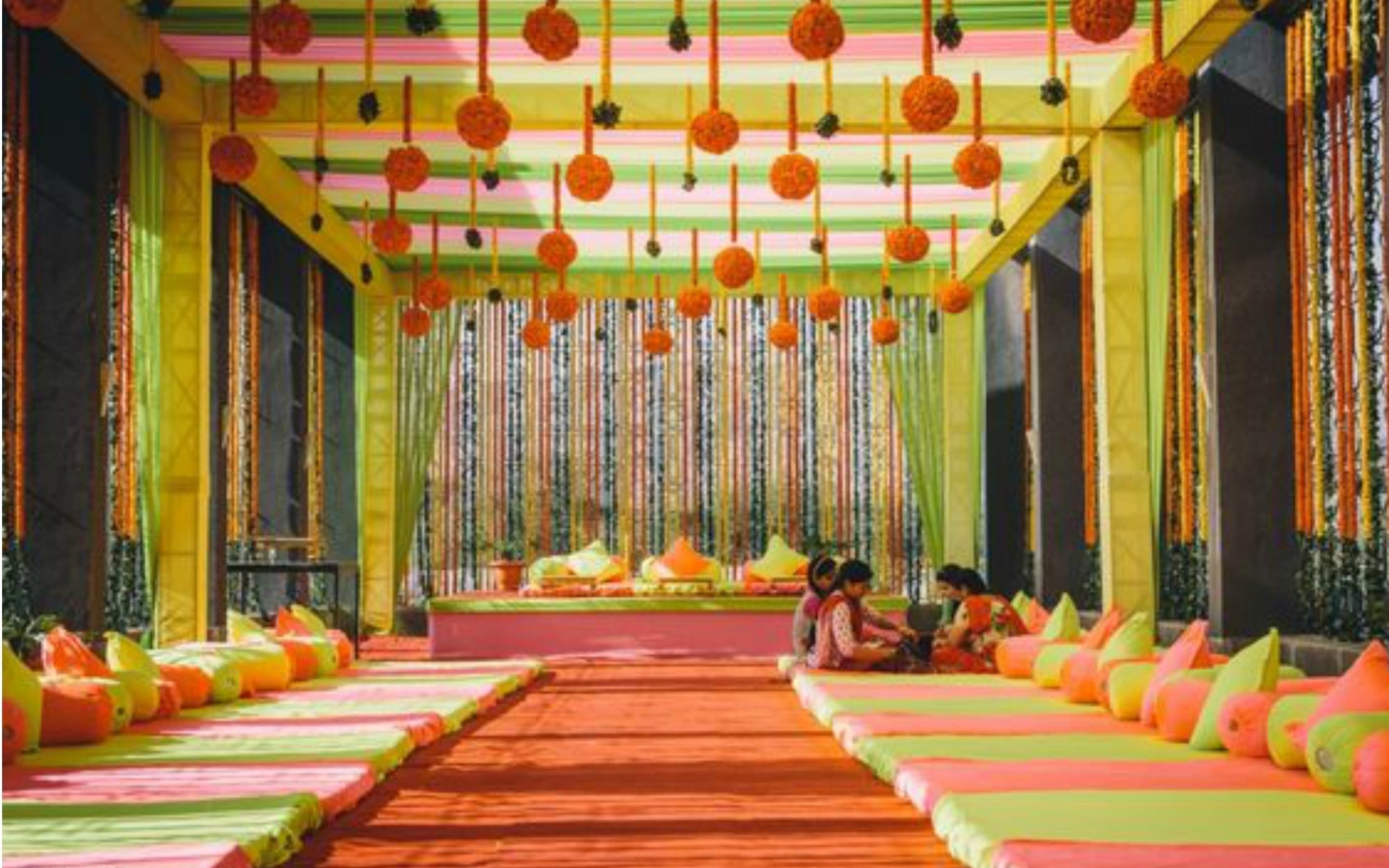 4. Royal décor
Royal décor always remains in trend and a special part of big fat weddings. These days people are again choosing red roses with gold hues for the main wedding day or reception. Small chandeliers hanging all around, golden and glass lamps, and red roses make it look huge and very royal. All these small elements are a big part of trending ideas for 2021.
5. Swing sitting
For outdoor or indoor functions of mehndi decorated swings with marigold garlands in back and sides are in so much of a trend. They are comfortable and looks very pretty.
6. Props and gifts
These days there are a variety of props available for every function like #ladkiwale badges and brooches which are trending. You can find many options and order them easily online. you can also keep small gifts like floral bangles for everyone on Haldi functions or customized gifts for different functions.
7. Picture corners
We live in a social media age and without posting #wedding pictures weddings are incomplete. These days Selfie Booths with a creative wedding hashtag are part of trending wedding decor that you can't ignore. You can design a small photo booth with some hanging frames and props to use.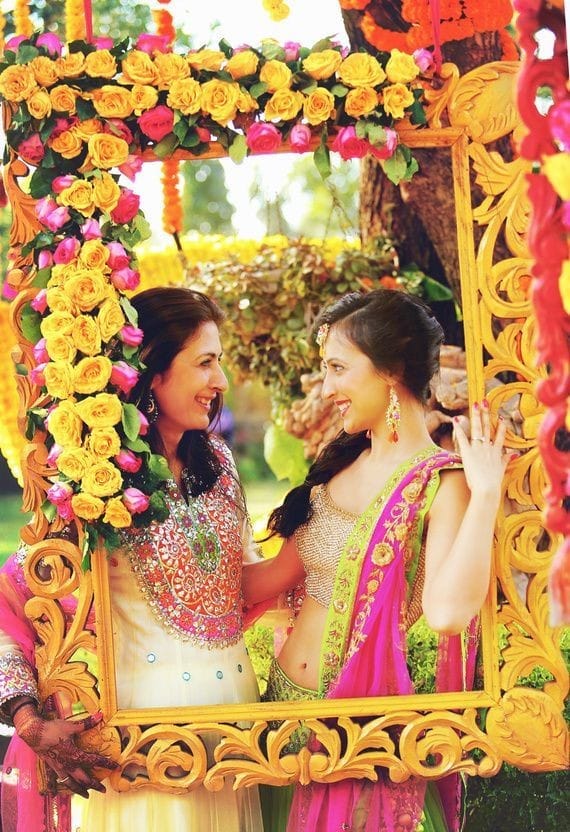 Final words
No matter what your budget is, you can definitely make your  D Day a trendy one. You can order props or other wedding décor items easily either online or from the local market and use them as per the trend.
For more ideas like a playlist for sangeet you can read our other article read next article: Trending Wedding Songs