Want to make this year's birthday celebration special, for your loved ones? Then, here sharing the trending ways to wish birthday. and give them joyful memories that they will remember forever.
You know that just happy birthday wishes expressed verbally or via text messages is not enough, there are many other ways that you can make someone feel special on this unique day of their life.
Birthday is the best occasion to show how much you care for that person and what they mean to you. Definitely, the best birthday wishes, said with pure heart, are above everything. But, you can tweak your approach with some trending plus creative ways to say happy birthday wishes and celebrate the best day of their life, fairly.
Trending Ways to Wish Birthday and Make it Memorable.
1. Celebration at the perfect time. 
If you really want someone to feel special and appreciated then this one is a traditional yet trending approach to wish happy birthday. Whether it's the birthday of your parents or best friend's, you surprise them by wishing them as the clock hits 12 and with cake cutting celebrations, of course.
Indeed, it is the best way to feel the person that there's someone who cares for them and loves them. 
2. Surprise birthday party.
Let your birthday person realize that you don't know tomorrow is their birthday. Let them feel concerned over no one remembering their birthday. Behind the scenes, get the help of common friends and involve their family members, too.
Decorate their room, keep everything secret till the last time. Then, throw a surprise party and wish at the perfect time.  
3. Birthday celebration at the workplace.
If you want to celebrate the birthday of your colleagues, team member, manager, or boss, then here is the best thing you can do. First know, what is the routine time they come to the office and reach the office earlier than that.
The idea is to decorate their cabin, desk with ribbon, happy birthday notes, and special gifts. Share your best wishes on their birthday, write personalized notes and gifts something they need. 
4. Write a handwritten birthday wishes and messages.
Nothing beats the gifts and messages that are given with the personal touch. Whether you want to write a birthday poem for your parents or share a funny birthday wish for your best friend, handwritten notes are something that makes long-lasting memories for sure.
Bring some notes or special birthday cards and write down your best wishes. Pass it along with the gifts you bring for them. Your funny birthday approach will certainly bring a big smile on their face.
Also read: Trending Cakes for a Memorable Birthday Celebration
5. Surprise them with your presence.
Are you staying away from your parents or in a long-distance relationship? Then, this makes the best ways to wish happy birthday to your loved ones. Here you need to plan everything in advance. Count your travel time and set the whole arrangement so that you can reach them at the right time.
Make a surprise visit to your parents or loved ones on their birthday and amaze them with your presence and special gifts, as well. Show your parents or loves ones, that you know your responsibility towards family, too. 
6. Dedicate the full post with a birthday message and wishes.
If you want to feel them a special one, then create an entire social media post and share it on your wall. Create a picture and use stickers to make this photo creative. Share a gracefully written message along, informing how a person means to you.
Wishing a happy birthday with a public post like this, shows you are proud of having this person in your life. Moreover, tag your common friend as well. Moreover, there are many creative ways to say happy birthday, so make sure to come up with own idea and simply amaze them.
7. Birthday gifts, Don't forget that.
A birthday, without gifts, is indeed looking blank. These are the most common ways to wish birthday. You really need to give them something helpful and surprising, on this special occasion. But, first, notice their choice and interest. Get the gifts ideas, from their past behaviors.
Learn about their present needs and personal interests. Your gifts have to be personalized and meaningful, after all. Always do some research before buying anything as birthday gifts. Also, gift them something, they really need or can benefit from. 
Also read: How to avoid stress while organizing kid's birthday
8. Set the virtual birthday party.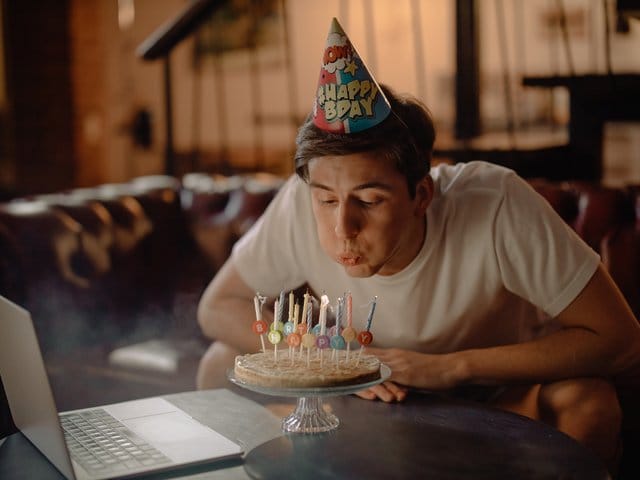 Knowing the importance of social distancing we need to follow in the present situation, here is the unique way to wish birthday online to your special ones. Don't let lockdown or quarantine season stop you from celebrating this special day of your person's life. There are many ways to celebrate birthdays in lockdown while staying at home.
Set up a virtual party just like you are making video calls and meetings in the present time. Arrange an online meeting, play games, share personalized birthday messages, sing songs, and celebrate anyways. Do everything virtually to make this celebration special, together. Make this year's birthday bashes, creative memories instead. 
Also read: Best Birthday Gifts for Guys
9. Celebrate your birthday in a special way.
If you want to celebrate your kid's birthday in a unique way and want to share some positive messages with them then here's the kind approach. Bring your kids to old age homes and orphan homes, let them learn how to support who really need it.
Celebrate their birthday by letting them do charity work on their own. Train them with positive vibes and feelings. Let your kids make a positive promise on birthday and create daily habits through which they start thinking of others as well. And, start that from their birthday. 
10. Create the picture collage and rewind all memories. 
Simply wishing for birthday and giving gifts is not enough, especially when that person is too special in your life. How about giving something that they will never forget anyway? Talking about, creating a collage of all the best pictures that you both took together.
This creative approach of wishing happy birthday may look too over. But all worth it for that Best person of your life, Isn't it? Experiments with some creative ways to say happy birthday, ensure to make this special day a unique one indeed. 
11. Sing songs, Play games, etc. Keep the party ON.
Don't just leave your friend after giving gifts and sharing birthday wishes. It's a perfect time for the party games, and to make this day exceptional. All friends together sing a song in a funny way, no matter how bad any of you sing. Play some party games and create some fun memories to rewind. Keep the creative games rolling and have your birthday boy entertained this entire day. 
Final thoughts:
Of course, this digital age does not let you miss anyone's birthday. But that doesn't mean that celebrating the birthday together with a special person is old-fashioned. It is still the best approach to follow on this special day. Simply texting a happy birthday wishes and sending a formatted message, still carries no personal feeling indeed.  
Be innovative and have some trending ways to wish happy birthday to someone you love. Don't let this birthday time slip away anyhow, even follow your unique ways to wish birthday. Because, a special day like this, also gives you a chance to feel that someone, How much they're mean to you. 
Hope this article helps you there to make your special ones' birthdays exceptional. More, if you have celebrated birthdays in a very unique way earlier, then let us know in the comment section below. We are just curious to know.