Jewelry makes a beautiful present. It can take its place in almost any wardrobe, no matter the event, and come in the form of a luxurious necklace reserved for once-in-a-lifetime occasions or a sophisticated pair of hoops for you to put on daily.
When you think about buying a jewelry item for your loved one during the holidays or Valentine's Day, you can be assured that they will hold it dear for the rest of their life and consider it a token of your endless love and dedication.
If you need clarification about the various choices available, this article will help you in your decision as it lists some of the most trending jewelry gift ideas.
1. Diamond Jewelry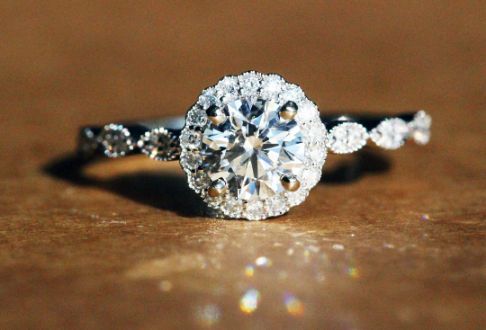 Diamonds make the perfect present for the woman in your life, especially on Valentine's Day. Known as a girl's best friend, a diamond-encrusted jewelry piece is an obvious choice as a present to honor your love as it will stand for enduring respect and faithfulness between the two of you.
2. Customized Stainless Steel Engraved Couple Link Bracelets
If your partner likes to dress subtly without giving her outfit a pink or flashy touch, matching engraved bracelets can be a thoughtful gift. You can engrave your name or romantic words on the matching bracelet set, usually constructed of stainless steel.
A personalized gift is the best way to show your care. It demonstrates that you thought carefully about what your partner would enjoy wearing.
3. Charm Bracelets
A charm bracelet, worn over the years, employs beautiful jewelry charms to narrate her life's journey. You might include thoughts about your first home together, dates from anniversaries, or pictures of your pets. They are more than jewelry items; they are an experience.
4. Lab-Created Diamond Solitaire Necklace
Jewelry adorned with lab-grown diamonds is ideal for people who are conscious about the environment and want to be sure about the origin of everything they wear. Besides, since the optical, chemical, and physical characteristics of naturally occurring and lab-created diamonds are identical, you won't be required to compromise on quality or sparkle.
A stunning women's solitaire pendant necklace featuring a round, brilliant lab-created diamond hanging gracefully will be a great choice.
5. Chandelier Earrings
Chandelier earrings are expected to be among the most popular jewelry items because they are highly adaptable and versatile. You may find them in any size, shape, style, or price range.
These gorgeous earrings typically serve as the centerpiece of an ensemble, so you won't need much additional jewelry to complete them.
6. Love Knot Jewelry
Knot jewelry represents your love in the most robust manner possible. Also known as a lover's knot, it carries a long history as a sign of love and is intended to symbolize the enduring connection and unbreakable link between two lovers.
With a piece of love knot jewelry, especially love knot earrings, given their popularity, you can celebrate your unbreakable connection and make enduring memories.
Also read: Trending Hairstyles for Women
7. Pave Diamond Jewelry
Simple diamond stud earrings are a must-have for every lady because they go from casual to glamorous with ease and complement almost anything. Beautiful earrings featuring as little as a 10-karat gold setting with a simple yet elegant pavé pattern highlighting the brilliant diamonds will make a stunning combination.
8. Gemstone Jewelry
Gemstones are renowned for their brilliant hues and exquisite beauty. They are also believed to possess several therapeutic properties and positive energies, making them popular worldwide. Some are even said to promote loyalty, wholesome relationships, and love.
Christmas and Valentine's Day are the most suitable occasions to give your relationship the energy it needs. A striking piece of gemstone jewelry will do the job perfectly.
9. Heart Jewelry
A lovely piece of jewelry in the shape of a heart will convey the most important message to your partner: she has your heart and every bit of your attention.
Heart jewelry comes in many styles—open to close—and can be put on daily to symbolize your affection. You can choose a heart necklace in traditional gold or glam it up with diamond accents.
Also read: Trending Summer Dresses Ideas
10. Tanzanite Jewelry
It is common for couples to choose jewelry that can both look beautiful and be an investment in their future. The gemstone of preference in this regard would be tanzanite. Tanzania is the only place where you may find the lovely purple gem, which is believed to be in short supply and likely to run out in roughly ten years.
This means that if you buy one today, you will end up having a unique jewelry piece. Besides, when the exquisite stone can no longer be mined, you will feel particularly proud of your tanzanite ring or necklace.