By attending the right online courses of your choice you can advance your knowledge plus up-rank your professional skill, successfully. Such trending free online courses and learning platforms are worth following if the available resources match your interest, also updates you about the recent trends in the market.
From popular international institutions to free online learning websites, there are many trending online courses that passionate learners don't want to miss, at any cost. 
So if you are planning to make the best use of free time during a lockdown or want to invest your free time right with some professional course then here is the list of popular free online courses, for you. 
List of The Best Free Online Courses with Certificates
1. Data Science: Machine Learning (By Harvard)
The course consists of various important topics from popular machine learning algorithms, principal component analysis to regularization and concepts. This course from Harvard aims to educate you about training data, and a better way to use the data set to explore predictive connections. Plus, it gives better insights on how to understand the algorithms via training datasets to make the right prediction of results. The course is entirely designed and structured with the fundamental techniques to get better insights into machine learning. 
What will you learn:
Machine learning: The basics

How to perform cross-validation to avoid overtraining

Explanation to popular machine learning algorithms

Approach to build a recommendation system

Regularization and its importance
Course details:
Duration: 8 weeks

Subject: Computer science

Difficulty: Introductory

Available on: edX

Price: Free
Enroll for this course here: Data Science: Machine Learning
2. IT Automation with Python Professional Certificate (By Google)
With this introductory-level professional certification course by Google, you have a chance to advance your career in the IT field. This free online course with a six-course certificate allows you to learn Python, Git, and IT automation like high demands skills from a single place. From learning how to code to automate the solutions, this course has everything that supports you to level-up your knowledge and so a career in IT. The course also contains detailed info on how to use Git, GitHub, troubleshooting, configuration management, and cloud systems. 
What will you learn:
How to automate tasks via Python script writing

Learn how to use Git and GitHub

Explanation on how to manage IT resources at scale

Figure out the real-world IT problems and the right approach to follow along

Also learn, troubleshooting & debugging
Course details:
Duration: 6 months

Designed for: IT Professionals

Difficulty: Introductory

Available on: Coursera

Price: Free
Enroll for this course here:  IT Automation with Python Professional Certificate 
3. Successful Negotiation: Essential Strategies and Skills (By University of Michigan)
No matter which career or profession you choose, negotiation skills are one of the most important skills so far. From personal life to professional level, we often have to negotiate with many people in our routine life. This free online course from the University of Michigan aims at improving your negotiation skills which makes a better opportunity to develop very important skills required for personal and professional growth. 
What will you learn:
Key stages of negotiation

Process and planning of successful negotiation

Important Strategies and tactics 

Approach to create a contract

Practicing your negotiation skills
Course details:
Duration: 17 Hours

Designed for: Any Professionals

Difficulty: Introductory

Available on: Coursera

Price: Free
Enroll for this course here:  Successful Negotiations: Course
4. Project Management Foundations: Risk (By LinkedIn)
Project management is of course by far the most important skills that are expected to be attained by most professionals. From achieving the desired goals to minimize the risk in the process, the role of project manager demands multiple skills and decision-making ability. Available on LinkedIn learning, in this course, a tutor Bob McGannon teaches how to manage and minimize risk in the project management area. It also includes various techniques and strategies for successfully managing risk and creating a better response plan to keep your project in the budget and tracked, as possible. 
What will you learn:
Understanding risk and opportunities

Risk identification methods and Categorization

Risk analysis: Quantitative and Qualitative

Agile risk management

Risk management toolkit
Course details:
Subject: Project management

Designed for: Any Professionals

Difficulty: Intermediate

Available on: LinkedIn Learning

Price: Free
Enroll for this course here: Project Management Foundations: Risk
5. The Free MBA (By Quantic School of Business and Technology)
If you want to pursue an MBA online for free, then this course is the one that you can take advantage of. Supported by expert professionals and as a revolutionary course, this course makes the best option for those who want to do MBA , through online distance learning. The course is designed with collaborative case studies and group projects, which also cover the major areas of business management. Overall, this course consists of every topic and discussion that are usually available in the regular professional courses. Specially designed for entry-level, this online course gives more insights on business management and entrepreneurial skills to upgrade your career.
What will you learn:
Fundamentals of managerial accounting

Micro and Macro: Economics

Making data-driven decisions

Organizational Behaviors

Finance and Marketing Fundamentals

Supply chain management

Business strategies

Entrepreneurship
Course details:
Duration: 11 months

Designed for: Beginner, Students

Difficulty: Introductory

Available on: Quantic

Price: Free
Enroll for this course here: The Free MBA Course
Read next: Top 10 Tips for Teaching Remotely
Best Websites to Find the Free Online Courses
If you are searching for a specific platform for trending online courses, then here is the list for you. Suggesting the top five free online learning platforms that helps you to achieve your online learning goal, successfully. Refer to these sites, find the best courses of your subject areas, and start learning, as these are all free. 
1. Udemy Free Online Courses
Udemy is the most popular online learning platform and is like a home for the courses on almost every high in-demand skill. You can find the courses of your interests which are categorized into, Development, IT & Software, Business, Lifestyle, Music and many more. Apart from paid courses, they also offer some free courses which you can choose from. This platform is very user-friendly and makes learning very easy as it should.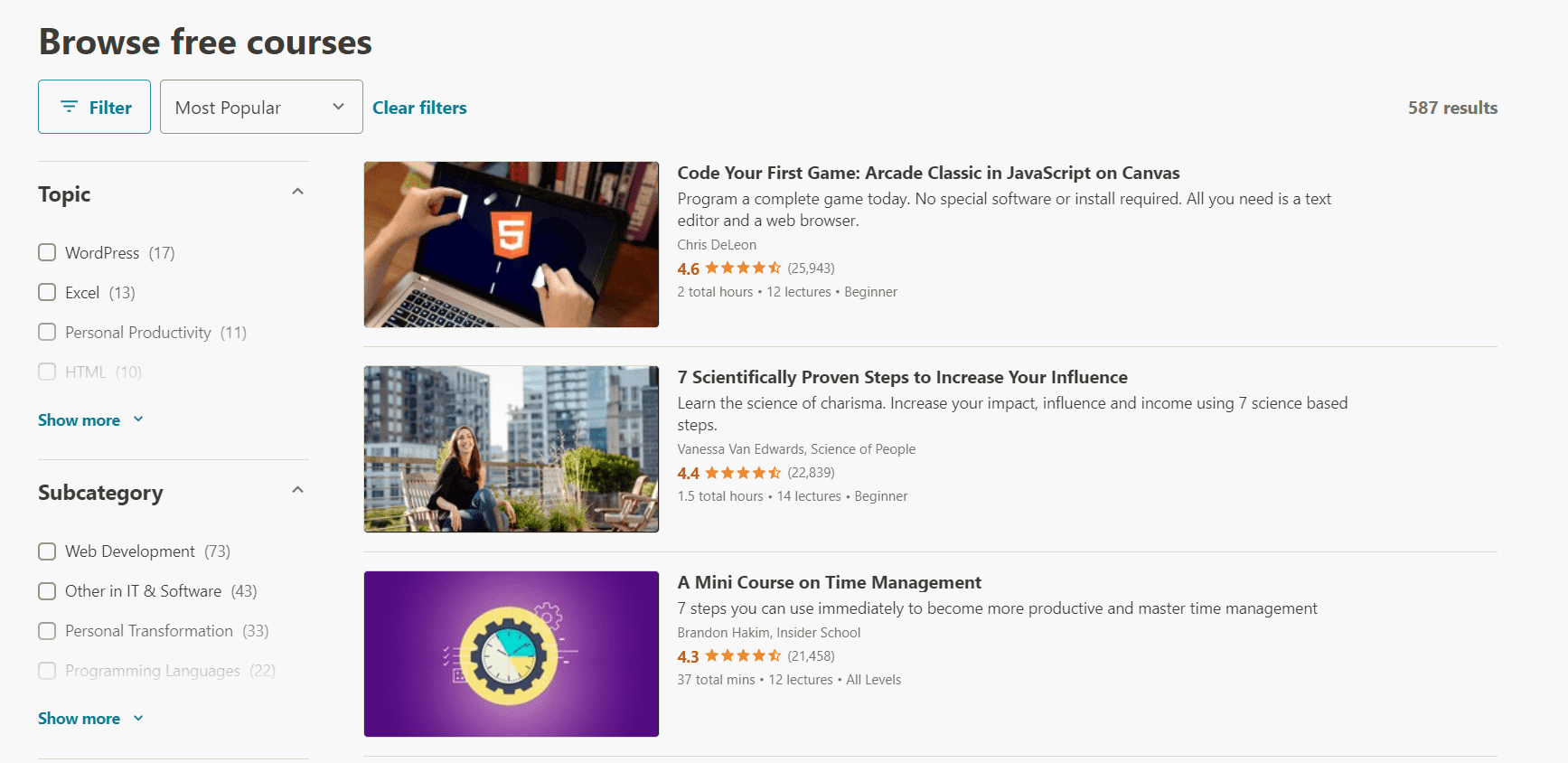 Some of the free courses that are available on udemy:
Photography Fundamentals for Beginners

Mini-course on time management

Learn Amazon services (AWS)

Qtum Introductory Course

Public speaking essentials
Presently, there are 500+ courses on udemy that are free to take. Find the course of your interest, here.
2. Harvard University
Apart from one of the best universities in the world, Harvard University also has some trending online courses that one can take from anywhere. Such courses are grouped into art  & design, business, computer science, humanities, programming, and many more. Furthermore, you can choose the courses based on their difficulty level, subject area, duration, and price (Free/paid). 
Some free online courses are available on Harward.
CS50: Introduction to Computer Science

Introduction to Digital Humanities

Fundamentals of Neuroscience

Contract Law: From Trust to Promise to Contract

Entrepreneurship in Emerging Economies
At present, Harvard University offers 100+ free online courses, which you can find here. 
3. LinkedIn Learning
Not limited to social media for professionals, Linkedin's subsidiary site 'Linkedin Learning' is the best platform for online learning, especially for passionate learners. This site offers courses on trending topics and areas, which are taught by professional and subject experts. On this platform, you can find the paid as well as a free course of your interest. All courses are categories into three sections: business, creative, and technology. Each section gives you more access to the relevant area and particular topic areas. Each course is available with professional certificates, which further can be attained by beginners, intermediates, and experienced professionals. 
Some free online courses are available on LinkedIn Learning.
Learning Data analytics

Writing in plain English

Learning Django

Sales foundations

Machine learning and AI Foundations
Check out the detailed free courses on Linkedin learning here.
4. Google Digital Unlocked
With the aim to spread digital marketing awareness and to support startups &  small businesses to make smart use of online platforms, Digital unlocked is the best online learning resource. Especially focusing on creating an effective online presence and following the right approach to promote business and services online, this course is idle for the one who wants to get more insights into digital marketing. Whether you have a plan to advance your career in the digital marketing field or to apply such skills to invest in your business, this online resource you want to refer to.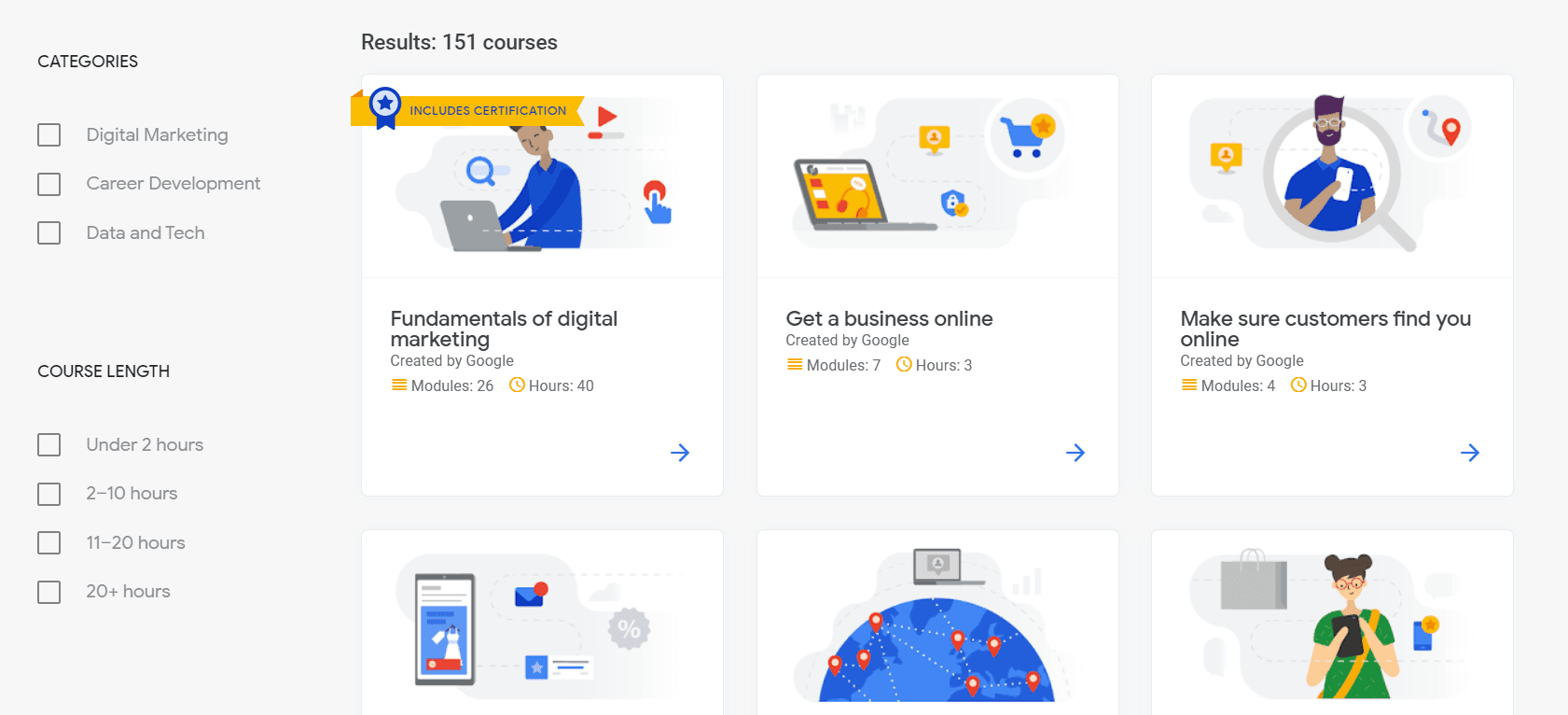 Some free online courses are available on Digital unlocked.
Fundamentals of digital marketing

Understand the basics of code

Effective networking

Intro to digital wellbeing

Learn analytics (6 free online courses with certificates)

Google Ads Certifications (6 Free courses with certifications)
If you want to start from the fundamental courses then start learning from here. 
5.  HubSpot Academy
Hubspot academy makes the best place online, for those who want to get more insights into inbound marketing, sales, and online advertising strategies. There is a wide list of courses that ranges from marketing, sales, website design, and development to data privacy. Moreover, the learning resources are available in the form of courses, ebooks, and online tutorials. From singular topic courses to in-depth case studies, these are the contentful resources to advance your career or to grow your business by learning essential skills. 
Some free online courses are available on HubSpot Academy.
Inbound marketing

Digital advertising

Growth-driven design

Youtube marketing course

Introduction to Ecommerce marketing
Get access to valuable tutorials and free trending courses on the entire Hubspot academy from here.
Read next: 29 Trending Business Ideas To Look For in 2021
Final thoughts
In this fast-paced work environment, building your unique image is the only way to survive. By developing essential skills plus updating your expertise, you can successfully keep yourself apart from the crowd. 
Simply learning and having a degree is not enough in 2021, you better stay updated with the constant learning and recent knowledge of the industry. Such online education platforms are the best option, for the same. 
With this list of trending free online courses with certificates, we hope you get an idea of some trending courses in the market. Similarly, the listed online learning platforms for free online courses give you access to the best resources according to your interests and preferred subject. 
Stay tuned with us, as we will keep updating this course list with the fresh and trending online courses that might advance you in your career.