Thinking of buying a new Apple Watch band but have no idea which one to choose?  No worries. In this article, you will find the latest and trending watch bands for your Apple Watch that you definitely want to take a look at before buying it randomly. 
Apple watch bands come in all shapes, sizes and styles because of countless options in front of you, the decision to choose the right one becomes troublesome, doesn't it? 
Instead of just looking at the style, you also want to check which Apple iWatch bands are trending and popular right now. So further in the post, you will find the best apple watch bands that are stylish, trending, and comfortable for everyday wear. 
Trending Apple Watch Straps to Step Up Your Fashion Game
1. Sports band for Apple Watch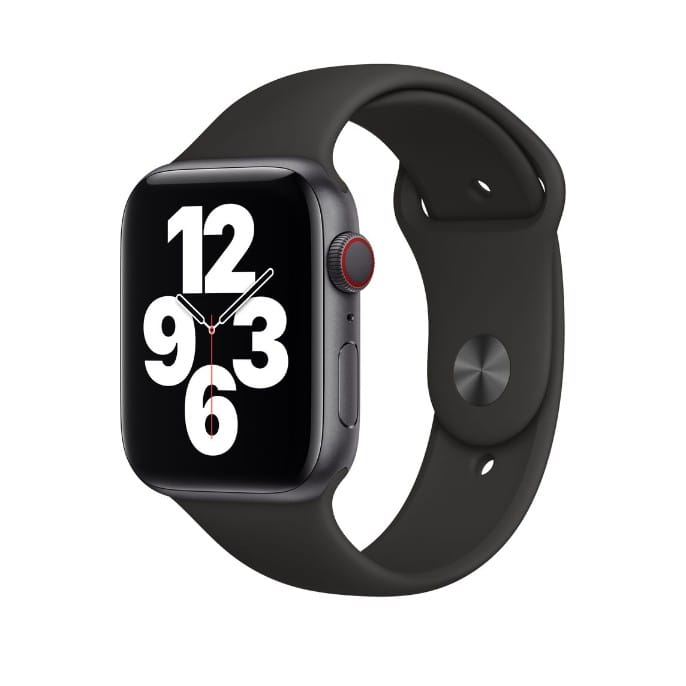 If you are a fitness freak and sports is your passion, you probably may be looking for watch bands that are comfortable, reliable and sweat-proof.
So, if you are planning to wear a watch band during most of your fitness and exercise routine, it's better to consider adjustable and suitable bands. 
Such bands specially designed for intense workouts will give you a sporty look and keep you going while following your exercise routine. 
2. Braided Solo Loop Strap for Apple Watch
Out of every smartwatch band, if comfort is your top priority, this band is the one for you. 
This band is quite expensive compared to the other options, but it provides comfort while wearing it. Moreover, this band may look small at first sight, and it fits your wrist like magic. 
Made with reliable material and aim to provide full comfort, the Braided solo loop is the trending Apple watch band that you want to try at least for once. 
Also read: Trending Songs on Apple Music for Every Mood
3. Magnetic Milanese Loop Band for Apple Watch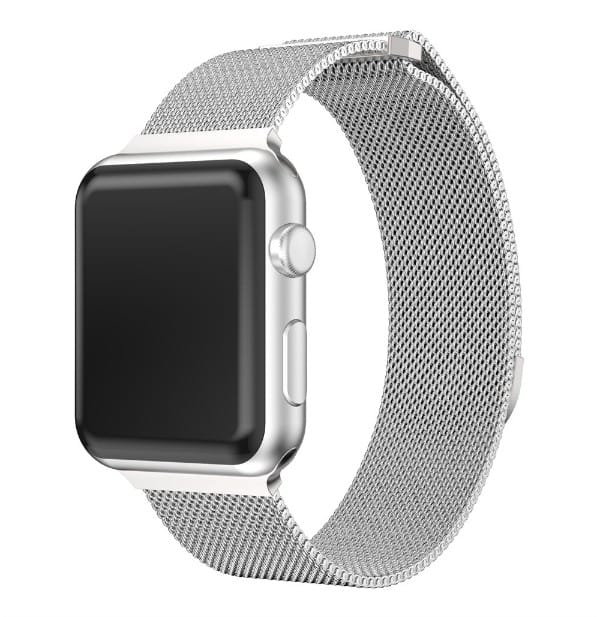 Magnetic Milanese Loop has been popular for a very long time. Plus, this band is one of the most elegant watch bands in the market. 
The magnetic design is the great feature that makes this band standalone. Moreover, if you want to give an upscale look to your apple watch, this one is the perfect designed band you can go with. 
It is easy to apply and easy to remove, and this band is the perfect fit further due to its ability to adjust and provide a comfy look. 
4. Stainless Steel iWatch Bands 
When it comes to watch bands, you can't ignore the stainless steel bands. 
Stainless steel provides cool, comfortable and reliable bands that further give extra security to the smartwatch. If you are looking for watch bands for regular wear or business purposes, stainless steel bands are the ones you try next. 
Overall, such bands made with the premium quality steel, fit your wris,t and you can adjust them quite easily. 
5. Leather Bands for Apple Watch 38-44mm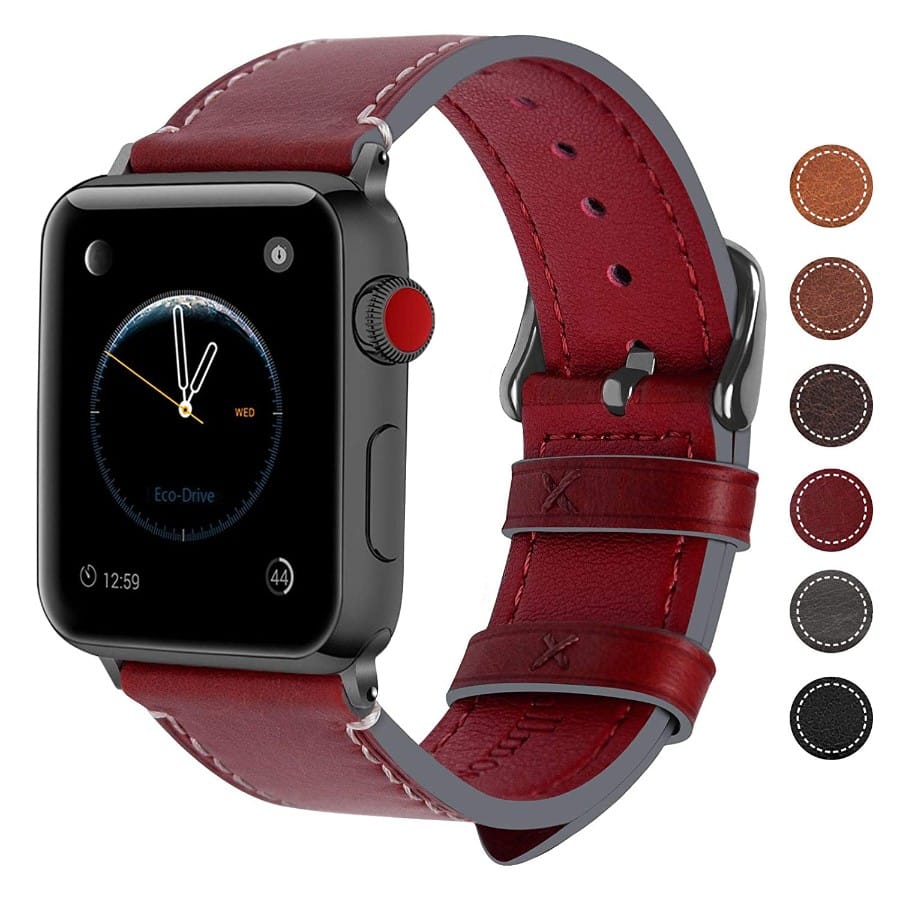 Leather bands are everywhere, but when you talk about the bands for apple watches particularly, they add a perfect classy look to it. 
If you think of bands for routine usage or office or weekend hangouts, a leather band for the apple watch could be a great fit. Furthermore, made with premium quality leather, such bands are very comfortable and feel relaxing on your skin. 
If you want to add a stylish element to your apple watch, leather bands are the one you the better option right away. 
6. Soft Silicone Apple Watch Bands
If you are looking for the ultimate comfort while wearing the stylish apple watch, you consider having the Soft silicon brands. 
They are soft, comfortable and overall effortless to wear or remove. Made with a high-quality silicone strap, they are soft yet durable and makes the perfect choice for routine wear. 
The reliable material further adds great comfort to your wrist, plus are the trending watch bands to wear anywhere for a stylish look.
Also read: Trending Apple TV Shows To Add to Your Watchlist Now
Trending Apple Watch Bands for Men
Next, if your goal is to gift a unique watch band for him on the upcoming special day or buy the one for yourself, you want to refer to this list of trending watch bands for men that we are about to share with you next. 
7. Rugged Armor Pro Watch Band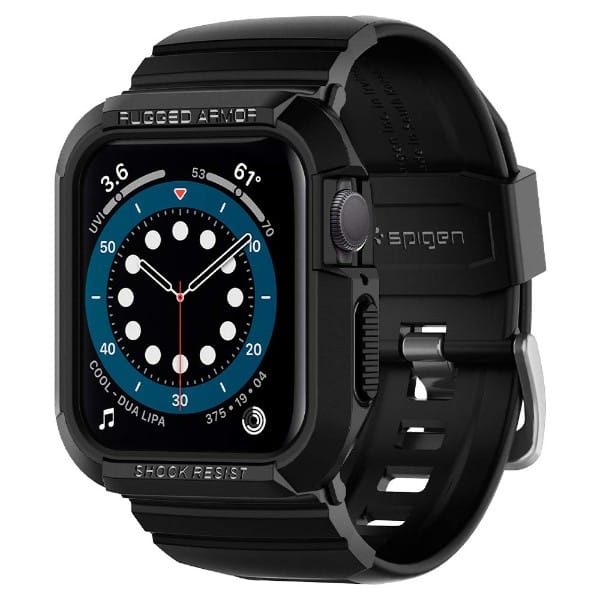 For someone looking for tough and stylish looking watch bands, this one is the one.
Designed to give the study look and durability, this apple watch band gives a masculine look. Furthermore, the band is rigid enough to protect your watch screen from direct scratches and dust. 
8. Brown Leather Modern Apple Watch Strap
This Nomad's brown leather modern strap is popular trending due to its classic and bold look. 
Made with premium quality leather, this band is well designed and provides great comfort while wearing the apple watch. The brand 'Nomad' is well-known for its top-class accessories with the best quality material, which indeed suits well on the Apple watches. 
9. Carterjett Compatible Apple Watch Band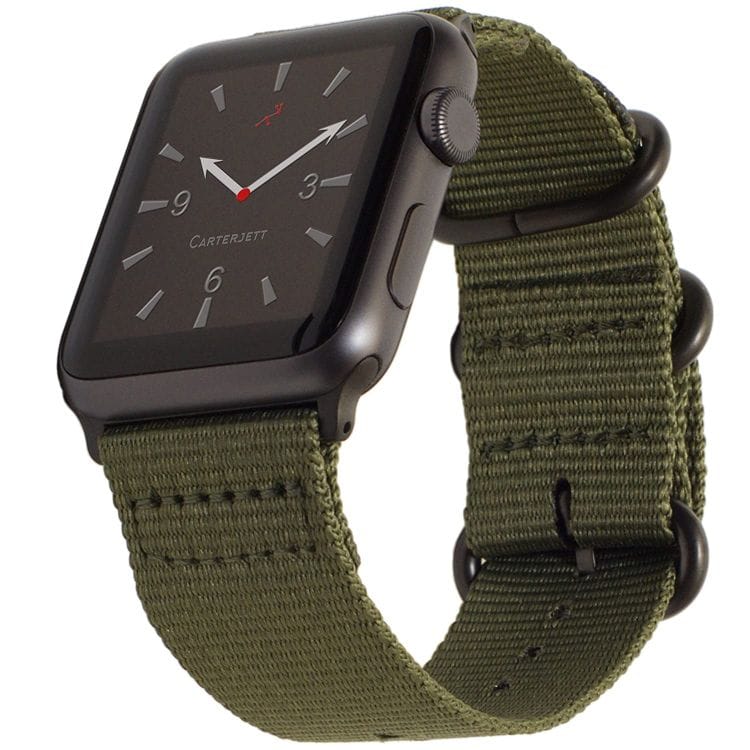 In order to provide extra flexibility and durability, Carterjett's watch brand is comfortable and lightweight overall. Plus, this band is easy to wear and kind of waterproof, which keeps your watch protected. 
For the active lifestyle and especially for the outdoor purpose, this watch band is the right choice for guys. The best color and well-designed band with the right furnishings ensure to give a stylish look to your personality. 
Also read: Trending Workout Accessories to Add in Workout Regime
Trending Apple Watch Bands for Women
Now presenting some of the trending watch bands that are soft, durable, flexible, and stylish. Such bands are quite popular and in trend right now due to their unique design and top quality. 
If you think of updating your apple watch bands here are the trending bags that ensure to match your personality the best way. 
10. Scrunchie Band for Apple iWatch
Made with cotton, polyester, and stainless steel, this band is specially designed for women to fit their wrists. Plus, this makes the perfect accessory to wear with style. 
Easily compatible with the apple watches, this band is also available in a variety of classic options to choose from. Overall, fit with women's wrist, and this band adds an extra star to your personality with its girly look and design work. 
11. Beaded Bracelet Apple Watch Band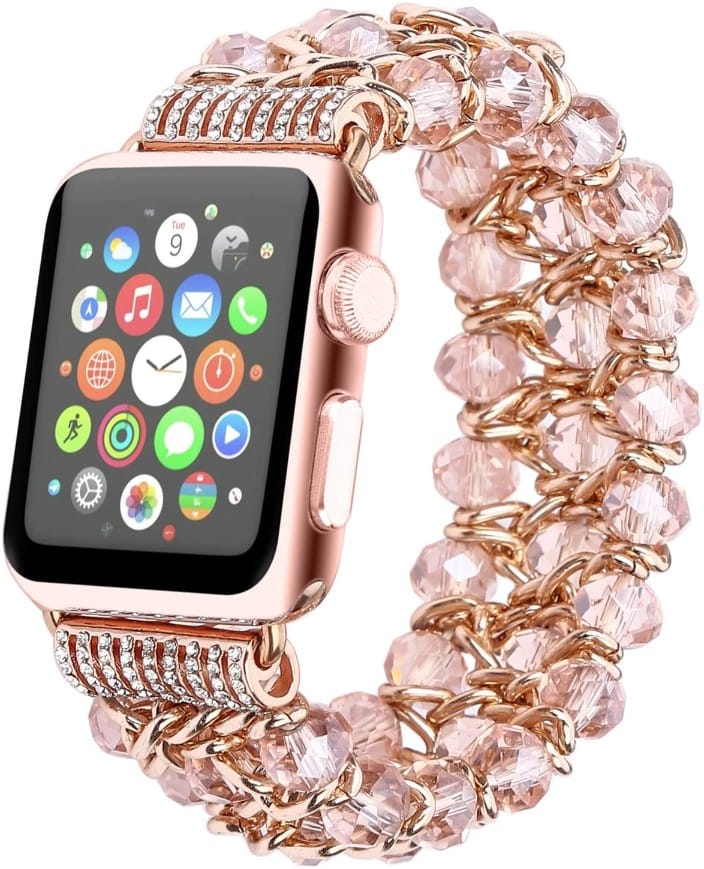 This bracelet band is the right choice for the girls who need to show off an apple watch as other accessories. 
Compatible with most Apple watches, these stylish bands are for the big or small-sized wrist, easy to wear and comfortable. Made with high-quality material, these bands are durable and good for the skin. 
Overall, this watch band can be a memorable gift for her, for any special occasion. 
12. Bolt Diamond Rhinestone Band for Apple Watch (Any Series)
Inspired by the jewellry design, this band is more likely to provide an elegant look to your style. 
With a slim and sleek design, this band feels like wearing a bracelet with heavy designs. From the party eve to special occasions this band is the best choice for the apple watch. 
On top of that, this apple band is adjustable, so you can wear it comfortably anywhere you go. 
Also read: Trending Apple Watch Faces Must Try
Why should you consider buying Apple watch bands ONLY?
There are several reasons why you should only use Apple-branded watch bands, besides comfort. First of all, they are from Apple itself and are compatible with the relevant watches precisely without any compromises. 
The perfect watch band provides a unique experience when you wear it because you can feel comfortable wearing it and it is quite easy to perform activities. Whichever apple strap you prefer, stainless steel or soft-silicon, it's always a good idea to choose one that fits well with your lifestyle and daily routine. 
Some work better for those who want a professional look, while others are better suited for sports lovers. Moreover, the right band can provide accurate heart rate information or steps taken.
Whether you play sports with friends or give presentations at the office, go for an Apple watch band that makes you shine like you always wanted to. 
Final thoughts: 
Let us know what you think of this post? 
Do you have anything to suggest to us? Make sure to let us know in the comment below? For more trending apple watch bands designs for him or her, stay tuned with us.