PDF editors have become an essential tool for every industry worldwide, from medical to corporate, education institutes, and every other business worldwide. The features such as editing and viewing PDF documents on dedicated software allow users to manage their PDF documents efficiently.
In this article, we will discuss the top 5 best PDF editors you can consider to increase the productivity of your business to the next level.
Top 5 Best Productive PDF Editors for Mac, iOS, Android, and iPhone
Mentioned below are 5 of the best PDF editors available in the market that guarantee your business's elevation with its unmatched perks.
PDF Editor
Compatibility
Key Features
Price
1. UPDF
Windows, Mac, Android, iOS
l  Read and Annotate PDF

l  Edit text and image on PDF,

l  Convert, Protect and Organize PDF

Annual Plan: $29.99

Perpetual Plan: $49.99

2. Adobe Acrobat
Windows, Mac, Android, iOS, Online
l  Comprehensive Editing Feature

l  Robust Sharing Feature

l  Effortless File Conversion

Annual Plan: $239.88

3.Foxit PDF Pro
Windows, Mac, Android, iOS
l  Live Collaboration

l  Export File to Various Formats

l  Smart Redaction Feature

PDF Editor Pro +12: $149

PDF Editor Pro 12: $99

PDF Editor 12: $79

4.Nitro PDF Pro
Windows, Mac, iPhone, iPad
l  Beginner-Friendly PDF

l  Rich PDF Management Features

l  Custom Document Settings

Nitro PDF Pro: $107.99 (Windows)

Nitro PDF Pro Essentials: $65 (Mac)

Nitro PDF Pro: $90 (Mac)

5.PDF Expert
MacBook, iPhone, iPad
l  Add Image in a PDF Document

l  Effortlessly Fill PDF Forms

l  Robust OCR Feature

Yearly: $79.99

Lifetime: $139.99
1. UPDF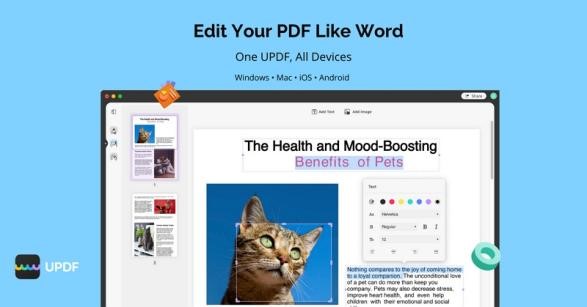 UPDF is a premium PDF editing solution with an impressive user interface and fast processing, which offers a robust solution to manage PDF documents effortlessly. It offers a complete solution from basic to premium features, making it an ideal choice for large businesses and students.
Key Features
Read and Annotate PDF: UPDF allows users to read PDF documents in various mode options, and a dark mode for reading PDF documents is also available. Besides this, the annotation feature covers all the aspects, as users can add comments, underline or highlight text, and add signatures and shapes to their PDF documents.
Edit PDF: Users can easily edit text and images in a PDF document using the UPDF editing tool. The text editing tool allows users to add text and links to a PDF document, and the edit images feature allows users to rotate, crop, extract and replace an image in a PDF document.
Convert PDF with OCR: UPDF also offers the feature to convert scanned PDF documents or text into an editable and searchable output format with the OCR feature. Following simple steps, the process can convert PDF documents of any language into an editable one.
Protect PDF: Users can protect and secure their PDF documents by using the security feature offered by UPDF. It offers the option to add "Open Password" or "Permission Password" so that an authorized person can only access documents.
Organize PDF: UPDF provides the feature to organize pages of large PDF documents. Users can add, rotate, delete, reorder, extract, and split one or multiple pages of PDF documents by following a simple method.
Pros
UPDF offers a modern and easy-to-use interface that a person can operate from every background.
It is a compatible solution that operates on all the devices such as Android, iPhone, Mac, and Windows.
It offers affordable packages that small-scale businesses and students can afford.
2. Adobe Acrobat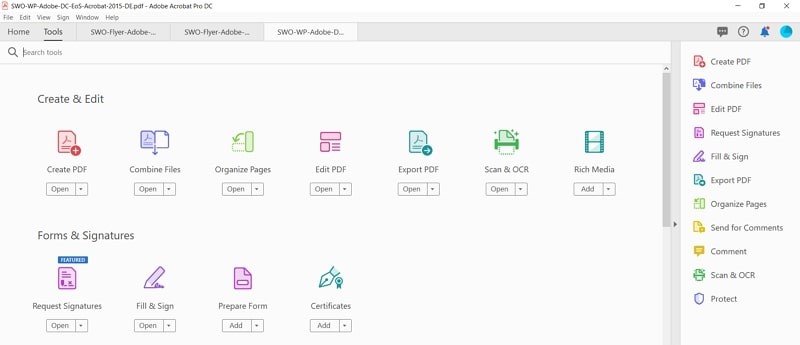 Adobe Acrobat is a renowned PDF editor with a stunning list of features it offers users to edit PDF documents without hassle. Acrobat allows users to create and edit PDF documents easily; various editors can work on a file and collaborate from around the world, which manages the workflow.
Key Features
Comprehensive Editing Feature: Acrobat offers a comprehensive editing solution in which users can edit, add comments, compress large files, and can combine multiple PDF documents into one.
Robust Sharing Feature: The feature of sharing a PDF document with other team members allows users to increase work efficiency as different users can fill and edit a document at a time.
Effortless File Conversion: Adobe Acrobat allows users to convert a PDF file into many other formats, such as Word, PPT, Excel, JPG, and HTML.
Pros
Acrobat also offers advanced and premium features such as the OCR feature, which converts a scanned PDF document into an editable file, and the encryption feature.
Users can send signature requests, request to fill PDF documents, or can also create a fillable form from around the world using the e-signature feature.
Con
Adobe Acrobat offers expensive monthly plans that students and small businesses cannot afford.
3. Foxit PDF Pro
Foxit PDF Pro offers a powerful PDF editing solution for businesses that are required to edit and redact PDF documents regularly. It offers an easy edit solution that works like a Word file, where users can edit text, modify text size and fonts, and add multimedia files.
Key Features
Live Collaboration: Foxit PDF editors allows users to use the feature of live collaboration in which a PDF document can be edited online to increase productivity.
Export File to Various Formats: Users can export a PDF document into popular PDF formats by using the Foxit PDF export feature.
Smart Redaction Feature: Foxit PDF offers a smart redaction tool using which you can blackout confidential information in a PDF document while reviewing your PDF file.
Pros
Foxit PDF offers a clean, simple, and easy-to-understand and navigates interface and displays all the features in a category.
Foxit PDF also offers a quick access tool, making it easier for an occasional PDF editor to operate the software without any guide.
Con
Foxit PDF Pro cannot convert PDF documents into e-Pubs for free users.
4. Nitro PDF Pro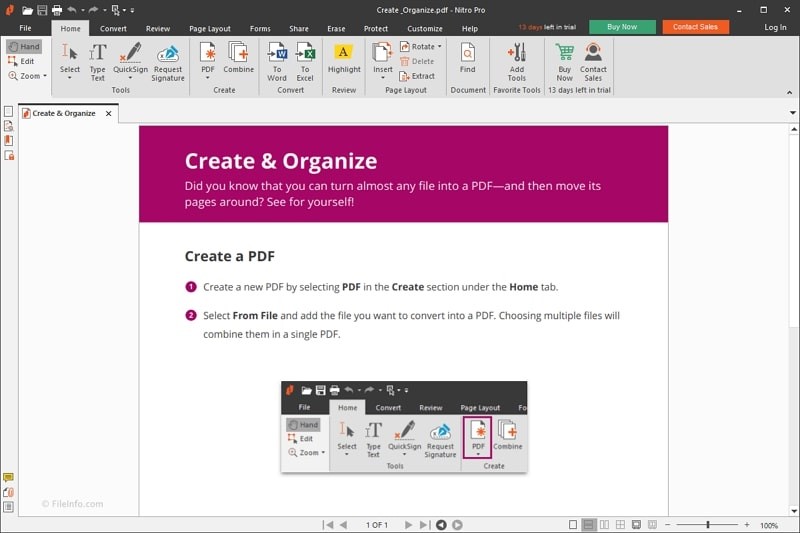 Nitro is an innovative and powerful PDF editor that transforms your business's approach into a productive workflow daily, ensuring the smooth workflow of work. Nitro PDF Pro helps you manage your business documents on the go and helps you slide into the digital documents system effortlessly.
Key Features
Beginner-Friendly PDF: Nitro Pro is a beginner-friendly PDF editor designed to provide immediate solutions for easily managing PDF documents.
Rich PDF Management Features: Nitro PDF offers rich features such as the editing, annotation, conversion, and managing of PDF documents that are easy to operate.
Custom Document Settings: Nitro PDF editor allows users to customize certain options on their PDF documents. They can also save custom demands and settings to smoothly save a specific set of settings.
Pros
Users can easily edit any PDF document from the screen of their Apple devices, such as iPhones and iPad.
It offers a complete PDF management feature that keeps users stuck to one software for perfectly managing a PDF document from editing, conversion, and annotation to e-signature.
Con
Nitro PDF Pro doesn't offer a lot of formats when it comes to conversion.
5. PDF Expert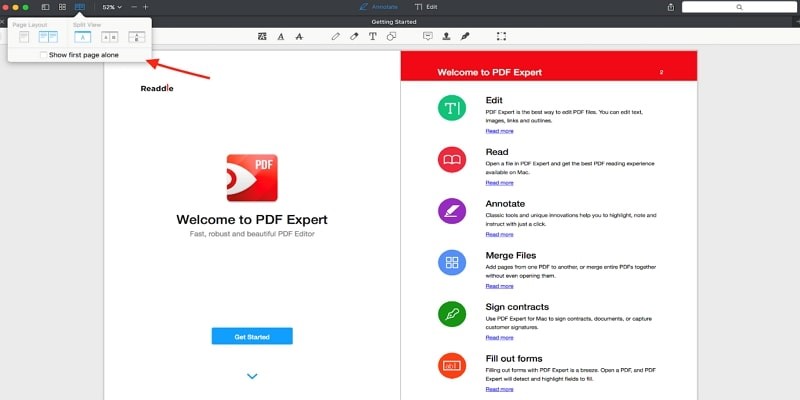 PDF Expert is a go-to solution for Mac users to manage a PDF document effectively. It offers a powerful, fast, and ready-to-use feature for Mac users that is compatible with iPhones, iPad, and MacBooks. PDF Expert offers advanced features to edit, organize, redact, view, and add electronic signatures to a PDF document.
Key Features
Add Image in a PDF Document: PDF Expert allows Mac users to easily add, resize and replace any image in your PDF document.
Effortlessly Fill PDF Forms: With PDF Expert, users can easily fill their important PDF forms, such as insurance forms, tax forms, or important university documents.
Robust OCR Feature: Scanned PDF documents or scanned text files can be converted easily into an editable format using the OCR feature offered by PDF Expert.
Pros
It offers a smooth and efficient PDF reading experience with different reading modes by adjusting the brightness and size of fonts.
PDF Expert offers a powerful and complete annotation feature that allows users to take notes, highlight important elements, add audio notes, and much more.
Con
PDF Expert is limited to Apple users, which limits the productivity it offers.
Also read: Trending Project Topics for Students
Conclusion
PDF Editor is a requirement of every business worldwide, so it is important to study the features it offers to buy plans. As discussed in the article, every PDF editor comes with its pros and cons, and from all of the mentioned PDF editors, UPDF stands out to be the best PDF editor that offers a complete set of solutions and is compatible with almost all devices and operating systems. Get started with UPDF today and enjoy a professional PDF editing experience.