Do you want to know more about health tracking software? Here is the list of the best remote patient monitoring solutions in 2021.
What is Remote Patient Monitoring Software?
Patient Monitoring Tools are solutions that help clinicians track metrics outside the hospital. Telemedicine devices measure heart rate, blood pressure, pulse rate and sleep quality. Sensors measure indicators and regularly send the data to therapists. Then the data is used to monitor the patient's health status and detect diseases at an early stage. For example, very often such devices are used for patients with central diseases. Their state of health must be carefully monitored to avoid heart attacks or strokes.
Remote Monitoring Software Benefits
To understand why remote patient monitoring software has become so popular in recent years, it is important to consider the benefits of telehealth monitoring devices.
Availability
Not all patients have the opportunity to visit a doctor regularly due to health conditions or living in remote areas. Therefore, the possibility of remote consultation is a great chance to get advice from a doctor. Also, a visit to the doctor is not always necessary, it is much easier to make a call or video conference. And after that, make an in-person appointment, if there is such a need.
Time-saving
Everyone at least once in his life has come across a problem to get an appointment with a doctor. A busy schedule at doctors and a huge workload affect the quality of the attention and treatment. With the help of remote patient monitoring tools, doctors have more time to provide emergency care. In addition, it is very common to see huge queues in hospitals and clinics. Remote health monitoring devices can reduce the number of face-to-face appointments. As a result, hospitals will have fewer queues and doctors will not have such a high workload.
Instant response
Telehealth monitoring devices have made a huge breakthrough in health care. Doctors can now monitor the condition of patients without being in the workplace. This makes it possible to react in a timely manner to the slightest deviations in critical indicators. In addition, the constant measurements made by telemedicine devices make it possible to reveal the preconditions for diseases at an early stage.
Now we will look at the best remote patient monitoring solutions. All solutions are tested and working tools that have already been implemented in a number of countries.
1. Senseonics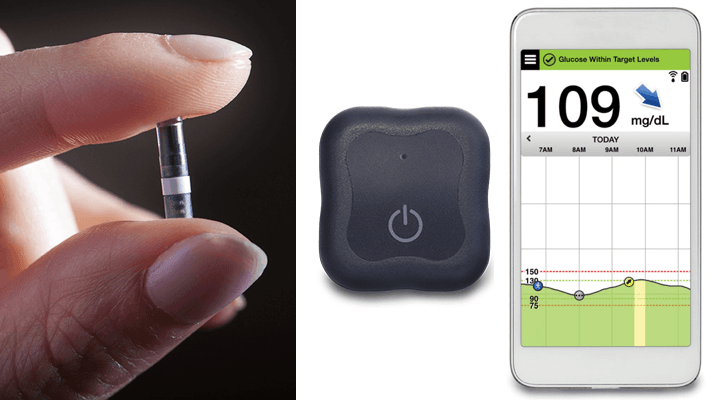 Senseonics is a US medical device company founded in 1996. The company's advanced technology focuses on the production of remote patient monitoring software. The Senseonics device is designed to track blood glucose levels. The sensor is implanted under the patient's skin during a face-to-face appointment. Then the sensor connects to the mobile application and displays information on the smartphone. The device records information about the blood glucose level and warns the patient when the readings increase. The sensor is configured in such a way that the data can be transferred to the therapist or family members. This will help them keep abreast of the patient's health status and provide immediate assistance when needed.
2. eCareCompanion by Philips
The well-known company Philips is also engaged in developments in the field of telemedicine. The company offers a powerful development for remote patient monitoring. Doctors are provided with a panel with data about patient's health. Metrics are provided by devices that the patient uses every day. For example, a user can connect their blood glucose meter to the eCareCompanion app or enter body temperature readings. Doctors get data on their dashboard along with analysis and trends. These metrics help them choose the best treatment and customize their care plan. Also, the history of the patient's illness is saved on the panel, which can also be useful in treatment.
Read next: Accounting vs Bookkeeping for Healthcare Businesses
3. Dexcom
Dexcom is an American company that specializes in the production of remote health monitoring systems. Their main focus is glucose measurements for diabetes management. Dexcom provides both software and hardware for blood glucose monitoring. The Dexcom G6 CGM is a complete system consisting of a sensor worn by the patient and a data transmitter. All metrics can be shared by a patient with 10 people, for example, a therapist and family members. With the help of a remote monitoring device, medical workers monitor the patient's blood glucose level. The data obtained can be analyzed and also show trends in health status. The doctor uses this data to change the treatment plan and intervene in a timely manner.
4. eVisit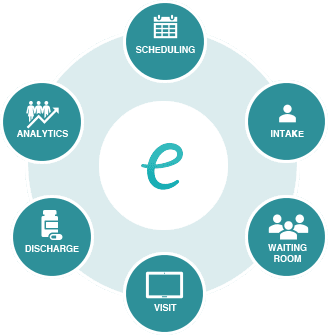 eVisit is a different solution from the ones we looked at earlier. It is designed primarily for hospitals and clinics that need a single system for remote communication with patients. eVisit is not a healthcare provider like the ones we previously discussed. It is very similar to Akveo patient profile template. The company supplies a system for remote patient monitoring and communication. The solution allows you to provide virtual assistance to patients. With a centralized control panel, you can make reminders and notes during your visit. The eVisit panel has advanced functionality from scheduling an appointment to the visit and discharge of the patient. It is an ideal solution to relieve the burden of medical facilities from a large flow of patients. In addition, all data will be securely stored in one system, which will reduce bureaucratic work.
Read next: Trending Health Technician Careers to Consider in 2021
Conclusion
Today it is not a secret for anyone that health monitoring software is developing at a rapid pace. More and more remote health monitoring software is available. There are several important factors to consider when choosing the right solution:
Service availability 24/7: the patient should be able to receive advice at any time of the day. Also, the data on a patient's health should be continuously monitored.
HIPAA Compliant: The software must be HIPAA compliant for data privacy.
Compatible with mobile devices: check that you can use the software from your mobile phone or tablet.