A watch is more than an accessory; it's a style statement that defines who you are. Therefore, the kind of watch you choose has to be a reflection of your unique persona that differentiates you from the rest. Watches are no longer just three ticking hands moving within a dial; they have evolved to reflect the current times where we are moving towards a more digitally connected world.
Therefore, it's no brainer that digital watches for men are all the trend these days, and they are capable of more than just showing the time; they can display steps taken, calories burnt, your heartbeat and a lot more of all the vital information that you would need to stay fit, and in control of your life while keeping track of time. Today, the humble watch of yesteryears has transformed from being a timekeeper to getting much more done, fast and in style.
Since a watch is one of the most important accessories, without which no attire is complete, it's important to choose one that suits your personality and has the most important features for you.
So, no matter whether you are an executive, a mountaineer, swimmer, adventurer or an artist, you need to get one that complements your lifestyle. And we are here to help you choose the right digital watches for men that will make heads turn the next time you hit the spotlight.
Reflex 3.0 Dual Toned Smart Band in Midnight Black & Blue Accent
The Reflex 3.0 Smart band comes with 10+ sports modes and a full touch screen display with 10 days' worth of battery life on a single charge and offers incredible water resistance thanks to its IP68 water resistance certification making it the perfect watch for someone who's active and like to live life in the Fastlane.
Grey Dial Brown Leather Strap Watch
If funky is how you define your style to be, then the grey dial brown leather strap watch can give you the funkiest look in town. The brown strap on the watch set against the black analog cum digital dial gives it a stylish look that is unmatched and gives it a unique personality. It's one of the best digital watches for men you can have in your collection. So, get this timepiece if you want to be the next trendsetter in town.
Trendies Red Dial Silicone Strap Watch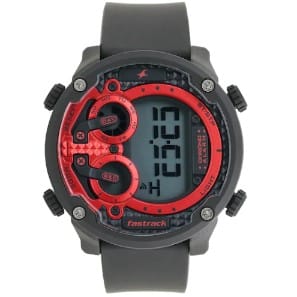 Red has always been a fiery colour, one that reflects a spunky no-nonsense attitude, and this watch takes that legacy forward by marrying this colour with a digital futuristic look to die for! It offers both design and functionality and is perfect for a day out with friends or just laying on the couch and chilling around on a lazy day.
Trendies Grey Dial Plastic Strap Watch
If simple yet trendy is more your thing, then this watch can perfectly complement your lifestyle with its simple yet classy design that comes with a polished blue ring lining around the grey coloured dial. The watch features world time and day along with alarm functionality, making it one of the best functional watches around.
Also read: Trending Apple Watch Faces Must Try
Black Dial Blue Plastic Strap Watch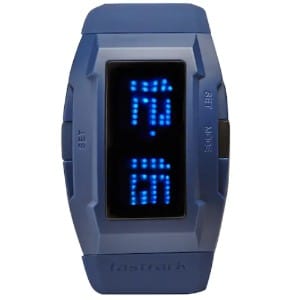 A simple design featuring a rectangular blue dial, the watch features six push buttons to customize the display. The watch is made of plastic and has a comfortable fit that's perfect for everyday use.
If you like digital watches for men, then you can browse Titan's website and choose from the most stylish products from Fastrack, Sonata, and Titan watches. No man's wardrobe is complete without a watch that reflects their individual style. So, if you are attending a meeting, going hiking, or hitting the party floor over the weekend, you need to have a watch that helps you keep track of time while helping you discover more of yourself!