Mistakes?
Its Okay
[dropcap size=big]Y[/dropcap]ou were not born a perfectionist, 
ou will never become a perfectionist,
ou will not die a perfectionist
My statements seem to be negating or malediction but its high time that we all accept this ground reality. My purpose is not to prove anyone wrong but to prove the proposition right. Being a perfectionist is impossible in life and committing mistakes is part and parcel of everyone's life. Committing mistakes is not a crime, nor anything that maligns your character or identity but something that teaches you a lesson for life so that you don't repeat it.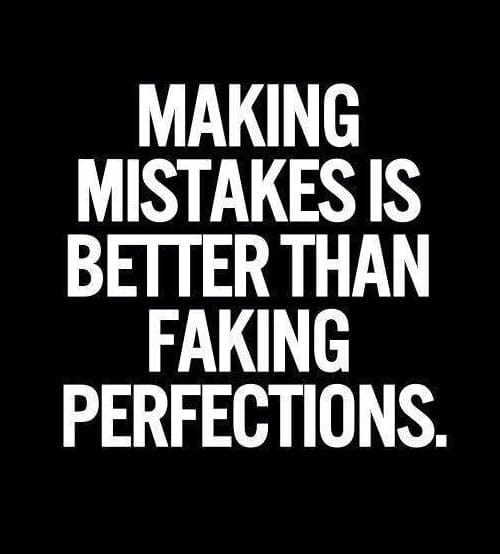 We, human beings are made to make mistakes. The differentiating factor being, the intention behind it. If you make a mistake intentionally, you pay for it. If not, it pays you back. Mistakes may be small, may be large. The magnitude doesn't matter as such but the lesson it teaches us matters. Another thing is that, we only make mistakes when we are trying to do something and the ironical part is, whenever you adopt a sinister mindset, you always succeed. It's always when you wish to do something good, you commit a mistake.
It is often said that,
'A wise man always learns from his mistakes while a foolish one keeps committing more'  
Now, who is a wise man?
Don't worry people, they are amongst us. It could be me, it could be you. But such people are hard to find. Foolish fellows, well we all have them in abundance!
Now, to those people who have self graded them as 'Perfectionists' ;
Dear Friends, no one is a perfectionist and one cannot become one. If you are confusing your dexterity with perfection, you are badly mistaken. See, that's the first mistake. We all commit mistakes, daily, hourly and what not! It may be as small as dropping a drop of curry on a table-cloth to murdering someone.
In the end, a simple advice for all the readers, it's always easy to point out mistakes in others but the hardest of tasks to self-introspect and rectify yourself. I am not saying you have a license to commit as many mistakes you want to, but don't be afraid of them. Come on, you are not fighting with demons. It's just a fight within your mind.