Even though the coronavirus pandemic probably isn't going anywhere soon, that certainly does *not* mean all of our fabulous fall plans have to go on pause this year. By taking a few extra precautions and being mindful of your surroundings, there are many ways that you can make simple adaptations that will still give you the ability to have tons of fall fun with the people you love.
From building cute seasonal outfits from your new fall clothes to keeping your distance at the farmers market, you can keep safe and healthy with these COVID-19 versions of all your favorite fall activities.
Planning Cute Fall Outfits
Comfy, cozy looks are especially perfect for fall, and there's no reason to let the pandemic get in the way of adding some cute new fall outfits to your collection! When shopping, look for pieces that'll stay on trend for longer than one season. It's not only a more worthwhile investment, but it also ensures that you'll be able to show off your style next year, too, once things are hopefully closer to normal again.
While florals are super popular in the spring, they're actually a really great option for fall, too. The key is in picking warmer colors and prints that don't feel too tropical. A ditsy floral print is so trendy right now and the perfect addition to your closet for the fall.
Cardigans are cozy and make awesome layering pieces. No matter where your plans take you this season (even if that's just from the kitchen to the couch!), a comfy cardigan is definitely a piece to invest in.
One thing most of us didn't have ready in our wardrobes this time last year is a collection of masks! While face coverings aren't necessarily the most glam accessory out there, the CDC recommends wearing them whenever you can't keep distant from others. Instead of thinking about masks as something sterile and restrictive, pick fun prints and patterns and consider them just another fun accessory you get to wear to jazz up your outfit!
A great way to plan cute fall outfits is to do a "closet audit" and see what you already have that could work for the season. This will help you avoid buying something that's too similar to what you already own, and make sure that your new pieces will go well with everything else.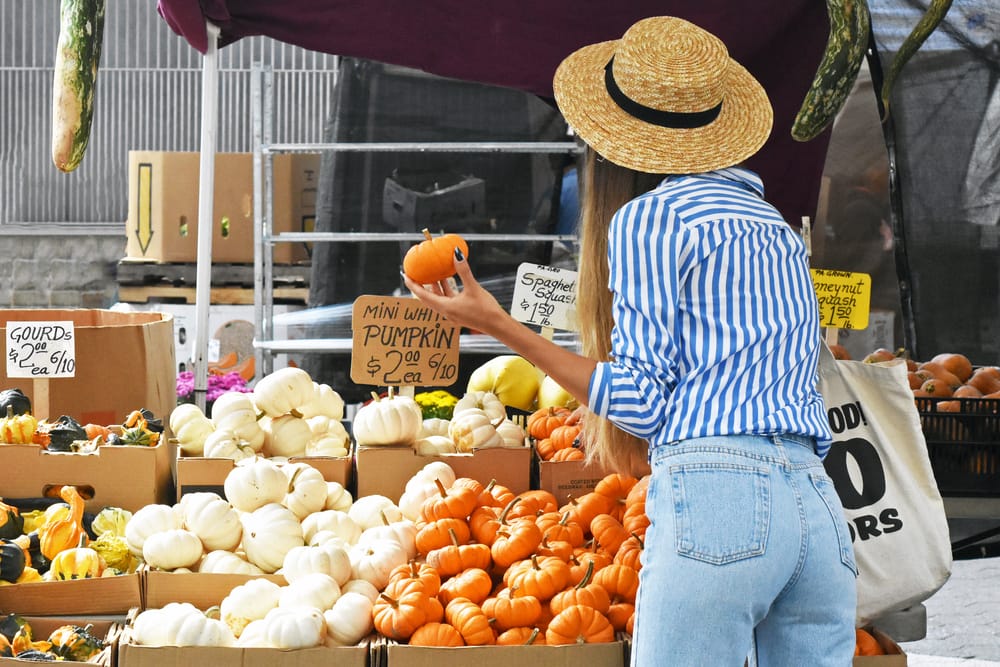 Taking a Trip to the Farmers Market
There's nothing quite like the delicious taste of crisp market apples, sweet corn and cider donuts–and just because COVID-19 hit doesn't mean that you can't take a trip to your favorite local spot for the best of fall's tasty treats.
Depending on what state you live in, it's probably helpful for you to check the rules and guidelines in your local area to make sure that markets are open for business, and also that you are aware of any precautions you need to take before and during your trip. The last thing you want is to venture out for something fun, only to be turned away at the entrance!
Bring a face covering along with you in case it's required for entry. You might not have to wear one outside of the market, but at least you'll be prepared!
See if you are allowed to bring your own tote bag with you. This will not only help limit waste, but will avoid the spread of germs on community bag dispensers.
Carry a CDC-recommended hand sanitizer with you to clean your hands before and after touching produce, especially if you won't have access to a restroom to wash your hands with soap and water.
Pay attention to how the farmstand is operating and keep your distance from others if requested to. If you feel uncomfortable eating while you're there, you can always pack the produce away and wait until you're able to rinse it off and enjoy it in the comfort of your home.
Also read: Impressive Health Benefits of Fishing
Having a Bonfire with Friends
Cool fall nights make for the perfect opportunity to cozy up with friends while still enjoying the fresh air outside. This year, a bonfire setup might look a little bit different than it has in years past, but the COVID-19 version of this fun fall activity doesn't have to be boring or super sterile-feeling.
If you're planning on staying socially distanced from friends even outdoors, consider seeing if there's a way to set up a few different bonfire stations in the yard or take turns sitting in front of the fire.
There's nothing yummier than fire-fresh s'mores, and you don't have to sacrifice their deliciousness during a pandemic. Depending on your comfort level, you can ask your guests to bring their own supplies, so that you don't need to stick your hands into shared packaging.
When extending your bonfire invitation with friends, include as many details as possible to help your guests make the decision that's best for them. While you might not have felt it important to share how many other guests would be joining (and who they are), nowadays, not everyone is as comfortable spending time together with larger groups of people even if you're all outside.
Going Pumpkin Picking
Going pumpkin picking is the quintessential fall activity that so many of us look forward to year after year! Whether we use the goodies for snacks or decor, there's something so fun and special about bringing these colorful cuties home.
You might have to wear a mask on your visit to the pumpkin patch, so bring one with you just in case!
There may be capacity limits at your local place, so be prepared to get up super early or risk being turned away.
Bring along a hand sanitizer if the location also has snacks. This way, you can enjoy your favorite treats (like roasted corn!) even if you can't get to a sink to wash your hands with soap and water.
As with any other local activities, each area may have different rules you need to follow for pumpkin picking. Doing a little bit of research online ahead of your visit will not only save you some time, but it could also save you the headache of making a trip to a place that's closed!
Also read: Beauty Care Tips on Your Holiday
Staying Safe and Having Fun
Dealing with COVID-19 hasn't been the easiest for all of us these past few months, but there's no reason to let our fears take away from our ability to enjoy all the fun of the changing seasons. Whether it's masking up for an outdoor get-together with friends or bringing some hand sanitizer with you to the farmers market, the COVID-19 versions of all your favorite fall activities could be just as fun as the originals!